Albufeira Skatepark / Portugal – Albufeira – Algarve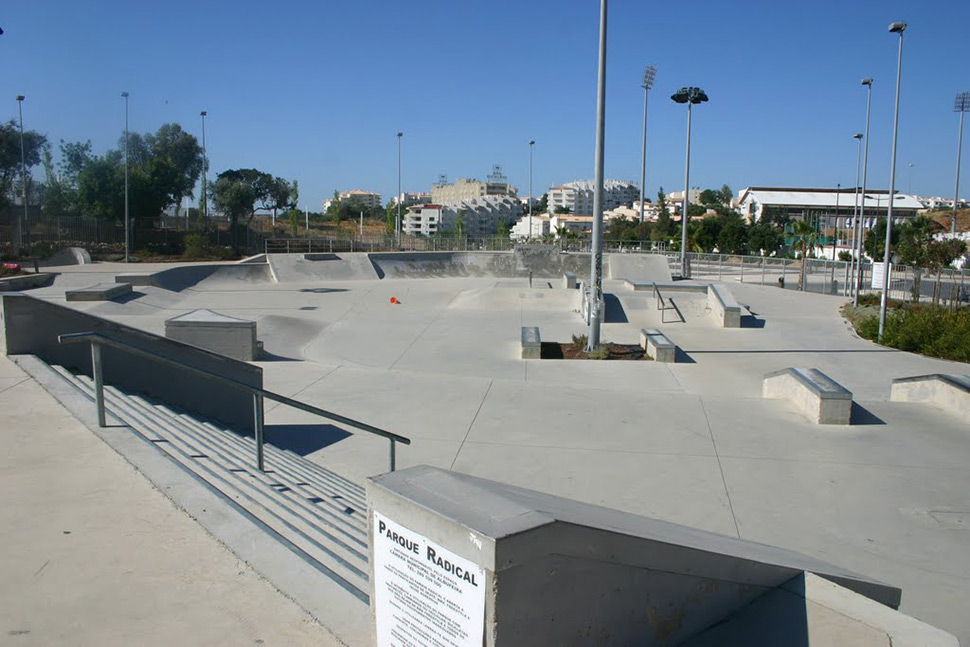 | | |
| --- | --- |
| Funboxes | Multifunbox |
| Rails | Flatrails, Handrails, Handrail with kink |
| Ledges | Hubbas, Ledges, Manual pads, Curve ledges |
| Pipes | Quarters, Wallride, Bowls, Snake run |
| Jump | Banks, Ramps, Bumps, Eurogap, Streetgaps, Hips |
| Stairs | 4, 8 and 12 Stairs, Gaps |
If you go in July and August bear in mind that it will be very hot during the day, but you could make the most of this time to go to the beach and go skating after when it's cooler. If you still have energy, go to the area where the bars and nightclubs are as in the summer months it'll be full of young people.
Si vas en julio y agosto ten en cuenta que hace muchísimo calor para patinar en horas de sol, pero puede aprovecharse ese tiempo para ir a la playa y después darse la sesión de skate. Si queda energía, ir a la zona de los bares y discotecas es recomendable, ya que están llenas de gente joven en esos meses de verano.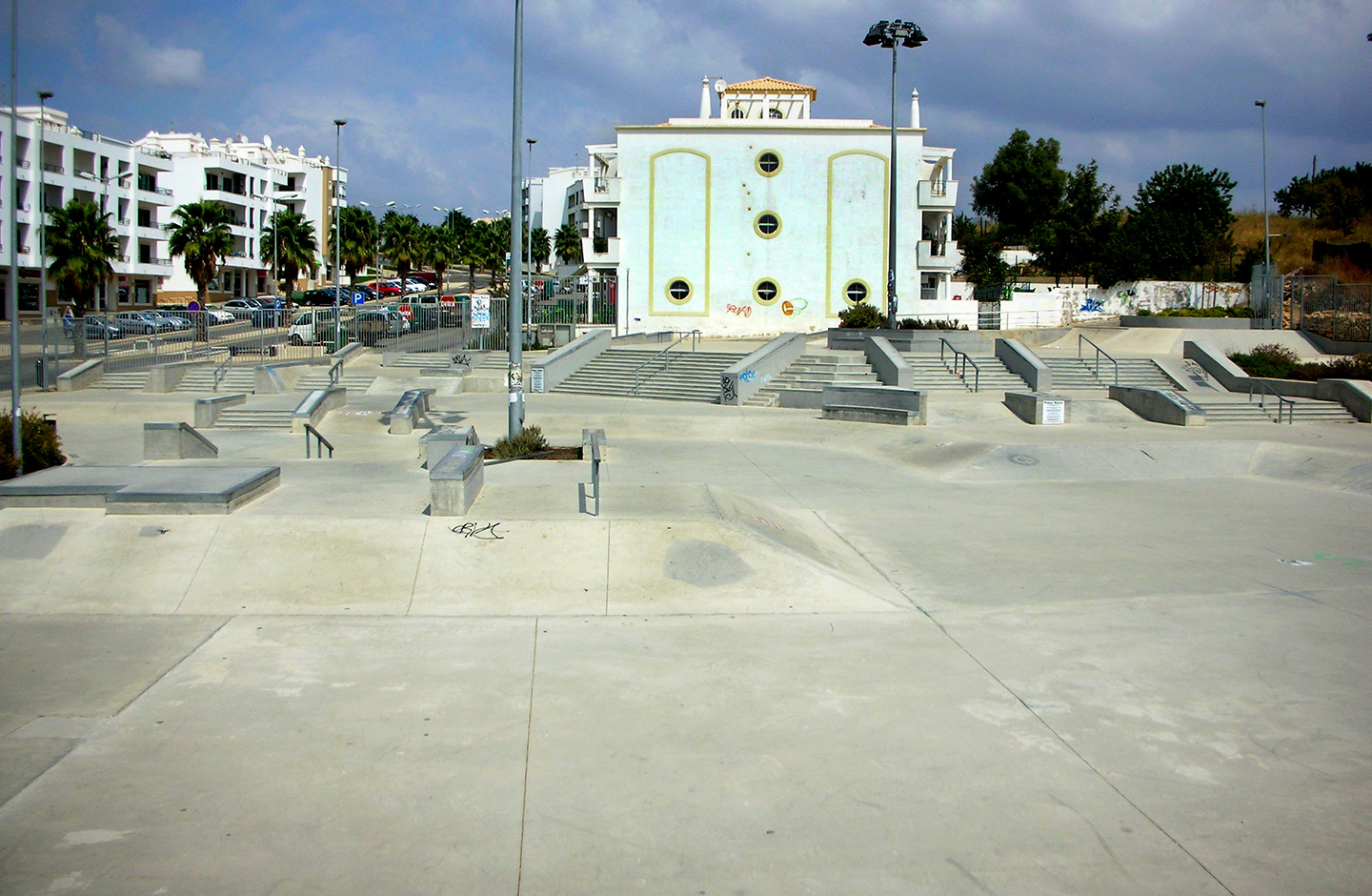 This Portugese skatepark is located in Albufeira in the Algarve, next to the football stadium. It's constructed on various levels, with lots of banks to help you gain speed and make fluid rounds. There are many street elements, including a set of stairs, blocks, handrails, a lot of ledges and hubbas, all with different sizes and heights. There's a very big multi-funbox in the middle of the park which has a eurogap, a planter, a ledge, a hubba and a straight rail which is fairly high. A snake run that ends in a bowl with an oververt is the most ramp that you'll find plus a smooth bowl behind the park to learn to skate the asphalt. This costs money but it isn't fenced and it's open 24 hours a day.
Skatepark en el Algarve portugués, situado concretamente en Albufeira, junto al estadio de futbol. Está construido en varios niveles, con muchos planos inclinados para adquirir velocidad y hacer rondas fluidas. Tiene muchos elementos callejeros, entre ellos set de escaleras, gradas, handrails, muchos bordillos y hubbas, todos ellos de diferentes medidas y alturas. Hay un multifunbox enorme en el centro del parque que tiene eurogap, planter, bordillo, hubba y un rail recto bastante alto. Un snake run que termina en un bowl con oververt es lo más rampero que puedes encontrar, además de un suave bowl detrás del parque para aprender a surfear el asfalto. Esta vallado pero no cuesta dinero y abre las 24 horas del día
Falesia beach is possibly one of the best in Albufeira, with fine sand and crystal clear water. The paths to the cave and views from the cliff are spectacular. The only problem is that on perfect summer days it's crammed.
Other beaches that are in the area are Praia Gale, Olhos de Agua Beach, Praia da Coelha, Praia Sao Rafael, Praia Salgados and Praia dos Pescadores. Whilst in Albufeira you can visit St. Anne's Church, Xorino Cave, Clock Tower and Misericordia Chapel. Montechoro Strip is the street where the nightclubs are which is lively and brimming with young people in July and August.
La playa de Falesia es quizás la mejor de Albufeira, la arena es fina, el agua es limpia y cristalina, hay muchos bares y restaurantes, el acceso por la gruta y las vistas del acantilado son espectaculares. El problema que tiene es que en días perfectos de verano se abarrota.
Otras playas que hay en la zona son la Praia Gale, Olhos de Agua Beach, Praia da Coelha, Praia Sao Rafael, Praia Salgados y Praia dos Pescadores. Estando en Albufeira podemos visitar Sant'Ana Church, Xorino Cave, Clock Tower y Misericordia Chapel. Montechoro Strip es la calle de las discotecas, que rebosa de gente joven y animada entre julio y agosto.