Annecy Skatepark / France – Annecy – Rhone Alps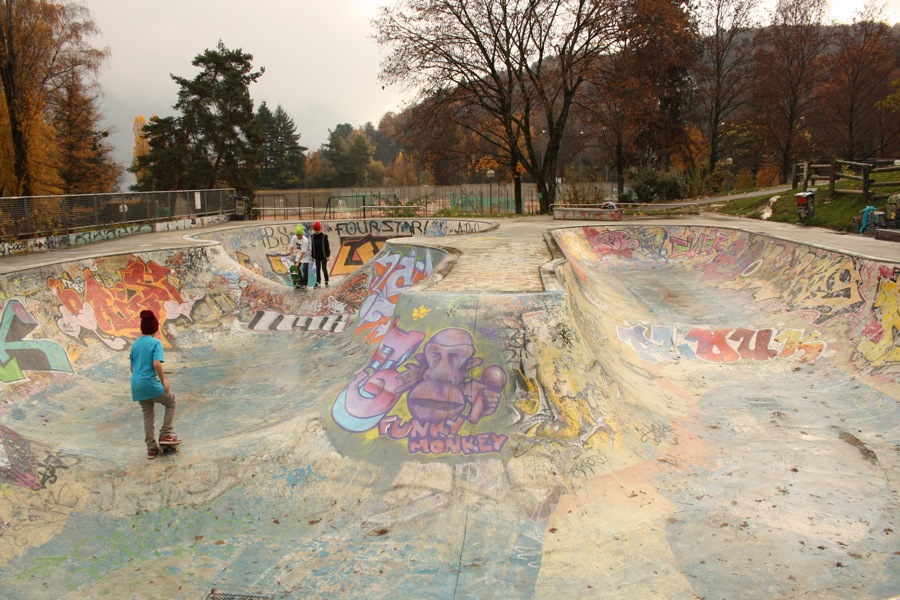 | | |
| --- | --- |
| Funboxes | |
| Rails | Flatrails, Handrails |
| Ledges | Hubbas, Ledges, Manual pads, Curve ledges |
| Pipes | Quarters, Spines, Curvings, Bowls |
| Jump | Banks, Ramps, Eurogaps, Streetgaps, Hips |
| Stairs | 3 and 6 Stairs, Gaps,4 Blocks |
It is often cold in Annecy because of the altitude and the Alps which are very close. There is usually more rain in October, November and December. The best months to visit are July and August.
En Annecy suele predominar el frio debido a la altura y que los Alpes están muy cerca. Octubre, noviembre y diciembre son los meses en los que más llueve y los mejores para visitar esta ciudad son julio y agosto.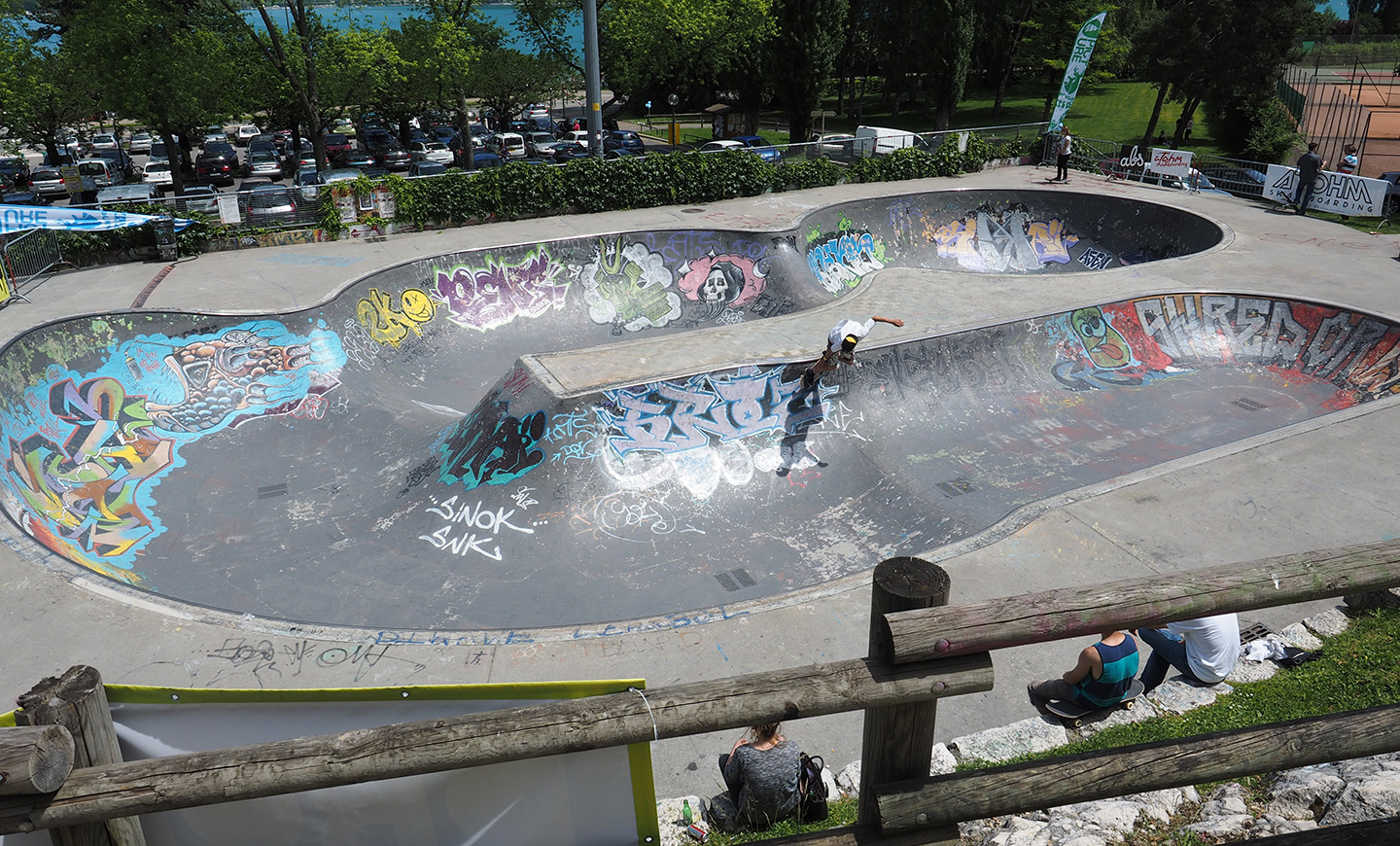 The skatepark was built near to the shore of Lake Annecy. One half of this hillside park is a street zone that ends in a bowl. It was previously known as the Bowl de Marquisats, because it used to just be the bowl. The company Constructo Skatepark Architecture recently added 750 metres of street park, making a circuit with levels surrounded by banks and curvings which makes it dynamic and fluid. It used to be called the Bowl des Marquisats, as it was only a bowl, but it's now known as both Skatepark des Marquisats and Annecy Skatepark.
In the higher zone you can skate stairs with a handrail, a eurogap and a hubba, then another slope with a straight hubba and a gentle descent. In the middle zone there is a bank to ledge, a handrail, and a bank which gets smaller from the base to the top. In the lower zone, there is a ledge with a streetgap, 4 wide steps which can be used as blocks, two sets of 3 steps each with a short handrail, ledges, planters, a curved edge and a bowl. It could be described as quite an 'original' skatepark. Events like the Vans Concrete Week-End which unites French and European skaters. The layout of the skatepark on the various levels gives it orginality.
El skatepark fue construido en el 2000 cerca de la orilla del lago de Annecy, en medio de una ladera, definiéndose como un recorrido de street que finaliza en un bowl. En 2008 la empresa Constructo Skatepark Architecture añadió 750 metros cuadrados de parque callejero, formando un circuito por niveles rodeado de planos inclinados y curvings, lo cual lo hace muy dinámico y fluido. Antes se llamaba Bowl des Marquisats, debido a que solo estaba el bowl, pero ahora se le conoce como Skatepark des Marquisats o Annecy Skatepark.
En la zona más alta podrás patinar unas escaleras con handrail, eurogap y hubba, seguidamente de otra inclinación con un hubba recto y en bajada muy suave. En la zona media hay un bank con bordillo, un handrail y un plano inclinado que se estrecha desde la base hasta lo más alto del mismo. En la parte más baja y última hay un bordillo con streetgap, 4 escaleras anchas que pueden considerarse gradas, dos sets de 3 escaleras pequeñas con un handrail corto cada uno, bordillos, planters, un bordillo en curva y el bowl. En este skatepark se celebran eventos como el Vans Concrete Week-End, que reúne a patinadores franceses y europeos. La estructura por niveles hace que sea un skatepark bastante original.
Lake Annecy is opposite the skatepark and you can go round it on foot, rent a bike or go by boat. La Tournette is the perfect place to see Lac d'Annecy and the great Mt. Blanc. There is also the option to go paragliding or hang gliding around the lake, but it's a little far from the city, about three quarters of an hour in car.
In the city centre you can go to see Le Palais de l'Ile, which some consider to be the small French Venice. It's beautiful as it is kept in good condition and it always has fresh flowers. La Basilique de la Visitation is a very quiet place surrounded by lovely gardens which are fantastically lit at night. You can also visit the Chateau d'Annecy and the St. Maurice and St. Francios churches.
El lago de Annecy está justo en frente del skatepark, puedes recorrerlo a pie, alquilar una bici o pasear en bote. La Tournette es una visita donde tendrás unas vistas perfectas de Lac d'Annecy y el gran Mt Blanc, con opción de practicar parapente o delta sobre el lago, pero está un poco lejos de la ciudad, a tres cuartos de hora en coche.
En el centro de la ciudad puedes ir a ver Le Palais de l'Ile, algunos lo consideran la pequeña Venecia francesa, destaca el buen estado de conservación y las flores siempre frescas, es una maravilla para la vista. Por otro lado, La Basilique de la Visitation, es un lugar muy tranquilo rodeado de bonitos jardines, por la noche tiene una iluminación fantástica. También tienes cerca Chateau d'Annecy y la Place Saint-Maurice con la iglesia de San Francisco.