Casa da Musica / Portugal – Porto – Região Norte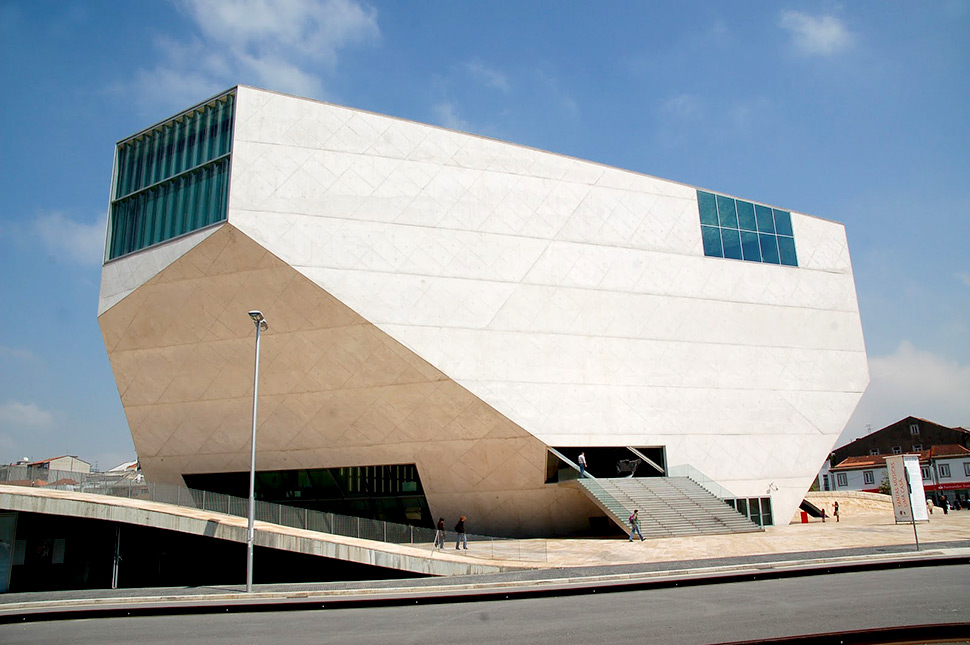 | | |
| --- | --- |
| Funboxes | |
| Rails | Flatrails |
| Ledges | |
| Pipes | |
| Jump | Banks, Ramp, Streetgaps |
| Stairs | Gaps |
Like in all big cities you'll need to be careful of the authorities as it could be that skating is not permitted in one or two of the squares, however, it isn't usually a problem in Casa da Musica. Sometimes there is a metal structure, like an amphitheatre, at the entrance to the square making that part unskateable. The best time to visit Porto and skate is during spring and summer, between May and September.
Como en todas las grandes ciudades, has de tener cuidado con las autoridades, puede ser que en algunas plazas no esté permitido patinar. En Casa da Musica no suele haber problema, pero por si acaso, ya sabes. En ocasiones habrá montada una estructura metálica en forma de anfiteatro en la zona de entrada a la plaza, con lo que esta parte no será patinable. La mejor época para viajar a Oporto y poder patinar tranquilo es en primavera y verano, entre los meses de mayo y septiembre.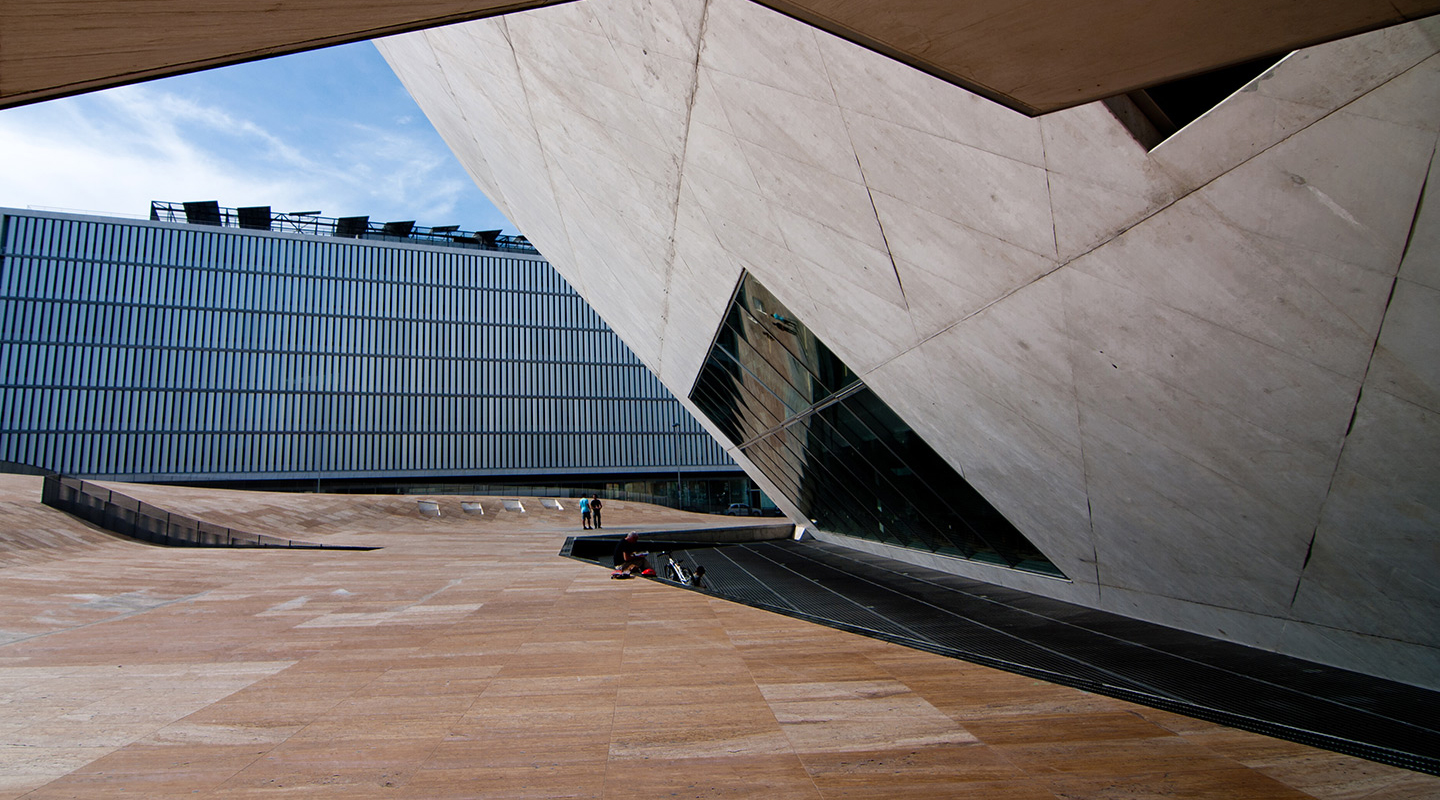 The Porto concert hall, which is known as the 'Casa da Musica' in the city, has a square next to it which was opened in 2005. It is said that the architect of the hall planned it so that people could skate there. This is likely to be a rumour but even so, when you skate there on the perfect floor with smooth transitions, it appears that that was its purpose.
If you make a round you can find narrow tubes, like flatrails, where you can slide easily but it's more difficult to grind. The inclined flats have smooth transitions which end in a grill fence which you can skate many ways, like wallride, bank to rail, drop in, jump, etc. There are also areas where the fence ends that you can use as smooth transitions as a ramp to get air. There are various shallow and accessible gaps in the sloping floor that can be used as streetgaps, one after the other. There is also an opening, like an entrance to the plaza, from the road behind that gets wider as you go up the inclined flat leaving a streetgap with minirails at the sides which with enough speed, you can jump.
The same organisation that runs Casa da Musica has also promoted skateboarding, like for example with the 'Skynth' project which was designed by Carlos Guedes. The idea of this project was to create sound effects and computer graphics from the skaters' movements and tricks and projecting them onto a screen with the intention of creating music.
El auditorio de Oporto, más conocido en la ciudad como 'Casa da Musica', alberga una plaza peculiar que fue inaugurada en 2005, junto a dicho edificio. Se dice que el arquitecto de Casa da Musica tenía planeado que la gente patinara la plaza, pero seguramente son solo rumores. Aun así, cuando dejas caer tu patín por esta plaza de suelo perfecto con transiciones suaves, bien parece que su finalidad era patinarla.
Si damos un rodeo podemos encontrar tubos no muy anchos en modo de flatrails donde se encaja slide muy bien, pero que no van tan cómodos para los ejes. Los planos inclinados que hay en esta plaza son suaves transiciones que terminan en una valla de rejillas, la cual se puede patinar de muchas maneras, como wallride, bank to rail, drop in, para saltarla, etc. También hay zonas donde se termina la valla en los que puedes utilizar la suave transición como ramp y volar hasta la carretera. Hay varios huecos en el inclinado suelo que sirven de streetgaps, uno detrás de otro, poco profundos y asequibles. También hay un hueco, derivado de una entrada a la plaza, que si es ancho y aumenta según subes el plano inclinado, quedando un streetgap con minirails en los bordes que hay que saltar con cierta velocidad.
Desde la misma entidad de Casa Da Musica se ha promovido el skateboarding, como por ejemplo con el proyecto 'Skynth', diseñado por Carlos Guedes. En este proyecto la idea era crear efectos de sonido y gráficos por ordenador derivados del movimiento y trucos de los patinadores, proyectándolos en una pantalla. Se pretendía crear música con el skate.
Not far from Casa da Musica, on Avenida do Bessa 155, there is a small plaza with ledges and stairs. A ten minute walk from this plaza to the Ramalde do Meio neighbourhood will take you to a small skatepark with banks, flatrails, quarters and a pyramid with hubbas. Campo Martires da Patria is another plaza with a perfect floor where you can skate ledges.
Porto is a great city to skate in, with many spots scattered around the whole city as well as what you can find in the many villages that are around. The only downside is that there are a lot of old cobblestone streets, however, if you have time you could visit the old town and walk around the streets of this charming place, with its buildings, squares and monuments that take you to another era.
An interesting place to visit is the Plaza de la Libertad (Praça da Liberdade) which is in the centre of the city, a short distance from the Torre de los Clérigos and the San Bento Station. If you leave the station and head towards Mousinho da Silveira Street, and then go straight along Alfándega Street, you will reach the banks of the Duero. In Ribeira you will find many restaurants with terraces where you can try typical Portuguese dishes whilst you enjoy the views of the river. Near to Avenida de los Aliados, you'll find the do Bolhao market, one of the most dynamic and popular areas of the city where they have been selling meat, fish, fruit, flowers and many more products since 1914. It's worth seeing, even if you don't buy anything.
No muy lejos de Casa da Música hay una pequeña placita con bordillos y escaleras, situada en Avenida do Bessa 155. Desde esta plaza, a unos diez minutos andando hacia el barrio de Ramalde do Meio hay un pequeño skatepark con banks, flatrail, quarters y pirámide con hubbas. Pero ándate con ojo que la zona es un poco guetto. Campo Martires da Patria es otra plaza donde puedes patinar bordillos y suelo perfecto.
Oporto es una gran ciudad para patinar, con muchos spots repartidos por toda la ciudad, además de los que puedes encontrar por los muchos pueblos de los alrededores. Un inconveniente es que hay muchas calles antiguas con suelos de piedra o adoquines. No obstante, puedes visitar el casco antiguo y recorrer sus calles a pie. Si vas con calma podrás disfrutar de ese encanto peculiar de Oporto, con sus edificios, plazas y monumentos que te trasladarán a otra época.
Es interesante visitar La Plaza de la Libertad (Praça da Liberdade) que se encuentra en el centro de la ciudad, a escasa distancia de la Torre de los Clérigos y la Estación de San Bento. Si sales de la estación hacia la rúa de Mousinho da Silveira y después sigues recto por la rúa da Alfándega puedes llegar a la orilla del Duero. En la zona de Ribeira encontrarás muchos restaurantes con terraza en los que degustar platos típicos portugueses mientras observas el curso del rio. Cerca de la Avenida de los Aliados se encuentra el Mercado do Bolhao, una de las zonas más dinámicas y populares de la ciudad, donde se vende carne, pescado, fruta, flores y muchos otros productos desde 1914. Aunque no vayas a comprar, merece la pena verlo.