Children's Palace / China – Shenzhen – Guangdong Province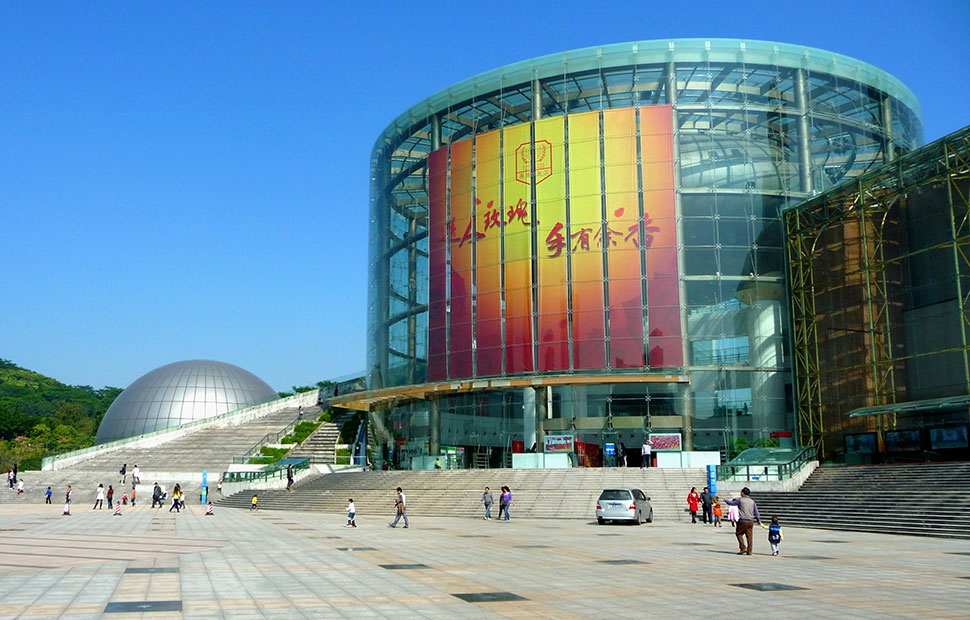 | | |
| --- | --- |
| Funboxes | Hubbas, Ledges, Manual pad. |
| Rails | |
| Ledges | |
| Pipes | |
| Jump | Banks |
| Stairs | 7Stairs |
For skaters, this city is a work of art. There are many spots all over the place and you won't have to look hard to find them. Nearly all are marble, the walkways, ledges, floors etc., and if it isn't marble, it will be something as smooth as it for sure. In addition, they don't usually ban skating at these spots, unless you spend enough time there that the passers-by come together to watch and take photos. In fact, many people often accumulate to watch the skaters as it is not so familiar there, so the security may ask you to stop. With regards to the climate, from April to September there is more chance of torrential rainfall so it is advisable to travel in the winter when it stays relatively dry.
Esta ciudad para patinar es una auténtica obra de arte. Existen muchos spot por toda la ciudad por lo que no tendras que buscarlos. Casi todo es de mármol, las aceras, los bordillos, el suelo, etc.; y si no es mármol, será casi seguro algo tan suave como éste. Además, no suelen prohibir patinar en los spots, a no ser que lleves el tiempo suficiente patinando como para que se junten los transeúntes a mirar y echar fotos. De hecho, se suele acumular tanta gente para ver a los skaters debido a la poca familiaridad hacia el patín, que la seguridad del lugar puede invitarte a que dejes de patinar. En cuanto al clima en Shenzhen se puede decir que desde abril a septiembre es más propenso a las precipitaciones de forma torrencial. Por tanto, es aconsejable viajar en invierno, que el tiempo es relativamente seco.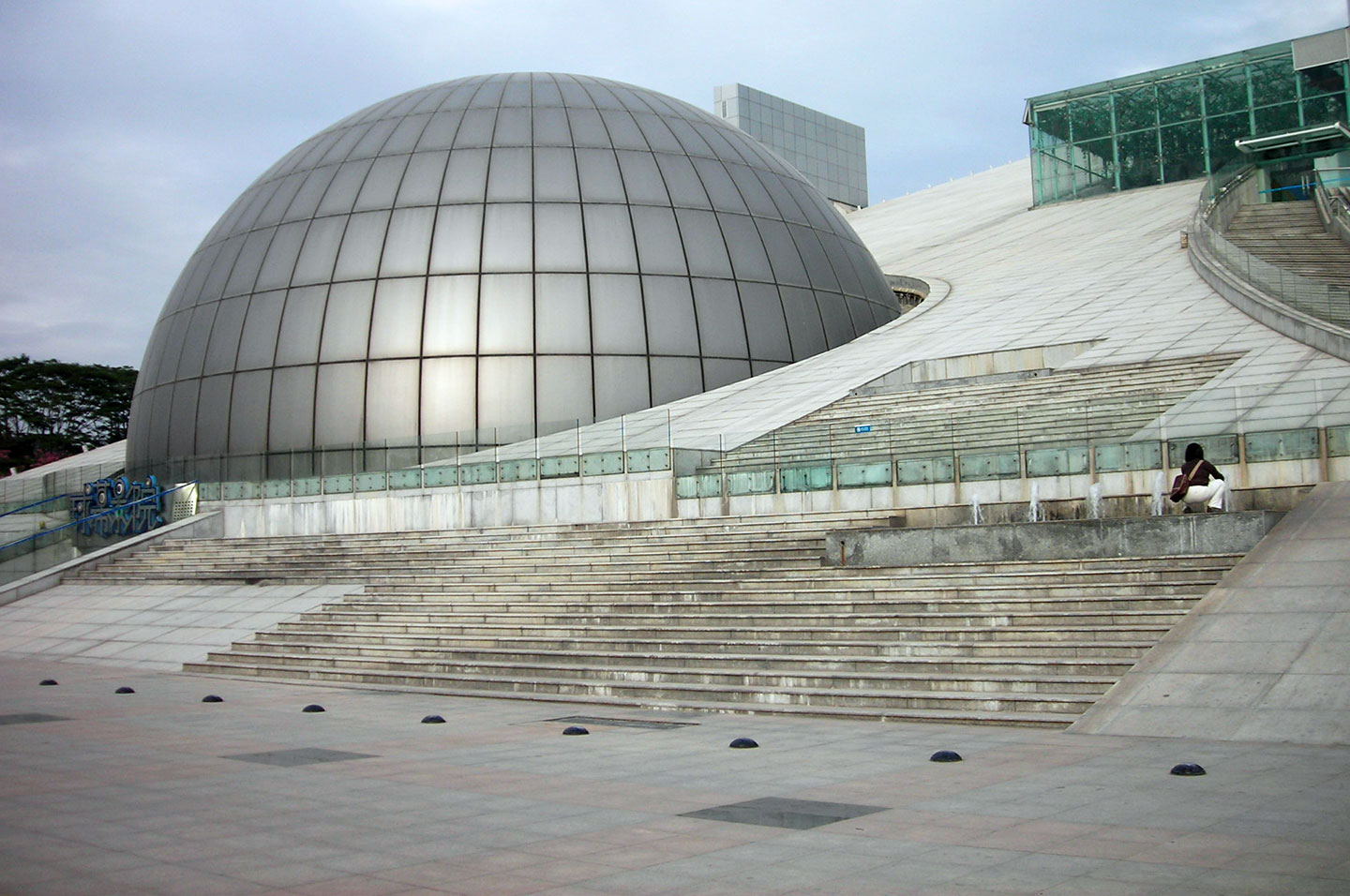 This spot is situated in the plaza where you'll find the Children's Palace or the Children's Museum, in the Central Business District (CBD) in Futian. The futuristic building in the centre of the plaza has a big dome which doesn't go unnoticed. The museum provides entertainment and extracurricular leisure activities for young children as well as being the city's auditorium and planetarium among other things.
The plaza is easy to recognise thanks to the latest skate videos, in which you can see the huge banks. You'll find seven sets of stairs with drops to the banks, flat hubba, flat manual pad and various obstacles which you can use creatively. Everything is made of granite, marble and polished floors. It an unusual spot, like nearly all that you'll find in this enormous modern city. Visits from big brand name teams are common at this plaza and the surroundings given that the zone has many spots to offer, mainly marble, and if you move around a little it's not difficult to find something else that you can skate.
Spot situado en la plaza donde se encuentra Children's Palace o Children Museum, en el distrito central de negocios Futian CBD. El edificio central de la plaza posee una gran cúpula que no pasa desapercibida. El museo sirve de entretenimiento y ocio para los más jóvenes, en el cual se realizan actividades extra-curriculares además de servir a la ciudad como auditorio, planetario y otros usos.
La plaza es fácil de reconocer gracias a los últimos videos de skate, en los que pueden apreciarse los grandes planos inclinados. Puedes encontrar siete escaleras con caída al plano inclinado, hubba al plano, manual pad al plano y obstáculos varios de uso creativo. Todo de granito, mármol y suelo pulido. Es un spot poco corriente, casi como todos los que puedes encontrar en esta enorme y moderna ciudad. Las visitas de equipos de grandes marcas son habituales en esta plaza y en los alrededores, puesto que la zona ofrece muchos spots, en su mayoría de mármol. Si te mueves un poco no es difícil encontrar algo patinable por la zona.
There are an infinity of spots in this city, but the most well-known at the moment are: The Children's Museum, Shenzhen Museum, the Horse Park and Deng Xiaoping Square. The Shenzhen Museum and Deng Xiaoping Square are just 5 kilometres, 20 minutes by bus, from Children's Palace. You'll find perfect marble ledges along with the magnificent marble waves which have been shown in so many skate videos in the last few years.
If you decide to rest and leave your skateboard at home there are many interesting places you could visit, for example in Futian on Fuhua 3rd you'll find the Galaxy Cocopark, a large westernised commercial centre where you can find anything. Hua Qiang Bei is one of the largest and most productive areas of electrical components in the world. A technology market which is difficult to match on the whole planet, where you can find products at factory prices. You could also see one of the largest women's fashion and accessories markets in the city, however, if you really want to go shopping you should head to Dogmen Street, but avoid Saturdays if you don't like crowds!
Intown is a group of buildings containing various works of art by known international artists. It's worth visiting at least to see the modern sculptures from outside. If you want to see more art, head to Dafen and Ocat Streets where culture and art are blended to delight your senses. If you like festivals don't miss out on a visit to the China Folk Culture Village, where you can find out about the different folk cultures and see the different architecture, festivals and traditional foods of the various ethnic groups in China. One of the other most popular attractions is possibly Window of the World. There you'll find replicas of famous structures such as the Eiffel Tower, the pyramids, the Taj Mahal and many more.
Hay infinidad de spots en esta ciudad, pero los más reconocidos hasta ahora son: The Children's Museum, Shenzhen Museum, the Horse Park y Deng Xiaoping Square. El Museo de Shenzhen y la plaza de Deng Xiaoping se encuentran a 5 kilómetros casi en línea recta del Children's Palace, a unos 20 minutos en autobús. Allí encontrarás bordillos de mármol perfectos, además de las magníficas olas de mármol que han aparecido en bastantes videos de skate en los últimos años.
Si dejas el patín aparcado puedes visitar multitud de lugares interesantes, como Galaxy Cocopark, un centro comercial occidentalizado de grandes dimensiones donde puedes encontrar de todo, situado en Fuhua 3rd en el distrito Futian. Hua Qiang Bei es una de las zonas más grandes y productivas de componentes electrónicos en el mundo. Un mercado tecnológico difícilmente igualable en todo el planeta, donde encontrarás productos a precio de fábrica. Además, puedes ver uno de los mercados de moda y accesorios de mujer más amplios de la ciudad. Pero si realmente quieres ir de tiendas pásate por la calle Dogmen, aunque si no quieres morirte de agobio evita ir en sábado.
Intown son un conjunto de edificios con variadas obras de arte de conocidos artistas internacionales. Merece la pena pasar por allí y ver desde fuera las modernas esculturas. Si quieres ver más sobre arte déjate caer por las calles Dafen y Ocat, donde la cultura y el arte se funden para deleitar los sentidos. Si te gustan los parques temáticos no te pierdas China Folk Culture Village, donde conocerás la amplísima variedad de grupos étnicos de China. Por otro lado, una de las atracciones turísticas más conocidas es quizás Window of the World, en donde encontrarás réplicas de la Torre Eiffel, las pirámides, el Taj Mahal y mucho más.