Denver Skatepark / United States – Denver – Colorado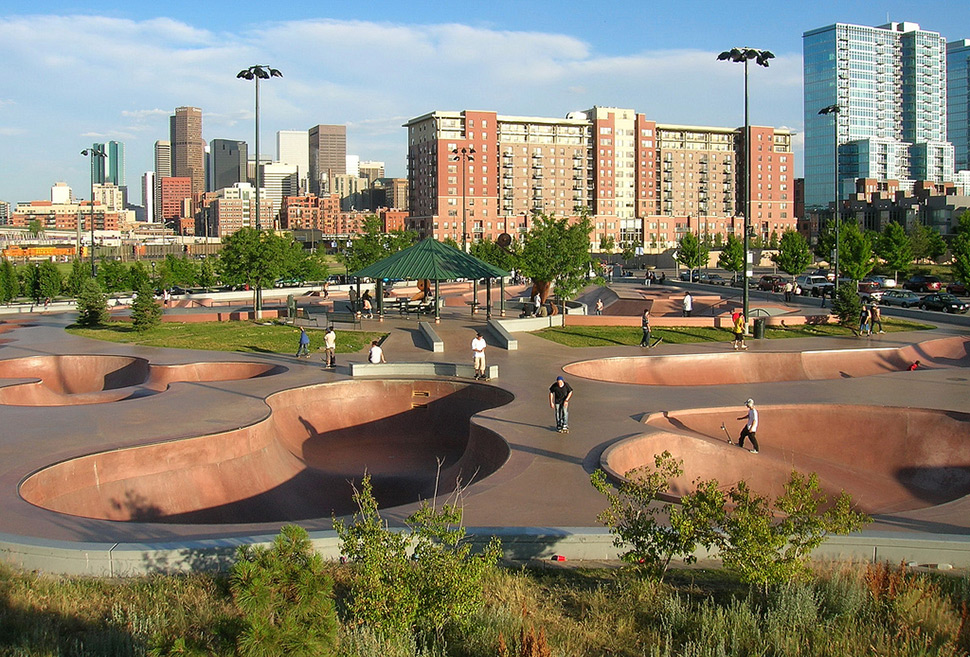 | | |
| --- | --- |
| Funboxes | Funbox hubba |
| Rails | Flatrails, Handrails |
| Ledges | Hubbas, Ledges, Manual pads |
| Pipes | Quarters, Wallride, Spines, Curvings , Bowls |
| Jump | Banks, Ramps, Bumps, Eurogaps, Hips |
| Stairs | 3 and 4 Stairs, Gaps, 2 Blocks |
The main surprise for people that visit Denver is the climate. It has more annual sunlight hours than Miami and San Diego so there are no problems with the weather at this spot.
La mayor sorpresa para los visitantes de Denver es el clima. Son más horas de sol anuales que Miami y San Diego, no habrá problema con el tiempo en este spot.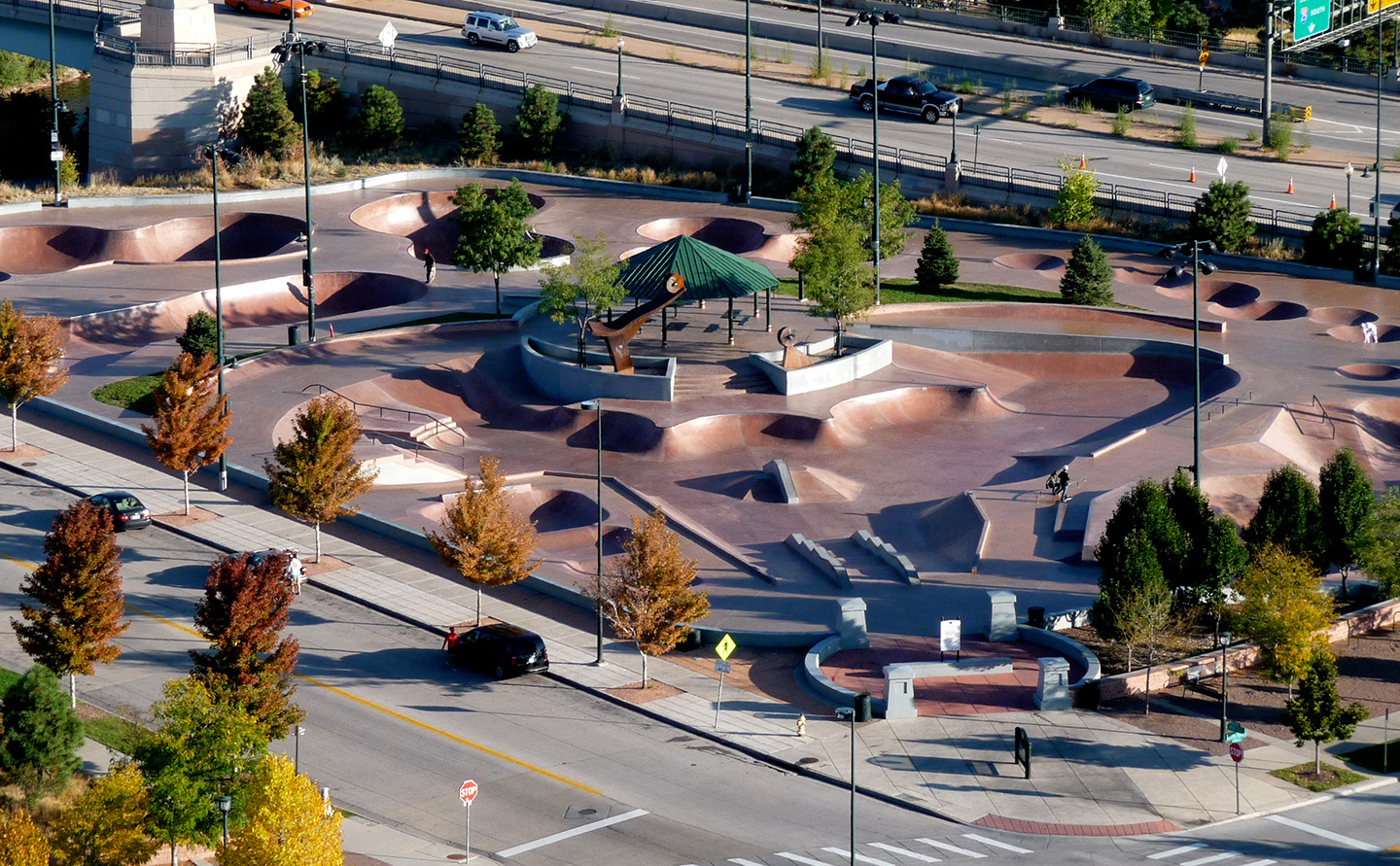 On the banks of the Platte River, north of the centre of Denver, you'll find 5.500 square feet of skatepark with a super polished floor. It has countless bowls of different sizes, ledges, banks, handrails, hips, pyramids, hubbas, a eurogap, bumps, flatrails, stairs and other street obstacles. It is quite complete and fun. It is open from five in the morning until eleven at night. After dark it's well lit, open daily and admission is free.
A orillas del río Platte, al norte del centro de Denver, podemos encontrar 5.500 metros cuadrados de Skatepark con suelo súper pulido. Cuenta con infinidad de bowls de muchísimos tamaños, bordillos, banks, handrails, hips, pirámides, hubbas, eurogap, bumps, flatrails, escaleras y demás obstáculos callejeros. Se puede afirmar que es bastante completo y divertido. Está abierto desde las cinco de la mañana hasta las once de la noche. Tiene buenos focos para las sesiones nocturnas y abre todos los días de forma gratuita.
You can find great options in this wonderful city. The ice rink at Skyline Park opens its doors in the winter. It's free and open to the public and has the option where you can take your own equipment or rent a pair of skates at minimal cost. Furthermore, the Golden Triangle Neighbourhood, with over 30 innovative art galleries, shows the work of nationally recognised talents on the first Friday of every month. You can do a tour of the galleries, for example the William Havu and the Walker Fine Art, which are very interesting to visit.
The Colorado State Capitol, modelled after the Capitol building in Washington DC, is an impressive building adorned with stained glass windows depicting events and important people in Colorado's history. It has a spiral staircase with 99 steps that lead to an outdoor terrace with amazing views of the city skyline and the Rocky Mountains. The Corinthian-style building offers temporary exhibitions and free visits by appointment. In the Confluence Park you can do many outdoor activities for free. The park is an impressive green space located at the nexus of Cherry Creek and the South Platte River, west of the centre of Denver. You can go splash-kayaking, surfing, go on a ride through the rapids, go bike riding, skating or walking, have a picnic on the grass and even watch the summer outdoor concerts.
Podemos encontrar grandes opciones en esta maravillosa ciudad. En invierno la pista de hielo 'Skyline Park' abre sus puertas, siendo gratis y para todo al público, con la opción de llevar tu propio material o alquilar un par de patines a un costo mínimo. Por otro lado, Golden Triangle Neighborhood, con más de 30 innovadoras galerías de arte, muestra la obras de talentos reconocidos a nivel nacional, todos los primeros viernes de cada mes. Se trata de un recorrido por galerías como 'William Havu' y 'Walker Fine Art', las cuales son visitas muy interesantes.
El Capitolio del Estado de Colorado, siguiendo el modelo del edificio del Capitolio en Washington DC, es una construcción impresionante adornada con vidrieras que representan acontecimientos y personas relevantes en la historia de Colorado. Tiene una escalera de caracol de 99 peldaños que guían a una terraza al aire libre con unas vistas alucinantes del horizonte de la ciudad y las Montañas Rocosas. El edificio de estilo corintio, ofrece exposiciones temporales y visitas gratuitas con reserva. En el 'Confluence Park' pueden hacerse muchísimas actividades al aire libre y de forma gratuita. El parque es un impresionante espacio verde situado en el nexo de Cherry Creek y el río Platte Sur, al oeste del centro de Denver. Se pude practicar splash-kayak, surf, dar una vuelta a través de los rápidos, bicicleta, patinar o caminar, hacer picnic en la hierba e incluso ver conciertos en verano al aire libre.