Forum / Spain – Barcelona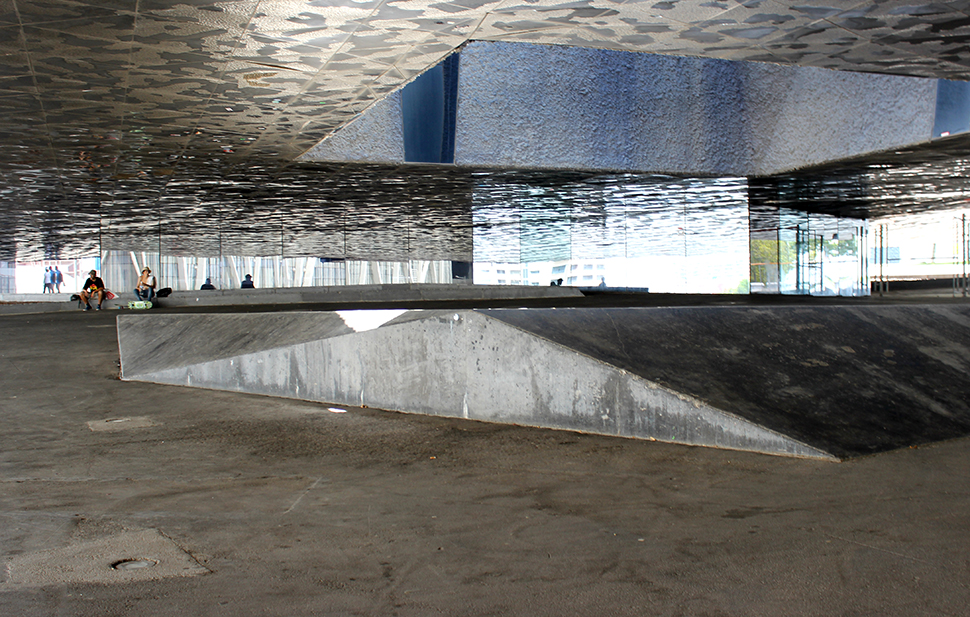 | | |
| --- | --- |
| Funboxes | Funbox Hubba |
| Rails | Flatrails, Handrail |
| Ledges | Hubbas, Ledges, Manual pads |
| Pipes | Quarter, Mini ramp, Curving |
| Jump | Banks, Ramps, Hips |
| Stairs | 3, 4, 5, 6, 7, 8 and 9 Stairs, Gaps |
This place hosts many spots that you can skate comfortably as it's immensely spacious and there aren't many people moving around the area. It's useful to know that there are small holes between the paving stones in the quarter, which isn't good for tricks if you have small wheels. As you know, the weather in Barcelona is perfect for skating, there's just more chance of rain between November and February.
Este lugar alberga muchos spots en los que se puede patinar tranquilamente, puesto que es inmensamente espacioso y no hay mucha gente transitando la zona. Es bueno tener en cuenta que entre las baldosas del quarter hay pequeños huecos, con lo que hacer trucos no será tan fácil si llevas ruedas pequeñas. Como ya sabes, el tiempo en Barcelona es perfecto para el patín, solo de noviembre a febrero es cuando puedes encontrar más precipitaciones.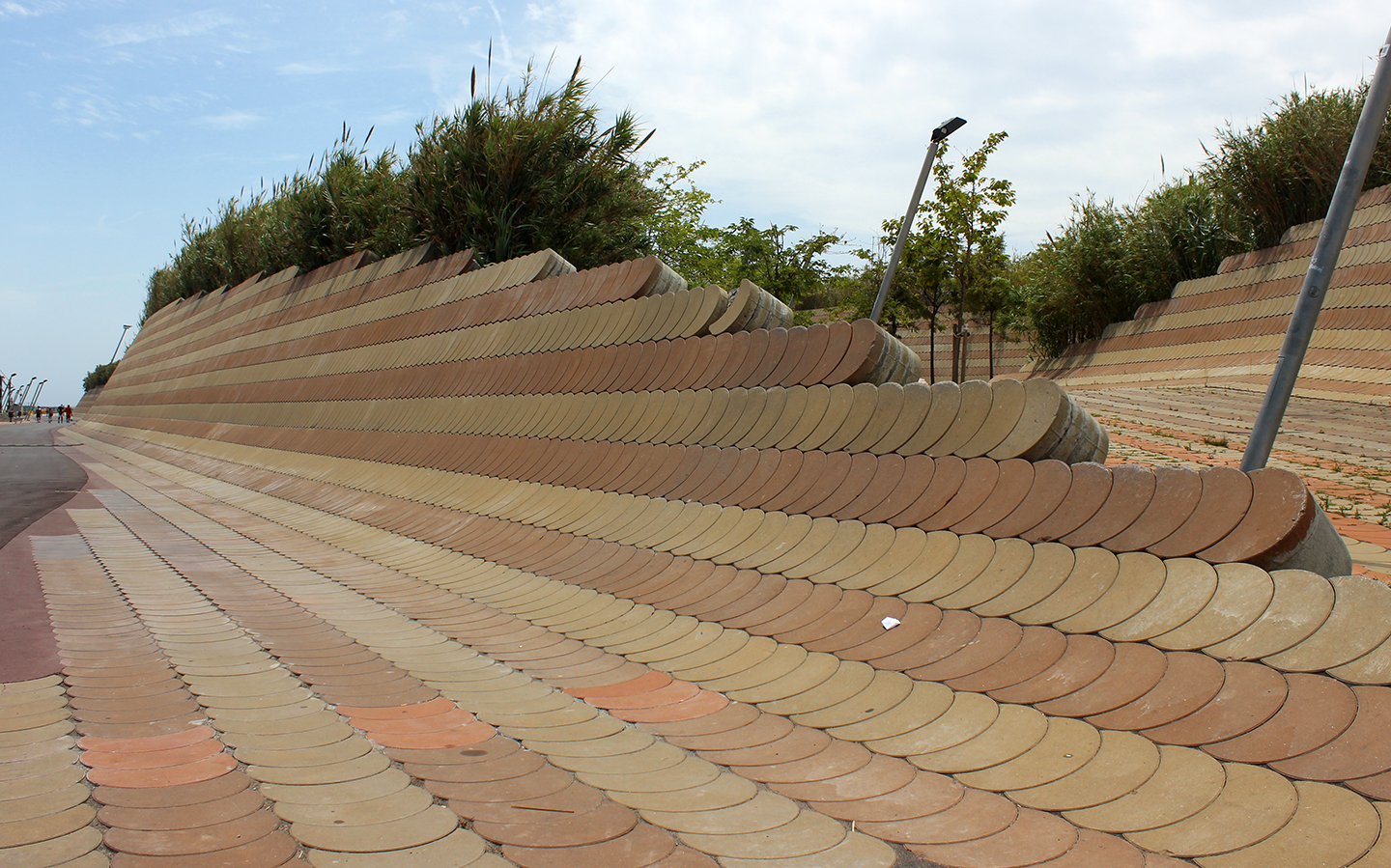 Built for the Barcelona Olympic Games in 1992, the Forum is basically a giant plaza (16 hectares) which hosts many small spots. You only have to move around the area and you'll find different elements to enjoy. From the Plaça de Llevant round-a-bout you'll see the large Museu Blau and that's where you'll find the famous undercover angled hip that you always see in the skate videos. It's like a pentagon that emerges from the ground with banks and hips that can be used as planters, ledges, ramps etc.
A little further up there are 5 blocks and metal ledges and you'll have views of the Forum. From there you can go to the metal low to high ledges that are to the left of the stairs when looking towards the beach, and the skatepark is towards the right. On the way to the skatepark, there is a pedestrianised street which goes downhill straight to the sea. Go past the barrier and follow it, turning left when you get to the bottom. Little by little you'll see the red and white paving stones that extend along the whole of the promenade and progressively create the famous Forum quarter. In the summer months you can go for a swim. There are lifeguards but make sure you ask where the safest swimming area is.
The skatepark has a perfect mini ramp, hips, rails and ledges. It's simple but fun. If you go over the bridge which is next to the skatepark, you can skate a curved ledge dodging the dirt terrain.
Construido con motivo de los Juegos Olímpicos de Barcelona en 1992, el Forum es básicamente una inmensa plaza de 16 hectáreas que alberga multitud de pequeños spots. Con solo ir desplazándote por la zona vas encontrando módulos diferentes para pasar un buen rato. Desde la rotonda de Plaça de Llevant puede verse el gran edificio del Museu Blau, donde se encuentra el mítico hip bajo techo que tanto sale en los vídeos de skate. Se trata de un pentágono que emerge del suelo con planos inclinados y hips que puede usarse como planter, bordillo, ramp, etc.
Un poco más arriba hay cinco gradas y bordillos encerados, además de unas vistas más amplias del Forum. Desde aquí puedes ir a los bordillos low to high metálicos que se encuentran a la izquierda de las escaleras si miras hacia la playa, y si vas a la derecha te dirigirás hacia el skatepark. De camino al Skatepark hay una calle en cuesta que baja hasta el mar con una barrera para que no circulen los vehículos. Pasa la barrera y sigue hasta el fondo hasta que no puedas continuar y gira a la izquierda. Poco a poco irás vislumbrando las baldosas blancas y rojas en el suelo que progresivamente van creando el famoso quarter del Forum, el cual se extiende a lo largo de todo el paseo. En meses de verano puedes bañarte con seguridad en esta zona puesto que hay socorristas, pregunta cuales son las partes donde no hay peligro.
El skatepark consta de una mini rampa de cemento perfecta, hips, rails y bordillos. Muy sencillo pero juguetón. Cruzando el puente junto al skatepark puedes patinar un bordillo en curva sorteando un terreno de tierra.
The whole of the Forum is a cultural area with two large buildings: the Forum building and the International Convention Centre. The immense plaza is around those buildings. After skating you can take a dip in the Olympic swimming pool which was built in the sea. The Forum and surroundings take up a large part of the sports marina which hosts various exhibitions, playgrounds, circus tents and cabarets and restaurants. Behind the brick wave you will see a wall that graffiti artists have used to create their works. It's worth contemplating a walk there since there are some high quality pieces to see.
Other places you should visit for their great cultural significance are Güell Park, Casa Batlló, Camp Nou, the Boquería market and the Ramblas among others.
El mismo fórum es un espacio repleto de cultura, consta de dos grandes edificaciones: El edificio Fórum y Centro de convenciones Internacional de Barcelona. Sobre los edificios se extiende toda la inmensa plaza. Tras la patinada puedes darte una zambullida en la piscina olímpica construida en el mar con motivo de los juegos Olímpicos. El recinto del Fórum ocupa un gran puerto deportivo que acoge diversas exposiciones, zonas de juego, carpas de circo, un cabaret y zonas de restauración. Tras la ola de ladrillo se puede ver un muro que artistas del graffiti han aprovechado para generar sus obras. No está de más contemplarlas dando un buen paseo puesto que algunas son de gran calidad.
Lugares que deberías visitar por su gran relevancia cultural son el parque Güell, Casa Batlló, el Camp Nou, el mercado de la Boquería y las Ramblas entre otros.