Herzliya Skatepark / Israel – Herzliya – Gush Dan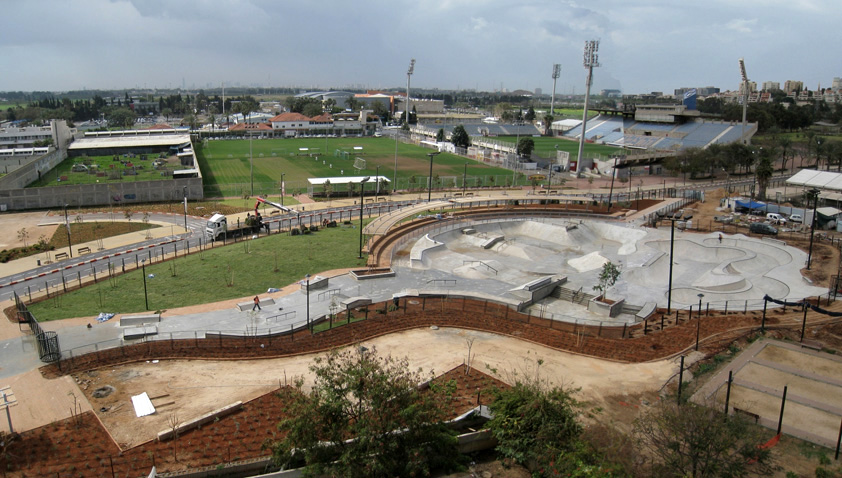 | | |
| --- | --- |
| Funboxes | Funbox Rail, Multifunbox |
| Rails | Flatrails, Handrails, Flatrail with kink, Curve rail |
| Ledges | Hubbas, Ledges, Manual pads, Curve ledges |
| Pipes | Quarters, Wallride, Spine, Curvings, Waves, Bowls |
| Jump | Banks, Ramps, Bump, Eurogap, Hips |
| Stairs | 7 Stairs, Gaps |
Herzliya has a Mediterranean climate, with over 300 sunny days a year on average. Most rainfall is registered between October and March. It rarely rains during the summer so the best time to visit the city and skate is between April and September. You have to wear a helmet and protection to enter the park.
Herzliya tiene clima mediterráneo, con más de 300 días de sol al año de media. Entre octubre y marzo es cuando más precipitaciones se registran. Que llueva durante el verano es raro, por tanto, entre abril y septiembre es la mejor opción para viajar y patinar. Para entrar al parque es necesario llevar protecciones y casco.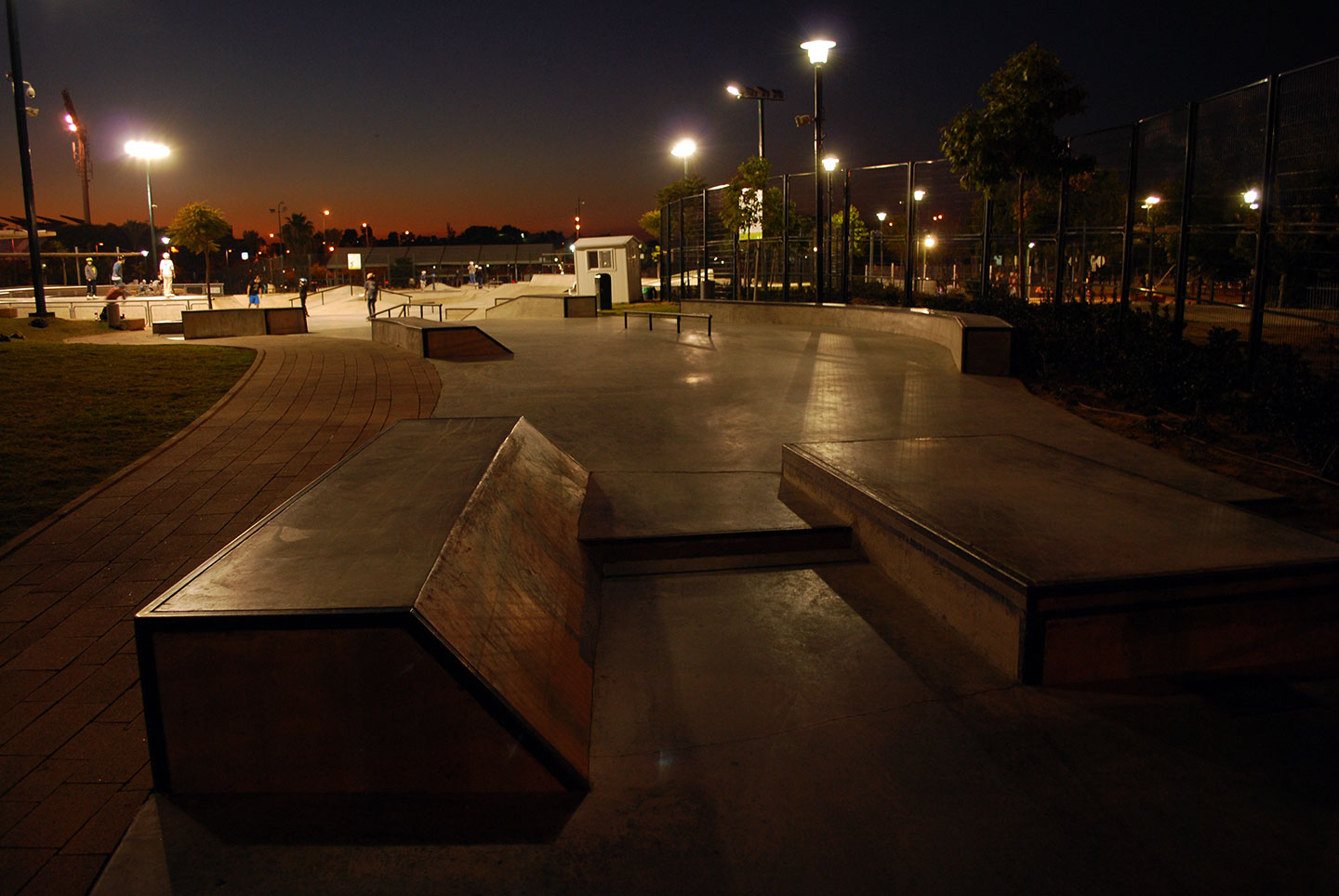 Herzliya Skatepark is immersed in the Sportek sports complex in Herzliya city, in Israel. Since it opened in 2011, it hasn't stopped receiving skaters from all over the world, in fact, its proximity to the train station also makes it accessible for skaters who live in other nearby cities. It was built by the American company Grindline and Zur Wolf architects and covers 1.800 square metres. The park's design is similar to the complex which surrounds it, situated between the smooth grassy hills which lie below the street line, providing privacy and some distance from the hustle and bustle of the city.
Just by passing through the park doors you'll find a passageway that's full of ledges, banks, flatrails, manual pads, a handrail and smooth hubbas. Further in, the space gets larger and you'll find a funbox with rails and banks on both sides. Just in front, there is an open bowl with a multifunbox which can be considered as the centre of the skatepark. The funbox has a central straight rail with an incline and a bigger hubba, along with a ledge and a curved rail as a rainbow. There is a large bowl behind, a snake run, a handrail with seven stairs and other curved low to high ledges. There are also shaded areas for the public. Events like the Vans Shop Riot are held there.
Herzliya Skatepark se encuentra inmerso en el complejo deportivo Sportek, en la ciudad de Herzliya, en Israel. Desde su apertura en el año 2011 no ha parado de recibir visitas de skaters de muchos lugares del mundo, de hecho, su proximidad a la estación de tren hace que sea accesible a los patinadores de fuera de Herzliya. Fue construido por la empresa americana Grindline y arquitectos de Zur Wolf, constando de 1800 metros cuadrados. El diseño del parque es similar al del complejo en el que se encuentra inmerso, situado entre las suaves colinas de hierba que quedan por debajo de la línea de la calle, permitiendo cierta privacidad y ofreciendo lejanía al bullicio de la ciudad.
Nada más cruzar las puertas del parque puedes encontrar un pasillo lleno de bordillos, banks, flatrails, manual pads y un handrail y hubba suaves. Más adelante se amplía el espacio, encontrando un funbox con rails y planos inclinados a ambos lados. Justo enfrente se sitúa un bowl abierto con un multifunbox que se podría considerar el centro del skatepark. El funbox central tiene un rail recto y en bajada y un hubba más grandes, además de un bordillo y rail en curva a modo de rainbow. Detrás hay un gran bowl, un snake run, un handrail de siete escaleras y bordillos sueltos low to high y en curva. También hay zonas de sombra alrededor para el público. Aquí se han celebrado eventos como el Vans Shop Riot.
Herzliya is a mainly a city for business and resting, located north of Tel Aviv. The motorway that crosses the city divides it in two and the coastal zone, known as Herzliya Pituah is where you'll find the large Acacia Beach, with its long promenade which is full of hotels and luxurious resorts. There are many maritime recreation options such as jet ski rentals, beach volleyball, kayaks, diving and surfing. One of the most well-known clubs on this beach is the Reef Israel Diving and Surfing Club, where you can have classes and rent equipment. You could also visit the Apollonia National Park if you want to enjoy some good hiking routes whilst observing the Phoenician and Roman ruins on a cliff with amazing views of the Mediterranean. You should watch the sunset in this characteristic place. The skatepark is very near to the Shivat HaCohavim commercial centre which is full of restaurants and shops. If you want to skate in another park, you can go to Skatepark Rishon Le-Zion which is 24 minutes away, in Rishon LeTsiyon, south of Tel Aviv.
Herzliya es una ciudad principalmente de negocios y descanso al norte de Tel Aviv. La autopista que cruza la ciudad la divide en dos y la zona de costa se conoce como Herzliya Pituah, donde se encuentra la amplia playa Acacia Beach, con un largo paseo marítimo lleno de hoteles y resorts de lujo. Hay muchas opciones de recreación marítima, como alquiler de motos de agua, vóley playa, kayak, buceo y surf. Uno de los clubs más conocidos en esta playa es Reef Israel Diving & Surfing Club, donde podrás dar clases y alquilar material de diferentes disciplinas. También puedes visitar Apollonia National Park una buena opción si quieres hacer una buena ruta de senderismo mientras observas ruinas fenicias y romanas junto a un acantilado de increíbles vistas al mediterráneo. Es recomendable ver el atardecer en este característico lugar. El Skatepark está muy cerca del centro comercial Shivat HaCohavim que está lleno de restaurantes y tiendas. Si quieres patinar en otro parque puedes ir a Skatepark Rishon Le-Zion. Se encuentra a 24 minutos, en Rishon LeTsiyon, al sur de Tel Aviv.