LA Courthouse / United States – Los Angeles – California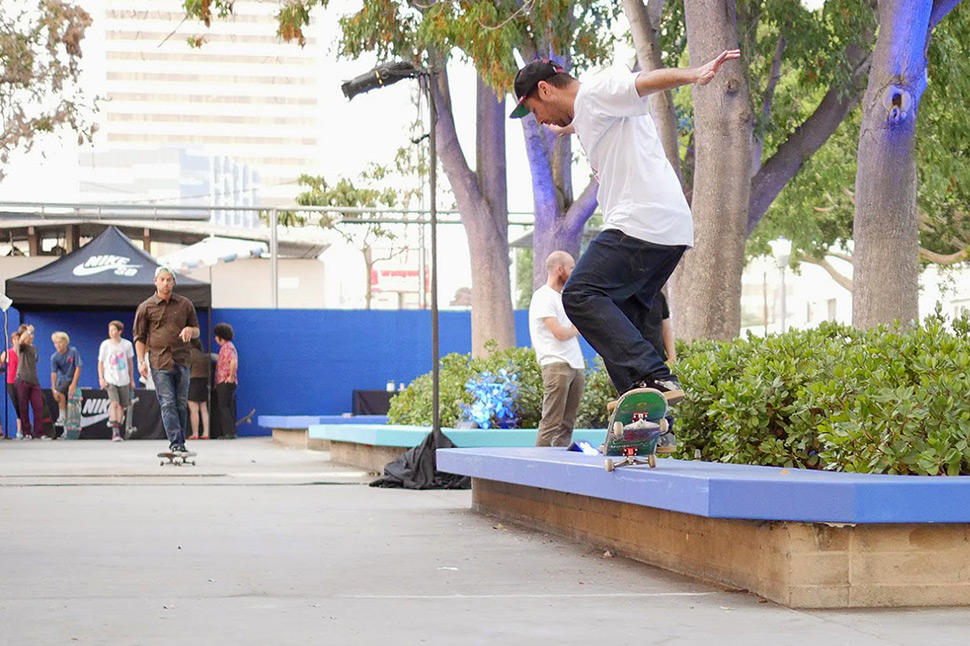 | | |
| --- | --- |
| Funboxes | |
| Rails | Handrails with kink |
| Ledges | Ledges, Manual pads, Curve ledge |
| Pipes | |
| Jump | |
| Stairs | 4 Stairs, Gaps |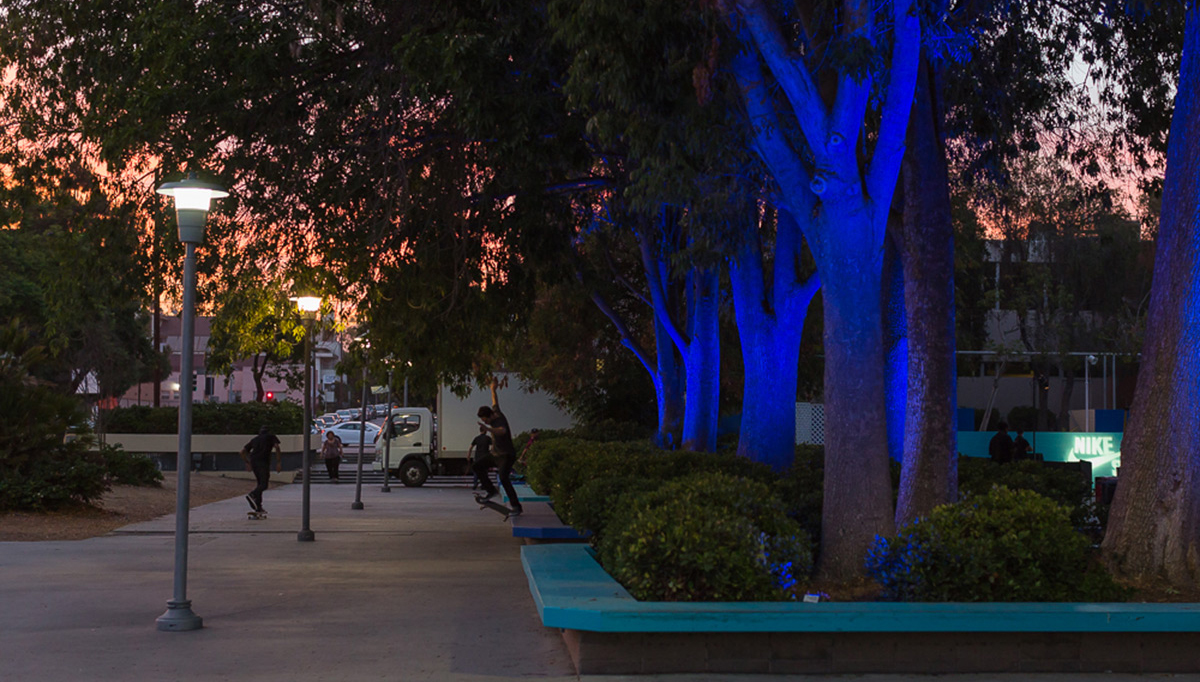 West LA Courthouse, also known as Santa Monica Courthouse, is one of the most legendary spots in the world of skateboarding. Located on the Purdue Ave. and Santa Monica Blvd., it was like a second home to many skaters during street skateboarding's golden decade from the mid-nineties until the beginning of the millennium. It's characterised by the numerous ledges, a dry fountain, four stairs and the mythical setting, of which it became an icon among the street spots. Pros and amateurs travelled from all over the world specifically to skate there, but at the beginning of the year 2000 skateboarding was prohibited and the fountain was removed and skate stoppers were put on the ledges etc. It's still skated as a manni pad but not like before.
The local skater from Stoner Alec Black together with Aaron Snyder were participants in the return of tis legendary spot in 2014, playing a decisive role in Nike SB's proposal to remodel the spot for the Go Skateboarding Day of that same year. Once the stoppers had been removed from the ledges and they were freshly painted, they were like butter again. They used to be cement but now they are metal, so they are more skateable and hardwearing. Geoff McFetridge's artwork decorated the scene at the re-opening and it was attended by Nike professionals such as Eric Koston, Paul Rodriguez, Theotis Beasle and other skaters who helped immortalise the day along with members of the city council.
To help keep it as a skate spot for many more years to come, the skaters must follow some simple guidelines which are basic common sense in that you just have to be respectful of others, the atmosphere and the place. With this level of respect, not only can skaters continue using this legendary spot, but it can also be used as an example around the world when it comes to re-opening of other great spots. Thanks to the constant fight by these passionate skaters, other generations can enjoy this great classic.
Description Es West LA Courthouse, conocido también como 'Santa Monica Courthouse', es uno de los spots más legendarios del mundo del skateboarding. Situado en la intersección entre Purdue Ave y Santa Monica Blvd, ha sido como una casa para muchos skaters durante la época dorada del patinaje callejero a mediados de los 90 y principios del 2000. Característico por sus numerosos bordillos, una fuente vacía, cuatro escaleras y el mítico escenario, los cuales se volvieron un icono entre los Street spots. Pros y amateurs de todas partes del mundo viajaban expresamente para patinarlo, pero a principios del año 2000 se prohibió la práctica del skate y se eliminó la fuente, además de colocar skate stoppers en los bordillos y el escenario. Aun así, se seguía patinando el escenario como manni pad, pero no como antes.
El skater local de Stoner plaza Alec Beck junto con Aaron Snyder fueron partícipes de la vuelta del skate a este mítico spot en 2014, jugando un papel decisivo la propuesta de Nike SB en la remodelación del spot con motivo del Go Skateboarding Day de ese mismo año. Una vez quitados los skate stoppers de los bordillos y recién pintados vuelven a deslizar como la mantequilla. Antes eran de cemento pero ahora son metálicos, aún más patinables y duraderos. Para su reapertura, los gráficos de Geoff McFetridge adornaron el escenario y se contó con la presencia de profesionales de Nike como Eric Koston, Paul Rodriguez, Theotis Beasle y otros patinadores que ayudaron a inmortalizar la reapertura junto con los miembros del consejo de la ciudad.
Para que siga siendo patinable durante muchos años los skaters deben seguir unas pautas totalmente de sentido común. Solo hay que ser respetuoso con las personas, el ambiente y el lugar, de este modo no solo se conseguirá seguir patinando este legendario spot, sino que puede considerarse como un ejemplo en todo el mundo para la reapertura de otros lugares míticos. Gracias a la lucha constante de skaters apasionados otras generaciones podrán disfrutar de un gran clásico.
The city of Los Angeles has a lot of history and culture with regards to skateboarding and there is still a big scene developing around this activity so you will never get bored of skating there. Stoner Skate Plaza is five minutes away, along Nebrasca Ave. A visit to Venice Beach, which is 20 minutes away, is recommendable as you'll find a good street skatepark with bowls. There is a great atmosphere surrounding Venice Beach so it's worth visiting to see and feel that as well as its skateboarding history, the beach, the street artists, souvenir shops and the thousands of other things it has to offer.
A trip to Disneyland is also a good option, especially if you are with your family, the original theme park from Walt Disney, it's full of entertainment options, restaurants and shops. Other interesting tourist attractions are Universal Studios, the Hollywood sign, the Walk of Fame, Melrose Avenue, Sunset Strip, Rodeo Drive, Beverly Hills, the ex-Baywatch Beach and much more.
Los Ángeles es una ciudad con mucha historia y cultura en cuanto a skateboarding y sigue desarrollándose una fuerte escena alrededor de esta actividad, por tanto, nunca te aburrirás de patinar en esta ciudad. Stoner skate plaza se encuentra a cinco minutos patinando por la Avenida Nebrasca. Pasa por Venice Beach que se encuentra a 20 minutos y encontrarás un buen skatepark de Street y bowls, además de un lugar que hay que visitar por el ambiente, su historia de skate, la playa, sus artistas callejeros, tiendas de souvenirs y mil cosas más.
Si vas de turista, Disneyland es un lugar lleno de clásicos, entretenimiento, restaurantes y tiendas, muy recomendado si vas en familia. Otras visitas interesantes son Universal Studios, Hollywood Sign, Walk of Fame, Melrose Avenue, Sunset Strip, Rodeo Drive, Beverly Hills, la ex Baywatch Beach, etc. Puede que te cruces con más de una estrella de cine.