La Kantera / Spain – Getxo – Pais Vasco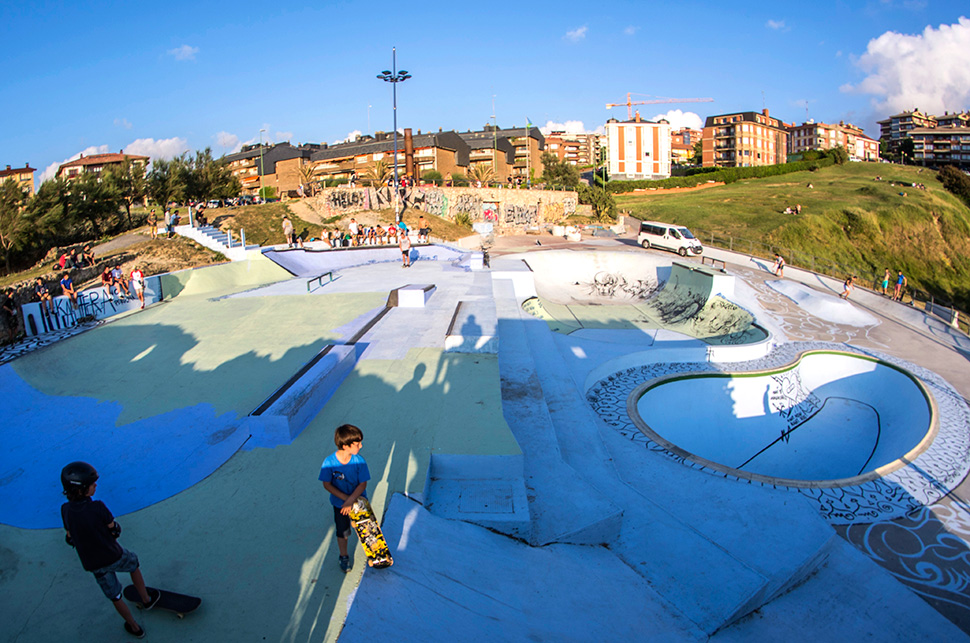 | | |
| --- | --- |
| Funboxes | Pyramid |
| Rails | Flatrails, Pole jump |
| Ledges | Hubba, Benches, Manual pads |
| Pipes | Half pipe, Quarters, Wallride, Spine, Curvings, Pool |
| Jump | Banks, Eurogap, Hip |
| Stairs | Gaps |
It's difficult to skate in the summer as it rains a lot so it's better to go sometime between June and September, then you can enjoy the beach too. It's a classic skatepark and is therefore quite worn but the locals take care of improving it whenever they can, so to find it's well-maintained and recently painted isn't unusual. For this reason alone it's important to respect the place and the people.
En invierno es complicado patinar, casi siempre está lloviendo, es mejor visistar este spot de Junio a Septiembre y así aprovechar la playa. Este skatepark es un clásico y está bastante gastado, pero los locales se encargan de mejorarlo siempre que pueden, con lo que encontrarlo con un mantenimiento óptimo y recién pintado no es nada extraño. Por ello y más que nunca respeta el lugar y su gente.
At this incredible place you'll skate among the ruins of a fort, with spectacular views of the sea and cliffs and an unbeatable atmosphere at the Arrigunaga beach. Built in 1987 and located in Getxo, very near to the city of Bilbao, the fantastic La Kantera has attracted many international skaters and is known worldwide for its transitions and coopings. In 2009 they did some refurbishments and you'll now find a 2,7 metre halfpipe, a kidney-shaped pool, a module with two banks separated with a ledge on top, some wallrides, a pyramid, curvings, flatrails, a pole jump, gaps, ledges and manni pads. Along with the refurbishments, the locals often repair and re-paint the park so they can make the most of every session.
La Kantera Skate Eskola is a school of skate which offers courses and camps for youngsters as well as organising events and Pool Sessions in the skatepark. Numerous world class skateboarding stars have skated at this spot, some of these include Alain Goikoetxea and Txus Domínguez (the creator of La Kantera), and the incredible up and coming younger generations. Big brands often visit the park to host international events like the Globe Bowl Bash or the Bowl-a-rama 2014. This and much more is what demonstrates that La Kantera still has a lot to offer.
En éste increíble lugar patinarás entre las ruinas de una fortificación, con espectaculares vistas al mar y los acantilados, además de un ambiente inmejorable en la playa de Arrigunaga. Construido en el año 1987 y situado en Getxo, muy próximo a la ciudad de Bilbao, el mítico skatepark La Kantera ha atraído a gran número de patinadores internacionales y es conocido en todo el mundo por sus transiciones y coopings. En el año 2009 se hicieron algunas reformas y ahora podrás encontrar un Half pipe de 2,7 metros, una piscina con forma de riñón, un módulo de dos banks separados con un bordillo encima, algunos wallrides, una pirámide, curvings, flatrails, pole jump, gaps, bordillos y manual pads. Además de dichas reformas, los locales realizan reparaciones y pintan el parque para seguir sacándole el máximo partido a cada sesión.
La Kantera Skate Eskola es una escuela de skate que ofrece cursos y camps a los más jóvenes, además de organizar eventos y Pool Sessions en el Skatepark. En éste clásico spot han patinado innumerables personalidades del skateboarding a nivel mundial, han crecido grandes skaters de la talla de Alain Goikoetxea y Txus Domínguez (creador de La Kantera), y siguen creciendo generaciones muy fuertes que ripan de todo. No para de recibir visitas de equipos de grandes marcas y albergar eventos internacionales como Globe Bowl Bash o Bowl-a-rama 2014. Esto y mucho más es lo que demuestra que la Kantera aún tiene muchísimo skate que ofrecer.
The centre of Bilbao is 15 minutes away but there aren't many street spots there, except the BBVA plaza which has manni pads, ledges and stairs. It's better to go when there are less people about, for example at midday at the weekends or at night. The meeting places tend to be the Deusto or Echebarria skatepark and the Embarcadero de Basauri. The Gure txoko indoor skatepark is another option, perfect for the rainy days which are quite common in the zone. It only costs 5 euros to get in and the elements are a central multifunbox, banks and well-distributed quarters. On the coast, along with Arrigunaga beach, you can visit Ereaga beach in Getxo, and the Sopelana and Meñakoz beaches, especially if you go in the summer.
El centro de Bilbao se encuentra a 15 minutos, pero no hay muchos spots de calle, excepto la plaza del BBVA con manual pads, bordillos y escaleras, aunque lo mejor es ir en horas que haya poca gente, al medio día los fines de semana o por la noche. Los lugares de reunión suelen ser el skatepark de Deusto, el de Echebarria y el Embarcadero de Basauri. También está la opción del skatepark Gure txoko indoor, perfecto para los días difíciles de precipitaciones tan comunes en la zona, sólo cuesta 5 euros la entrada y los módulos son un multifunbox central, planos inclinados y quarters bien distribuidos. Estando en la costa, además de la Playa de Arrigunaga, puedes encontrar la Playa de Ereaga en Getxo, la playa Sopelana y Playa de Meñakoz, muy aconsejables en los meses de verano.