| | |
| --- | --- |
| Funboxes | |
| Rails | Flatrails, Handrails, Curve rail |
| Ledges | Hubbas, Ledges, Manual pads |
| Pipes | Spines, Curvings, Bowls |
| Jump | Banks, Ramps, Bumps, Streetgaps, Hips |
| Stairs | 4 Stairs, Gaps |
The best months to visit Madrid are March, April and May, although anytime is a good time to visit this great city. Legazpi is quite central and therefore is quite popular. It can be uncomfortable at the weekends and on weekday afternoons as it get quite busy at certain times so the best time to go is during the morning or at midday if you want a quiet session.
El mejor tiempo para patinar en Madrid es en marzo, abril y mayo, aunque cualquier día del año es bueno para visitar esta gran ciudad. Legazpi es más o menos céntrico, lo que hace que lo visiten muchas personas. Los fines de semana puede no ser muy cómodo, ya que se llena de gente a ciertas horas. Incluso entre semana por las tardes puedes encontrarlo bastante transitado. Lo mejor es ir por la mañana o al medio día si quieres patinar más relajado.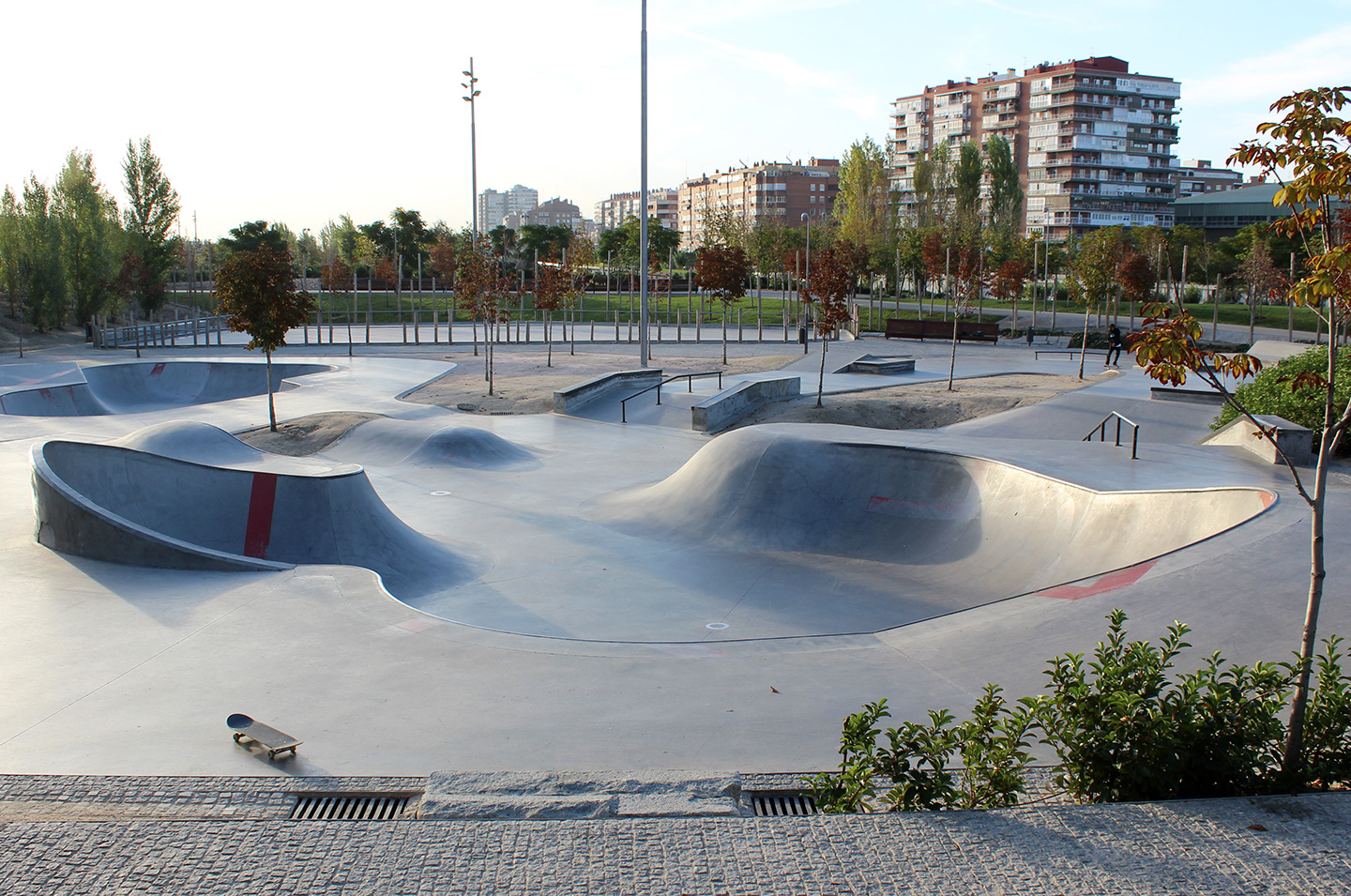 Arganzuela Skatepark, better known as Legazpi among the locals and foreigners, was constructed in 2010 and is located very near to the Atlético Madrid Football Stadium, next to the River Manzanares. It has two zones, one is a closed bowl where there is a ramp together with a low to high ledge, good for frontside and backside, and the other is larger with an open bowl that connects to a street zone. In the street zone you'll find manual pads, rails, ramps, ledges and a bank, elements for beginners and intermediates and things like a hubba and a handrail for those with more experience.
Legazpi Skatepark was characterised by its thick red lines which created random shapes but these can hardly be seen now. The floor is quite slippery, above all around the bank and curved rail. There are green zones, fountains nearby, stands for the public and a hard floor without elements which is perfect for flatland tricks. You can see it from the road in the direction of the city centre.
El Skatepark de Arganzuela, más conocido entre locales y foráneos como Legazpi, fue construido en 2010. Está situado junto al río Manzanares, muy cerca del estadio del Atlético de Madrid. Se podría decir que consta de dos zonas, una de ellas con un bowl cerrado y una ramp con bordillo low to high para darle tanto de frontside como de backside. La otra zona es más amplia, con un bowl abierto que conecta con un espacio de street. En la zona de calle pueden distinguirse manual pads, rails, ramps, bordillos y un bank, módulos que son muy suaves para principiantes y nivel intermedio, así como un hubba y un handrail para los que llevan más tiempo patinando.
El skatepark de Legazpi era característico por sus líneas gruesas de color rojo en el suelo creando formas aleatorias, aunque ahora esas líneas apenas se aprecian por la erosión de las ruedas. El suelo es bastante deslizante, sobre todo en la zona del bank y el rail en curva. Tiene zonas verdes, fuentes cercanas, unas gradas para el público y un espacio amplio de suelo firme sin módulos perfecto para flatear. Puede verse desde la carretera en dirección al centro de la ciudad.
When you leave the skatepark and cross the Manzanares Bridge, you'll find a long waxed ledge on the right, next to the padel tennis courts. Heading north through the park you'll find things to skate and the ledges at Príncipe Pio. Continuing north, you'll also come across Ramales Square which has a very central location and is just a seven minute car journey from the skatepark. There is a curved ledge, low to high and various other ledges. Tetuán Skate plaza is 11 minutes by car, take the M-30 towards Vicente Calderón and then Dehesa de la Villa Road, or on Line 9 of the metro. Hortaleza Square is 16 minutes away in the opposite direction of Tetuán on the M-30 or on Line 4 of the metro.
Vicente Calderón is the Atlético Madrid Football Stadium, so if you like football, it's worth visiting as it's only four minutes away from the skatepark. You can also visit the Gran Vía, the Communications Palace, the Prado Museum, the Reina Sofia Museum, the Puerta del Sol, the Royal Botancial Gardens, Retiro Park, the Almudena Cathedral and the Madrid flea market 'el Rastro' which is on every Sunday morning.
Al salir del skatepark y cruzar el puente del Manzanares, puedes divisar un bordillo muy largo y encerado a mano derecha, junto a unas pistas de pádel. Si recorres el parque hacia el norte puedes encontrar cosas para patinar e incluso llegar al spot de bordillos de Príncipe Pio. En dirección norte también se encuentra muy céntrica La plaza de Ramales, con el coche puedes estar allí en 7 minutos desde el skatepark, hay un bordillo en curva, en subida, low to high y bordillos varios. El Skate plaza de Tetuán puedes encontrarlo a 11 minutos en coche cogiendo la M-30 dirección Vicente Calderón y luego la carretera Dehesa de la Villa, o en metro cogiendo la Linea 9. La plaza de Hortaleza queda a 16 minutos en dirección contraria a Tetuán cogiendo también la M-30 o la Linea 4 de metro.
l Vicente Calderón es el estadio del Atlético de Madrid, si te gusta el fútbol puedes verlo a tan solo cuatro minutos a pie del skatepark. También puedes visitar la Gran Vía, el Palacio de Correos, el museo del Prado, el Reina Sofía, la Puerta del Sol, el Jardín Botánico, el parque del Retiro, la Almudena y cualquier domingo por la mañana pásate por el conocido Rastro madrileño.