LES Skatepark / United States – Manhattan – New York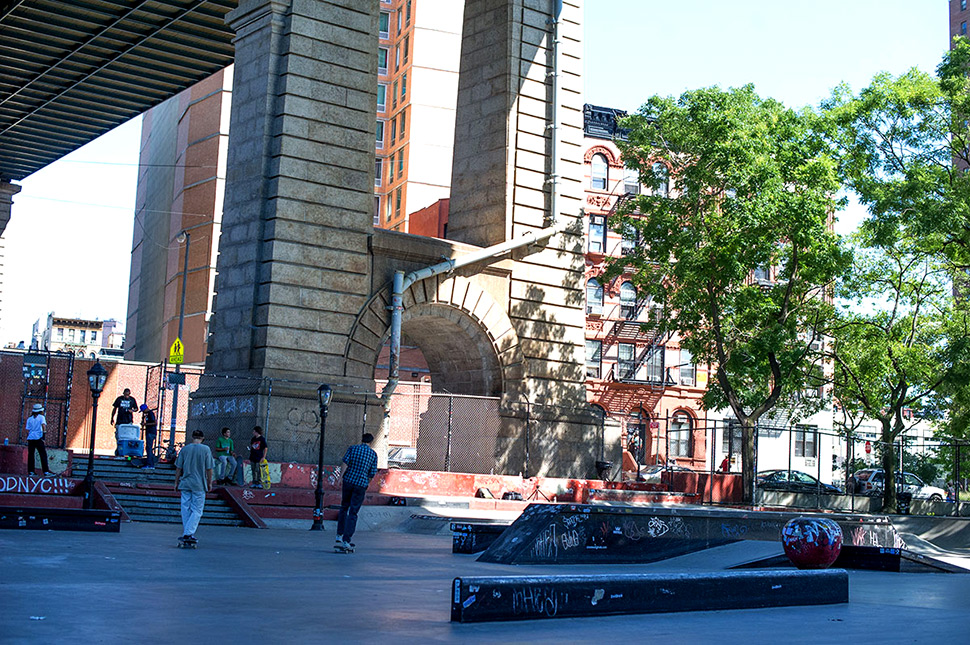 | | |
| --- | --- |
| Funboxes | Funbox Rail,Pyramid |
| Rails | Flatrails, Handrails |
| Ledges | Hubbas, Ledges, Manual pads |
| Pipes | Quarters, Wallrides, Curvings |
| Jump | Banks, Ramps, Bumps |
| Stairs | 5 Stairs, Gaps, Double set 4x6 |
LES Skatepark is free and open to the public every day of the year. The climate is better in the summer, between June and September, but a good month to visit is October as the weather is still good after the summer and the shops will also have sales on. From November onwards it is often cold and wet.
LES Skatepark es gratuito y está abierto al público todos los días del año. Ten en cuenta que el mejor clima se da en verano, entre junio y septiembre, pero un buen mes para ir a Nueva York es octubre, sigue haciendo buen tiempo tras el verano y bajan los precios, a partir de noviembre vuelven el frío y las lluvias.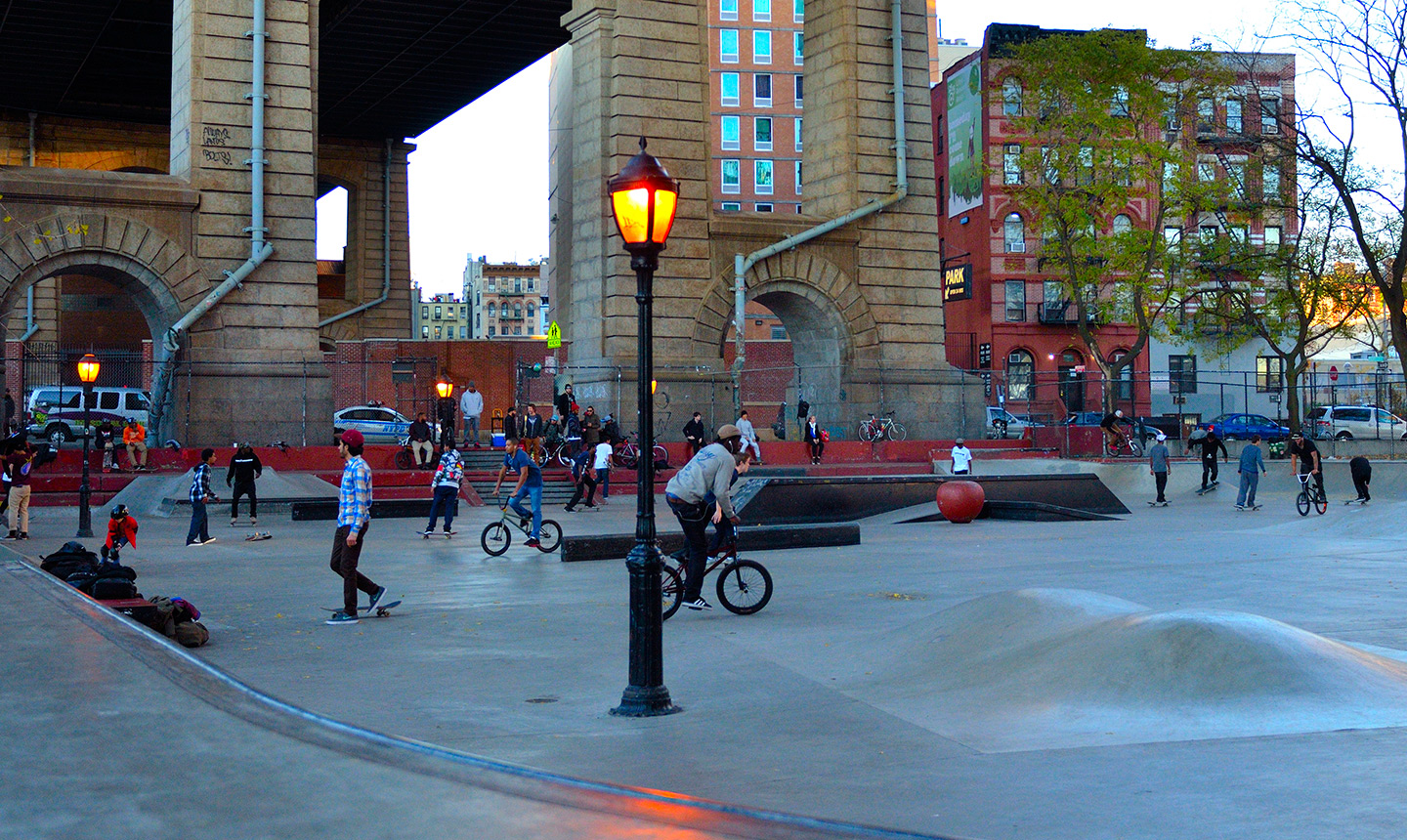 LES Skatepark is how most people know Coleman Oval Skatepark as it is located in Lower East Side. It's in Chinatown, just below the Manhattan Bridge, in Coleman Park, and is the perfect place for a long session or to warm up before hitting the streets of Manhattan. This skatepark has always been a classic but it became quite dirty and worn over time so the remodel was very much needed. They changed the rusty rails and the plastic ramps for cement and marble. It reopened its doors on the 21st June 2012 for the Go Skateboarding Day with attendance from pros like Stefan Janoski, Eric Koston, Clark Hassler and Paul Rodríguez among others and of course, the NY skateboard community. It was constructed thanks to the collaboration of California Skateparks, the skate community advocate who works in design, Steve Rodriguez from 5boro Skateboards and a grant from Nike Gamechangers, as well as the NYC Parks and Recreation Department.
You'll find a huge variety of elements, among which we can highlight the numerous bumps, perfect ledges, rails, a 4 flat 6 double stair set, a pyramid with a wavy ledge, 5 steps with a rail and hubbas, quarters and an apple. The park hosts events like Manny Mania, Adidas Skate Cup, Element Make it Count, Mighty Healthy Best Trick Jam and the final of the New York City Riders Cup Contest Series.
LES Skatepark es como se conoce mayormente al Coleman Oval Skatepark, ya que se sitúa en Lower East Side (LES). Se encuentra en Chinatown, justo debajo de Manhattan Bridge en Coleman Park. Es el punto perfecto para una larga sesión o para calentar antes de furtivear por Manhattan. Este skatepark ha sido siempre un clásico, pero con el tiempo se estropeó y ensució demasiado, con lo cual su remodelación se hacía muy necesaria. Se cambiaron los rails oxidados y las rampas de plástico por cemento y mármol. Volvió a abrir sus puertas el 21 de Junio de 2012 con motivo del Go Skateboarding Day, donde acudieron profesionales como Stefan Janoski, Eric Koston, Clark Hassler y Paul Rodríguez entre otros, además de la gran comunidad skater de NY. Fue reconstruido gracias a la colaboración de California Skateparks, el defensor de la comunidad skater que trabajó en el diseño Steve Rodríguez de 5boro Skateboards y una subvención de Nike Gamechangers, además de NYC Department of Parks & Recreation.
Puedes encontrar gran variedad de módulos entre los que destacan numerosos bumps, bordillos perfectos, rails, un doble set de escaleras 4 plano 6, una pirámide con bordillo ondulado, cinco escaleras con un rail y hubbas, quarters y una manzana. Este parque es sede de eventos como Manny Mania, Adidas Skate Copa, Element Make it Count, Mighty Healthy Best Trick Jam o la final del New York City Rider's Cup Contest Series.
Manhattan is enormous and you'll find an infinity of things to skate around the LES Skatepark and around the nearby City Hall. You'll also find many good spots around the streets of Midtown and many plazas around the financial district, although be cautious as you know that skateboarding this city's streets isn't welcome with the authorities.
From a tourist aspect, if you look around, the buildings are enormous and the City Hall is admirable. You could go to see the Brooklyn Bridge, the New Museum, the World Trade Center, Battery Park, Soho, the 11th September National Museum and Chinatown as they are all interesting places. Other places to see in New York are Central Park, Times Square, Williamsburg Bridge, Bedford Street, Flushing Meadows-Corona Park, St. Marks Street, Union Square, the Statue of Liberty and much more!
Manhattan es enorme y por la zona de LES Skatepark encontrarás infinidad de cosas para patinar, cerca se encuentra el City Hall. Donde también puedes encontrar muchos y buenos spots es en las calles de Midtown, recorriendo la zona del distrito financiero encontrarás muchas plazas, aunque como ya sabrás, patinar las calles de esta ciudad no es del agrado de las autoridades.
Por otro lado, si observas tu alrededor, los edificios son enormes y las construcciones del City Hall admirables. Pasa a ver el puente de Brooklyn, New Museum, el World Trade Center, Battery Park, Soho, el Museo Nacional del 11 de Septiembre, Chinatown, ninguno de estos lugares te dejará indiferente. Otros lugares que deberías ver en New York son el Central Park, Times Square, Williamsburg Bridge, Bedford Street, Flushing Meadows-Corona Park, St. Marks Street, Union Square, La Estatua de la Libertad y un largo etcétera.