Los Símbolos Skate Plaza / Venezuela – Caracas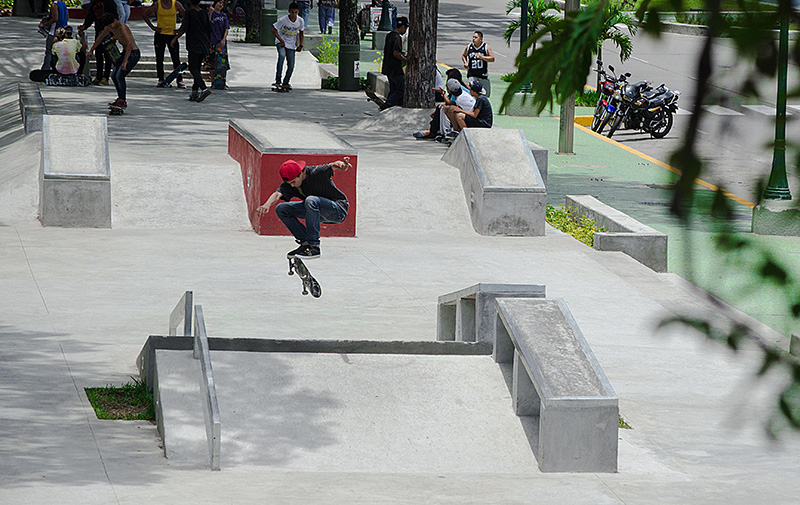 | | |
| --- | --- |
| Funboxes | Pyramid, Multifunboxes |
| Rails | Flatrail, Handrails |
| Ledges | Hubbas, Ledges, Manual pads, Curve ledge |
| Pipes | |
| Jump | Banks, Ramps |
| Stairs | 3 and 4 Stairs, Gaps, 3 Blocks |
Caracas has a tropical climate with stable temperatures which make it ideal for year-round skating. However, there can be quite a bit of cold fog in December, January and February and there is more chance of rain between June and October.
El clima de Caracas es tropical, por tanto, las temperaturas suelen ser estables e idóneas para patinar todo el año. En los meses de diciembre, enero y febrero aparecen abundantes nieblas frías. Los meses que más posibilidades hay de lluvia son de junio a octubre.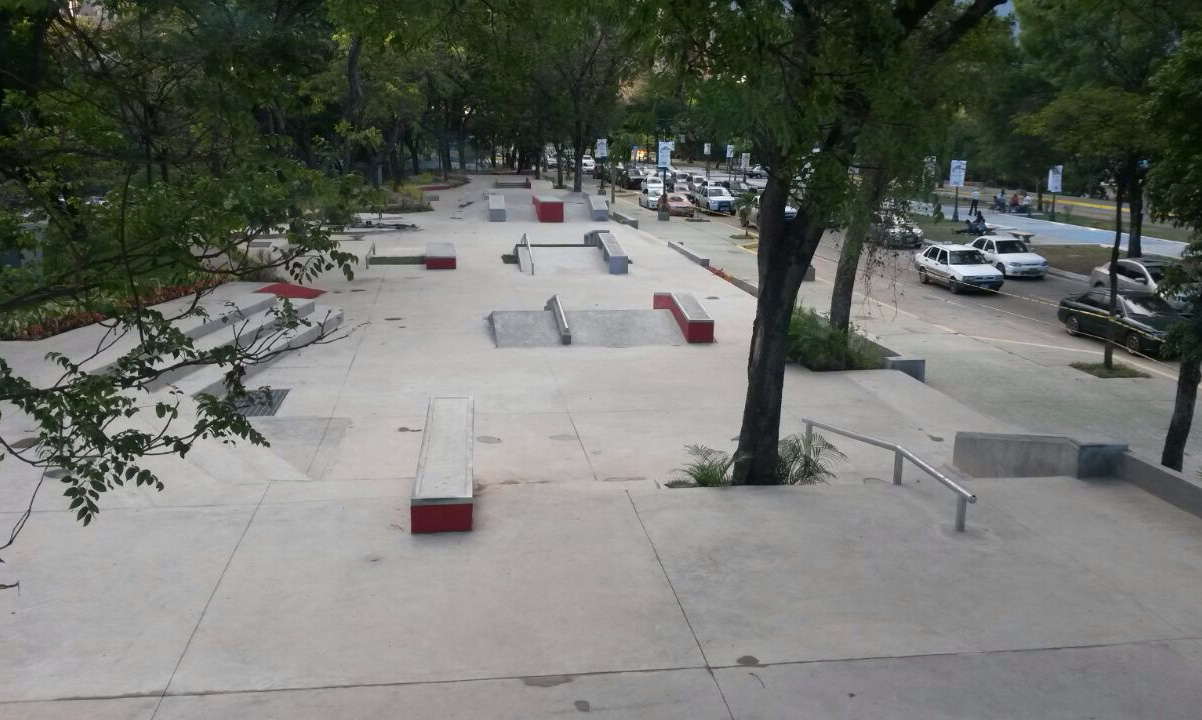 Los Simbolos Skate Plaza is situated in Avenida Los Ilustres, in Venezuela's capital, Caracas. Opened on the 5th August 2014, it covers three thousand square metres and is full of street elements. You'll find rounded rails and hubbas on two central funboxes, manni pads, stairs, low to high ledges, a curved ledge and a pyramid. The elements are distributed around the area along with trees which help to give it a more natural setting. In fact, there is a ledge and a flat rail with grass below so you have to slide the whole thing.
The installations also include a café, toilets, and equipment and protection rentals. It is also well-lit at night. In the future, they plan to build a second phase just in front of the plaza which will substantially increase the skate options.
El Skate plaza Los Símbolos está situado en Avenida Los Ilustres, en la capital de Venezuela, Caracas. Inaugurado el 5 de agosto de 2014, cuenta con tres mil metros cuadrados llenos de módulos de street. Podrás encontrar rails redondos y hubbas en dos funbox centrales, manni pads, escaleras, bordillos low to high, un bordillo en curva y una pirámide. Los módulos se encuentran distribuidos por el espacio junto a árboles que le dan un toque paisajístico muy natural. De hecho, hay un bordillo y un flat rail con suelo de césped para que tengas que deslizarlos enteros.
Las instalaciones incluyen también cafetería, baños públicos, servicio de préstamo de material y protecciones, además de buena iluminación por la noche. En un futuro, justo en frente se planea construir una segunda fase del skate plaza que ampliará sustancialmente el espacio patinable.
There are two quite good skateparks in Caricuao and Dos Caminos, although they are predominantly made up of ramps. The Waraira Repano National Park, which used to be called Ávila Park, is a large natural lung that covers more than eighty thousand hectares and provides a scenic environment where you can do various sports. The Caracas cable car is a characteristic of the park. Another well-known park is the Parque del Este. There you can visit the Humboldt Planetarium, the aviary, the gardens, Christopher Columbus' caravel, the replica of the Leander corvette and some lakes where you can hire boats.
The centre of Caracas is very unique. One of the things that will attract your attention from afar is the golden dome of the National Assembly. If you continue to the Bolívar Plaza, you will easily find the cathedral, the Casa Amarilla, the Sacro Museum and the Arzobispal Palace. In addition, the Teresa Carreño cultural centre, Paseo Las Mercedes, El Hatillo, Paseo Los Próceres and the Ciudad Universitaria are also recommended visits.
En los sectores de Caricuao y los Dos Caminos se sitúan dos Skateparks predominantemente de rampa bastante buenos. Por otro lado, el Parque Nacional Waraira Repano, antiguamente llamado Parque El Ávila, es un gran pulmón natural de más de ochenta mil hectáreas donde pueden realizarse diferentes actividades deportivas. Algo característico de este parque es el teleférico de Caracas. Otro parque bien conocido es el Parque del Este, donde se puede visitar el Planetario Humboldt, el Aviario, el Jardín de los Patios, la Carabela Cristóbal Colón y la réplica de la Corbeta Leander. Además, dentro del parque hay una pequeña laguna y el Lago Sur, donde se puede pasear en bote.
Uno de los lugares más singulares de Caracas es el centro. Una de las estructuras que te llamará la atención desde lejos es la cúpula dorada de la Asamblea Nacional. Si sigues hasta la plaza Bolívar, podrás fácilmente encontrar la Catedral Metropolitana, la Casa Amarilla, el Museo Sacro, la Alcaldía del municipio Libertador y el Palacio Arzobispal. También la Casa Natal de Simón Bolívar se encuentra cerca de ahí. Además, es aconsejable visitar el Complejo cultural Teresa Carreño, Paseo Las Mercedes, El Hatillo, Paseo Los Próceres y la Ciudad Universitaria.