MACBA / Spain – Barcelona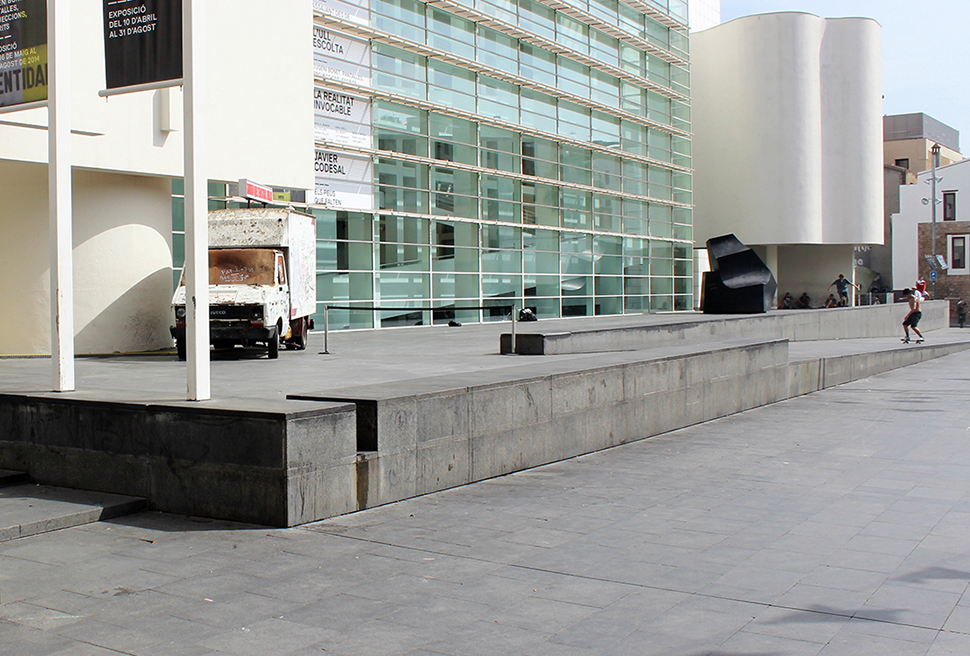 | | |
| --- | --- |
| Funboxes | |
| Rails | |
| Ledges | Ledges, Manual pads |
| Pipes | |
| Jump | |
| Stairs | 5 Stairs, 3 Blocks, Gaps |
Some of the ledges are worn and rounded due to so much use but in general everything is very good. You can skate more comfortably on Tuesdays and Sundays at the higher part near the entrance as the museum is closed. Make sure you are mindful about where you leave your bag. The police often allow you to skate there and the locals are hospitable, many of them are from different parts of the world.
Algunos bordillos están algo redondos de tanto patinarlos, pero en general, todo va muy perfecto. Los martes y domingos se patina más cómodamente la zona de arriba, ya que el museo está cerrado. Debes tener cuidado donde dejas la mochila. La policía suele permitir patinar allí y los patinadores locales son hospitalarios, muchos de ellos venidos de diferentes partes del mundo.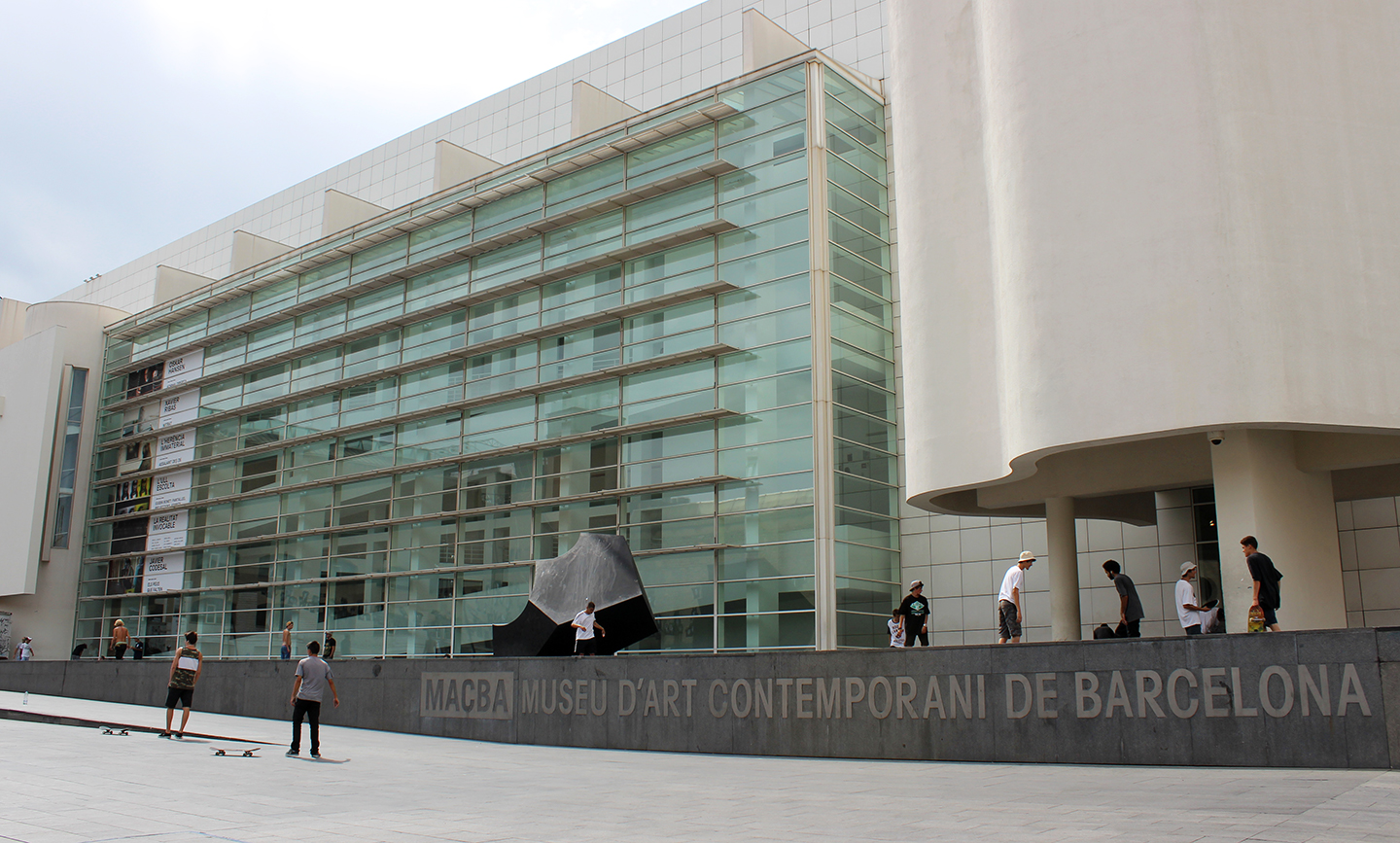 The Museum for Contemporary Art in Barcelona was opened in 1995 along with the Plaça dels Àngels, or what is better known as MACBA in the world of skateboarding. This place wasn't a skate zone from day one, but little by little it became the epicentre of skateboarding in Barcelona and one of the most famous skate meccas in the world due to its appearance in international videos and constant visits by skaters from all over the world. The famous long smooth granite ledge is the main element in the centre of the spot, along with many more different sized ledges, a good set of 5 stairs and the newly renovated 3 tier, formerly known as 'The Big 4', all on a more than perfect floor.
At certain times of the day, MACBA can get crazy with loads of skaters and pedestrians trying to move about without tripping over each other, especially at the weekends during the summer when the weather is good. At night it transforms into a place to chill out where the atmosphere is relaxed and you can buy cheap cold beers.
El Museo de Arte Contemporáneo de Barcelona fue inaugurado en el año 1995, así como la Plaça dels Àngels, más conocida como MACBA en el mundo del skateboarding. Pero esta plaza no se patinó a fondo desde el primer día, sino que fue un proceso lento en el cual poco a poco se transformó en el epicentro del skate en Barcelona y una de las más famosas mecas del patín en el mundo, debido a su aparición en vídeos internacionales y la visita constante de skaters de todas partes del globo. El famoso bordillo largo de granito liso es el obstáculo central del spot, junto con muchos más bordillos de diferentes tamaños, un buen set de cinco escaleras y las recientemente renovadas tres gradas, antes conocidas como 'The Big 4', todo ello en un suelo más que perfecto.
El MACBA, a ciertas horas del día, puede ser un cúmulo de patinadores y peatones tratando de moverse por el espacio sin tropezar unos con otros, sobre todo los fines de semana en verano, cuando hace buen tiempo. Al caer la noche se transforma en un lugar de chilin, donde el ambiente es relajado y puedes adquirir cerveza fresca muy barata.
Barcelona is considered by a lot as skatepark city because nearly all of the streets and squares are skatable. In fact, the Raval neighbourhood where MACBA is has a polished floor and sidewalks that you can comfortably skate on, for example to Paral-lel. It's recommended to visit the other parks like Universitat, which is very close by along with Paral-lel and Sants. Other known spots are Forum, Besos, Fondo and Montbau among others but these are a little further away.
If you want a break from skating you can also go to see plenty of beautiful places. Some of the most visited are Güell Park, Casa Batlló, Camp Nou, the Boquería market and the Ramblas. The famous Sagrada Familia Basilica is also relatively close to MACBA.
Barcelona es considerada por muchos como una ciudad skatepark, casi todas las plazas y calles son patinables. De echo, el barrio del Raval, donde se encuentra el MACBA, tiene suelo pulido y aceras en la que puedes ir comodamente patinando, por ejemplo, hasta la avenida del Paral-lel. Es recomendable visitar Universitat, que se encuentra muy cerca, además de Paral-lel y el Sants. Otros spots conocidods de Barcelona como Forum, Besos, Fondo y Montbau se encuentran algo más lejos.
Si quieres descansar un poco de patín puedes descubrir un sinfín de lugares de indescriptible belleza. Entre los más conocidos y visitados se encuentran el parque Güell, Casa Batlló, el Camp Nou, el mercado de la Boquería y las Ramblas entre otros. La Sagrada Familia queda relativamente cerca del MACBA.