Martin Place / Australia – Sydney – New South Wales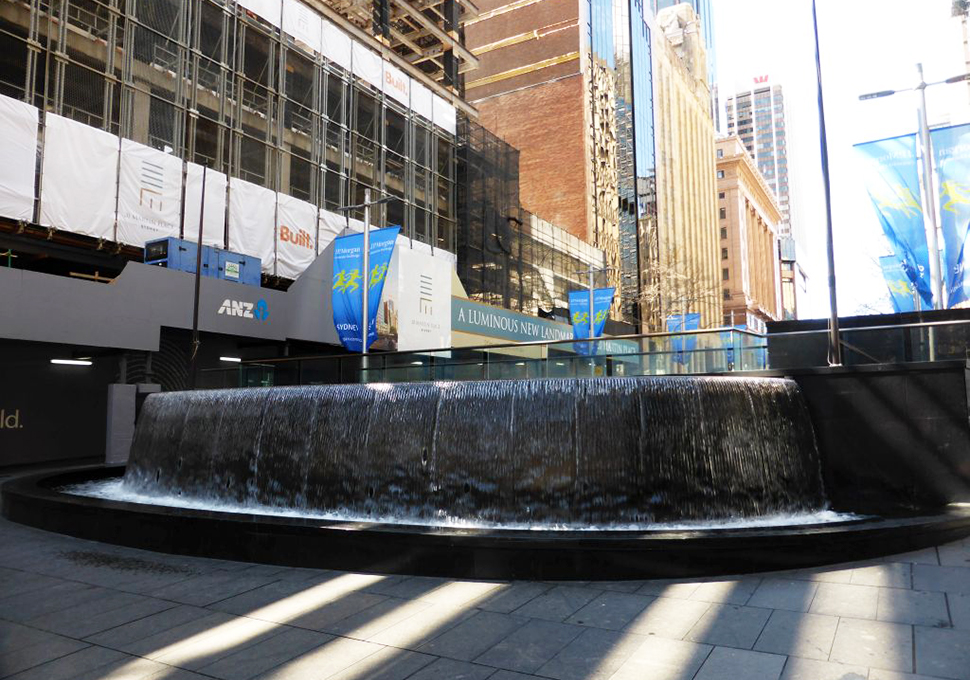 | | |
| --- | --- |
| Funboxes | |
| Rails | |
| Ledges | |
| Pipes | |
| Jump | |
| Stairs | |
Sydney has a subtropical climate with warm summers and cold winters. Rainfall is most common between February and June. The offices around Martin Place means it is quite chaotic during working hours so the best time to skate there is at the weekend or after 7 pm during the week.
The spot has many obstacles for all skaters of all ability levels, above all there are many stairs to jump such as the set of ten stairs with handrail, The Pit or the double set 3 flat 3. There are also many zones with manni pads and a few steps for warming up or beginners. With regards to ledges, most have skate stoppers on but there are wooden benches without them.
Sídney tiene un clima subtropical húmedo con veranos suaves e inviernos fríos. Las precipitaciones están bastante divididas entre el verano y el invierno, pero son más notables de febrero a junio. Las oficinas de los alrededores y la rutina diaria hacen que Martin Place sea un lugar muy caótico en horario laboral. El mejor momento para patinar será en fin de semana o a partir de las siete de la tarde entre semana.
El spot ofrece gran cantidad de obstáculos que atienden a los patinadores de todos los tipos y niveles de habilidad, sobre todo con amplias oportunidades para aquellos que saltan escaleras. Para ello están las diez escaleras del handrail, The Pit o el doble set 3 plano 3. Pero también para aprender o ir calentando hay muchas zonas con manni pads y pocas escaleras. En cuanto a bordillos, la mayoría de ellos tienen skate stoppers, pero se pueden deslizar los bancos de madera.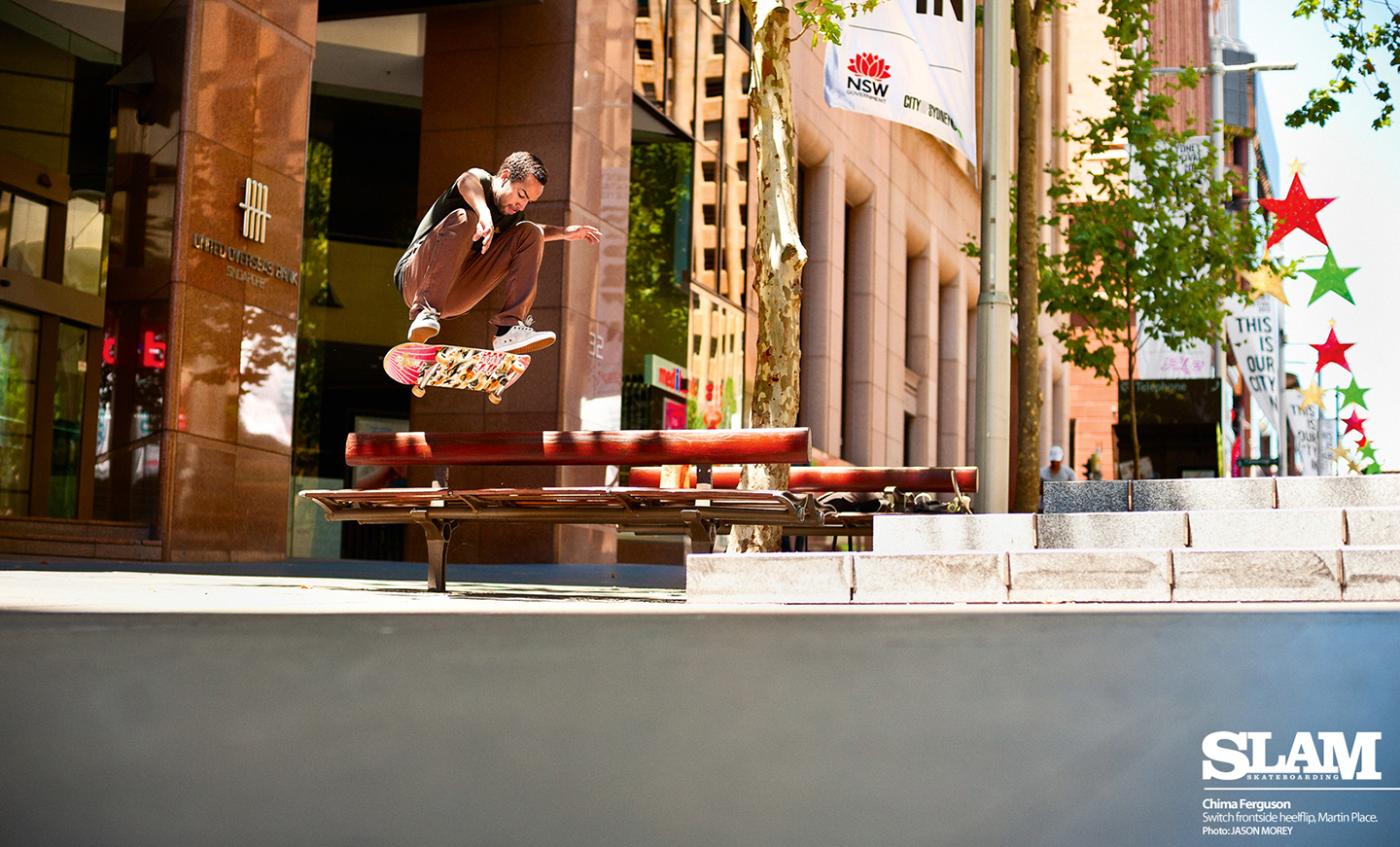 Martin Place is one of the best known skate spots in the world. This iconic spot is located right in the middle of Sydney's CBD. The plaza is known as the city's 'love heart'. It's a sidewalk with five streets full of office buildings, many shops and places to eat as well as the four steps of the amphitheatre stand which are known as The Pit and the ten steps, known as The Martin 10, with the double tube handrail with a kink at the end. You can also go behind the Lloyd Rees Fountain to the 8 steps with a handrail, which apart from appearing in many skate videos, can also be seen in the film Matrix.
It's easy to get to with the public transport given that the square is very central and well connected. As you leave the metro station there are a few sets of three steps and if you continue down the street, you'll find plant pots, manni pads, wallrides, stairs, ledges, handrails, double set 3 flat 3, gaps, wooden benches and more on the way to the amphitheatre, all on a perfect floor.
Martin Place has been well-documented since the beginning of the nineties, both nationally and internationally. It has seen many generations of skaters and has appeared in numerous magazines. Changes have had to be made over the years but the atmosphere remains the same. Thanks to its location, this spot has always been the ideal place for people to meet up at before going to explore the rest of the city.
Martin Place es uno de los lugares de skate más conocidos del mundo. Se encuentra ubicado en el distrito financiero de la ciudad de Sidney y es conocido como el 'love heart' de esta ciudad. Es un paseo peatonal que abarca cinco calles llenas de edificios de oficinas, gran cantidad de tiendas y locales para comer. Algo muy característico de este spot son las cuatro gradas del anfiteatro conocido como 'The Pit' y las diez escaleras, conocidas como The Martin 10, cuentan con el handrail de doble tubo y un kink al final. También podrás reconocer la fuente 'Lloyd Rees fountain' que justo detrás tiene un handrail de ocho escaleras. Esta última además de aparecer en famosos videos de skate sale en la película Matrix.
Es fácil llegar en transporte público, puesto que es una plaza muy céntrica y está bien comunicada. Nada más salir de la boca de metro hay varios sets de tres escaleras. Si continuas calle abajo encuentras maceteros, manni pads, wallrides, escaleras, bordillos, handrails, doble set 3 plano 3, gaps, bancos de madera y demás obstáculos hasta llegar a las gradas del anfiteatro, todo ello en suelo perfecto.
Martin Place ha sido muy documentado, tanto a nivel nacional como internacional, desde principios de los años 90. Ha visto crecer varias generaciones de skaters y aparecido en innumerables revistas. Con los años, ha podido cambiar físicamente, pero el ambiente se ha mantenido igual. Debido a su ubicación, este spot siempre ha sido el lugar ideal para reunirse con los amigos antes de ir a explorar el resto de la ciudad.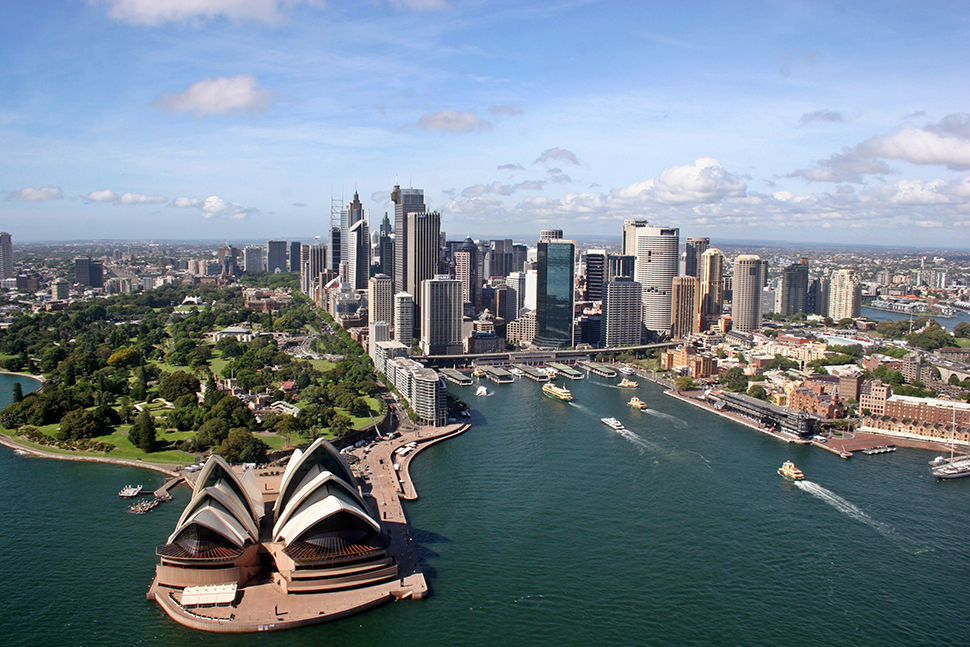 Martin Place runs between George Street and Macquarie Street and is home to the Reserve Bank of Australia, the Commonwealth Bank of Australia and the Macquarie Bank among other businesses. The Sydney GPO and the Red Seven media centre can also be found there. It's become an Australian icon in the pop culture for attracting film and TV productions and apart from the skate options, it's a great place to visit and take photos. The cathedral is just around the corner by an enormous piece of flat ground with sets of ten and five stairs and the sixteen which Chima Ferguson did the backside flip 180 in his Killself part.
From the viewing point Mrs Macquarie's Chair, you can see the whole of the city skyline, everything from the Harbour Bridge to the Opera House. The views are incredible during the day but when night falls and the city's lights reflect onto the sea, it is magical. You can also see the Sydney Tower from there. It's 305 metres high and has three floors with offices, shops, restaurants and a panoramic viewing point. The famous Bondi Beach can be reached by bus or train in less than thirty minutes. Other places to visit are Taronga Zoo, Centennial Parklands, The Rocks and much more in this great city.
Martin Place discurre entre George Street y Macquarie Street, tratándose de un centro comercial peatonal y siendo el hogar de la Reserva del Banco de Australia, el Commonwealth Bank of Australia, Macquarie Bank y otras corporaciones, además de ser un centro de negocios y finanzas. El Sydney GPO y centro de noticias de Sydney de la Red Seven también se encuentran aquí. Se ha convertido en un icono de Australia en la cultura popular para atraer producciones de cine y televisión. Por tanto, además de patinar allí, es un gran lugar para visitar y tomar unas cuantas fotos. La catedral está a la vuelta de la esquina, donde hay una enorme zona de flatground, diez escaleras, cinco escaleras y las diecisiete que Chima Ferguson se hace de backside flip 180 en su parte Killself.
Desde el Mirador de Mrs Macquarie's Chair se pueden observar tanto el Puente de la Bahía como el edificio de la Opera y todo el skyline de la ciudad. De día las vistas son impresionantes, pero al atardecer, con las luces de la ciudad reflejadas en el mar, se vuelve un sitio mágico. Un lugar que también ofrece unas vistas increíbles es La Torre de Sydney, con 305 metros de altitud. Está compuesta por tres plantas en las que se alojan oficinas, tiendas, restaurantes, salas de proyección y planta panorámica. Los ascensores de alta velocidad te llevan a lo más alto en 40 segundos. Por otro lado, la Playa de Bondi es de las más famosas de Australia, queda cerca del centro de Sydney y se puede acceder en bus o tren en menos de 30 minutos. Otros lugares que puedes visitar son Taronga Zoo, Centennial Parklands, The Rocks, entre otros muchos lugares de esta gran ciudad.