Monumento a Obregón / Mexico – México D.F.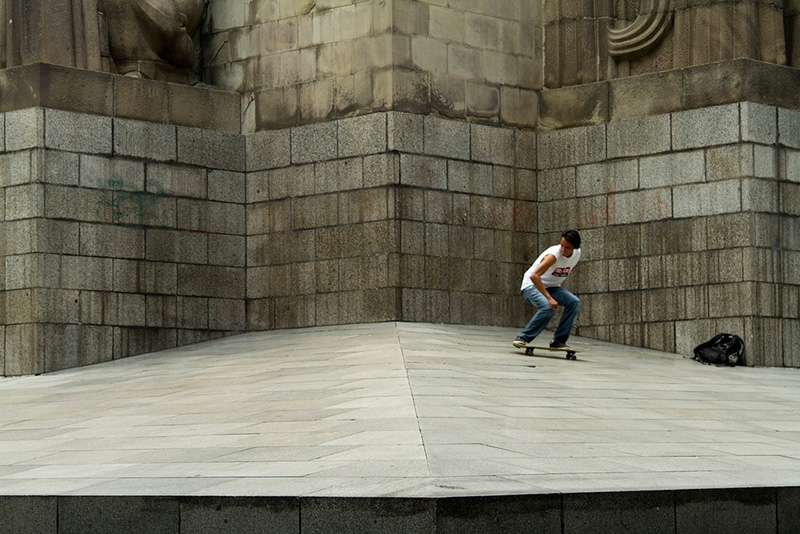 | | |
| --- | --- |
| Funboxes | |
| Rails | |
| Ledges | Hubbas, Ledges, Manual pads |
| Pipes | Wallride |
| Jump | |
| Stairs | Gaps |
In the warmest months, from March to May, the temperature is higher than 25°C. The coldest month is January which has a minimum temperature of 5°C. There is more rainfall during the summer months, between June and September. Remember to keep in mind that some areas in Mexico City are ghettos so don't go alone if you can help it.
En los meses de marzo a mayo la temperatura se eleva sobre los 25°C, siendo esta temporada la más cálida. El mes más frío es enero con una mínima de 5°C. Durante los meses de verano, entre junio y septiembre, es cuando se presentan lluvias. Ten en cuenta que algunas zonas de México D.F. pueden ser bastante guetto, por tanto, intenta no ir solo.
Located in the San Angel neighbourhood in the south of Mexico City, the Obregón Monument is one of the most well-known spots in the world as it appears many times in the best skate videos and has been visited by legendary skaters such as Daewon Song, Kerry Getz, Andrew Reynolds, Bryan Herman and many others. It was visited by the Emerica team before the Wild in the Streets event which brought more than ten thousand skaters together on the streets of Mexico City. The monument, which is located in the Parque de la Bombilla, was constructed in 1935 to commemorate the assassination of the president Álvaro Obregón.
The spot forms the base of the building, with various manual pads which join to make a couple of hips and ledges on quite a good floor. It's normally used as a manual pad, to make combinations between the flats, as well as ledge, a ramp for jumping and more depending on where your imagination takes you. Skaters have done drop ins from the sculptures, tricks in the hubbas, wallrides that go on behind the flat and very technical manual tricks.
Situado en el barrio de San Ángel, en la zona sur de México D.F., el Monumento a Obregón es uno de los spots más conocidos en todo el mundo, ya que aparece en muchos de los mejores videos de skate y ha sido visitado por grandes skaters como Daewon Song, Kerry Getz, Andrew Reynolds, Bryan Herman y muchos otros. Fue visitado por el equipo de Emerica antes del evento Wild in the Streets que reunió a más de diez mil skaters en las calles de México D.F. Este monumento localizado en el Parque de la Bombilla fue construido en 1935 para conmemorar el asesinato del presidente Álvaro Obregón. También es conocido como Monumento a la mano de Obregón, puesto que anteriormente custodiaba en su interior la mano que perdió dicho presidente en una batalla.
El spot se forma en la base del edificio, con varios planos inclinados que se unen formando un par de hips y bordillos en un suelo bastante bueno. Se usa normalmente como manual pad, haciendo combinaciones entre los planos, también como bordillo, rampa de salto y mucho más según fluya nuestra imaginación. Se han hecho drop in desde las esculturas hasta los planos, trucos en los hubbas, wallrides y trucos muy técnicos de manual.
There are various spots in Mexico City, many of which are complicated to skate, either because of the poor quality of the floor or because someone is likely to move you on, however skating is very popular in this city. Without leaving the Parque de la Bombilla, there is a bank that's quite steep with a rough floor which is a lot of fun. A very well-known spot is the Jardin del Arte, right by the Paseo de la Reforma and Insurgentes crossroads. It has ledges, street gaps, stairs, hubbas and manual pads. Another famous spot is Las 10 de Consti. It's located in Avenida Constituyentes and has ten long stairs with a manual pad next to it. It's also recommendable to skate to the Parque Hundido, JFK Skatepark or the Templo Mayor Skatepark.
It you want to do some sightseeing, you'll find hundreds of magical places and unique architecture. Without going too far from the spot in the Parque de la Bombilla, they often hold fairs with homemade and seasonal products. The Angel of Independence is an impressive construction which is worth seeing along with the Palacio de Bellas Artes and the Plaza de la Constitución. Other recommended things to see are Xochimilco and Garibaldi.
Hay innumerables spots en México D.F., muchos de ellos complicados de patinar, ya sea por el suelo o porque te echan del lugar, pero está claro que en esta ciudad se patina y mucho. Sin salir del Parque de la Bombilla podrás encontrar un bank bastante inclinado y con suelo rugoso, pero muy divertido. Un spot muy conocido es El Jardín del Arte, justo en el cruce entre el Paseo de la Reforma e Insurgentes, donde hay bordillos, streets gaps, escaleras, hubbas y manni pads. Otro spot muy famoso son 'Las 10 de Consti', situado en Avenida Constituyentes, son diez escaleras largas con un plano inclinado a su lado. También es recomendable ir a patinar el Parque Hundido, Skatepark JFK o el Templo Mayor Skatepark.
Si vas de turista podrás contemplar infinidad de lugares mágicos y arquitectura única en el mundo. Sin ir más lejos del spot, en la explanada del Parque de la Bombilla se realizan con frecuencia ferias comerciales con productos artesanales o de temporada. El Ángel de la independencia es una impresionante construcción digna de admirar, también el Palacio de Bellas Artes y Plaza de la Constitución. Otros lugares de recomendable visita son Xochimilco y Garibaldi.