Mystic Skatepark / Czech Republic – Prague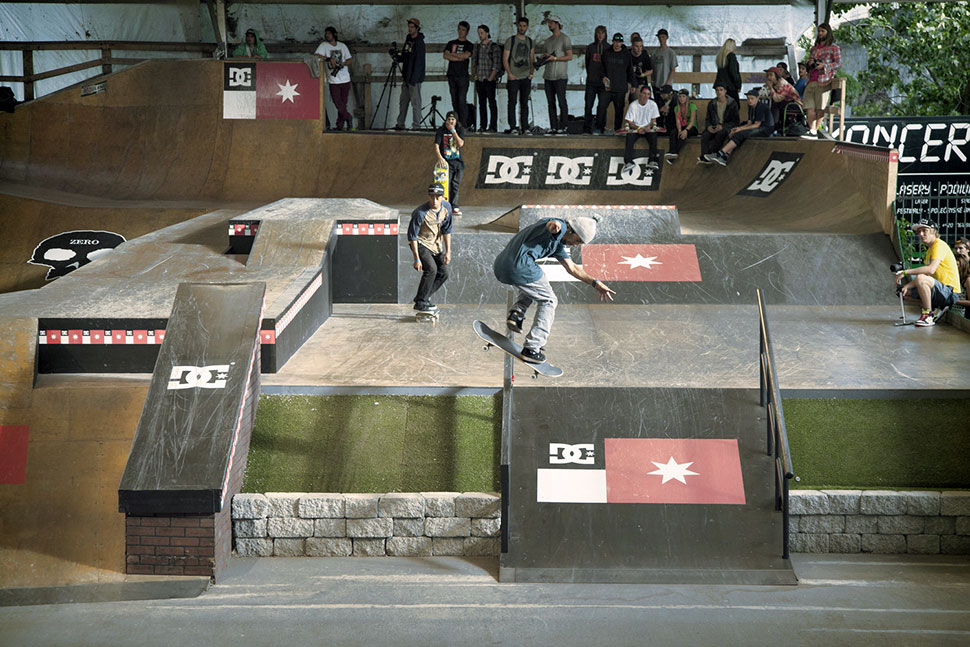 | | |
| --- | --- |
| Funboxes | Funbox Rail, Funbox Quarter, Pyramids |
| Rails | Handrails, Flatrails |
| Ledges | Hubbas, Ledges, Picnic Tables |
| Pipes | Mini Ramp, Quarters, Bowls, Wallride, Spines |
| Jump | Banks, Ramps, Eurogaps, Hips |
| Stairs | 10 Stairs |
The best time of year to skate in Prague is from April to September. From October to March it's almost impossible because of the cold, including at the indoor places. The park is open from May to September from 9:00 till 22:00 every day, and from October to April from 12:00 till 21:00 every day.
La mejor época para patinar en Praga es de abril a septiembre. De octubre a marzo es casi imposible por el frio, incluso dentro de los indoors. El parque está abierto de mayo a septiembre de 9:00 a 22:00 todos los días, de octubre a abril de 12:00 a 21:00 todos los días.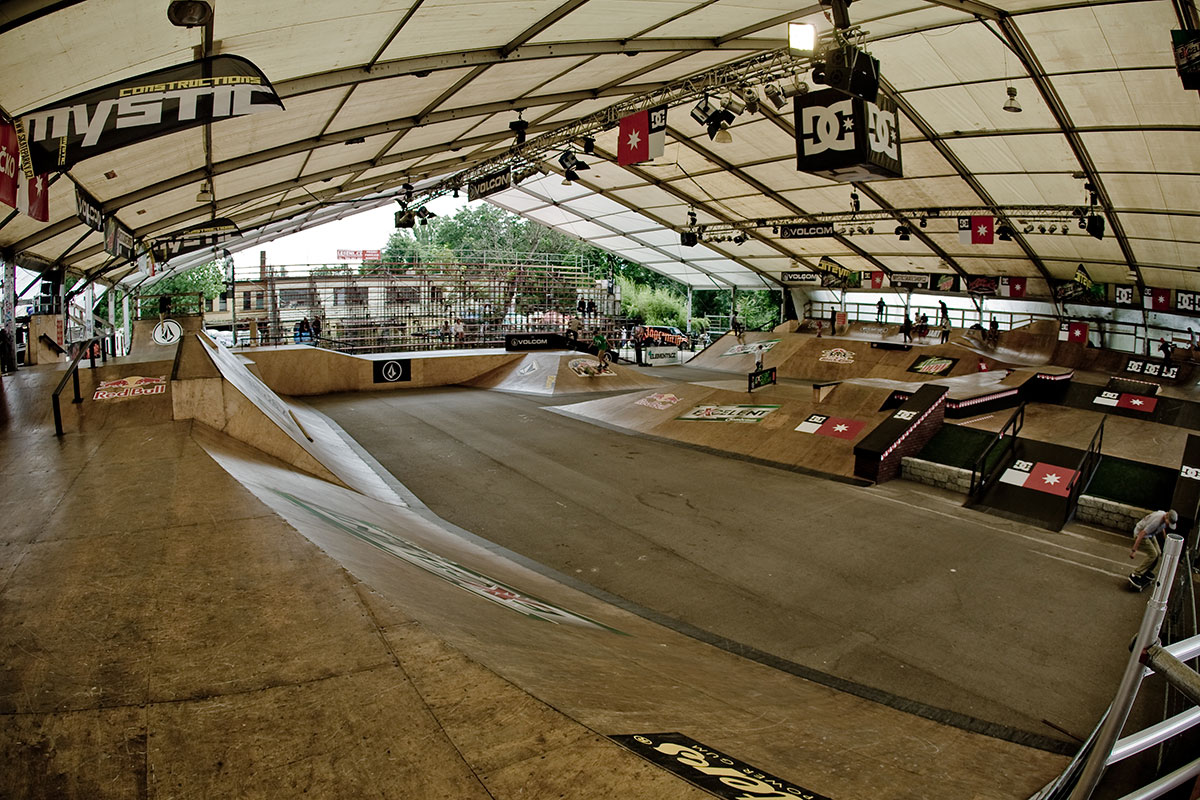 The Mystic Skatepark is very well known for the Mystic Skate Cup summer event, which brings together the elite of skateboarding and hosts events alongside like graffiti exhibitions and concerts. It is located on Stvanice Island in the Vltava River just minutes from the historical centre of Prague. This indoor park has a wooden street course, a mini ramp, lots of quarters and banks, hubbas and rails, a half pipe and a bowl. The park is always well maintained. It can undergo changes depending on the needs of its users, above all, for the Mystic Skate Cup which is part of the tour for the World Cup points. It's open from 9:00 till 21:00 every day and entrance only costs 1,80 euro. You can also enjoy a drink from the bar in the park.
El Mystic Skatepark es muy conocido por el evento veraniego Mystic Skate Cup, el cual reúne a la élite del skate internacional y alberga eventos paralelos como graffiti y conciertos. Se encuentra en la isla de Stvanice del río Moldava a pocos minutos del centro histórico de Praga. Este parque semi-indoor tiene un circuito callejero de madera con mini ramp, muchos quarters y planos inclinados, hubbas, rails, half pipe y bowl. Se realizan actividades de mantenimiento constantemente, con lo que el parque se conserva en buen estado. Puede sufrir modificaciones en funcion de la necesidades de los usuarios, sobre todo, con la Mystic Skate Cup, que forma parte del recorrido puntuable para la World Cup. Abre de 9:00 a 21:00 todos los días y tan solo cuesta 1,80 euros la entrada, además de poder disfrutar de un bar dentro del parque.
Stalin's square is one of the world class skate meccas, and so if you are in Prague, you shouldn't miss the opportunity to skate at this very well known spot which is also a great viewpoint from where you can see the whole city. The medieval Astronomical Clock, which is a popular tourist attraction, can be found on the southern wall of Prague's Old Town Hall. You'll find the best hostels in the city there and there is also a very good tourist atmosphere.
Charles Bridge is the oldest bridge in Prague. It crosses the Vltava River from the Old Town to the Lesser Quarter. It's a very busy place with an important flux of tourists, and is where artists and dealers put on their performances. Prague Castle is amazing for its history, its resistance to the passage of time and its enormus size. It isn't very close to the skatepark but it is well worth seeing.
La plaza de Stalin es una de las mecas del skate a nivel mundial, por tanto, si estas en Praga no dejes pasar la oportunidad de patinar ese conocidísimo spot que a su vez es un mirador donde contemplar toda la ciudad. El reloj astronómico medieval se encuentra en la pared sur del Ayuntamiento de la Ciudad Vieja de Praga, siendo una popular atracción turística. Allí se encuentran los mejores albergues de la ciudad y hay un buen ambiente turístico.
El Puente de Carlos es el puente más viejo de Praga. Atraviesa el río Moldava de la Ciudad Vieja a la Ciudad Pequeña. Es un lugar muy transitado con un importante flujo de turistas, donde artistas y comerciantes muestran espectáculos al aire libre. El Castillo de Praga es increíble por su historia, su resistencia al paso del tiempo y sus enormes dimensiones. No está muy cerca del skatepark pero merece la pena verlo.