Nike SB Shelter Berlin / Germany – Berlin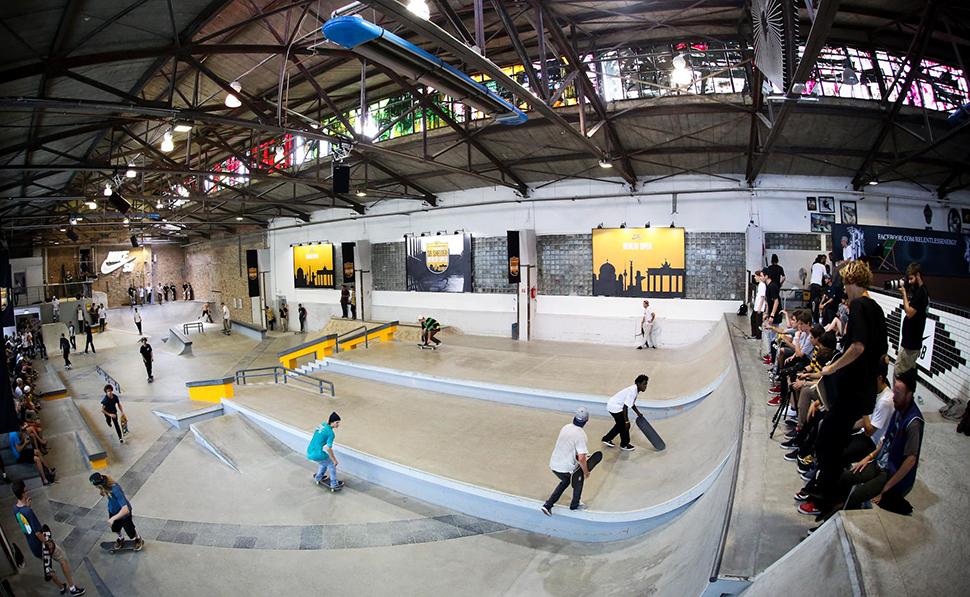 | | |
| --- | --- |
| Funboxes | Multifunbox |
| Rails | Flatrails, Handrails |
| Ledges | Hubbas, Ledges, Manual pads |
| Pipes | Quarters, Wallrides, Mini ramps, Spines, Curving, Transitions, Bowls, Half pipe |
| Jump | Banks, Ramps, Streetgaps, Hips |
| Stairs | 4 and 7 Stairs, Gaps |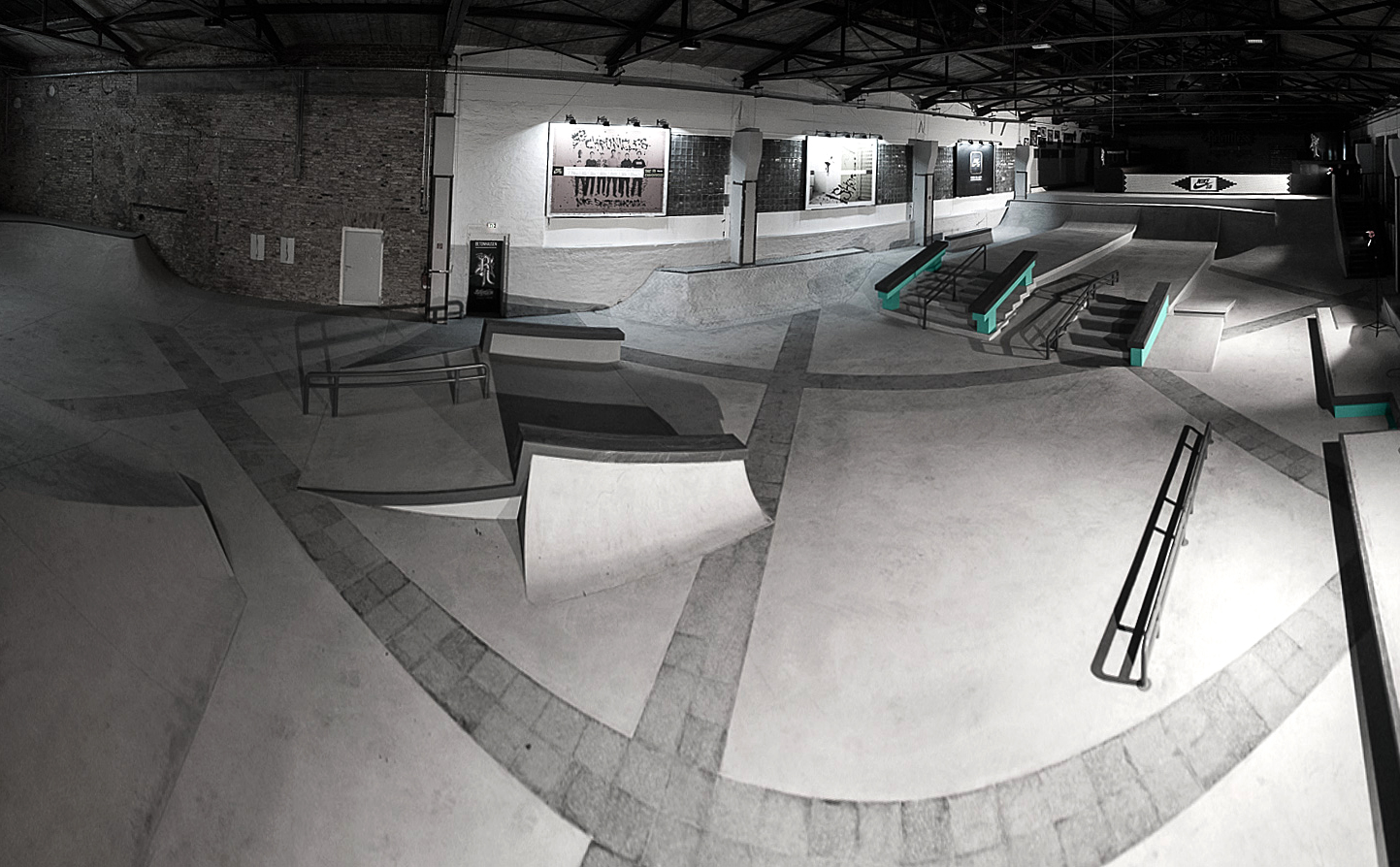 The sports company Nike has renovated the existing indoor Skatehalle Berlin to transform it into a street park which is now called the Nike SB Shelter. It has numerous blocks, hubbas with 4 and 7 stairs, various handrails and a flatrail, transitions, gaps and other known obstacles that you can find on the streets of Berlin. It's a public park and open to everyone who wants to skate, from beginners and amateurs to the best pros in the world. The street zone is made of smooth concrete with the elegant Nike SB style and a similar design to the now cancelled DC Embassy. Along with the new elements they have kept the half pipe, the bowl area with the mini ramp and the exterior bowl. The 2014 European Series SB Shelter Berlin was celebrated there.
La compañía de zapatillas Nike ha renovado el indoor Skatehalle de Berlín para transformarlo en un parque muy callejero, ahora llamado Nike SB Shelter Berlín. Incluye numerosos cajones, hubbas en 4 y 7 escaleras, varios handrails y un flatrail, transiciones, gaps y conocidos obstáculos de los que podrías encontrarte en las calles de Berlín. El parque es público y abierto a todo el mundo que quiera patinarlo, desde principiantes, amateurs, hasta los mejores profesionales del mundo. La parte de street tiene un acabado de hormigón liso y una elegancia al estilo Nike SB, con un diseño similar al ya cancelado DC embassy. Además, se conservan el half pipe, el 'bowl area' con la mini ramp y el bowl del patio exterior del Skatehalle. En este skatepark se ha celebrado el 2014 European Series SB Shelter Berlin.
You'll find the skatepark submerged in a great atmosphere with many activities going on around like the climbing tower, the open air cinema, the summer bar, The Chez Alex grill and Club Casiopea. From May there is a DJ in the summer garden every Wednesday, Friday and Saturday. Outside of the neighbourhood there are some very interesting places like the Kulturforum which has inclined flats, a double set, rails and ledges. The Pergamon Museum is very peculiar as it takes you through temples and enormous monuments. You can also visit the Topographie des Terrors, the Designpanoptikum, the German Historical Museum or the Berlin Wall along with many more things in this city that's full of history.
El skatepark se encuentra sumergido en un gran ambiente y muchas actividades surgen a su alrededor, como la torre de escalada, el cine al aire libre, el bar de verano, la parrilla de Chez Alex y el Club Casiopea. A partir de mayo, todos los miércoles, viernes y sábados pincha un DJ en el jardín de verano. Fuera de este barrio hay sitios muy interesantes como el Kulturforum, que tiene planos inclinados, doble set, barandas y bordillos. El Museo de Pérgamo es muy peculiar, quizás porque en los museos solemos encontrar cosas pequeñas, pero aquí el pequeño es el visitante entre los templos y enormes monumentos. Además podemos visitar la Topographie des Terrors, Designpanoptikum, el Museo Histórico Alemán o el Memorial del Muro de Berlín, entre muchos otros lugares interesantes de una ciudad con muchísima historia.