Paral-lel / Spain – Barcelona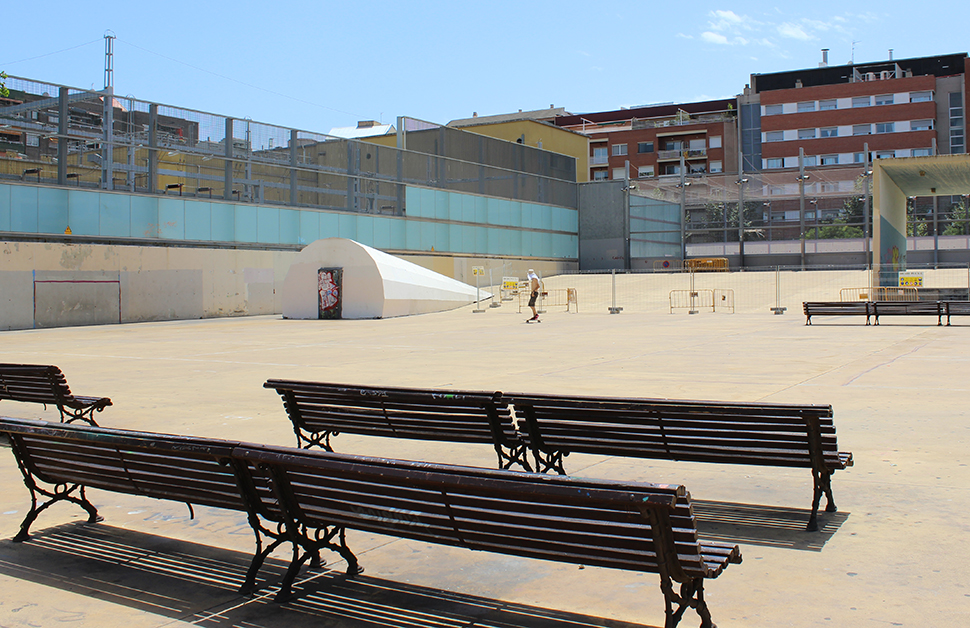 | | |
| --- | --- |
| Funboxes | |
| Rails | |
| Ledges | Ledges, Manual pads |
| Pipes | |
| Jump | |
| Stairs | |
The manual pads are perfect but when you want to use them as edges you'll see that they are quite worn as it's a spot which has experienced many skate sessions. There are often a lot of children playing football in the part where the wooden benches are. Take care, especially if you are filming as there are triangular holes from the trees along the way. The police don't usually pass there and it's busiest in July and August, which is also the best time of year to skate there.
Los manual pads son perfectos, pero a la hora de utilizarlos como bordillos algunos están un poco deteriorados. Es un spot que ha vivido muchas sesiones de skate. En la parte donde están los bancos de madera suele haber muchos niños jugando al futbol. Hay que andarse con ojo con los huecos triangulares de los árboles, sobre todo si estas filmando. No suele ir la policía y en julio y agosto es cuando más concurrido está, ya que es cuando mejor se patina.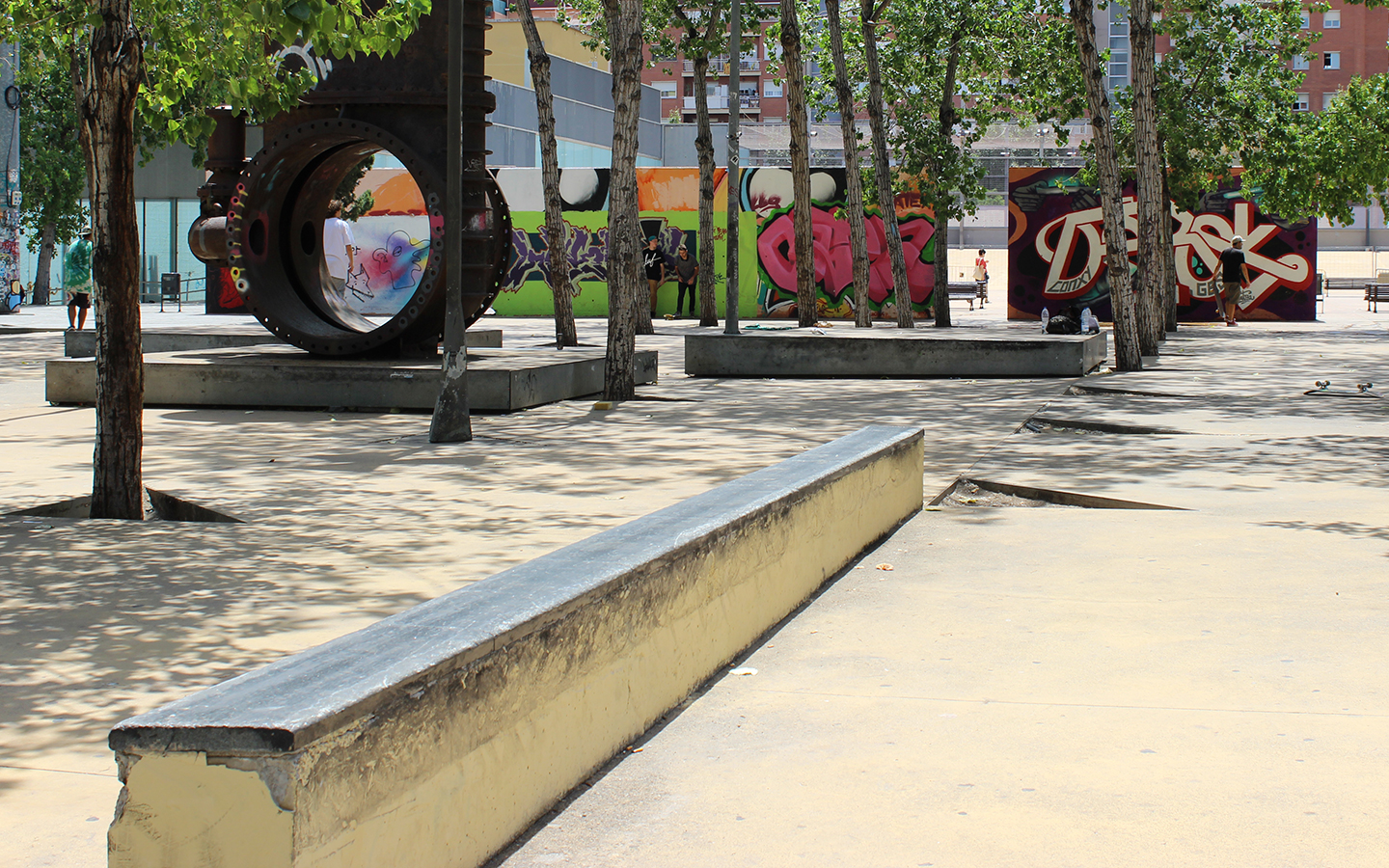 Paralel has recently been demolished for the construction of a skatepark. It is the end of this notorius place which was representative of skateboarding worldwide. The park which is being built will change the landscape of manni pads and ledges for prefabricated skatepark modules which without doubt will not replace this legendary street sopt. RIP Paralel.
Les Tres Xemeneies, in the Poble Sec neighbourhood is host to one of the most well known spots in the world. It's located near to the Paral-lel metro station and this is how it's commonly called between skaters. This spot seems to have been designed by a skater as it is packed with manual pads with metal corners which also serve as ledges. Although there are some worn parts, this is one of the most popular spots.
Along with the famous planters, there are wooden benches to jump, a long ledge without exit and a slightly sloped floor, marble curbs and and half-cone that serves as wallride. It's a perfect spot for tricks, both original and technical. It's hard to find skate videos from here that don't show images of these mani pads. The wallrides championship Coast To Coast is also celebrated there. The chimneys of the old power plant, the different sculptures and the graffiti covered walls are very characteristic of the place, giving the place and the skaters which go there day to day their identity.
Actualmente el Paralel has sido derribado para la construcción de un skatepark. Se pone fin a un lugar emblemático y representativo en el mundo del skateboarding a nivel mundial. El parque que se pretende construir cambiará el paisaje de manni pads y bordillos por módulos prefabricados de skatepark que sin duda no podrán sustituir lo que siempre ha sido un spot de calle tan legendario. RIP Paralel.
La plaza Les Tres Xemeneies, en el barrio de Poble Sec, alberga uno de los spots más conocidos del mundo. Se ubica cerca de la boca de metro de Paral-lel y de ahí su nombre más común entre los patinadores. Este spot parece haber sido diseñado por alguien que patina, ya que está repleto de manual pads con las esquinas de metal, sirviendo también como bordillos. Aunque hay algunas partes deterioradas, este lugar es uno de los más visitados.
Además de los famosos planters, hay bancos de madera para saltar, un largo bordillo sin salida con el suelo un poco en cuesta, bordillos de marmol y un semicono que hace las veces de wallride. En definitiva, un spot perfecto para trucos técnicos y originales. Pocos son los vídeos relevantes de skate que no tienen unas imágenes en estos manni pads, además, aquí se celebró el campeonato de wallrides 'Coast To Coast'. Las chimeneas de la antigua central eléctrica, las diferentes esculturas y los muros de graffiti son muy característicos del lugar, confiriéndole su identidad, así como los skaters que patinan allí día a día.
Barcelona is considered by many as one of the skateboarding meccas as nearly all of the streets and squares are skateable. It's recommended to visit the other nearby parks such as MACBA, Fondo, Universitat, Forum, Sants, Besos and Montbau among others. It's worth considering a visit to Montjuïc Mountain for the views and the variety of attractions there. It's a unique urban piece and is the large green lung of the big city that is Barcelona. Among the most significant buildings and features of the mountain is the Olympic ring with the stadium and the Palau Sant Jordi, a communications tower designed by Santiago Calatrava, the Palau de Montjuïc and Poble Espanyol, which were built for the International Exhibition 1929, the castle, the Joan Miró Foundation, the Botanical Garden and the grounds of the Fira de Barcelona etc. You can also visit Güell Park, Casa Batlló, Camp Nou, the Boquería market and the Ramblas among others.
Barcelona es considerada por muchos como una de las meca del skateboarding, casi todas las plazas y calles son patinables. Es fácil moverse patinando por las calles, sobre todo por Ciutat Vella. Es recomendable visitar el MACBA, Sants, Universitat, Fondo, Forum, Besos y Montbau entre otros. También se puede visitar la montaña de Montjuïc, con toda su riqueza y complejidad de usos. Constituye una pieza urbana singular, ya que es un gran pulmón verde situado en una grandísima ciudad como es Barcelona. Entre los edificios y equipamientos más significativos de la montaña destacan la anilla olímpica, con el estadio y el Palau Sant Jordi; la torre de comunicaciones, obra de Santiago Calatrava; el Palau de Montjuïc y el Poble Espanyol, construidos con motivo de la Exposición Internacional de 1929; el castillo; la Fundación Joan Miró; el Jardín Botánico; el recinto de la Fira de Barcelona; etc. También puedes visitar el parque Güell, Casa Batlló, el Camp Nou, el mercado de la Boquería y las Ramblas entre otros.