Plaza de Hortaleza / Spain – Madrid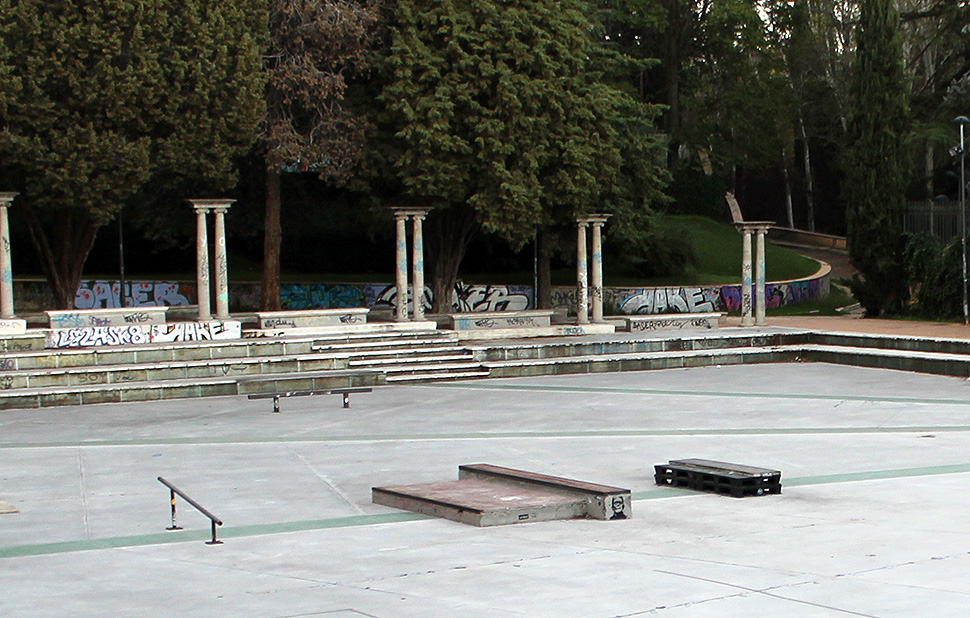 | | |
| --- | --- |
| Funboxes | |
| Rails | Flatrails |
| Ledges | Ledges, Manual pads |
| Pipes | Wallrides |
| Jump | Banks, Ramps, Eurogaps, Streetgaps |
| Stairs | 5 Stairs, Gaps, 2 Blocks |
If you go to Hortaleza more than once, you could find that it changes. The locals don't cease to amaze by continually adding new obstacles and moving the ones already there. The best time to visit Madrid and skate is in March, April and May.
Si vas de vez en cuando a Hortaleza podrás notar cambios, los locales no dejan de sorprender con obstáculos nuevos o transformando los que ya había. El mejor tiempo para visitar Madrid y patinar es en marzo, abril y mayo.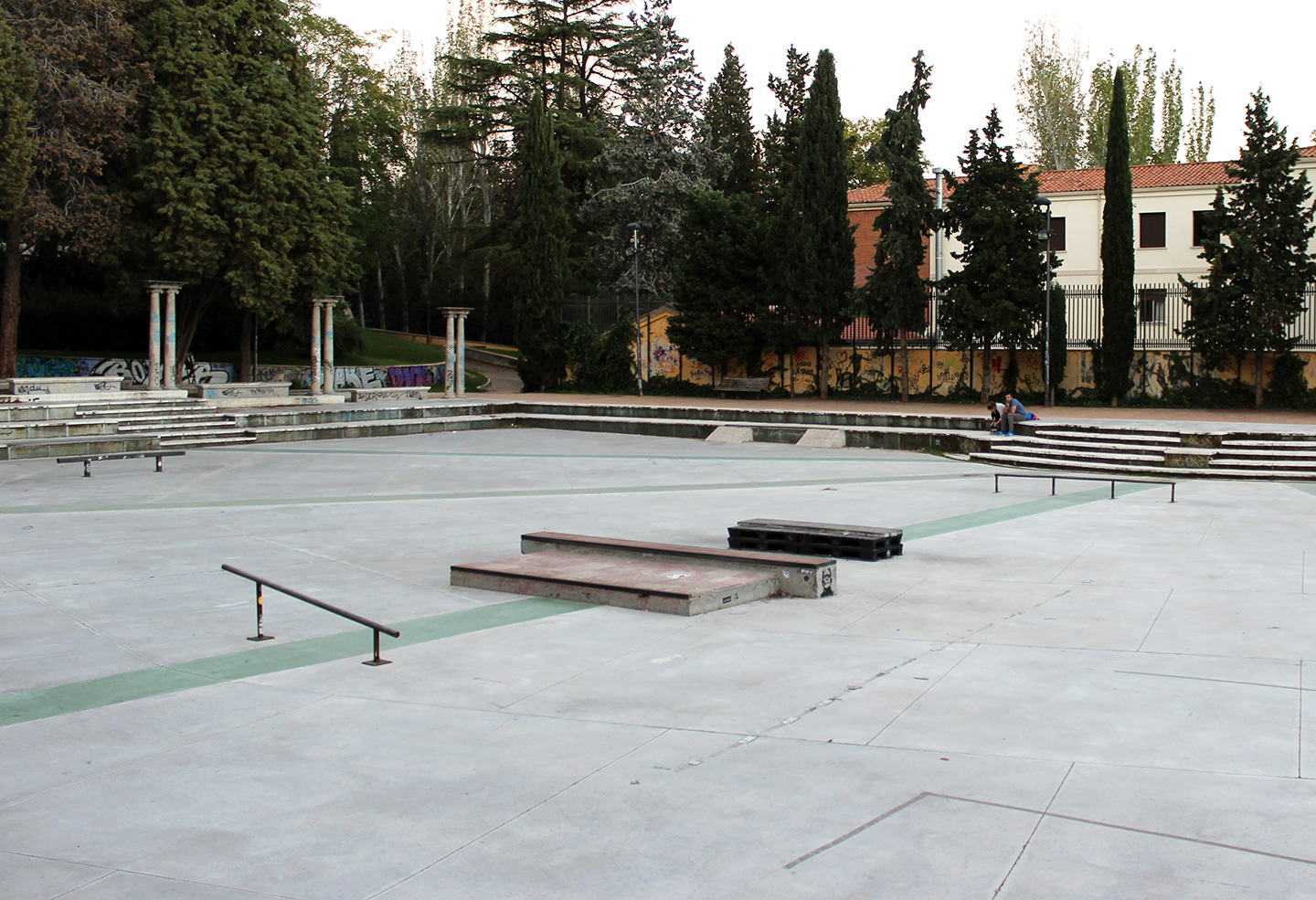 The Santos de la Humosa square, or better known to skaters as the 'Plaza de Hortaleza', is a benchmark among the Spanish spots today. There was a time when it was very damaged and there were conflicts between the local people, until it was remodelled by the local skaters. This immersion was very well received by the local neighbourhood, who noticed a great improvement and good use of the square. Since then, the square is being transformed with improvements almost daily thanks to the good work of the regulars there.
It's shaped like an amphitheatre, and you'll find ledges with metal corners without exit surrounding the square, stairs to jump, low to high ledges and elements like flatrails that have been built by the locals, a double height marble block, banks, a eurogap and other creative obstacles which they have developed.
La plaza Santos de la Humosa hoy en día es un referente entre los spots madrileños y también en todo el país, más conocida entre los skaters como la Plaza de Hortaleza. Hubo un tiempo en el que estuvo muy deteriorada y había gente conflictiva, hasta que fue remodelada por los skaters locales que ocuparon el sitio. Esta inmersión en el lugar tubo muy buena aceptación por parte de la gente del barrio, que notaron una gran mejoría y uso de la plaza. Desde entonces, día a día va transformándose y mejorando gracias a la calidad de aquellos que patinan siempre allí.
Su forma de anfiteatro hace que puedas encontrar bordillos sin salida rodeando toda la plaza, algunos de ellos con esquineras de metal. También hay gradas para saltar, bordillos low to high y los módulos que han construido los locales como un flatrail cuadrado bastante ancho, un cajón de doble altura de mármol que sirve muy bien de planter, mini banks al bordillo con esquinera, un flatrail en subida, eurogap y novedades que surgen de la creatividad local.
Legazpi Skatepark is just 16 minutes away by car, along the M-30 or the yellow line on the metro. The Tetuán Skate plaza is 10 minutes away by car and Cea Bermúdez Street, with its incredible ledges is just 12 monutes away in the city centre. Some other spots in the centre are: the Parliament building, Luna Square, Santa Domingo Square, the blocks at the Prado Museum and Príncipe Pio. All of these spots are an example of what you can find in the capital. If you want to do some sightseeing, you can visit the Gran Vía, the Palacio de Correos, the Prado Museum, the Reina Sofía, the Puerta del Sol, the botanical gardens, Retiro Park, the Almudena and on any Sunday morning you can go to the flea market 'el Rastro'.
El Skatepark de Legazpi se encuentra a 16 minutos en coche tomando la M-30 o la linea amarilla de metro, el Skate plaza de Tetuán está a 10 minutos en coche y la calle Cea Bermúdez con sus bordillos increíbles a 12 minutos en el centro. Spots aún más céntricos son: Congresos, Plaza Luna, Plaza Santo Domingo, los bloques del Museo del Prado y Príncipe Pio. Todos estos spots son sólo un pequeño ejemplo de lo que puedes encontrar en la capital de España. Si vas de turista puedes visitar la Gran Vía, el Palacio de Correos, el museo del Prado, el Reina Sofía, la Puerta del Sol, el Jardín Botánico, el parque del Retiro, la Almudena y cualquier domingo por la mañana pásate por el conocido Rastro madrileño.