Pueblo Libre Skate Plaza / Peru – Lima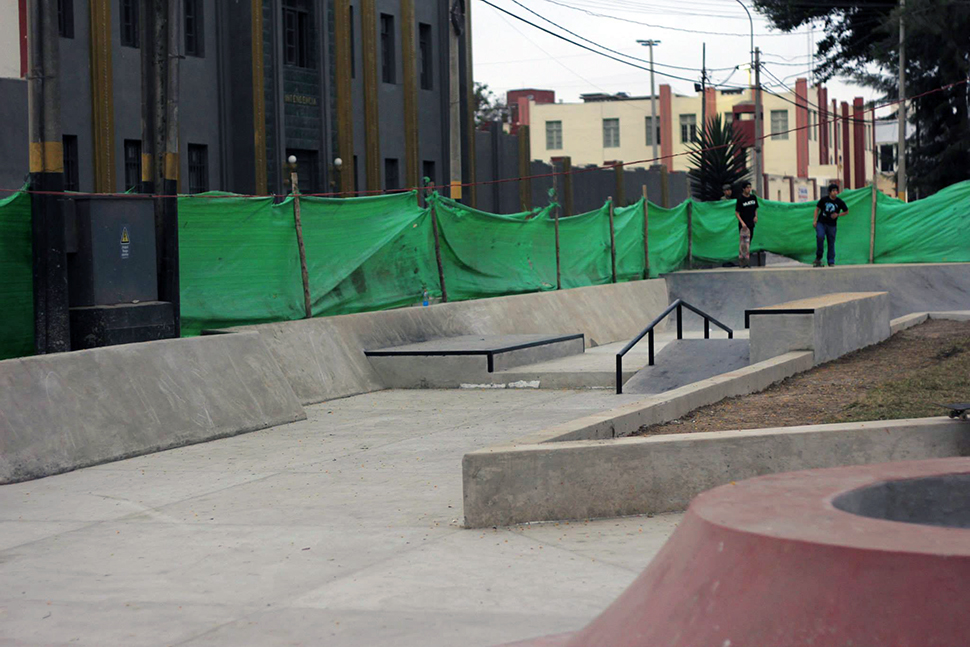 | | |
| --- | --- |
| Funboxes | Multifunbox |
| Rails | Flatrails, Handrails |
| Ledges | Hubbas, Ledges, Manual pads |
| Pipes | Quarter, Wallrides |
| Jump | Banks, Ramps, Bump , Eurogap, Streetgap, Hip |
| Stairs | 3 and 7 Stairs, Gaps |
The climate in the city is a combination of nearly no rain with a very high humidity level and persistent clouds. The best time to skate is between December and May.
El clima de la ciudad combina una ausencia casi total de precipitaciones, con un altísimo nivel de humedad y persistentes nubes. Para patinar los mejores meses son entre diciembre y mayo.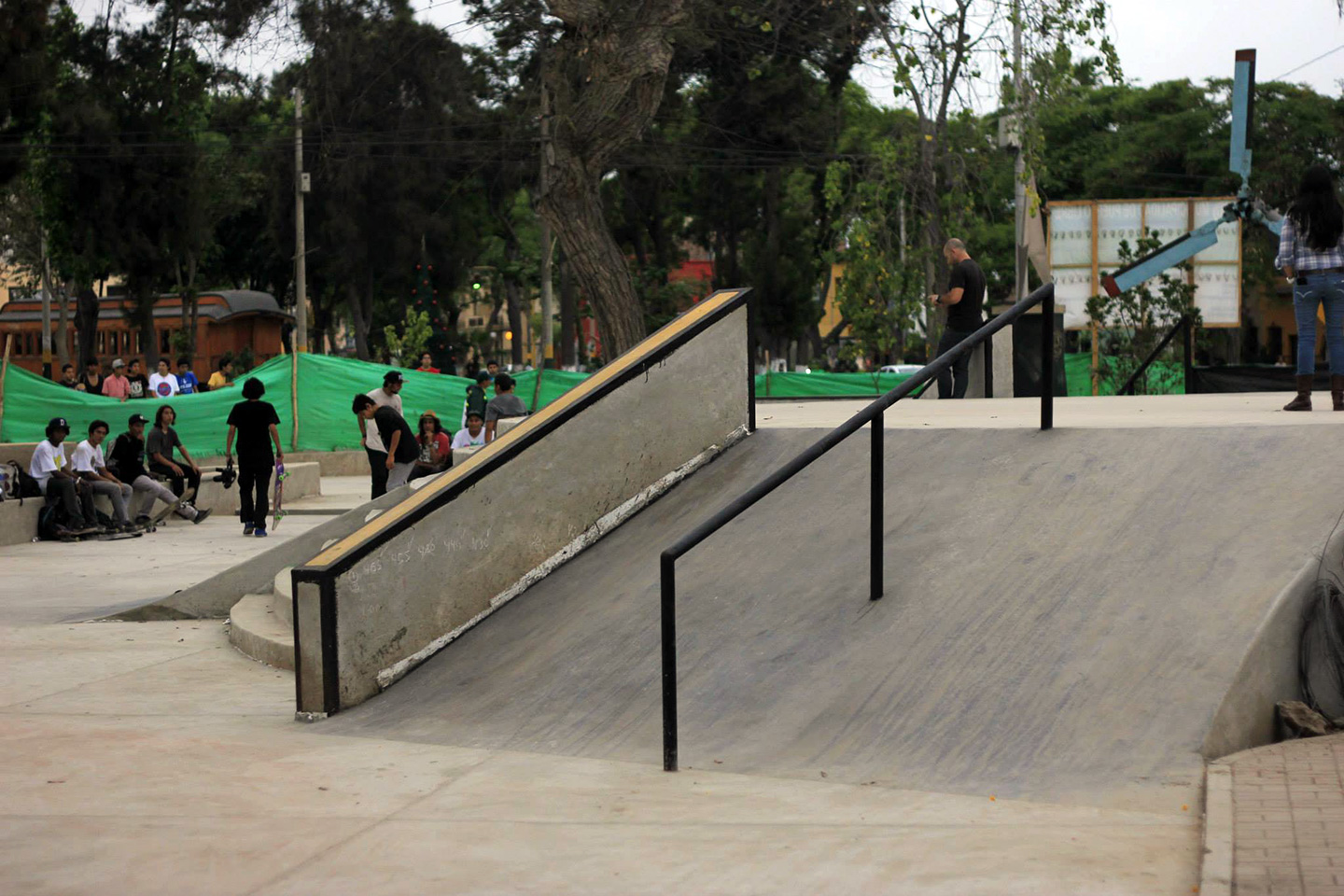 Pueblo Libre Skate Plaza is Lima's first skate plaza, located in Pueblo Libre, in front of the Bolivar military barracks. It was designed by Peter Henningsen Viale, constructed by Skateparkperu and opened on the 15th February 2014. It's visible from General Manuel Vivanco Avenue, next to an enormous military helicopter which decorates the park.
It's a large square with many obstacles for all levels so you can make the most of the space. It has trees and grass which give it more of a natural look. You'll find banks, banks to ledges, low to high ledges, flatrails, a eurogap, ramps, manual pads, stairs, a streetgap, a multifunbox and a tree in the centre with its base in the shape of a round quarter. It's well-lit at night and is exclusively for skateboarders.
Pueblo Libre Skate Plaza es el primer skate plaza de Lima, situado en el distrito de Pueblo Libre, frente al Cuartel Bolivar. Fue diseñado por Peter Henningsen Viale y construido por Skateparkperu. Se inauguró el 15 de febrero de 2014. Es visible desde la avenida General Manuel Vivanco, junto al enorme helicóptero militar que adorna el parque.
Es una plaza amplia con gran cantidad de módulos para todos los niveles, aprovechando perfectamente el espacio. Tiene árboles y césped que le dan un aspecto más natural de plaza o parque. Podrás encontrar banks, banks to ledge, bordillos low to high, flatrails, un eurogap, ramps enfrentados, manual pads, escaleras, streetgap, multifunbox y un árbol en el centro con su base en forma de quarter circular. Por la noche está bien iluminado por farolas. Se específica que no debe ser usado para otros deportes ni como espacio de recreo para niños, es exclusivo para skateboarding.
One of Lima's most legendary spots is a twenty minute car ride away from the skate plaza, in Larcomar, in front of the Marriot Miraflores Hotel on the Larco Ave. / Armendariz Ave. crossroads. You also have skateparks such as Miraflores Skatepark, near the Malecón de La Marina or the Converse Skatepark in the San Borja Sports Centre.
If you go further you'll find Daytona Park, an abandoned theme park in the middle of Jockey Club. It's on private property so be aware that you could get kicked out and the place is very dusty so take a brush, water, wax etc. with you. If you go by car, remember to park further away to be discreet. These are just a few examples of the possibilities in Lima, but speak to the locals and you will find out about many more places you can go to.
As a tourist, you can visit the Miraflores district where you'll find many things to do and see – shopping centres, restaurants, amusement arcades etc. However, the most popular attraction is to go to the cliffs to enjoy the incredible sea views. The Plaza de Armas is in Lima's Old Town, in the same place where the conqueror Francisco Pizarro founded the city in 1553. You'll find spectacular buildings like the Government Palace, the cathedral, la Casa del Oidor and the Arzobispal Palace. Other recommended places to visit are La Huaca Pucllana, the Magic Water Circuit, Barranco, El Olivar Park and Punta Hermosa Beach.
Uno de los spots más míticos de Lima se encuentra a 20 minutos en coche del skate plaza, en Larcomar, en el cruce de la avenida Larco y la avenida Armendariz, frente al Hotel Marriot Miraflores. Por otro lado están los Skateparks, como el Skatepark de Miraflores cerca del Malecón de La Marina o el Skatepark de Converse en el Polideportivo San Borja.
Algo más lejos se encuentra el Daytona Park, un parque de atracciones abandonado en medio del Jockey Club. El lugar es propiedad privada y a veces puedes ser expulsado de forma no muy amable. El sitio tiene mucho polvo, es recomendable llevar una escoba, agua, cera, etc. Si vas en coche es mejor aparcarlo retirado del lugar para ser discreto. Estos son solo un par de ejemplos de spots que puedes patinar en Lima, pero habla con los locales y descubrirás un montón de lugares muy furtivos.
Como turista puedes visitar el distrito Miraflores, en el cual se pueden encontrar diversos atractivos como centros comerciales, restaurantes, áreas de esparcimiento, etc. Pero destacan las vistas al mar que hay desde los acantilados, es un barrio muy turístico. Por otro lado, La Plaza de Armas se encuentra en el centro histórico de Lima, en el mismo lugar donde en 1535 el conquistador Francisco Pizarro fundó la ciudad. En sus alrededores se encuentran espectaculares edificios como el Palacio de Gobierno, la Catedral, la Casa del Oidor y el Palacio Arzobispal. Otros lugares recomendables son La Huaca Pucllana, Circuito Mágico Del Agua, Barranco, Parque El Olivar y Playa Punta Hermosa.