Radio Korea & JKwon Ledges / United States – Los Angeles – California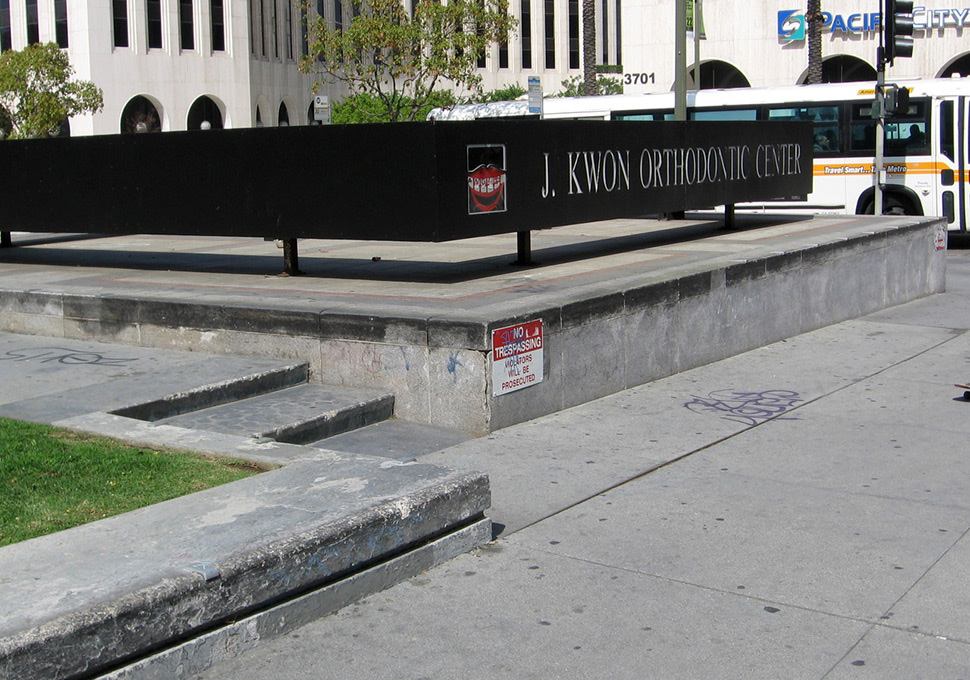 | | |
| --- | --- |
| Funboxes | |
| Rails | Handrail |
| Ledges | Ledges, Manual pads |
| Pipes | Wallrides |
| Jump | |
| Stairs | 6 and 8 Stairs |
There are skate stoppers on many of the ledges but the ones which don't have them can still be used. The city has a subtropical climate and it usually rains in February. The best time to visit is in July and August.
En muchos bordillos hay skate stoppers, pero se sigue patinando en los que ya no hay. La ciudad tiene un clima subtropical y suele llover sobre todo en febrero, lo mejor es ir entre julio y agosto.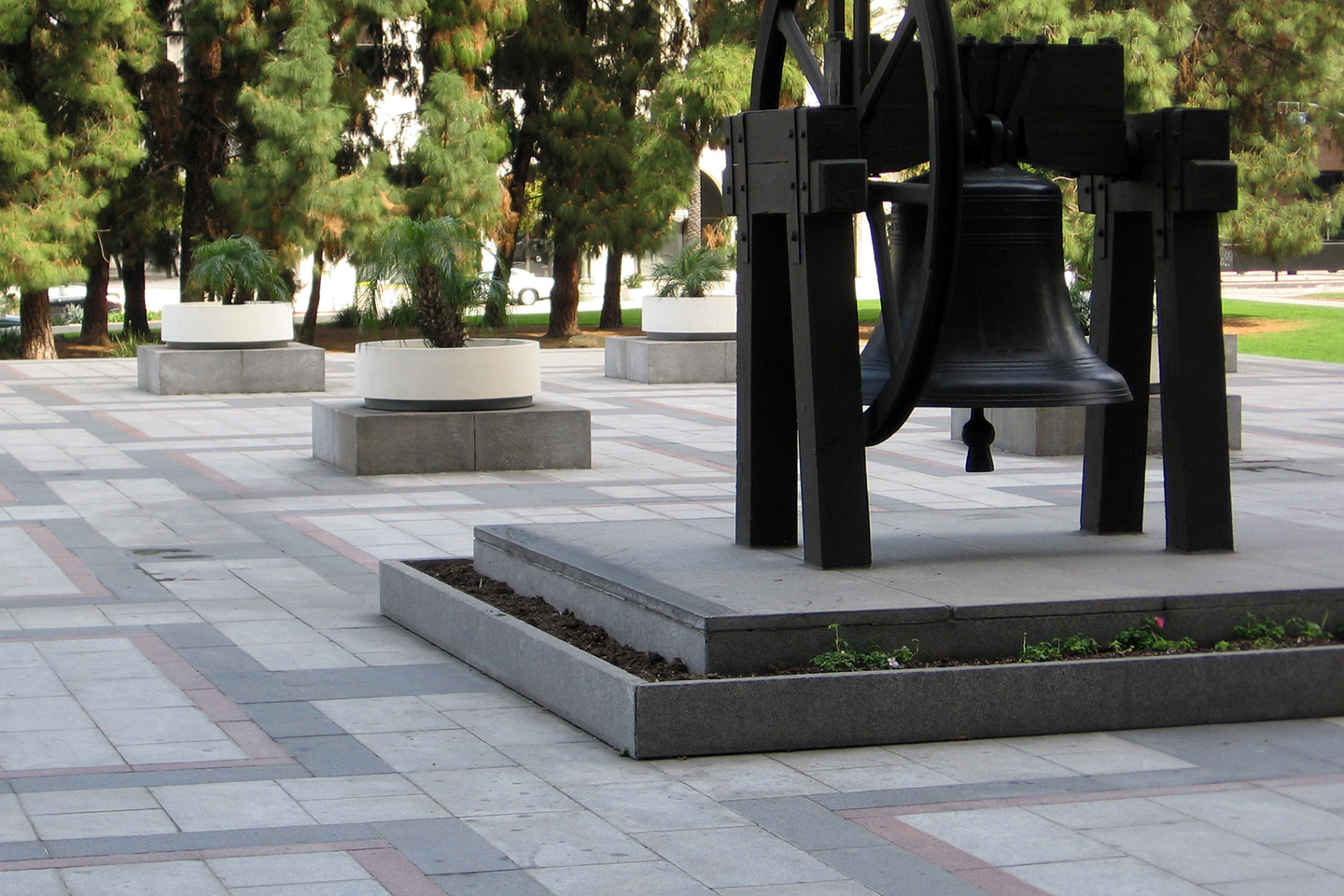 An authentic Los Angeles spot which is located at the Wilshire Boulevard and S Serrano Avenue intersection. This plaza has many ledges, low, high, long and short, also columns with a slight curve to do wallrides, a handrail on 6 stairs, double set 8 flat 7 and a ledge in the centre with a bell sculpture of which you have to slide the whole thing because it has a small garden at either end. In addition, the ground is perfect for skating. The spot is famous for being featured on popular skate videos and because it is frequented by skaters like Josh Kalis and Dave Bachinsky among others.
Spot genuino de Los Ángeles, situado en el cruce entre Wilshire Boulevard y S. Serrano Avenue. Esta plaza tiene gran variedad de bordillos, los hay altos, bajos, largos y cortos, también columnas con una ligera curva para hacer wallrides, un handrail en 6 escaleras, doble set 8 plano 7 y un bordillo en el centro con una escultura de campana que hay que deslizar entero porque tiene una pequeña jardinera al entrar y al salir. Además, el suelo va muy perfecto para patinar. El spot es famoso por salir en los vídeos más conocidos de skate y porque es frecuentado por patinadores de la talla de Josh Kalis y Dave Bachinsky entre otros.
The Stoner Skate Plaza is 20 minutes away and Venice beach is 30 minutes away but it's worth going there too if you can. In 15 minutes, you have the Grand Park where you can go for a nice walk and discover a quiet environment within the bustle of the big city. You could also visit Universal Studios, the Hollywood sign, the Walk of Fame, Melrose Avenue, Sunset Strip, Rodeo Drive, Beverly Hills and the 'Baywatch' beach etc. You could see more than one film star around there.
El Stoner Skate Plaza está a 20 minutos y Venice Beach a 30 minutos, pero merece la pena ir allí. A 15 minutos esta el Grand Park, para dar un buen paseo y descubrir un entorno tranquilo dentro del gran ajetreo de la ciudad. También puedes visitar 'Universal Studios', 'Hollywood Sign', el 'Walk of Fame', Melrose Avenue, Sunset Strip, Rodeo Drive, Beverly Hills, la ex 'Baywatch Beach', etc. Puede que te cruces con más de una estrella de cine por estos sitios.