Santa Clarita Skatepark / United States – Santa Clarita – California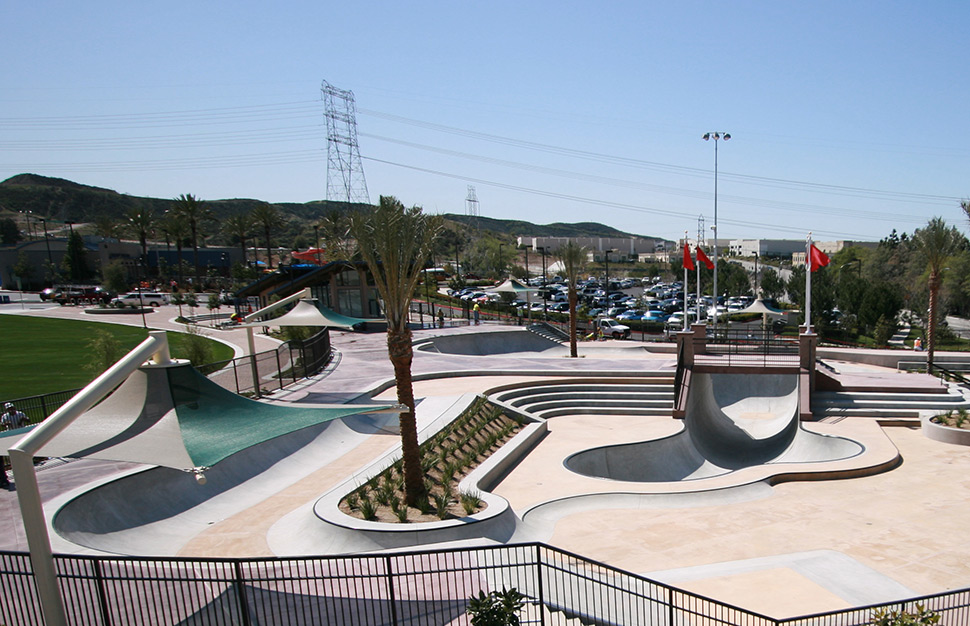 | | |
| --- | --- |
| Funboxes | Funbox Hubba |
| Rails | Flatrails, Handrails |
| Ledges | Hubbas, Ledges, Manual pads, Curve ledges |
| Pipes | Quarters, Wallrides, Curving, Bowl, Snake Run |
| Jump | Banks, Ramps, Bumps, Eurogap, Hips |
| Stairs | 6 and 10 Stairs, Gaps, 4, 5 and 7 Blocks |
The park's timetable is from 08:00 till 22:00 every weekday. Under 12s can go on Saturdays and Sundays from 08:00 till 10:00 but they must be accompanied by an adult. It opens a bit later on every second and fourth Tuesday for maintenance. You could find that it's closed if the conditions are extreme, for example if it rains or if the park rules are violated. You can not smoke inside.
El horario del parque es de 8:00 a 22:00 todos los días de la semana. Para los jóvenes menores de 12 años abre los sábados y domingos de 8:00 a 10:00 de la mañana y deben ir acompañados de un adulto. Puede abrir más tarde el segundo y cuarto martes de cada mes por razones de mantenimiento. Si las condiciones son extremas puedes encontrarlo cerrado, por ejemplo, si llueve o si se violan las condiciones y reglas del parque. Ten en cuenta que no se puede fumar dentro ni tomar alcohol.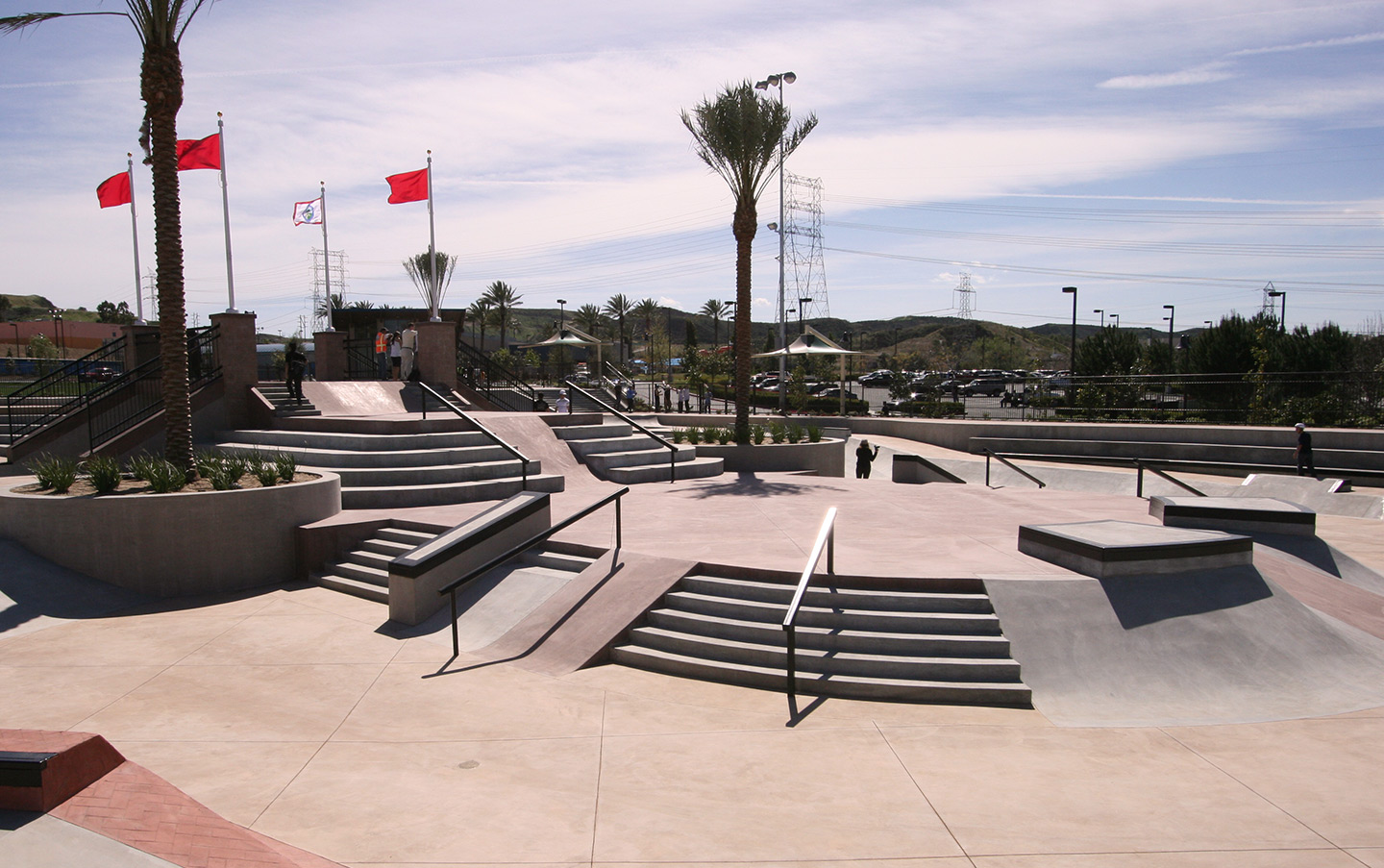 You'll find this park located in a sports centre, next to the waterpark. It was built on the former Santa Clarita Skatepark and is now 12.200 square metres in size and consists of a central bowl, a snake run that serves as a mini ramp, large potted palms which serve as bumps, a number of sets of stairs and banks with rails, hubbas, manni pads, all of which is interconnected so you can make smooth and endless runs.
There are shaded areas around the skatepark and there is also WiFi access so it's perfect to watch or upload your videos. Using the park means that you have to follow some simple rules such as no animals, no smoking, no stickers, no graffiti, no alcohol. Events like Element's Make It Count or Volcom's Wild in the Parks have been held in this skatepark.
Este parque se encuentra inmerso en un Complejo Deportivo, junto al Centro Acuático, y ha sido construido sobre el antiguo skatepark de Santa Clarita. Ahora consta de 12.200 metros cuadrados con un bowl central, un snake run que hace las veces de mini ramp, grandes maceteros de palmeras que son bumps, varios sets de escaleras y planos inclinados con sus correspondientes rails, hubbas y manni pads, todo ello interconectado pudiendo crear líneas fluidas e interminables.
Hay estructuras de sombra repartidas por el skatepark y WiFi para conectarse a internet, perfecto para ver o subir tus vídeos desde cualquier dispositivo. La práctica de cualquier actividad en este parque se encuentra sujeta a ciertas normas como: no entrar con animales, no fumar, no entrar con alcohol, nada de pegar pegatinas o hacer grafittis, etc. En Santa Clarita Skatepark se han celebrado eventos como el Element 'Make It Count' o el Volcom 'Wild in the Parks'.
In Santa Clarita you can visit The Gentle Barn, where you can get close to the animals indigenous to the area, go hiking in Vasquez Rocks Natural Area, visit the Gibbon Conservation Centre if you want to experience close contact with this unique species of ape, see the St. Francis Dam-Ruins of Collapsed Dam, Edwards Valencia Stadium 12 & IMAX, Westfield Valencia Town Centre and Bridgeport Park – Duck Pond. In addition, Los Angeles is just a 40 minute drive south.
En Santa Clarita puedes visitar The Gentle Barn, donde puedes tener un acercamiento con animales autóctonos de la zona. Puedes hacer senderismo en Vasquez Rocks Natural Area. En Gibbon Conservation Center puedes tener un contacto cercano con esta singular especie de simios. También puedes visitar St. Francis Dam-Ruins of Collapsed Dam, Edwards Valencia Stadium 12 & IMAX, Westfield Valencia Town Center y el Bridgeport Park – Duck Pond. Además, la ciudad de Los Ángeles está a 40 minutos en coche en dirección sur.