Skate Plaza Manaira / Brazil – Joao Pessoa – Paraíba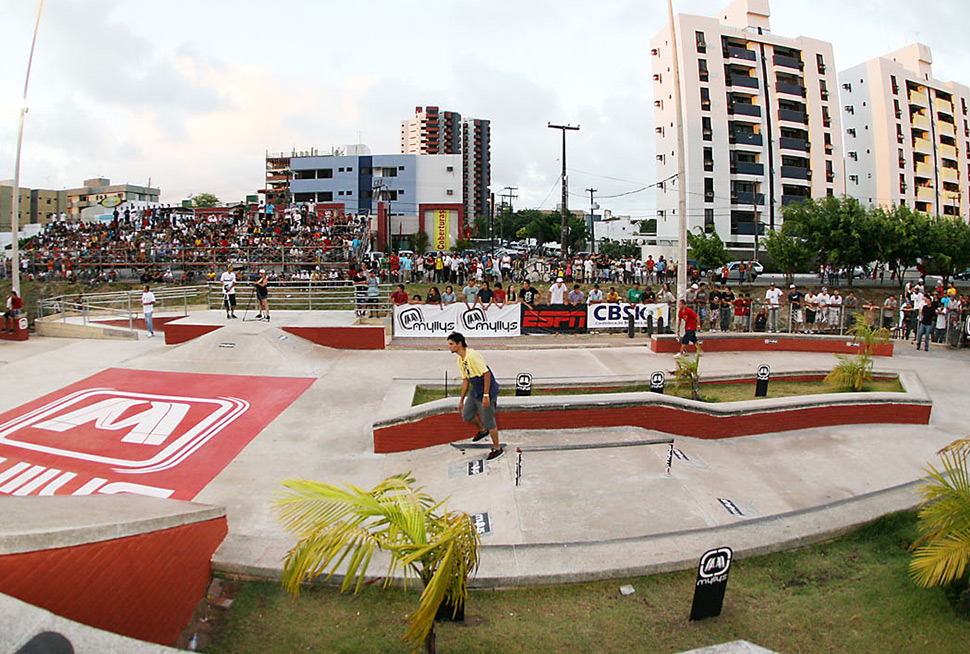 | | |
| --- | --- |
| Funboxes | Pyramid |
| Rails | Flatrails, Handrails |
| Ledges | Hubbas, Ledges, Manual pads |
| Pipes | Mini ramp |
| Jump | Banks, Eurogap |
| Stairs | 4, 8 and 11 Stairs, Gaps, Double set 2x2 |
In this city which lies so near to the equator, there is no real difference between one season and another, above all with regards to the temperature which is quite stable throughout the whole year. The best time to go is usually between October and February.
En esta ciudad tan cercana al Ecuador, no existe realmente una diferencia significativa entre una estación y otra, sobre todo en lo que respecta a la temperatura, que suele ser bastante estable durante todo el año. La mejor época se comprende entre los meses de octubre y febrero.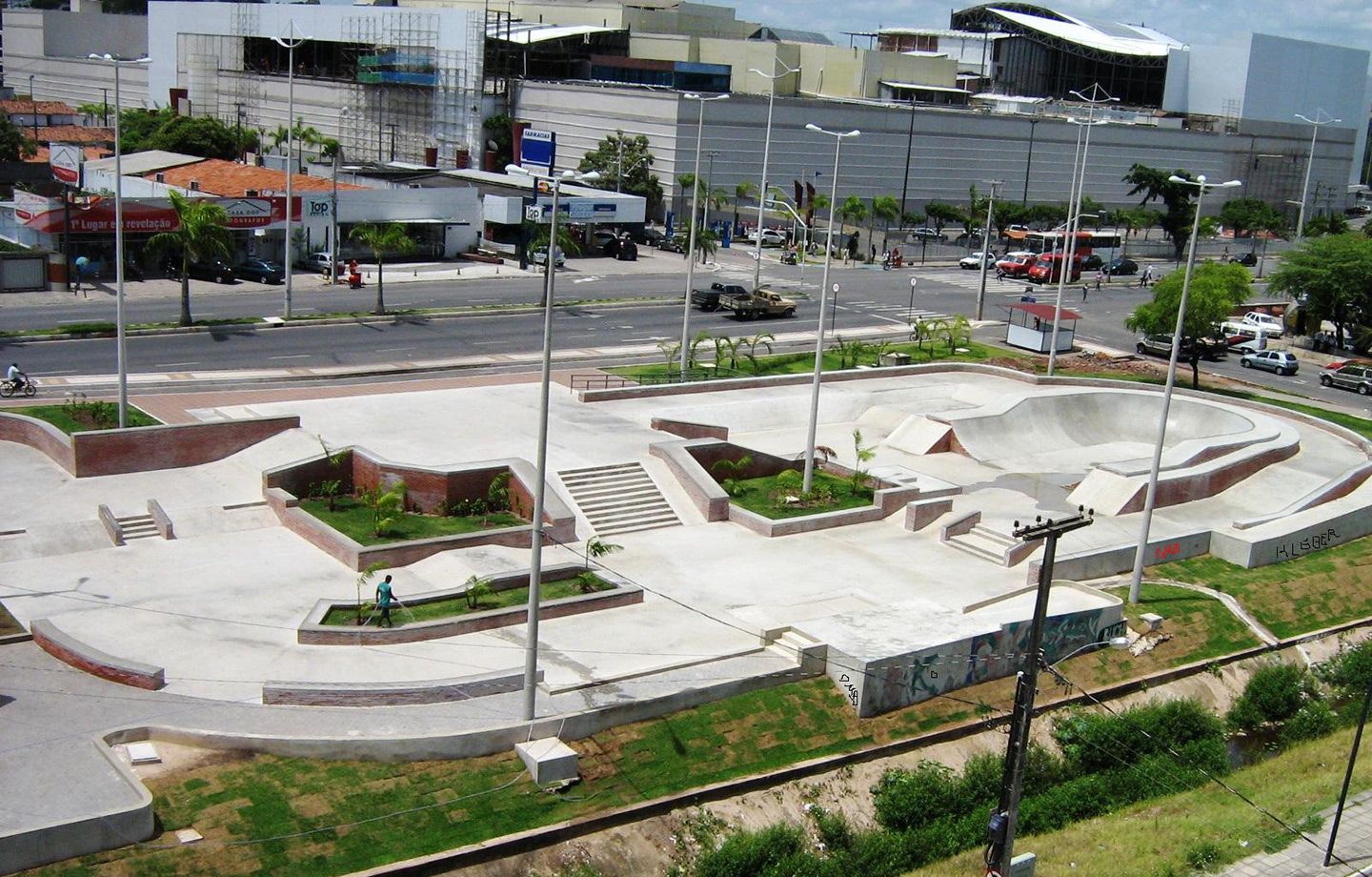 Manaira Skate Plaza is located in Avenida El gobernador Flávio Ribeiro together with Manaira shopping centre. It was constructed in 2008 and has cement street elements, the highlight being the huge variety of stone ledges. There are also various sized hubbas, a set of two flat two stairs, various banks, rails, a pyramid, low to high ledges, a mini ramp and the hardest module is the set of eleven stairs with long hubbas and a steep handrail.
The local skaters have put various rails in key places, such as on the two flat two stair set, making the skate plaza a semi DIY which offers more possibilities. It is lit at night and they erect stands for the public during competitions. The often host events like the Rei da Plaza or the last stage of the Brazilian Skateboard Circuit, the Myllys Skate Pro.
El Skate plaza de Manaira está situado en la Av. El gobernador Flávio Ribeiro Coutinho (Retão Manaíra), junto a Manaíra shopping. Fue construido en 2008. Tiene módulos de streets de cemento, destacando gran variedad de bordillos de piedra sin salida. También hay hubbas de distintos tamaños, un set de escaleras dos plano dos, varios banks, rails, una pirámide, bordillos low to high, una mini ramp y el módulo más duro son once escaleras con largos hubbas y un handrail picado.
Los skaters locales han colocado varios rails en sitios clave, como en el set de escaleras dos plano dos, lo que hace de este skate plaza un semi DIY con más posibilidades. Tiene iluminación por la noche y en las competiciones se preparan unas gradas para el público. Se suelen celebrar eventos como 'Rei da Plaza' o la última etapa del Circuito Brasileiro de Skate 'Myllys Skate Pro'.
The capital of the Brazilian state of Paraíba is João Pessoa. Located at the easternmost point of the American continent, it's known as the city where the sun rises first. It combines a pleasant climate, incredible beaches and well-preserved Baroque architecture. Founded in 1585, it's the third oldest city in Brazil.
Most of the fun is concentrated around the Tambaú, Cabo Branco and Bessa beaches. You will be able to enjoy the local food, especially the fish and shellfish dishes, along with live music in the bars. There is a big public holiday called Lemanjá on the 8th December where around one hundred thousand people gather for the festivities. It's an Afro-Brazilian manifestation where offerings are taken to the sea. Visits to Cabo Branco, the Sao Francisco Cultural Center, the monument in the Solon de Lucena Park and the Santuário Nossa Senhora da Penha are also highly recommended.
João Pessoa es la capital del estado brasileño de Paraíba, situada en el punto más oriental del continente americano y por ello conocida como la ciudad donde el sol nace primero. Combina un clima agradable, increíbles playas y arquitecturas de arte barroco muy bien conservadas. Fundada en 1585, es la tercera ciudad más antigua de todo Brasil.
La diversión se concentra en las playas de Tambaú, Cabo Branco y Bessa. En los bares típicos se puede disfrutar de música en vivo y de comida local, especialmente pescado y marisco. El 8 de diciembre es el día de 'Nuestra Señora de la Concepción', también conocida como Lemanjá, donde cerca de 100 mil personas acuden cada año a los festejos. Se trata de una manifestación religiosa afro-brasilera, donde se llevan ofrendas al mar. Es recomendable visitar Estacao Cabo Branco, Cultural Center Sao Francisco, el Monumento en el parque Solon de Lucena y el Santuário Nossa Senhora da Penha.