Skatepark of Tampa / United States – Tampa – Florida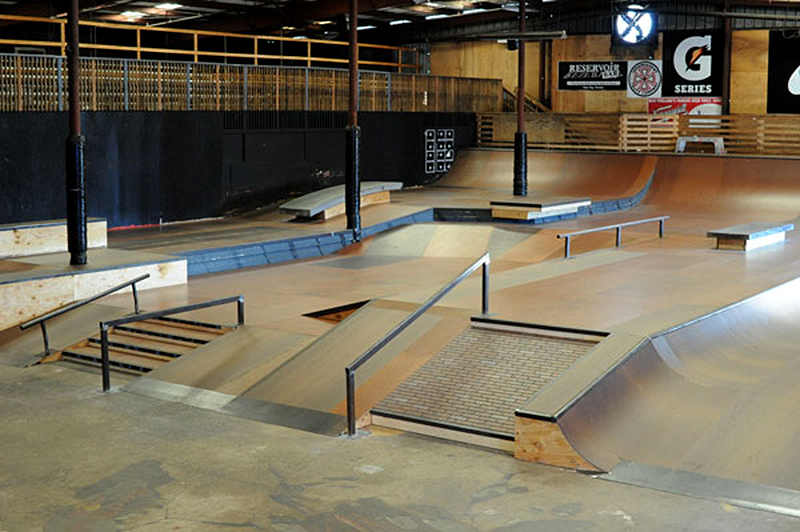 | | |
| --- | --- |
| Funboxes | Pyramids, Multifunboxes |
| Rails | Flatrail, Handrail, Handrail with kink |
| Ledges | Ledges, Hubbas, Manual pads, Picnic table, Curve ledge |
| Pipes | Half Pipe, Bowl, Quarters, Curvings, Wallride, Spines |
| Jump | Banks, Ramps, Eurogaps, Hips |
| Stairs | 4 Stairs |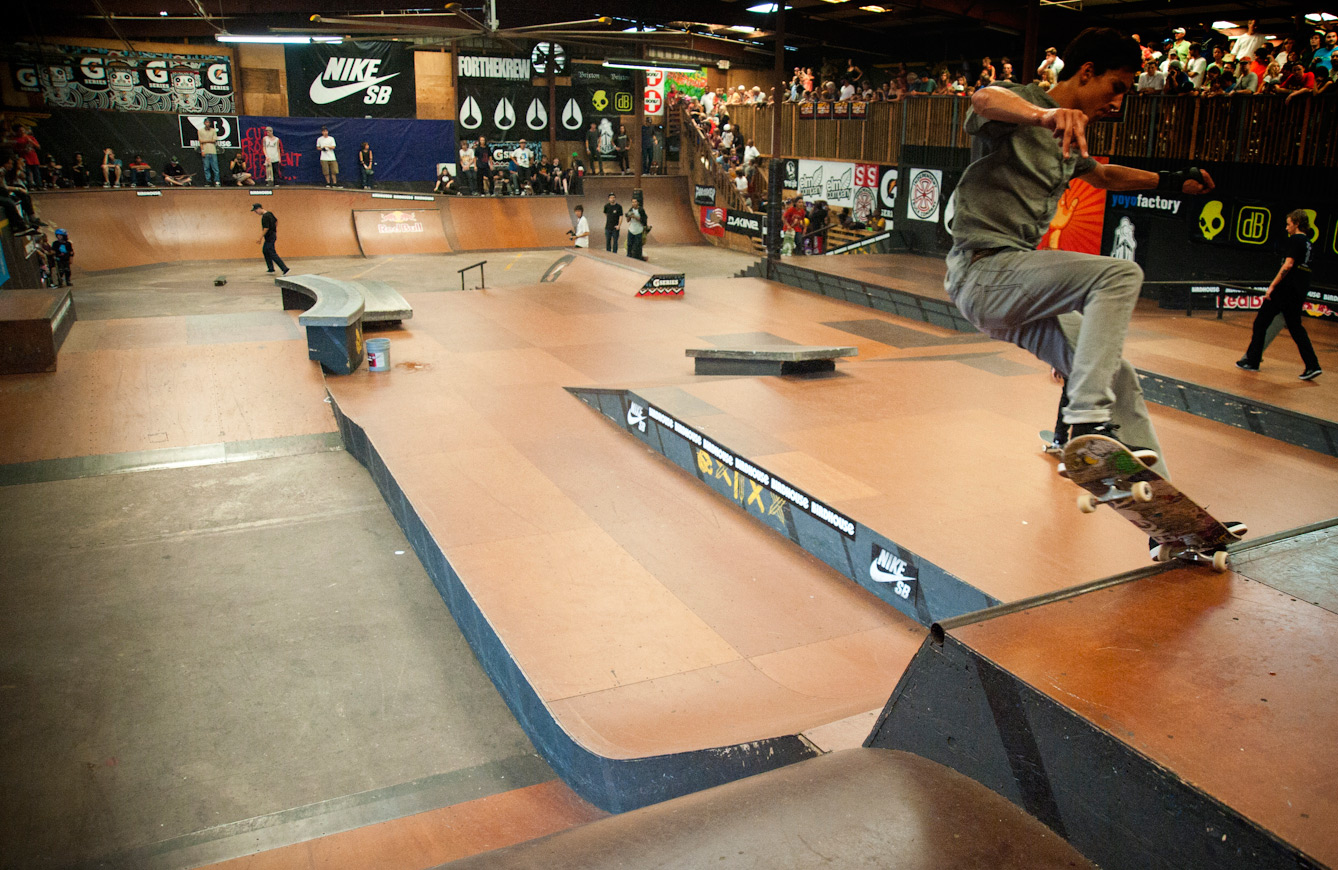 The Skatepark of Tampa is an indoor wooden park which is considered as one of the skate HQs on the east coast of the United States. It's also known as SPoT, and every year the street zone is often reconstructed for the famous competitions like the Tampa Pro and Tampa Am. Although it's continuously being redesigned, you can always count on a bowl and a half pipe outside of the warehouse, multi-funboxes, many rails (straight and descending, hubbas, blocks, planters, wallrides, curves and benches. It's very dynamic and is designed so that you can make all sorts of rounds. It's known for hosting other events like the Maloof Money Cup and the Vans Downtown Showdown. There's also a shop and a bar with billiard tables and they always have skate videos playing.
El Skatepark de Tampa es un indoor de madera considerado como una de las sedes de skate en la costa Este de los Estados Unidos. También se le conoce como SPoT, y cada año se suele reestructurar la zona de street para las famosas competiciones Tampa Pro y Tampa Am. Aunque se rediseña continuamente siempre cuenta con un half pipe fuera del almacén y dentro un bowl, multifunboxes, muchos rails rectos y en bajada, hubbas, cajones, planters, quarters, wallrides, curvings y banks. Es muy dinámico y está preparado para elaborar rondas de todo tipo. Se conoce que da lugar a otros eventos como Maloof Money Cup y Vans Downtown Showdown. Además, dispone de una tienda y un bar con mesas de billar y videos de skate puestos todo el día.
The Big Cat Rescue is near to Citrus Park and is an interesting place to visit. You can see various species like lions, tigers and cheetahs. It's a feline sanctuary rather than a zoo. The tours are guided and provide an educative experience that will inform you about these unique animals both in the wild and captivity.
You could enjoy a relaxing cruise along the small Hillsborough River, despite being in the centre of Tampa, it's surprisingly quiet. You'll be able to admire the wildlife along the riverbank and watch the birds and many turtles. Another place where you can get away from the hustle and bustle of the city is in Lettuce Lake Park. There you'll find crocodiles, birds, rabbits and much more, all in their own natural environment, no cages. The entrance fee is very cheap and it's just 20 minutes away from the skatepark.
El Big Cat Rescue puede ser una visita interesante. Allí hay enormes leones, tigres, guepardos, etc. Se considera más bien un santuario de felinos, no un zoológico. Los tours son guiados y proporcionan una experiencia educativa que incluye la situación de estos singulares mamíferos en libertad y en cautiverio. Se encuentra cerca del Citrus Park. Por otro lado, en el Hillsborough River se puede disfrutar de un agradable crucero a través de este pequeño y tranquilo río, a pesar de estar en el centro de Tampa. Se puede admirar la vida salvaje junto a la ribera y ver las aves zancudas y abundantes tortugas. Otro lugar para relajarse del bullicio de la ciudad es Lettuce Lake Park. Hay cocodrilos, aves, conejos, y mucho más, en su propio hábitat, sin jaulas. La entrada es muy barata. Esta a 20 minutos del skatepark.