SMP Skatepark / China – Shanghái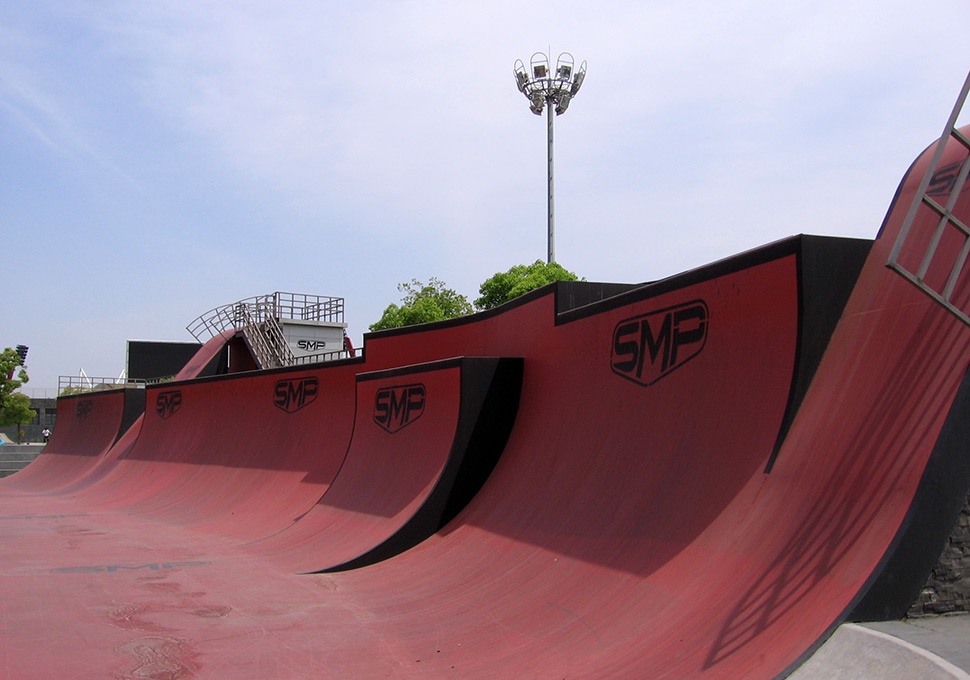 | | |
| --- | --- |
| Funboxes | Funbox Hubba, Pyramids, Multifunboxes |
| Rails | Flatrails, Handrails |
| Ledges | Hubbas, Ledges, Manual pads, Curve ledges |
| Pipes | Half pipe, Quarters pipe, Wallride, Mini ramps, Spines, Curvings, Pool, Waves, Transitions, Bowls |
| Jump | Banks, Ramps, Bumps, Eurogaps, Streetgaps, Hips |
| Stairs | 2, 3, 5, 8 and 16 Stairs, Gaps, 3 Blocks,4 Blocks |
Sometimes you can witness snowfall and summer storms. Typhoons are common in Shanghai, but none have caused serious damage. The monsoon rains usually occur between May and November and the best skating months are April and May. Entrance to the park costs four euros on weekdays and seven euros at weekends.
En ocasiones se pueden presenciar nevadas y tormentas de verano, los tifones son comunes en Shanghái, aunque ninguno ha causado daños graves. Las lluvias de monzón suelen producirse entre mayo y noviembre, lo mejor para patinar son los meses de abril y mayo. El parque cuesta cuatro euros entre semana y los fines de semana siete euros.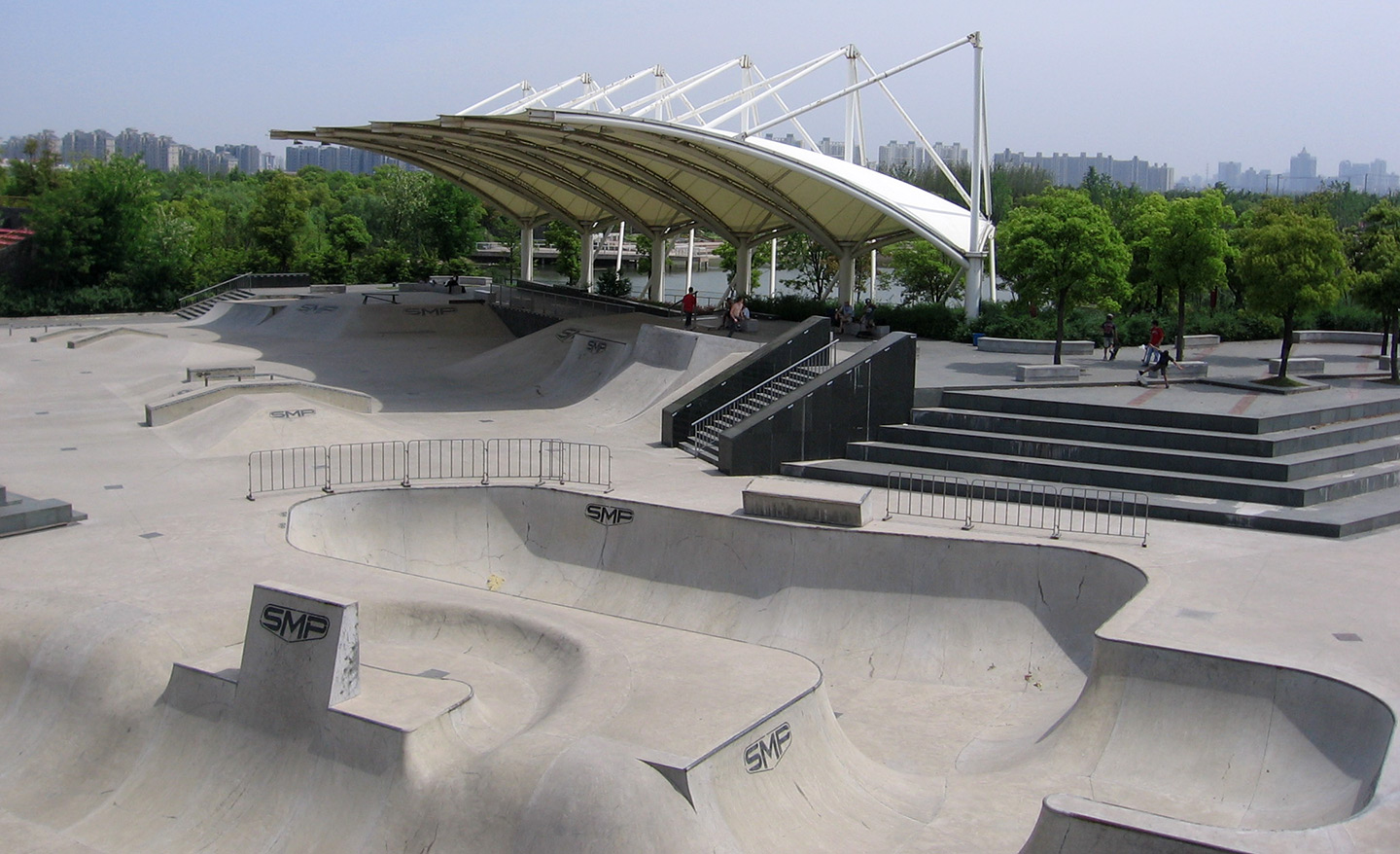 The SMP Skatepark is located in the Fudan Wangxi Botanical Garden in Shanghai and is known as the world's largest skatepark. It has 13.700 square metres that will overwhelm any rider. It's full of bowls, many of which have amazing oververts. There is a full pipe which looks like a subway tunnel, a half vertical which is over 50 meters long and has variable height, a huge street area with all types of elements such as multi-funboxes, gaps, stairs, banks, ledges, hubbas and rails.
It also has elements for decor, shaded zones, changing rooms, toilets and stands for visitors who don't want to skate. There is an area which is solely used for championships with seating for 5.000 people, in which they install the necessary elements and obstacles depending on the event being celebrated there. In general, many of the elements are enormous, above all the bowls meaning that there aren't many obstacles for beginners, maybe because this park was built with the purpose of celebrating the biggest extreme sports in the world.
El SMP Skatepark situado en el Fudan Wangxi Botanical Garden, en Shanghái, es conocido como el skatepark más grande del mundo. Tiene 13.700 metros cuadrados que abruman a cualquier rider. Está plagado de bowls, muchos de los cuales tienen increíbles oververts. Hay un fullpipe que parece un túnel de metro, un half vertical de más de 50 metros de largo y altura variable, una zona de street enorme con todo tipo de elementos como multifunboxes, gaps, escaleras, planos inclinados, bordillos, hubbas y rails.
También posee elementos de decoración y zonas de sombra, así como vestuarios, aseos y gradas para los visitantes que no vayan a patinar. Existe un área solo para campeonatos con asientos para 5.000 personas, en la que se instalan elementos y obstáculos necesarios según el evento a celebrar, pero diariamente no está disponible. En general, muchos de los módulos son enormes (sobre todo los bowls), es decir, no hay muchos obstáculos pensados para principiantes, quizá porque el parque se construyó con el propósito de celebrar los mayores eventos de deporte extremo del mundo.
Shanghai is the largest and most populated city in China. It is very versatile and as for skateboarding is not going to be outdone. It has thousands of possibilities and with only a few rounds of the city centre, you could be amazed to discover spots that probably haven't been skated by anyone. Places to visit without your board are Bund, ERA Acrobats, Shanghai Circus World, the Shanghai Museum, Shanghai Mansion Zhougong, Jin Mao Tower and Shanghai Fudan University, the amazing building that is the Shanghai Hongqiao Railway Station, the area with nightlife called the Old French Concession, Shanghai Jewish Refugees Museum, go to see the whole of Shanghai on a small scale in the Shanghai Urban Planning Exhibition Hall, the Oriental Pearl Tower and Tian Zi Fang.
Shanghái es la ciudad más grande y más poblada de China, es muy polivalente y en cuanto a skateboarding no va a ser menos, tiene miles de posibilidades, solo con dar unas vueltas por el centro de la ciudad puedes asombrarte descubriendo spots que probablemente no haya patinado nadie. Lugares para visitar sin la tabla pueden ser Bund, ERA Acrobats, Shanghái Circus World, Museo de Shanghái, Shanghái Zhougong Mansion, Jin Mao Tower y Shanghái Fudan University, el increíble edificio de Shanghai Hongqiao Railway Station, la zona de marcha Old French Concession, Shanghai Jewish Refugees Museum, ver Shanghái entera a pequeña escala en Shanghai Urban Planning Exhibition Hall, la Torre de la Perla de Oriente y el Tian Zi Fang.