Spring Skatepark / United States – Greenspoint – Houston – Texas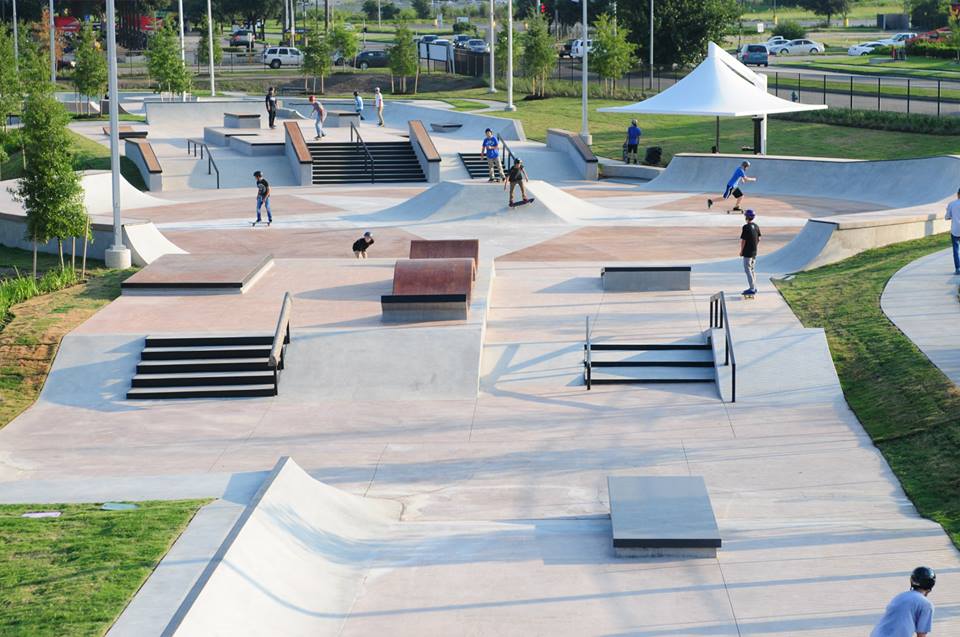 | | |
| --- | --- |
| Funboxes | |
| Rails | Flatrails, Handrails, Handrail with kink, Flatrail with kink, Curve rail, Pole jump. |
| Ledges | Hubbas, Ledges, Manual pads, Curve ledges. |
| Pipes | Full pipe, Quarters, Wallride, Mini ramps, Spines, Curvings, Pool, Waves, Transitions, Bowls. |
| Jump | Banks, Ramps, Bumps, Eurogaps, Streetgaps, Hips. |
| Stairs | 5, 7, 10 Stairs, Gaps, Double set 3x3. |
BMXs aren't permitted in this park, it's exclusively for skateboarders. June is the month when most rainfall is recorded in Houston, the least being in March and February.
No se permiten BMX en este parque, es exclusivo de skateboard. Junio es el mes que más precipitaciones se registran en Houston y cuando menos llueve es en marzo y febrero.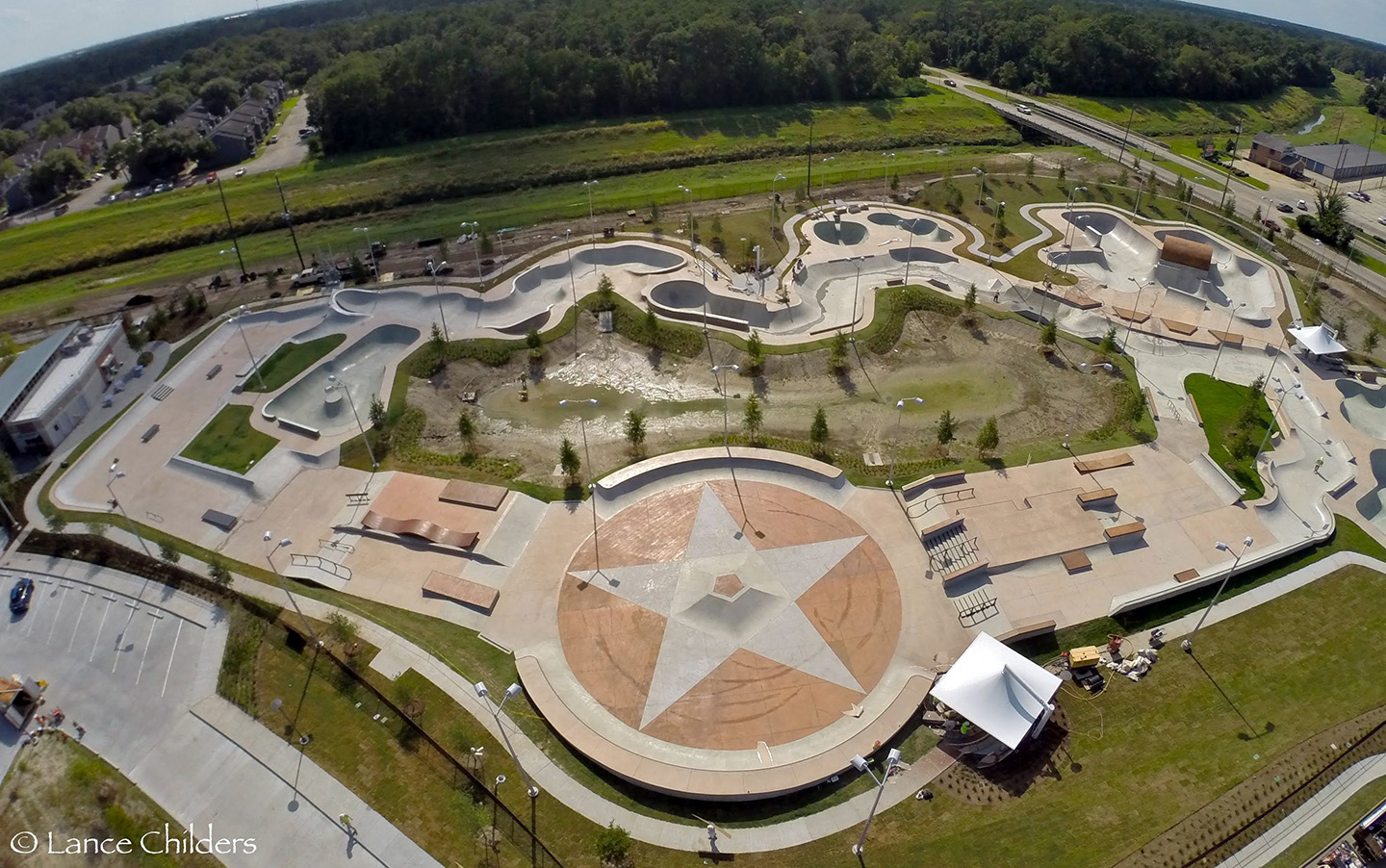 Spring Skatepark is in the outskirts of Houston, Texas, at the Kuykendahl and Rankin Rd intersection. It's the largest public park that's exclusively dedicated to skateboarding in North America and has 7.000 square metres, also making it one of the largest in the world. Grindline Skatepark began carrying out the construction on the 1st February 2012 and it was later inaurgurated on the 14th August 2014. The skatepark project is immersed in the Spring Recreational Area, a large green zone in Greenspoint which also has facilities for children with special needs (Dylan Park).
You can find many different obstacles in such a large, modern park like this one, but the main highlight is the bowl which is shaped like the state of Texas and its full pipe, a snake run called the Lazy River, the pentagonal pyramid that can be considered as the centre of the skatepark, and the sets of rail-hubbas-stairs for various levels which are scattered all over.
The purpose of the skatepark is to hold exhibitions and high level competitions, as well as serving as a compliment to the Lee and Joe Jamil Skate Park in the city centre and, of course, for the residents of the local neighbourhood and Houston.
Spring Skatepark se encuentra en las afueras de Houston, Texas, en la intersección de las calles Kuykendahl y Rankin. Se trata del parque público dedicado exclusivamente a skateboarding más grande de Norteamérica. Tiene 7.000 metros cuadrados de superficie, lo que le convierte también en uno de los más grandes del mundo. La construcción fue llevada a cabo por Grindline Skatepark, comenzando el 1 de febrero de 2012 y siendo inaugurado el 14 de agosto 2014. El proyecto del skatepark está inmerso en el Spring Recreational Area, un gran espacio verde en Greenpoint que incluye, además del skatepark, instalaciones para niños y niñas con necesidades especiales (Dylan Park).
Pueden encontrarse multitud de obstáculos diferentes en un parque tan grande y moderno como éste, pero destacan principalmente el bowl con la forma del estado de Texas y su full pipe, un snake run llamado Lazy River, la pirámide pentagonal que puede considerarse el centro del skatepark y los conjuntos de rail-hubbas-escaleras repartidos a lo largo del espacio y destinados a diferentes niveles de experiencia.
El propósito del parque es albergar exposiciones y competiciones de alto nivel, además de servir como complemento para Lee and Joe Jamail Skate Park del centro de la ciudad y, por supuesto, una atracción para los residentes de la vecindad y de todo Houston.
There isn't much to visit around Spring Skatepark since it's in the outskirts of Houston. There are more and more businesses, fast food restaurants and shops opening in the area, but you'll find more ten minutes away in Cypress Creek Parkway.
The Lee and Joe Jamil Skatepark is quite a good, large park in the city centre, just a twenty minute drive away. There is also Southside Skatepark, a wooden indoor park which is perfect for bad weather days, in the south of Houston at 510 Iowa Street. If you want to relax a bit, some local tourist attractions to visit without your board are Hermann Park, Memorial Park, Tranquility Park, The Museum of Natural Science and the Water Wall among others.
En los alrededores de Spring Skatepark no hay mucho que visitar, puesto que se encuentra en la afueras de Houston. Se están abriendo cada vez más negocios, restaurantes de comida rápida y tiendas por la zona, pero en Cypress Creek Parkway, a unos diez minutos de Spring Skatepark, hay más negocios, tiendas y restaurantes.
The Lee and Joe Jamail Skatepark está en el centro de la ciudad, a unos 20 minutos en coche, es un skatepark amplio y bastante completo. También está Southside Skatepark, un indoor de madera, perfecto para días de mal tiempo, al sur de Houston en 510 Iowa Street. Para visitar tranquilamente sin patinar está Hermann Park, Memorial Park, Tranquility Park, The Houston Museum of Natural Science y el Water Wall entre otros destinos.