Stalin Square / Czech Republic – Prague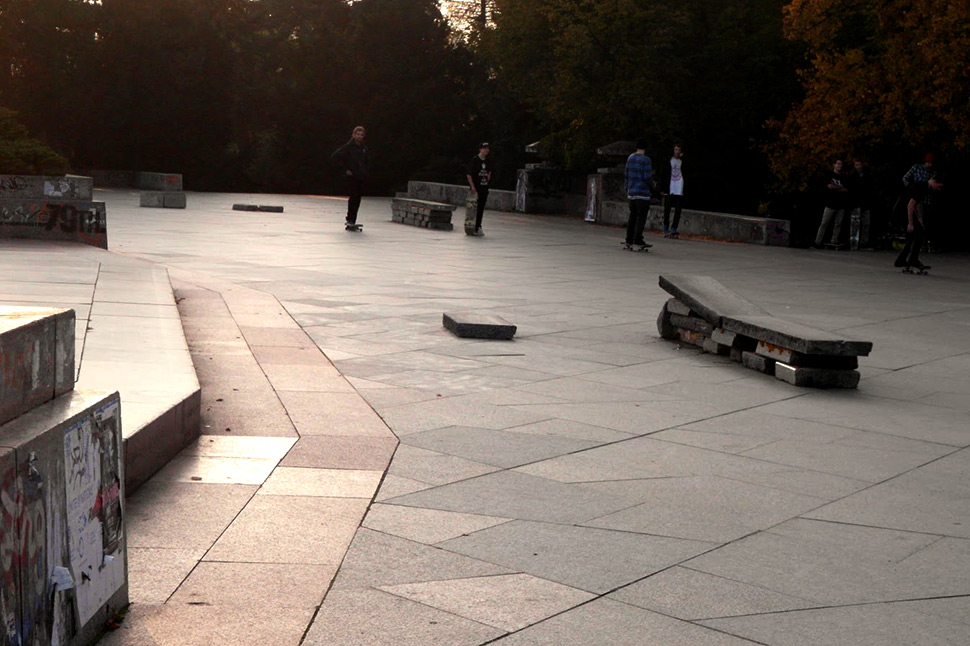 | | |
| --- | --- |
| Funboxes | |
| Rails | |
| Ledges | Ledges, Hubbas, Manual pads |
| Pipes | |
| Jump | Ramps |
| Stairs | 7, 9 and 11 Stairs |
The best time of year to skate in Prague is from April to September. From October to March it's almost impossible because of the cold weather, even in the indoor parks.
La mejor época para patinar en Praga es de abril a septiembre. De octubre a marzo es casi imposible por el frio, incluso dentro de los indoors.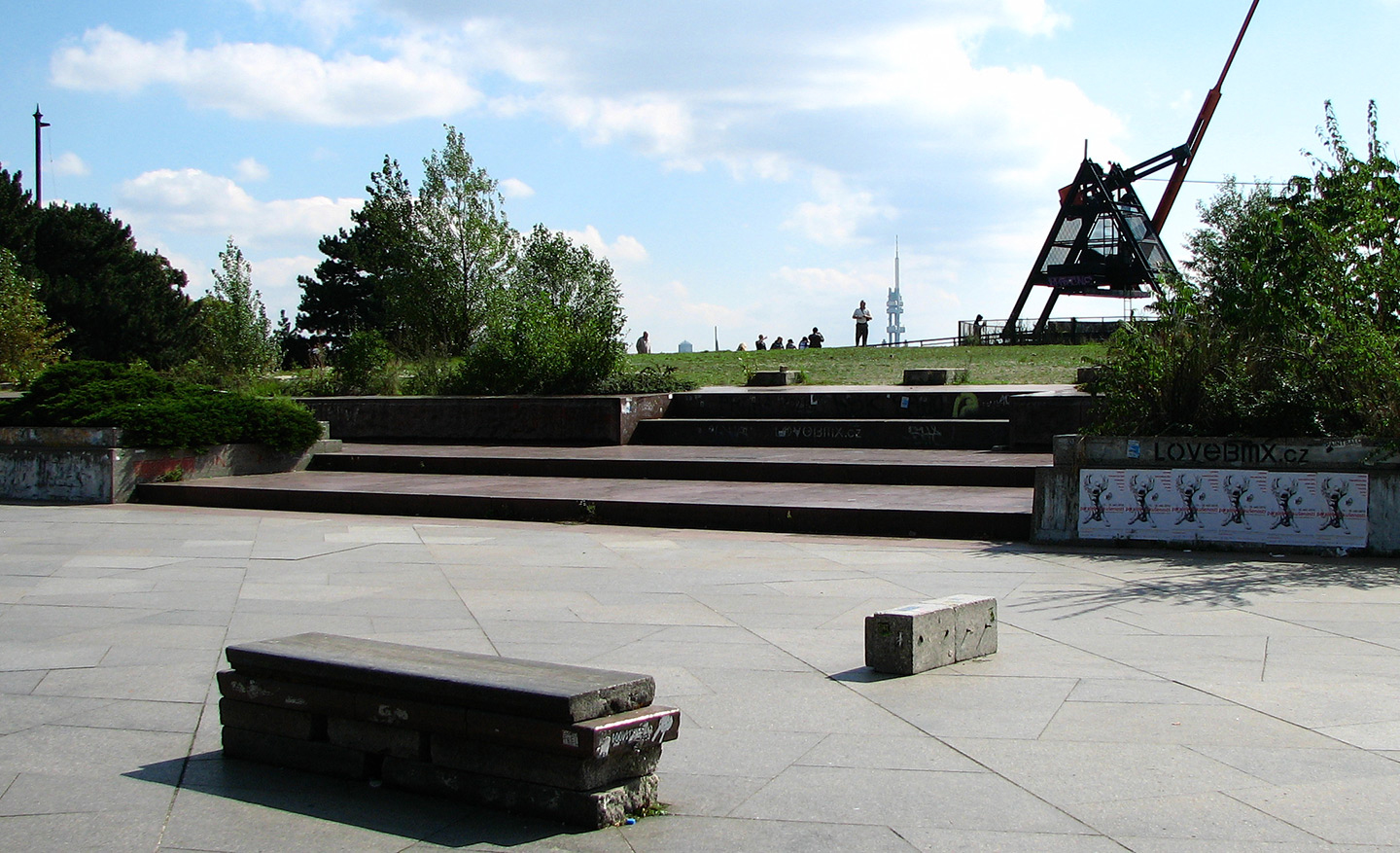 Stalin Square is one of the world class skate meccas and also a great viewpoint from where you can see the whole city. There used to be a monument of Stalin but it was destroyed in 1962, and there is now a sculpture of a metronome in its place. This will lead you straight to where the spot is located. There are granite ledges, a perfect floor, several sets of stairs and some edge reconstructions, ramps and manual pads,all thanks to the local skaters. A snack bar near the square seduces you with cold beer and local burgers, perfect to continue the session in the square.
La plaza de Stalin es una de las mecas del skate a nivel mundial, además de un mirador donde contemplar toda la ciudad. Antes se encontraba el monumento a Stalin que fue destruido en 1962, justo donde ahora se sitúa la escultura del Metrónomo, el cual te guiará directo hacia al spot. Hay bordillos de granito y suelo muy perfecto, varios sets de escaleras y algunas reconstrucciones de bordillos, ramps y manual pads, gracias a los skaters locales. Un chiringuito muy cerca de la plaza seduce con cerveza fresquita y hamburguesas típicas de allí, perfecto para reponer fuerzas y continuar la sesión en la plaza.
You'll find the Mystic Skatepark on Stvanice island in the Vltava river, a few mintues from Prague's historical centre. This indoor park could be a good alternative when the weather isn't good. The entrance fee is around 1,80 euros. Strasnice Skatepark is another alternative for skating but this is a little bit further from Stalin Square. You'll find the popular tourist attraction of the medieval Astronomical Clock on the southern wall of Prague's Old Town Hall. Here you'll find the best hostels in the city and a good atmosphere. Charles Bridge is the oldest bridge in Prague and it crosses the river Vltava from the Old Town to the Lesser Quarter. It is a very busy place with a large flux of tourists, artists and dealers giving their outdoor performances. Prague Castle is amazing for its history, its resistance to the passage of time and its enormous size.
El Mystic Skatepark se encuentra en la isla de Stvanice del río Moldava a pocos minutos del centro histórico de Praga. Este parque indoor puede ser de las mejores alternativas cuando no haga buen tiempo. Cuesta alrededor de 1,80 euros la entrada. El Strasnice Skatepark es otra alternativa para patinar, pero está algo más alejado de la plaza de Stalin. El reloj astronómico medieval se encuentra en la pared sur del Ayuntamiento de la Ciudad Vieja de Praga, siendo una atracción turística popular. Allí se encuentran los mejores albergues de la ciudad y se respira un buen ambiente. El Puente de Carlos es el puente más viejo de Praga. Atraviesa el río Moldava de la Ciudad Vieja a la Ciudad Pequeña. Es un lugar muy transitado con un importante flujo de turistas, donde artistas y comerciantes muestran espectáculos al aire libre. El Castillo de Praga es increíble por su historia, su resistencia al paso del tiempo y por sus enormes dimensiones.