Stoke Plaza / United Kingdom – Stoke-on-Trent – Staffordshire – England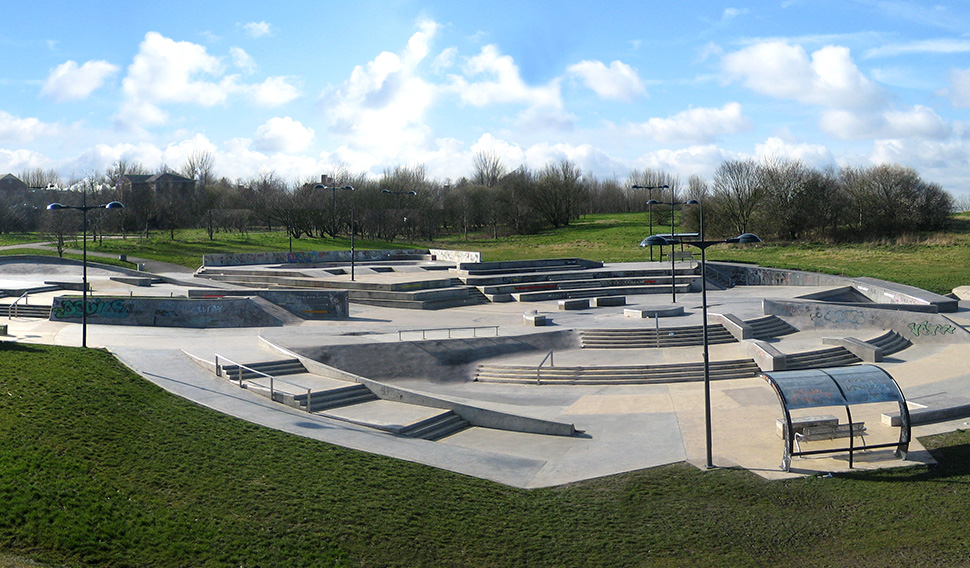 | | |
| --- | --- |
| Funboxes | |
| Rails | Flatrails, Handrails |
| Ledges | Hubbas, Ledges, Manual pads, Curved ledges |
| Pipes | Quarter, Bowl, Curving, Wallride |
| Jump | Banks, Ramps, Eurogaps, Hips |
| Stairs | 3, 4, 5 and 9 Stairs, 3 Blocks |
The skate park is open every day until 21:00 when they switch off the lights. The car park gates are locked at 20:00, but you can still leave with your car after this time. The climate is mixed and there is a chance of rainfall throughout the year, even in the summer months.
El skatepark está abierto todos los días hasta las 21:00, cuando se apagan las luces. Las puertas del parking se cierran a las 20:00, pero todavía se puede salir con el coche después de ese tiempo. El clima es mixto y hay una posibilidad de lluvias durante todo el año, incluso en los meses de verano.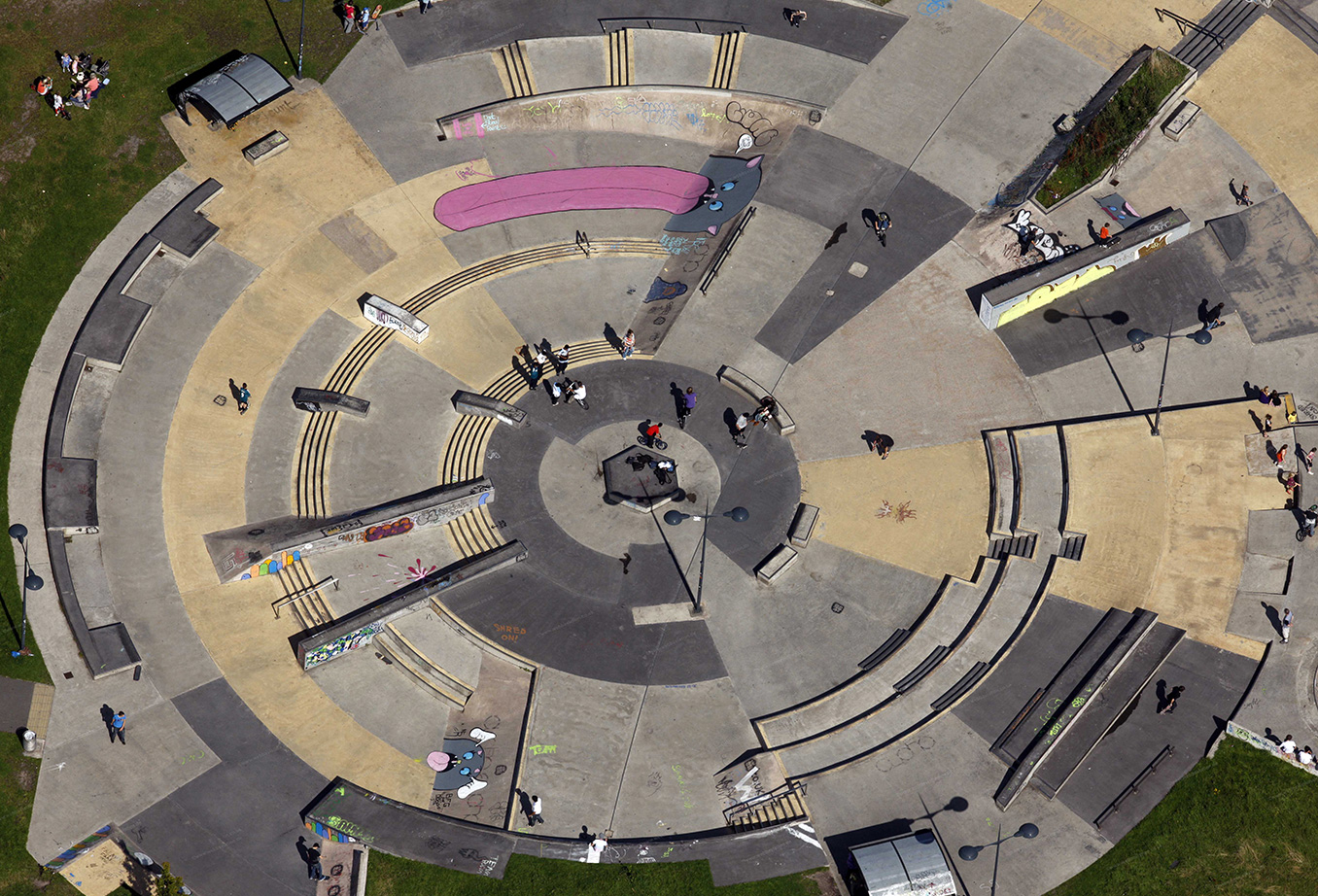 Stoke Plaza is situated in Hanley's Central Forest Park, by the children's playground. It was built in 2005 and was one of the first skate plazas in the United Kingdom. It spans over 3.200 square metres and has many street elements and a bowl for curve lovers. It's designed in a circular shape so that you can go on moving and making dynamic rounds. There are many inclined flats and stairs combined with all types of elements like railings, ledges, banks, manual pads, stands, hips and eurogaps. The possibilities are enormous and all of the ledges have slippery metal corners. There are also shade structures.
Stoke Plaza se encuentra en el Central Forest Park de Hanley, junto a un lago y un parque infantil. Fue construido en 2005, siendo una de las primeras instalaciones de skate plaza en el Reino Unido y que abarca más de 3.200 metros cuadrados. Puedes encontrar muchísimos módulos de calle y un bowl para los más ramperos. Su diseño tiene forma circular, con lo cual pueden hacerse rondas más dinámicas. Hay muchos planos inclinados y escaleras combinados con todo tipo de elementos como barandillas, bordillos, banks, manual pads, gradas, hips y eurogaps. Las posibilidades son enormes y todos los bordillos tienen esquineras de metal que deslizan mucho. También hay estructuras de sombra.
The city of Stoke-on-Trent is famous for its ceramics and if you want to find out more about the city's history, you could visit The Potteries Museum and Art Gallery, Gladstone Pottery Museum or the original Spode Factory. You can visit the Trentham Estate which is 15 minutes away from the skate park, on the outskirts of the city. There, you can go to the Monkey Forest and walk among the 140 Barbary macaques roaming in the forest. You'll be mesmerised while watching the monkeys playing on the ground and in the trees, showing very natural behaviours. You can also walk around the long lake and during the summer there are often music concerts where you can take your own food and drinks. There is also a shopping village with 60 log cabins where you can buy clothes, food, gifts and souvenirs, along with a variety of cafes and restaurants.
Staffordshire has some beautiful countryside so if you have a car available, it's worth driving out of the city and finding one of the many traditional country pubs where you can relax and enjoy some homemade food. If you want a night out you can go to the bars in Stone, Newcastle or Hanley city centre. If you want more action, you should visit Alton Towers Theme Park which is located about half an hour away from the city centre, just outside Stoke-on-Trent, in a village in the countryside called Alton. It's the UK's leading theme park and opens from late March until early November. You can experience the fast white-knuckle roller coaster rides, events and many other attractions. There is also a waterpark and two hotels with themed rooms.
La ciudad de Stoke-on -Trent es famosa por su cerámica y si quieres saber más acerca de la historia de la ciudad, se puede visitar The Potteries Museum y Art Gallery, Gladstone Pottery Museum o el original Spode Factory. Puedes visitar el Trentham Estate, que está a 15 minutos de distancia del skatepark, en las afueras de la ciudad. Allí puedes ir al Monkey Forest y caminar entre los 140 macacos de Berbería en el bosque. Te sorprenderás mientras observas a los monos jugando en el suelo y en los árboles, mostrando comportamientos muy naturales. También puedes pasear por el gran lago, y durante el verano, suele haber conciertos de música donde se puedes llevar tu propia comida y bebida. También hay una zona de compras con 60 cabañas de madera donde se puede comprar ropa, comida, regalos y recuerdos, junto con una variedad de cafés y restaurantes.
Staffordshire tiene algún que otro paisaje interesante, si tienes un coche disponible vale la pena conducir fuera de la ciudad y buscar alguno de los muchos pubs donde podrás relajarte y disfrutar de un poco de comida casera. Si quieres salir por la noche se puede ir a los bares en Stone, Newcastle o el centro de la ciudad de Hanley. Si quieres más acción puedes visitar Alton Towers Theme Park que se encuentra a media hora de distancia del centro de la ciudad, a las afueras de Stoke- on-Trent, en un pueblo llamado Alton. Es el parque temático líder en el Reino Unido y abre desde finales de marzo hasta principios de noviembre. Puedes disfrutar de un paseo en montaña rusa que te disparará la adrenalina, eventos varios y muchas atracciones. También hay un parque acuático y dos hoteles con habitaciones temáticas.