Tetuán Skate Plaza / Spain – Madrid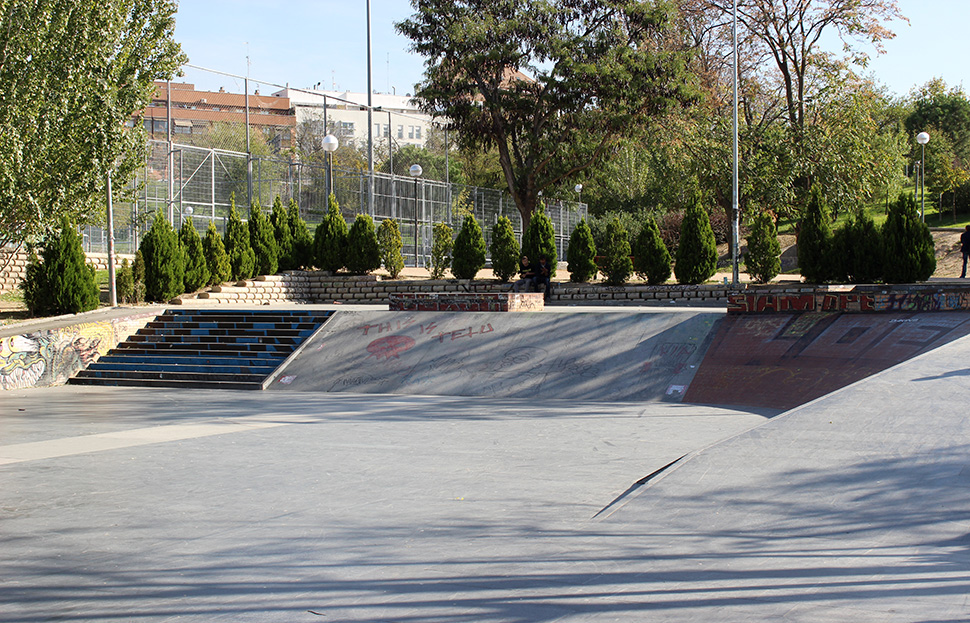 | | |
| --- | --- |
| Funboxes | Flatrail, Handrails |
| Rails | |
| Ledges | Benches, Manual pads |
| Pipes | Quarter |
| Jump | Banks, Ramp, Eurogap |
| Stairs | 11 Stairs, Gaps, Double set 3x4 |
The best months to visit Madrid are March, April, May, September and October. However it's not just the weather you'll need to think about as you'll also need to be careful with the authorities in some places.
The time of day is also important as if you go in the morning, there will be hardly any people. At midday you're more likely to coincide with skaters who are making the most of their lunch hour to get a session in, like Gabi and Rodrigo Mena from Skateland or Borja and Pablo García from Welcome, legendary skaters from Madrid whose friendliness has no limits. In the afternoons it usually gets busy with young locals and foreigners who quite often fill the park. During the weekends it's likely to be busy at any time during the weekends.
El mejor tiempo para visitar Madrid es en marzo, abril, mayo, septiembre y octubre. Pero más que tener en cuenta el tiempo hay que tener cuidado con las autoridades en según qué lugares.
Si vas cualquier día por la mañana no hay apenas gente. Al medio día puedes coincidir con skaters que aprovechan la hora de comer para darse la sesión, como Gabi y Rodrigo Mena de Skateland o Borja Santiago y Pablo García de Welcome, míticos skaters madrileños cuya simpatía no tiene límites.
Por la tarde suele frecuentarse de jóvenes locales y foráneos que en muchas ocasiones llenan el parque. Los fines de semana puede encontrarse lleno casi a cualquier hora.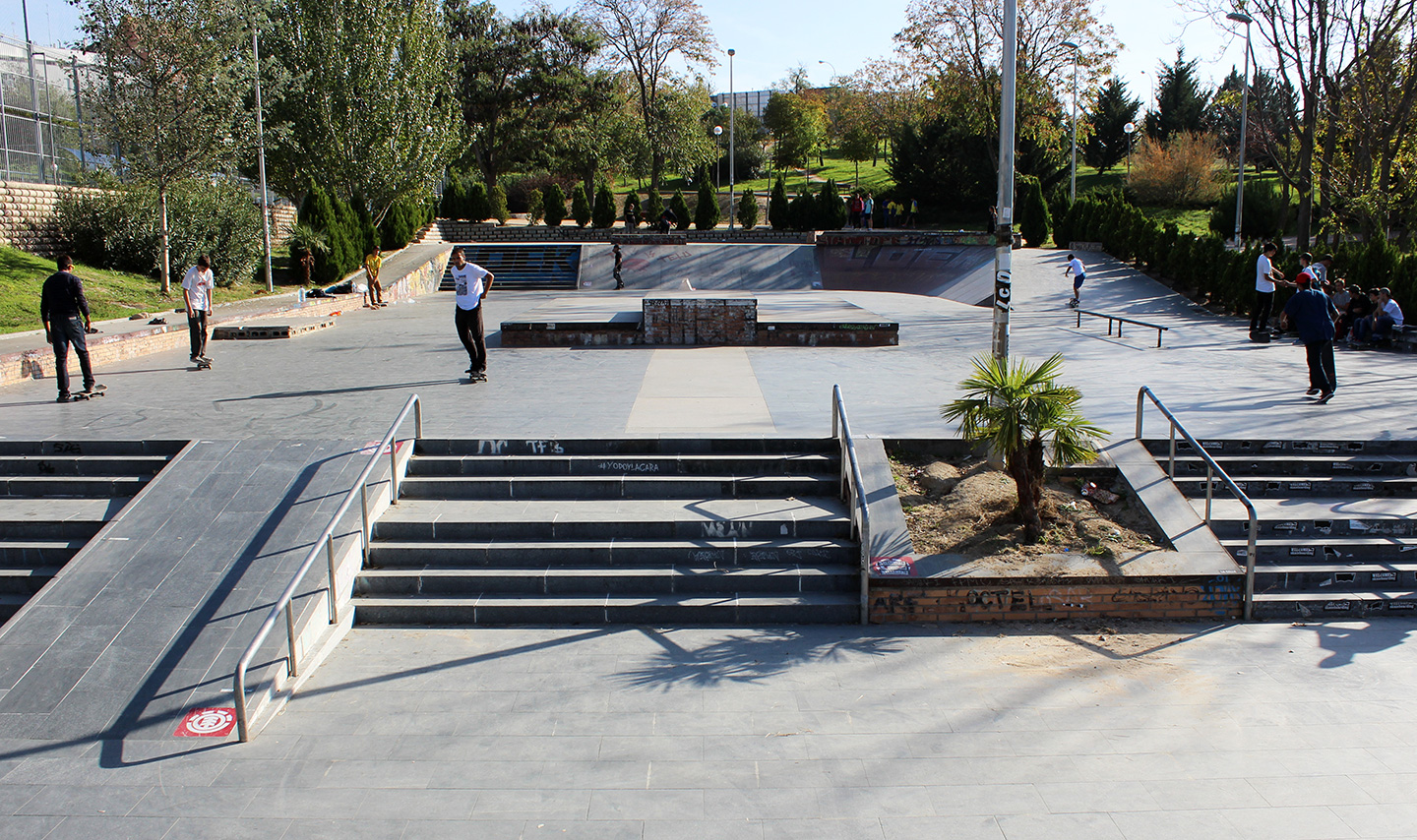 Tetuán Skate Plaza is situated in the Rodríguez Sahagún Park, between Sinesio Delgado Street and Miramelindos Street in Madrid. It's often called Tetuán or Tetu and is one of the spots in the Spanish capital, along with Hortaleza, Escombro Park and Legazpi, where you'll find more of a skater scene. The plaza was constructed in 2009 and has a polished tiled floor which means the surface is quite slippery. There are ledges on the central manual pad, which is very large and is a variation from the typical skatepark concept of a pyramid in the centre, which give it more of a street feel. There are 11 stairs, inclined flats, a flatrail, four sets of 3 flat 4 stairs with handrails of different dimensions and a brick quarter with pool coping.
Events like the Redbull Manny Mania, Lazylegs 2014, Matrioskas Ollie, Element Make It Count, Volcom Wild In The Parks plus many more have been held there as well as demos by big international teams like Adidas, Supra, èS and others. It's clearly a reference for Spanish skateboarding and also increasingly worldwide.
El skate plaza de Tetuán se encuentra en el Parque Rodríguez Sahagún, entre las calles Sinesio delgado y Miramelindos, en Madrid. Suele llamarse Tetuán o Tetu para abreviar y es uno de los spots donde más escena skater de la capital española puede encontrarse junto con Hortaleza, Escombro Park o Legazpi.
La plaza construida en 2009, consta de un suelo de losas pulidas que hacen su superficie bastante resbaladiza. Hay bordillos en el manual pad central, el cual es muy amplio y cambia el concepto típico de skatepark con pirámide en el medio, lo que le confiere más carácter callejero. Tiene 11 escaleras, planos inclinados, flatrail, cuatro sets de escaleras 3 plano 4 con handrails de diferentes dimensiones y un quarter de ladrillos con coping de piscina.
Se han celebrado eventos como el Redbull Manny Mania, Lazylegs 2014, Matrioskas Ollie, Element Make It Count, Volcom Wild In The Parks y muchos otros, además de demostraciones de grandes equipos internacionales como el de Adidas, Supra, èS y muchos más. Está claro que es un referente del skate en España y cada vez más a nivel internacional.
The city of Madrid has a multitude of street spots, many are classics like the Plaza de Colón or the square below the Juan Bravo Bridge. Some other interesting spots are Cea Bermúdez Street, the parliament building, Plaza de los Castillos and Principe Pío. There are also some skateparks and plazas which have been redesigned by locals, such as Legazpi Skatepark, Plaza de Hortaleza and Escombro Park.
These spots are just a few examples of what you can find in this great city and if you go by car you will find even more possibilities around the outskirts as well. In the centre of Alcorcón you can enjoy the many plazas with incredible floors and good obstacles. If you want to eat cheaply you can grab a quick kebab, but you could also take the car and head to one of the bars in the industrial estate where you'll be able to try the typical local stews which are tasty and great value for money.
If you want to see a bit more of the city and some of the tourist attractions you could visit Retiro Park, the Gran Vía, the Palacio de Correos, the Prado Museum, the Reina Sofía, the Puerta del Sol, the Botanical Gardens, the Almudena and the well-known flea market 'el Rastro' which is on every Sunday.
La ciudad de Madrid ofrece multitud de spots callejeros, muchos de ellos clásicos como la plaza de Colón o la plaza bajo el puente de Juan Bravo. Otros sitios interesantes son la calle Cea Bermúdez, Congresos, la plaza de los Castillos, Principe Pío y muchos más. También hay algunos skateparks y plazas rediseñadas por los locales como el Skatepark de Legazpi, la plaza de Hortaleza y el Escombro park.
Todos estos spots son solo un ejemplo de lo que puedes encontrar en la capital. Si vas en coche podrás ampliar tus posibilidades mirando por el extrarradio. En el centro de Alcorcón podrás disfrutar de muchas plazas con suelo increíble y buenos obstáculos. Para comer, si quieres algo asequible de precio pasa por algún kebab, pero si puedes moverte en coche prueba con algún bar de los polígonos industriales, ahí podrás encontrar buenos cocidos madrileños a buen precio.
Si vas de turista puedes visitar el parque del Retiro, la Gran Vía, el Palacio de Correos, el museo del Prado, el Reina Sofía, la Puerta del Sol, el Jardín Botánico, la Almudena y cualquier domingo por la mañana pásate por el conocido Rastro madrileño.