The House of Vans London / United Kingdom – London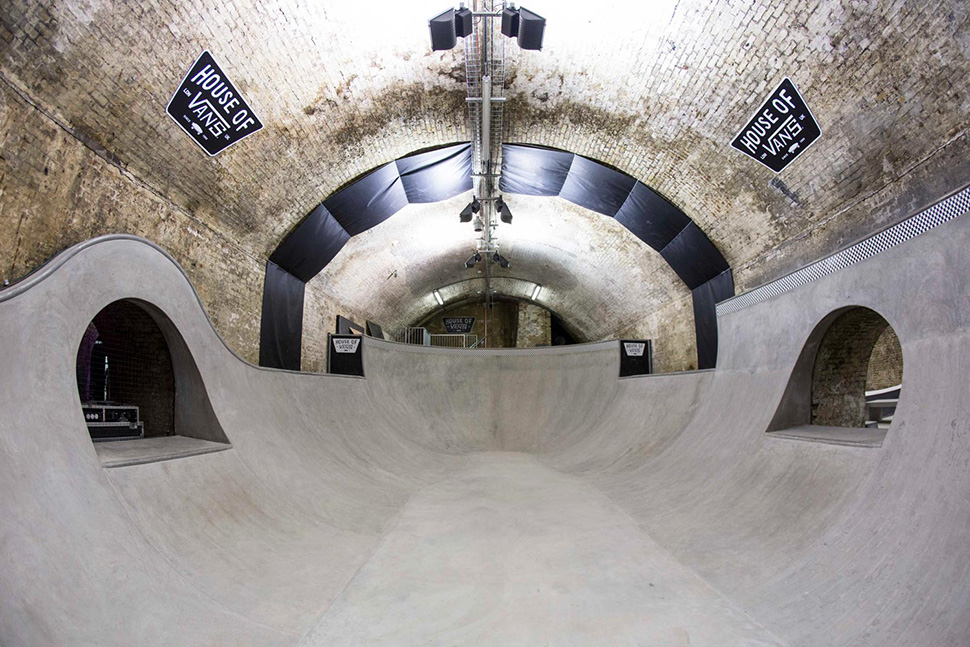 | | |
| --- | --- |
| Funboxes | |
| Rails | |
| Ledges | Hubba |
| Pipes | Quarters, Mini ramp, Bowl |
| Jump | Banks |
| Stairs | |
The House of Vans is a luxury spot to have in a city where the meteorological conditions aren't so favourable. It's the perfect indoor refuge but it isn't open every day. The opening hours are as follows: Wednesdays and Thursdays from 4pm till 10pm, Fridays from 12pm till 10pm, Saturdays from 10am till 10pm and Sundays from 12pm till 6pm. It's free but remember to reserve your session in advance and arrive at least ten minutes before you allocated time.
Este espacio para patinar que ofrece Vans es todo un lujo en una ciudad en la que las condiciones meteorológicas no son tan favorables, con lo cual este indoor es el refugio perfecto, pero no abre todos los días. El horario regular son los miércoles y jueves de 16:00 a 22:00, viernes de 12:00 a 22:00, sábados de 10:00 a 22:00 y los domingos de 12:00 a 18:00. Recuerda que es gratuito, pero hay que reservar y estar allí al menos diez minutos antes de la sesión.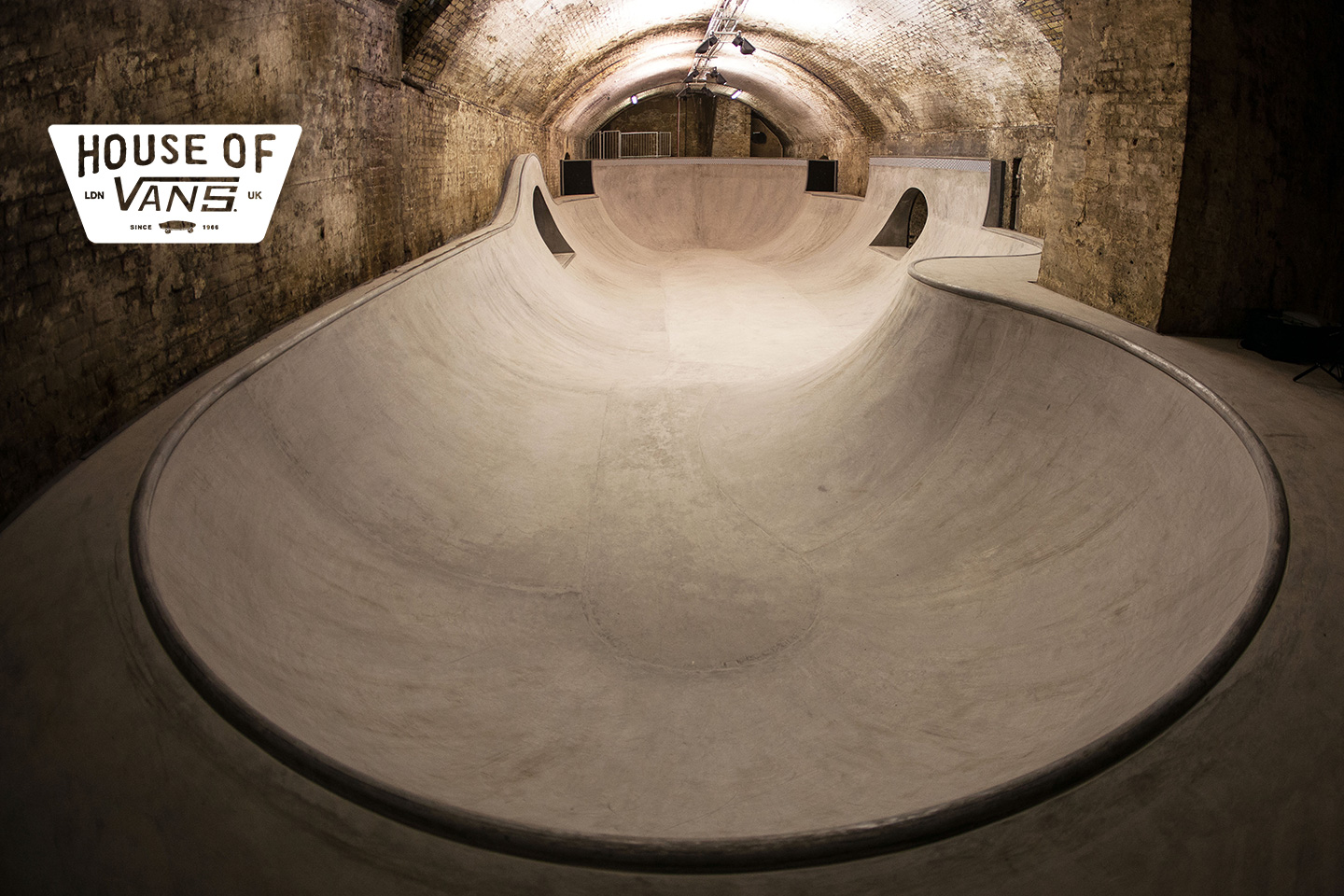 The House of Vans is a movement which was born the Brooklyn, USA, and has come to Europe with great force, the focus being on creating the first indoor skate park in London. The infamous Old Vic Tunnels below the London's Waterloo station is where the five studios which make up this incredible place are located and where music, art and skateboarding are merged.
On entering you are welcomed by the first tunnel where you'll find vintage accessories and an art gallery in which the works by national and international artists are changed every eight weeks. All of this with the backdrop of exposed brickwork and a black and white checkered floor which emulates the classic Vans shoe design.
The second tunnel houses the theatre room which has one hundred seats and is from where they project premieres, video clips and webcasts. The VansLab studios are located at the other end. This space is where the artists can create and refine their pieces before they go on exhibition. It also has a bar which serves a variety of refreshments including beer and cocktails.
The third tunnel has an incredible concert hall which is well equipped to host world renowned acts and various events, as well as serving as a platform for future music groups and new talents. It's a meeting point for nightlife and has a capacity for 850 people.
A cement bowl awaits you in the fourth tunnel. It has metal copings except for on the highest curving which has a pool coping, an authentic delight for transition lovers. There is also a bar-restaurant, the Wall SE1, which serves a wide variety of healthy, homemade food. The last tunnel contains the second area dedicated to skateboarding and has a mini ramp with perfect dimensions and a street zone with banks, quarters and a smooth hubba.
The premises was opened on the 9th August 2014, with appearances from Public Enemy, Dinosaur Jr, Root Manuva, Toddla T, Savages, Illume Sphere; the Vans riders and other skateboarding legends who took part in an impressive bowl session.
House of Vans es un movimiento que nació en USA, en Brooklyn, el cual ha llegado con mucha fuerza Europa, focalizándose en Londres. El conjunto de túneles que se encuentran en lo que fueron los famosos The Old Vic Tunnels bajo la estación de trenes de Londres es la ubicación de cinco estudios de los cuales se compone este increíble lugar, en el cual convergen la música, el arte y el skate.
La entrada da la bienvenida al primer túnel en el cual encontramos accesorios de época, una galería de arte que se renueva cada ocho semanas con obras de artistas nacionales e internacionales y, todo ello, rodeado de un ambiente de contraste con el techo de caverna enladrillado y el suelo de cuadros blancos y negros que emulan la suela de las míticas zapatillas Vans.
El segundo túnel alberga la sala de proyección de cine, la cual tiene un aforo de cien asientos y suelen visualizarse estrenos, videoclips y webcasts. En el otro extremo se ubican los estudios VansLab, donde se ofrece un espacio de trabajo para que los artistas puedan crear y refinar sus obras antes de pasar al túnel uno de exposición. Hasta puedes tomar algún refresco, agua, cerveza o cóctel; ya que en este túnel también hay un bar.
El túnel tres incluye una increíble sala de conciertos bien acondicionada que acoge actuaciones de renombre mundial y eventos varios, además de servir como plataforma para futuros grupos musicales y nuevos talentos. En definitiva, un punto de encuentro para el ambiente nocturno con capacidad para 850 personas.
Un bowl de cemento te espera en el cuarto túnel. Tiene copings metálicos excepto en el curving más alto, que es coping de piscina. Una auténtica delicia para los riders de transiciones. También un bar-restaurante se encuentra en este túnel, The Wall SE1 café, en el cual sirven amplia variedad de comida saludable y casera. En el último túnel esta la segunda área dedicada al skate, con una pequeña mini-ramp de dimensiones perfectas y un área de calle con unos cuantos banks, quarters y un hubba suave.
El local se inauguró el 9 de agosto de 2014, con la presencia de Public Enemy, Dinosaur Jr, Root Manuva, Toddla T, Savages, Illume Sphere; los riders de Vans y algunas leyendas del skate que dieron un recital de bowl impresionante.
House of Vans is in the centre of London and there are many other options nearby, whether it be for skateboarding or general tourism. Waterloo Station is just a few metres away and you can walk to a lot of the main tourist attractions. The famous British Museum exhibits pieces from all over the globe, from the prehistoric ages to modern times. Some highlights are the Rosetta Stone and mummies from ancient Egypt and the Parthenon Marbles. The huge Tate Modern art gallery, with its many modern and contemporary works by important artists, is situated on the banks of the Thames. It also hosts special exhibitions and events and has a café and restaurant from where you'll have incredible views of the city. The Natural History Museum has permanent exhibitions of dinosaurs and many other extraordinary and interesting animals from all over the world. Entrance is free at all of these museums.
Camden Town, Trafalgar Square, Big Ben, Buckingham Palace, Shakespeare's Globe Theatre, The London Eye, Piccadilly Circus, Soho and the many famous parks are all worth seeing too. The Tower of London is also very interesting, home to the Crown Jewels, the Torture Tower and much more. Southbank is a classic spot under the Southbank Centre on the banks of the Thames. There is a legendary low to high ledge at St. Paul's Cathedral which is a 15 minute skate away.
House of Vans se encuentra en el centro de Londres, con muchas posibilidades de desplazamiento ya que la estación de Waterloo está a pocos metros. No es necesario andar mucho para encontrar la mayoría de sitios de importancia turística. El famoso Museo Británico expone obras de la humanidad de todo el planeta, desde la prehistoria hasta la época moderna, de forma gratuita. Destacan la piedra Rosetta, las esculturas del Partenón y las momias del Antiguo Egipto. A orillas del Támesis se encuentra la Tate Modern, el museo nacional de Gran Bretaña de arte moderno y contemporáneo. Antes era una central eléctrica, por eso posee un aspecto tan característico. La entrada es gratis y encontrarás exposiciones temporales de importantes artistas, restaurantes e increíbles vistas de la ciudad. El Museo de Historia Natural alberga una exposición permanente de dinosaurios, una colección de los animales más extraordinarios y curiosos del mundo. También es gratuita la entrada.
Es interesante visitar también Camden Town, Trafalgar Square, Big Ben, Buckingham Palace, Shakespeare's Globe Theatre, St James's Park, Museum of London, Royal Opera House, The London Eye, Piccadilly Circus y el Soho. Algo interesante pero que no esta tan cerca es La Torre de Londres. Southbank es un spot clásico en Londres, se encuentra a orillas del Támesis, a tan solo diez minutos andando, bajo el Southbank Centre. En Saint Paul's Cathedral se encuentra un mítico bordillo low to high, está a 15 minutos patinando.