Venice Beach Skatepark / United States – Los Angeles – California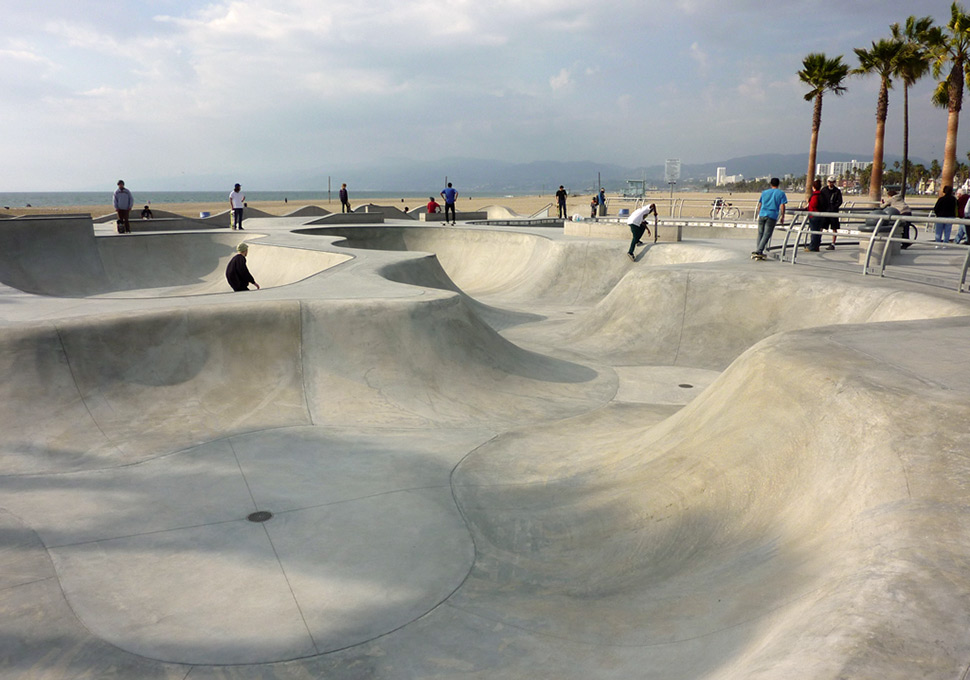 | | |
| --- | --- |
| Funboxes | Funbox Hubba |
| Rails | Flatrails, Handrails |
| Ledges | Manual Pads, Ledges, Hubbas, Curve ledges |
| Pipes | Bolws, Transitions, Waves, Spines, Pool |
| Jump | Banks, Eurogap, Hips, Ramps, Street gap |
| Stairs | 3, 4 and 9 Stairs, 3 Blocks |
The city has a subtropical climate and often rains during the winter and spring months, with February being the wettest month. However, if you want to see the exact weather conditions, you can go on the skatepark's website and watch the live video feed where you can check how many people are there and what the weather is like. In July and August the atmosphere on the beach is great.
La ciudad tiene un clima subtropical y suele llover en los meses de invierno y primavera, siendo febrero el mes más lluvioso, pero si quieres saber de forma precisa el tiempo que hace entra en la web del skatepark, hay un video a tiempo real donde puede comprobarse la afluencia de gente o el tiempo que hace in situ. En julio y agosto el ambiente es espectacular en la playa.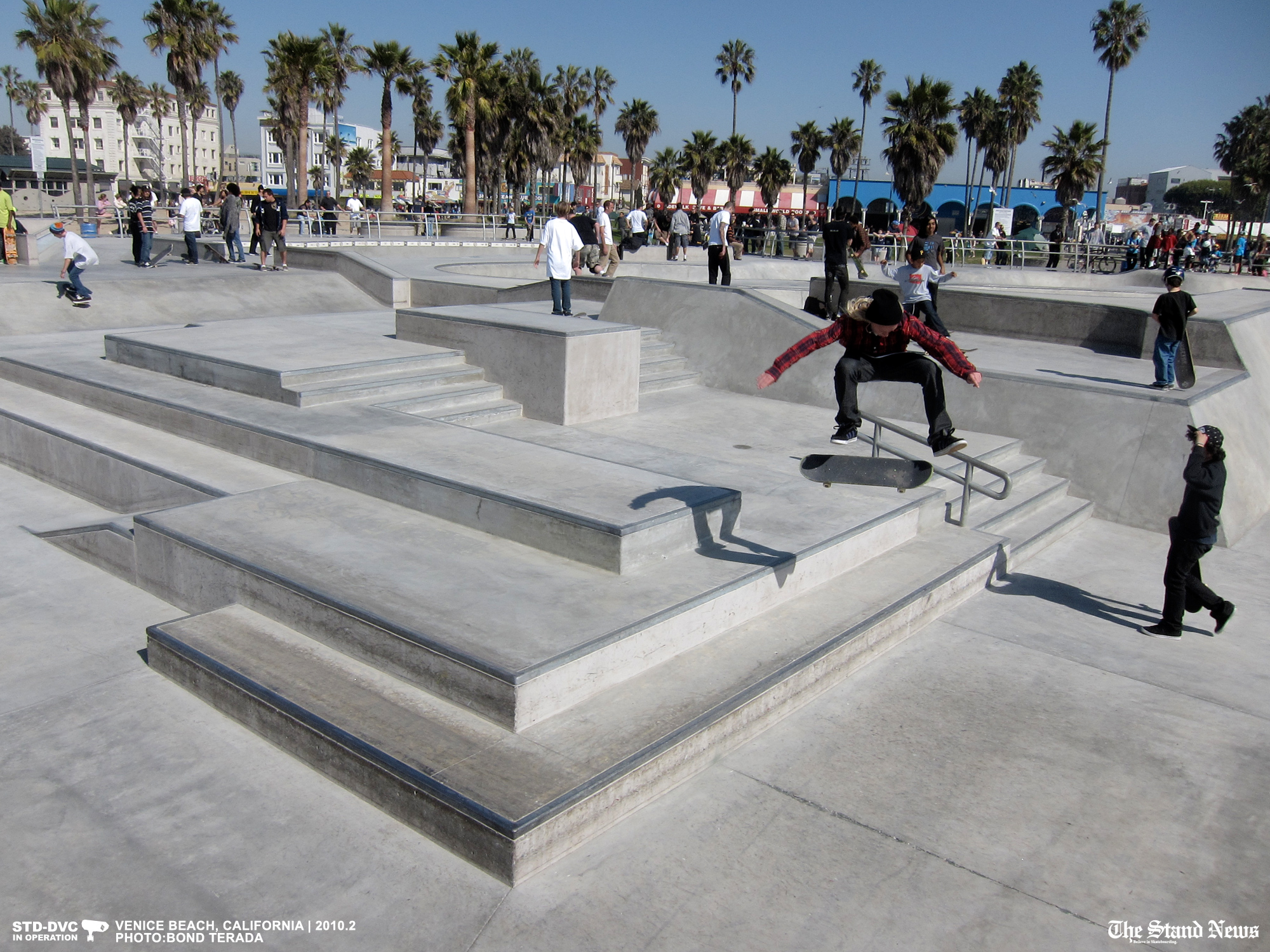 This skatepark is located on one of the most famous beaches in Los Angeles. It has 16.000 square feet and you'll find bowls, a pool, many curves and a complete street zone with many edges, rails and stairs. This park is only for skaters and scooters, BMXs are not allowed and you have to wear a helmet and elbow and knee pads. If you only want to watch, you have to be outside of the park. There are no lights, so you have to make the most of the daylight hours. One big advantage is that there is no entrance fee and the atmosphere there is unbeatable.
Un skatepark situado dentro de una de las playas más famosas de Los Ángeles. Tiene 16.000 pies cuadrados donde cuenta con bowls, piscina, muchas curvas y una completa zona de street con cantidad de bordillos, barandillas y escaleras. Este parque es solo para skate, no se permiten ni scooters ni BMX. Quién patine allí debe usar casco, coderas y rodilleras. Si lo que quieres es solo mirar debes ponerte fuera del parque. No hay focos, con lo que hay que aprovechar bien la luz del día. Una gran ventaja es que no hay que pagar por entrar y el ambiente de la zona es inmejorable.
Los Angeles is a city with a big skate culture and history and it continues to develop a strong scene around this activity so you'll never get bored of skating there. Visit well-known spots like the Stoner Skate Park, Radio Korea or Hollywood High School among many others that you'll come across. The Caliornia Science Center is an incredible place with hundreds of exhibitions. For adrenaline lovers, the Magic Mountain theme park is full of roller coasters, in fact, it holds the Guiness World Record for the highest and fastest roller coaster. As for attractions, Disneyland is a place full of classics, entertainment, restaurants and shops and is well worth a visit if you go with family. Other interesting places are Universal Studios, the Hollywood sign, the Walk of Fame, Melrose Avenue, Sunset Strip, Rodeo Drive, Beverly Hills and the 'Baywatch' beach. You could come across more than one film star here.
Los Ángeles es una ciudad con mucha historia y cultura en cuanto a skateboarding y sigue desarrollándose una fuerte escena alrededor de esta actividad, por tanto, nunca te aburrirás de patinar en esta ciudad. Visita spots destacados como el Stoner Skate plaza, Radio Korea o Hollywood High School, entre muchos más que encontrarás.
El Centro de Ciencias de California es un lugar increíble con cientos de exposiciones. Para los amantes de la adrenalina, Magic Mountain, un parque repleto de montañas rusas, de hecho, récord Guinnes de montaña rusa más alta y rápida. Pero para atracciones, Disneyland, un lugar lleno de clásicos, entretenimiento, restaurantes y tiendas, muy recomendado si vas en familia. Otras visitas turísticas muy interesantes son Universal Studios, Hollywood Sign, el Walk of Fame, Melrose Avenue, Sunset Strip, Rodeo Drive, Beverly Hills, la ex Baywatch Beach, etc. Puede que te cruces con más de una estrella de cine.