Volcom Skatepark / United States – Orange – California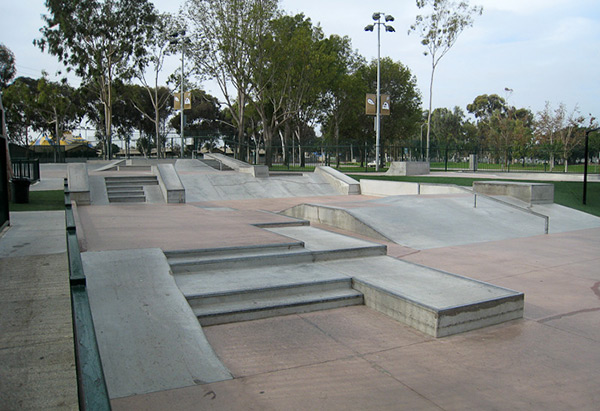 | | |
| --- | --- |
| Funboxes | Multifunbox |
| Rails | Handrails |
| Ledges | Hubbas, Ledges, Manual pads |
| Pipes | Quarters, Bowls |
| Jump | Banks, Ramps, Eurogaps, Hips |
| Stairs | 7 Stairs, 2 Blocks, Double set 2x2 |
It's an outdoor park so you need to consider that in this city, it usually rains in the winter and spring months, with February being the wettest month. It opens from 09:00 til 21:00 and has lights to enjoy the night sessions. It's totally free to enter.
El parque está al aire libre, con lo cual debemos contar que en esta ciudad suele llover en los meses de invierno y primavera, siendo febrero el mes más lluvioso. El skatepark puedes encontrarlo abierto de 9:00 a 21:00, tiene focos para disfrutar de sesiones nocturnas y es totalmente gratuito.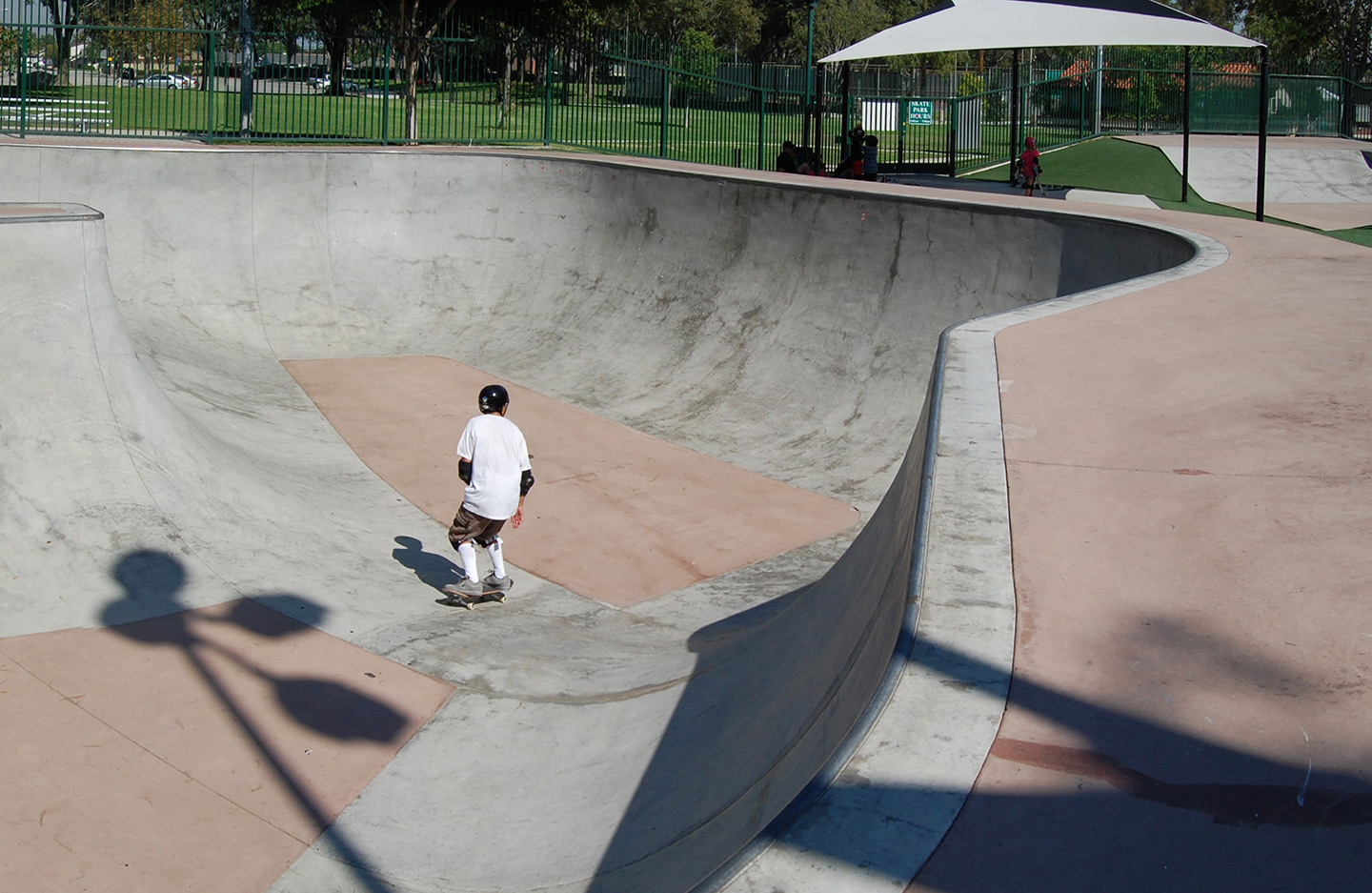 This park, which is located in Costa Mesa, has separate ramp and street sections. The ramp zone consists of three conjoined bowls with a wide spine. There's also another smaller kidney-shaped bowl which is a lot smoother for beginners. The street zone is very good and well-distributed and you'll find much better ledges, hips, sets of stairs with hubbas, a eurogap, banks, rails and a lot of mani pads, some of which are overlapping for combos. Nyjah Huston began skating there and considered this park as one of his favourites.
Este parque, situado en Costa Mesa, tiene secciones de rampa y calle por separado. La zona de rampa consta de un gran bowl de tres ollas con un spine ancho, además de otro pequeño bowl con forma de riñón mucho más suave para principiantes. La zona de street es muy completa y bien distribuida, pudiendo encontrarnos con muchos bordillos, hips, sets de escaleras con hubbas, un eurogap, planos inclinados, rails y muchos mani pads, algunos de ellos superpuestos para hacer combos. Nyjah Huston considera este parque como uno de sus favoritos, ya que aquí fue donde comenzó a patinar.
In Orange there are many places to skate, most of those are skateparks, like for example the Irvin Skatepark which is 10 minutes away, the Vans Skatepark is 18 minutes away and the Etnies Skatepark and Lake Forest are quite close, only 25 minutes by car. Don't miss the opportunity to visit Los Angeles and skate the spots there along with going to see other things like the Hollywood sign, the Walk of Fame, Melrose Avenue, Sunset Strip, Disneyland, Rodeo Drive, Beverly Hills and the ex Baywatch beach etc. You could see more than one film star there.
En Orange hay muchos sitios para patinar, sobretodo skateparks, como por ejemplo, el Irvin Skatepark que está a 10 minutos, el Vans Skatepark a unos 18 minutos y el Etnies Skatepark en Lake Forest no está tampoco muy lejos, solo 25 minutos en coche. No dejes pasar la oportunidad de visitar Los Ángeles y patinar sus spots, además de ver el "Hollywood Sign" de cerca, el "Walk of Fame", Melrose Avenue, Sunset Strip, Disneyland, Rodeo Drive, Beverly Hills, la ex "Baywatch Beach", etc. Puede que te cruces con más de una estrella de cine.