Woodward Tahoe / United States – Truckee – California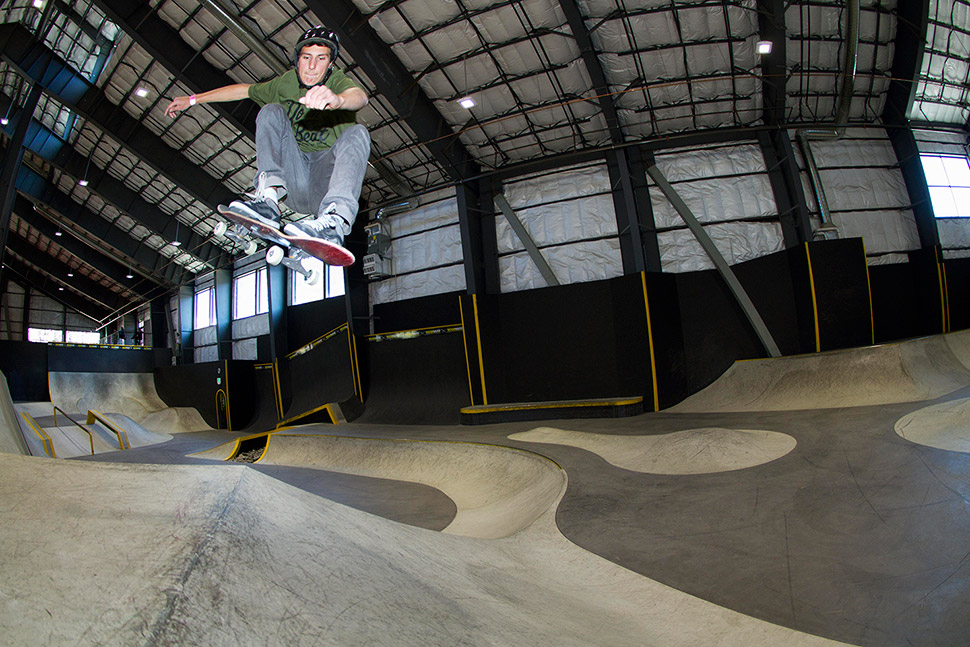 | | |
| --- | --- |
| Funboxes | Funbox Rail, Funbox Hubba, Pyramids, Multifunbox, Funbox Quarter |
| Rails | Flatrails, Handrails, Flatrail with kink, Pole jump |
| Ledges | Hubbas, Ledges, Manual pads, Curve ledges, Picnic table |
| Pipes | Quarters, Wallrides, Pool, Mini ramp, Spines, Curvings, Bowls |
| Jump | Banks, Ramps, Bumps, Eurogaps, Streetgaps, Hips |
| Stairs | Gaps |
Woodward Tahoe organises camps during the summer and winter. The climate isn't a problem considering that there is an indoor park, but as you can imagine, the outdoor park isn't likely to be used during the winter due to the snow. To find out when the camps are and when the park is open to the public you should check their website as the dates and times change every year.
Woodward Tahoe se encuentra en un puerto de montaña y ofrece campamentos tanto en verano como en invierno. El clima no supone un problema, puesto que está disponible para patinar el parque indoor. Como es de suponer el outdoor en invierno es más probable que no pueda usarse debido a la nieve. Para saber cuándo comienzan los campamentos y cuando están los parques abiertos al público es mejor mirar su página web, ya que las temporadas cambian cada año y los horarios también.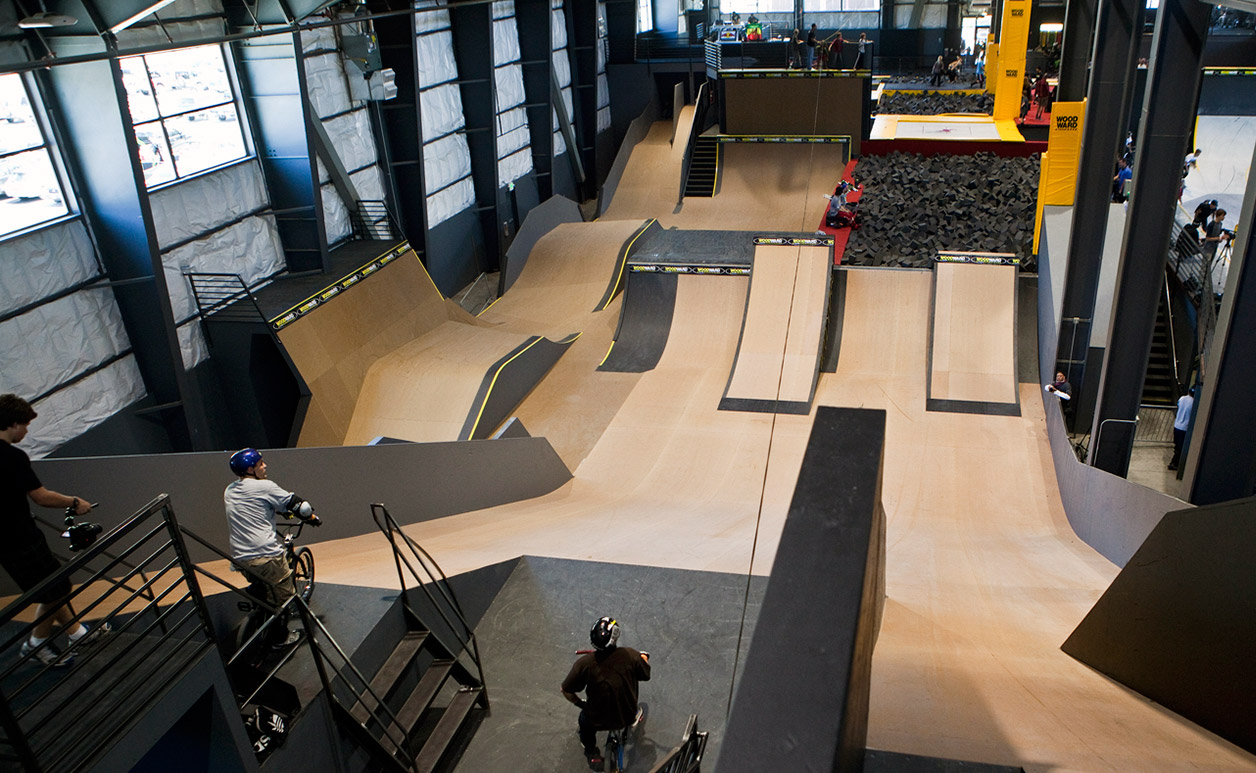 Woodward Tahoe is the newest location in the Woodward Camp family. It's one of the summer camp headquarters with the most action in the United States. With more than forty years' experience, these parks offer all types of facilities conditioned for a variety of disciplines with a team of professionals that work every day to improve the visitors' stay. It's arguably the best option to spend a season with good entertainment and good company. You'll find Woodward Tahoe at an altitude of 7.200 feet at the Donner Summit, surrounded by trees and nature in Boreal Mountain Resort, Lake Tahoe, California. It's just a few minutes away from the city of Truckee, 45 minutes from Reno and 90 minutes from Sacramento. The camp runs for eight weeks and is for youngsters between the ages of 7 and 19 years. There is also a week especially for adults and programs are offered for skateboard, free ski, snowboard, BMX, MTB, scooter, cheerleading, digital media and athletics among other complementary activities.
The Woodward Skate Camp is visited by big professionals and international skate legends every year and has facilities with thousands of possibilities, both indoors and outdoors. Inside what is called The Bunker you'll find a 15.000 square feet indoor skatepark built by California Skateparks with a sponge pool, quarters, a eurogap and an open bowl with street obstacles. Outside of the bunker there is a perfect mini ramp, a cement bowl, which is for pros as well as beginners, and a large street circuit with an infinite amount of modules and mobile elements like rails, ramps, funboxes etc.
In The Bunker you won't just find the cement skatepark as there are also facilities for other activities including Olympic trampolines for various levels, a Super Tramp, a pump track, a tumble zone, a parkour zone, a mini ramp and skatelite ramps with sponge pools for freeski, snowboard, BMX and skateboard training. There is also a digital media lab, a GoPro Tower and a Video Lab.
Woodward Tahoe es el más novedoso emplazamiento de la familia Woodward Camp. Se trata de una de las sedes de los campamentos de verano con más acción que se conocen en Estados Unidos. Con más de 40 años de experiencia, estos parques ofrecen todo tipo de instalaciones acondicionadas para diferentes disciplinas y un equipo de profesionales que trabajan día a día para mejorar la estancia de los visitantes. Puede decirse que es la opción más acertada para pasar una temporada de entretenimiento en buena compañía. En la cima de Donner Summit se encuentra Woodward Tahoe, rodeado de árboles y naturaleza. Asentado en una elevación de 7.200 pies en Boreal Mountain Resort en Lake Tahoe, California. Está a pocos minutos de la ciudad de Truckee, a 45 minutos de Reno y a 90 minutos de Sacramento. El campamento funciona durante ocho semanas para jóvenes de entre 7 y 19 años, también hay una semana especial para adultos y en las cuales se ofrecen programas de snowboard, freeski, skateboard, BMX, MTB, scooter, cheer, medios digitales y atletismo entre otras actividades complementarias.
El Skate Camp de Woodward es visitado por grandes profesionales y leyendas del skateboarding internacional cada año y posee instalaciones con miles de posibilidades tanto indoor como outdoor. Dentro de lo que llaman The Bunker puedes encontrar un skatepark indoor construido por California Skateparks, de 15.000 pies cuadrados, con una piscina de espuma, quarters, eurogap, un bowl abierto con obstáculos de street. Fuera del Bunker hay una mini ramp perfecta, un bowl de cemento que sirve tanto para pros como para iniciados, además de un amplio circuito de street con infinidad de módulos y elementos móviles como rails, ramps, funboxes, etcétera.
En The Bunker no solo se encuentra el skatepark de cemento, hay instalaciones para otras actividades incluyendo: trampolines olímpicos de varios niveles, un Super Tramp, pump track, tumble zone, parkour zone, mini ramp, rampas de skatelite con piscina de espuma para freeski, snowboard, BMX y entrenamiento de Skate; el laboratorio de medios digitales y la GoPro Tower and Video Lab.
Woodward Tahoe is in the Boreal Mountain Resort, at the Donner Summit. The resort has accommodation options, ski schools, snack bars, shops and loads of snow on the pistes during the winter season. The nearest city is Truckee, which is just 15 minutes away. It's an authentic mountain city and you'll find many things to do there. There is a skatepark with a large bowl and a pyramid in Truckee Regional Park.
There are also many shops, in Truckee above all, and you can find everything from the most practical to the most rustic items. You could organise a flight in a light aircraft to enjoy the bird's eye panoramic views, go fishing, discover the mountain trails, try out some snow sports and even play golf in some of the resorts. If you go in the summer your trip could coincide with Truckee Thursdays, an event held every Thursday where the city goes onto the streets to enjoy music acts, clothes and food stalls, the beer garden, shops and activities for kids.
Woodward Tahoe se encuentra en la cima de Donner Summit, en Boreal Mountain Resort. En éste resort puedes encontrar alojamiento, escuelas de ski, snack bars, tiendas y mucha nieve en las pistas en temporada de invierno. La ciudad más cercana es Truckee, a solo 15 minutos. Esta es una auténtica ciudad de montaña donde encontrarás muchas opciones para pasar el tiempo. En Truckee River Regional Park hay un skatepark con un amplio bowl y una pirámide.
En Truckee, sobre todo, hay muchas tiendas. Puedes encontrar artículos que van desde lo más práctico a lo más rústico. La opción de actividades es también considerable. Puedes dar un paseo en avioneta y disfrutar de las vistas panorámicas, ir de pesca, recorrer rutas de montaña, practicar deportes de nieve o jugar al golf en alguno de los resorts. En verano puedes coincidir con Truckee Thursdays, un evento cada jueves en el cual la ciudad sale a la calle a disfrutar de actuaciones musicales, puestos de ropa y comida, el Beer Garden, tiendas abiertas y se realizan actividades para los niños.