Almerimar / Spain – Windsurf – El Ejido – Almería – Andalusia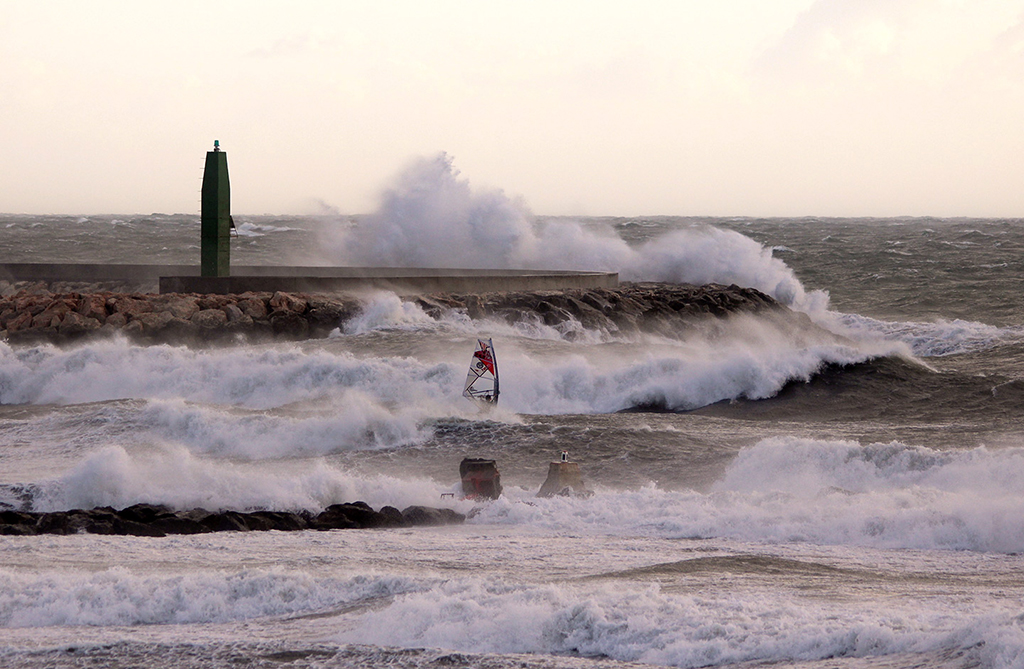 | | |
| --- | --- |
| Wave | |
| Ola | |
| Wind | E, W |
| Tide | All |
| Marea | Todas |
| | |
| --- | --- |
| Swell | |
| Bottom | Sand |
| Fondo | Arena |
| Time of year | October to May |
| Época del año | Octubre a Mayo |
Club de Playa is located in the entrance to the port, between the port wall and the breakwater which form a small bay where with E wind (Levante, the water is usually flat and ideal for practising freestyle or slalom, although it can be gusty due to the port but you can sail further out where it is cleaner. If the wind is W (Poniente, it is constant and creates good waves thanks to the breakwater. There are various waves, being bigger and more powerful in the port entrance during the winter. It's a good wave for getting air as well as surfing if you have an advanced level. The wave nearest to the shore has various good sections for surfing frontside and backside and there are always good ramps for jumping. The wind is side-onshore and the waves are cleaner. From December to May the wind is more radical, above all when it enters with W-SW and side-shore, meaning that the waves can reach three metres. The world champion Víctor Fernández grew up in Almerimar and the VFC Windsurf Centre, here you can rent first class material, is just in front of this spot. If the wind changes completely to N, it disappears from the bay due to the geographical location and the mountains behind, making it perfect for surfing.
A little further W is Mar Azul, another spot located in front of the old Camping Mar Azul, where the wind is side-shore and if it is E component, t's a good place for freestyle and slalom. However the best spot to sail with E wind is the legendary Culoperro, where you'll find small waves that are sufficient for jumping and side-onshore wind. It's at the end of the San Miguel Bay, on the Guardias Viejas beach. One of the Spanish Wave and Slalom Championships has been held there since 1987. In Culoperro the shore is stony and has sea urchins; due to the quay of the old salt mines which have been converted into an artificial lake which is also known as Los Pinchos. With W-SW wind it is side-shore, there is no shore break and the wave is longer and less powerful than at Mar Azul or Club de Playa. However with radical conditions the wind is more intense in Culoperro and it is very similar to the entrance of Club de Playa.
El Club de Playa se encuentra dentro de la bocana del puerto, entre dos espigones formando una pequeña bahía, si el viento es E el agua suele estar plana y es ideal para practicar freestyle o slalom. Si el viento entra de W ofrece buenas olas y viento constante, gracias a los dos espigones la ola se ordena. Hay varias olas, la de la bocana es la más grande y potente, funciona cuando la olas son más grandes, durante el invierno. Esta ola es buena para saltar como para surfear si tienes un nivel avanzado. La ola más cercana a la orilla tiene varias secciones es buena para surfear tanto front side como back side y hay rampas buenas para saltar todo el tiempo. El viento en este spot es side-onshore y alcanza de 20 a 35 nudos. A última hora de la tarde el viento suele ponerse un poco más side-shore y la ola es más limpia. Durante los meses de Diciembre a Mayo el viento se vuelve más radical, sobre todo cuando entrar de componente W – SW y side-shore, entonces las olas pueden alcanzar los tres metros. En Almerimar ha crecido el campeón del mundo Víctor Fernández, y en la orilla de este spot tiene un centro de windsurf VFC, donde dispones de alquiler de material de primer nivel. Si el viento gira totalmente N el viento desaparece debido a la geografía del lugar, por lo que es perfecto para surfing.
Un poco más al W encontramos el spot Mar Azul, ubicado frente al desaparecido Camping Mar Azul donde el viento es side-shore y si es de componente E es un buen sitio para freestyle y slalom. Pero el mejor spot para navegar con viento E es el mítico Culoperro donde puedes encontrar olas pequeñas pero suficientes para saltar y viento side-onshore. Se encuentra al final de la Bahía de San Miguel en la playa de Guardias Viejas y desde el año 1987 se celebra una de las pruebas del Campeonato de España de Olas y Slalom. En Culoperro encontrarás la orilla con piedras y erizos; debido al embarcadero de las antiguas salinas, ahora convertidas en un gran lago artificial urbanizado, también se conoce como Los Pinchos. Con viento de W – SW entra side-shore, no hay orillera y la ola es más larga y no tan potente como en el spot Mar Azul o Club de Playa. Culoperro es donde el viento alcanza su mayor intensidad en condiciones radicales, siendo muy similar a la bocana del Club de Playa.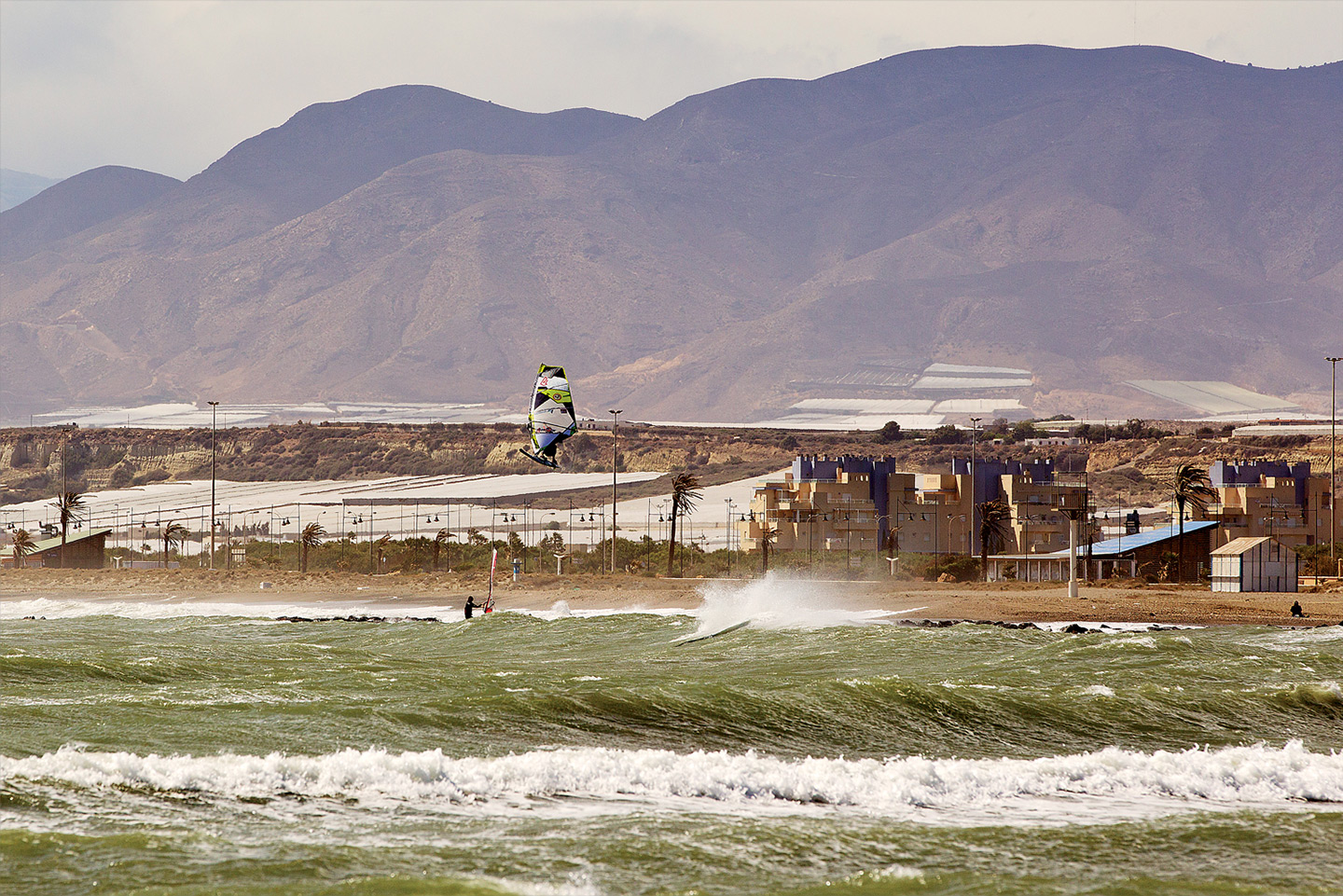 Almerimar is an urbanisation in the municipal of El Ejido, in the southwest of Almería. This place is known around the world as the 'sea of plastic' as the miles of greenhouses which are there for the cultivation of vegetables form an extension so large that it can be seen clearly from space. It's situated in front of the Alborán Sea and has become one of the most important places to windsurf in southern Europe.
Because of its unique geospatial location, it's one of the places with the highest number of windy days throughout the year, so it works with all conditions and there are several spots that allow you to surf whenever there is wind. The beaches are sandy and if the wind is W component, you can find waves in the whole bay.
Almerimar es una urbanización del municipio de El Ejido, al suroeste de la provincia de Almería. Este lugar es conocido en todo el mundo por su 'mar de plástico', miles de invernaderos para el cultivo de hortalizas que forma una extensión tan grande que se aprecia perfectamente desde el espacio. Se encuentra frente al Mar de Alborán y se ha convertido en uno de los destinos más importantes de windsurf al sur del continente europeo.
Debido a su singular ubicación geoespacial, es uno de los enclaves con mayor número de días de viento a lo largo del año, por lo que funciona con todas las condiciones y existen diferentes spots que te permiten navegar siempre que hay viento. Las playas son de arena y si el viento es de componente W puedes encontrar olas en toda la bahía.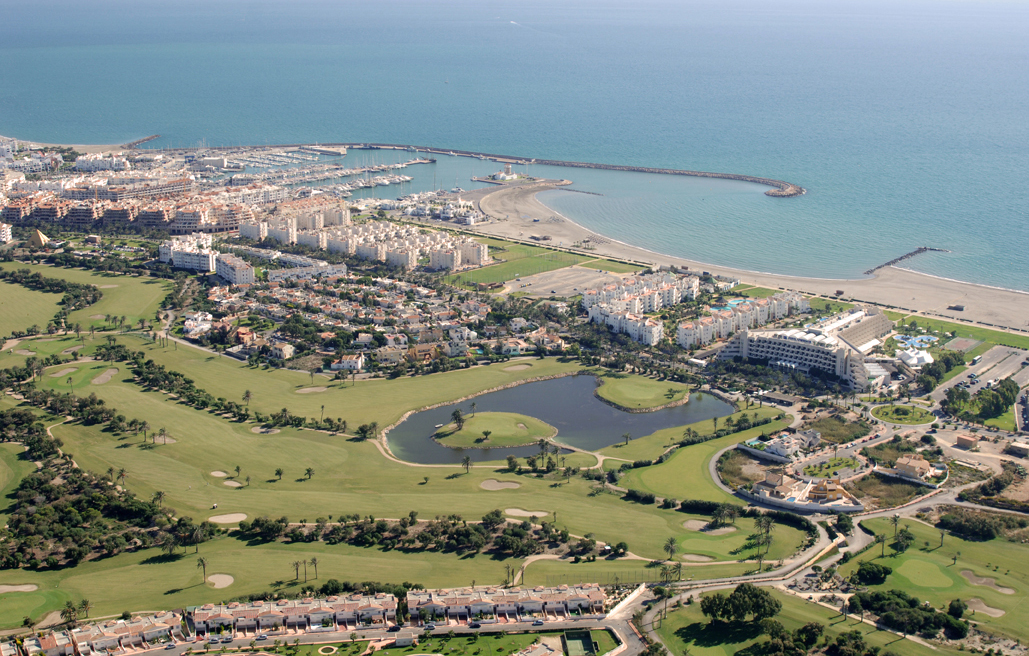 Almerimar is an authentic oasis surrounded by dry land and natural parks, besides being a unique landscape due to the amount of greenhouses that are the motor of the local economy. This exceptional place has been immortalized in movies like 'Conan the Barbarian'. Apart from the amount of green areas and open spaces, it also offers many leisure options. It features a golf course, an artificial lake and a large marina with capacity for more than a thousand boats.
The Punta Entinas-Sabinar Natural Park is habitat to more than 200 bird species between the wetlands and the juniper forests. Almería city is a thirty minute drive away, along with the airport, of which the access is very easy along the Mediterranean motorway.
Almerimar es un auténtico oasis rodeado de zona árida y paisajes naturales, además de ser un paisaje singular por la cantidad de invernaderos que son el motor de la economía del lugar. Este paraje excepcional ha sido inmortalizado en películas como la de 'Conan el Bárbaro'. A pesar de la cantidad de superficies verdes y espacios abiertos, brinda también numerosas opciones de ocio. Cuenta con un campo de Golf, un lago artificial y un gran puerto deportivo con capacidad para más de mil embarcaciones.
El Parque Natural Punta Entinas-Sabinar se encuentra muy cerca, donde habitan más de 200 especies de aves entre humedales y bosques de sabinas. La ciudad de Almería, se encuentra a treinta minutos en coche igual que el Aeropuerto, el acceso es muy cómodo por la autovía del Mediterráneo.