Anchor Point / Morocco – Surf – Taghazout – South Morocco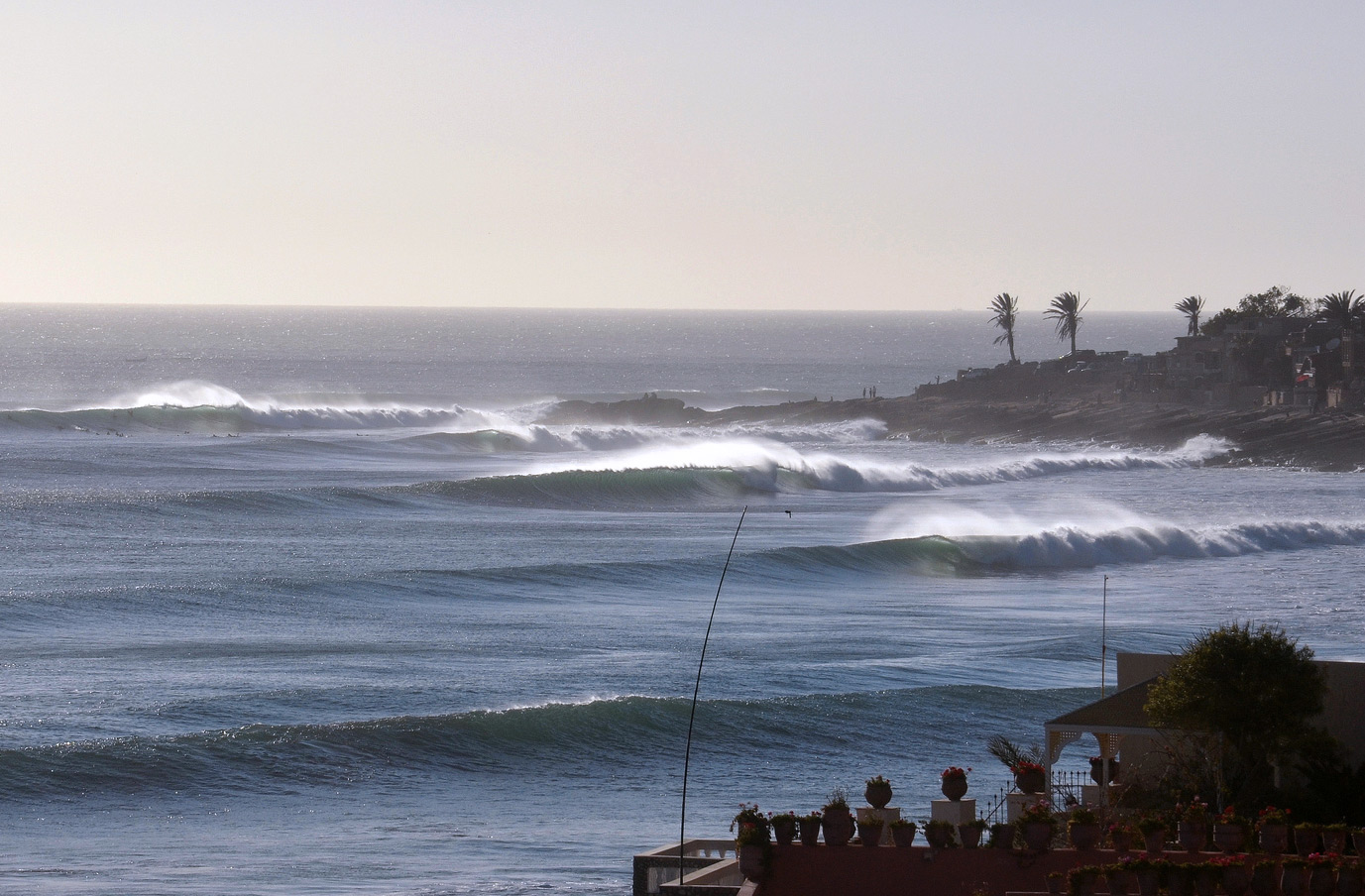 | | |
| --- | --- |
| Wave | Right Pointbreak |
| Ola | Derecha |
| Wind | NE |
| Tide | Low - Medium |
| Marea | Baja - Media |
| | |
| --- | --- |
| Swell | WNW - NW |
| Bottom | Sand |
| Fondo | Arena |
| Time of year | From December to March |
| Época del año | Desde Diciembre a Marzo |
The best time to visit is from October to April when the NW swell is constant. A minimum of 3 mm is recommended as although its latitude position means it has a good climate and mild air temperature, the water is cool, around 16 to 18 degrees. The best conditions are with low tide, around 6 to 8 feet, and NE wind. This is what turns it into one of the best waves in the world which is long, fast and has a lot of push, especially in the final section where barrels are normal.
Anchor collects enough swell but it needs a solid swell that passes at least six feet groundswell to have at least 3 or 4 feet waves. The limit is with 20 foot swells, with those the waves reach between 12 and 14 feet. With these conditions it's a heavy wave so it's advisable to take a board with extra volume and rails that hold well. The first section gives a nice, powerful bottom, followed by the second section which is suitable for doing manoeuvres until the last section which is Anchor's fastest and hollowest, and only takes the fastest at low tide.
It doesn't work at high tide. To enter the water it's better to jump from the rocks that are nearest to the peak. Take care and measure the time between the series well because if the conditions are heavy, you need to paddle quickly to get out of the critical zone and make sure you don't end up on the rocks. It's the same to leave the water with regards to measuring the time between the series to be able to exit safely by the rocks in front of the final part of the second section.
La mejor época para la práctica del surf es de octubre a abril, meses en los que el swell de NW es constante. Se recomienda traer mínimo un 3 mm ya que aunque sean latitudes templadas y la temperatura fuera del agua es muy agradable, el agua está fresca alrededor de los 16 y 18 grados. Las mejores condiciones se dan con marea baja, alrededor 6, 8 pies y viento NE, de esta manera se convierte en una de las mejores olas del mundo, una ola larga, rápida y con muchísimo empuje, sobre todo en la sección final donde los tubos son algo normal.
Anchor recoge bastante swell pero necesita un sólido swell que mínimo sobrepase los seis pies de mar de fondo para ofrecer olas de al menos 3, 4 pies. El límite lo marcan swells de 20 pies, con ellos las olas alcanzan entre 12 o 14 pies. Es una ola que con tales condiciones es pesada, siendo recomendable llevar una tabla con volumen extra y rails que agarren bien. La primera sección te dará para realizar un bonito y potente bottom, a esta le sigue una segunda sección apta para maniobras hasta la última sección, la más rápida y hueca de Anchor, esta sección con marea baja solo la sacan los más rápidos.
Con marea alta no funciona y para entrar lo mejor es saltando en las rocas más cercanas al pico. Hay que tener mucho cuidado y medir bien los tiempos entre series, si está grande hay que remar muy rápido para salir de la zona crítica si no quieres acabar encima en las rocas. Igualmente para salir hay que medir los tiempos entre series para salir por las rocas enfrente del final de la segunda sección, algunos imprudentes que se han confiado en días grandes han acabado saliendo por la playa de Taghazout.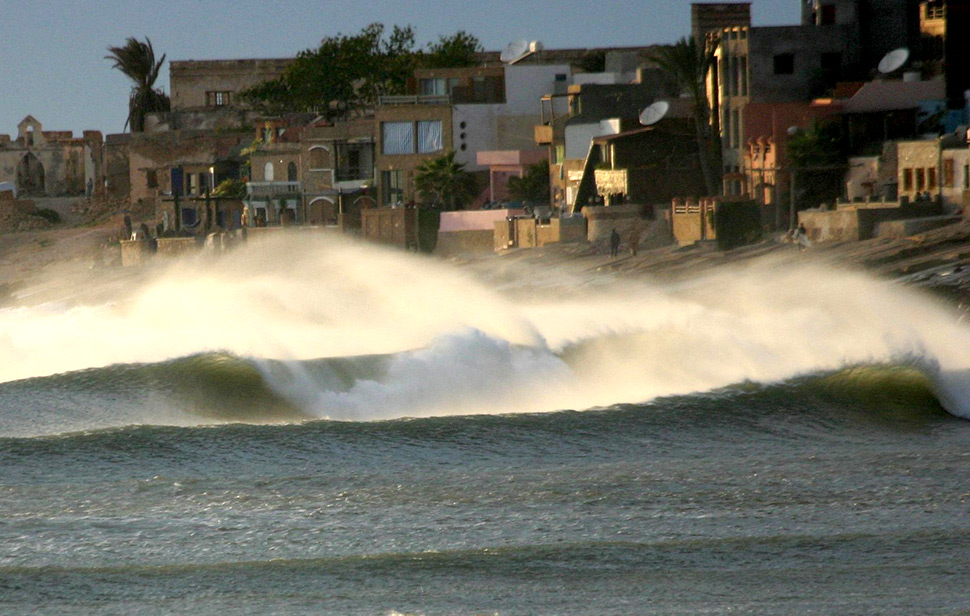 Anchor Point is located in Taghazout village, 20 kilometres north of Agadir. It was a Berber camp that became an obligatory stop off point for adventurous Europeans travelling to the south of Morocco in the sixties. Not long after, some pioneering travellers who were also surfers, from Australia and North America, spread the word about the good waves that they saw there. It's a rough and rocky coastline where, along with Anchor Point, there are other nearby world class waves like Killers, Draculas and Boilers. There are also more accessible options for those that are progressing like Hash Point, Devil's Rock, Banana Beach and Panoramas.
In this remote corner of Morocco, the excellent swells reach there following the storms which are generated thousands of kilometres away in the North Atlantic. The swells that arrive are very good quality because of the elevated fetch from the origin. In addition, the winter offshore winds along this part of the coast are constant and all of this together brings the best surfers, mostly from Europe, to this zone which is sometimes called the African Indonesia. Despite what it may seem, the influx in the winter is very high, but this decreases as the size goes up and the conditions become more difficult, something which is usual in December, January and February. When this happens, it's the good local Moroccans that dominate the peak on the outside.
Taghazout is just a 5 hour flight away from London and even less from Paris or Madrid. The destination airports are Agadir or Marrakech and from there it's advisable to rent a car. Once you're in Taghazout, it's not difficult to find accommodation as the village is used to receiving many surfers from all over the world. Anchor Point is a 300 m long world class wave, and is for example, the favourite wave of Yassine Ramdani, the Moroccan surfer with the most projection, or the known Abdel el Harim. It's the most popular wave in Morocco, and if you manage to get a glassy Moroccan sunset with typical red skies it could be one of the sessions of your life. In the winter, it's advisable to take extra boards and of course you should try the local food and the typical tea.
Anchor point se ubica en la villa de Taghazout, a 20 kilómetros al norte de la gran ciudad de Agadir. Este fue un antiguo campamento bereber que se convirtió en parada obligada para los aventureros europeos que viajaban hacia el sur de Marruecos allá por los sesenta. Poco más tarde, algunos pioneros que también eran surfistas desde Australia y Norteamérica difundieron las buenas olas que aquí vieron a partir de los años setenta. Esta es una costa rocosa y accidentada en la que rompen además de Anchor Point, otras olas muy cercanas y de clase mundial como Killers, Draculas o Boilers. Para los que progresan también hay opciones en los picos más asequibles de Hash Point, Devil's Rock, Banana's Beach y Panoramas.
En esta apartada esquina al sur de Marruecos los swells llegan con mucha calidad procedentes de las tormentas generadas a miles de kilómetros en el Atlántico norte. Estos mares llegan con mucha calidad debido al elevado Fetch desde su origen. Además, en este tramo de costa los vientos offshore en invierno son constantes y todo en conjunto atrae a los mejores surfers, sobre todo de Europa, donde esta zona es a veces denominada como la Indonesia Africana. A pesar de lo que pueda parecer la afluencia en invierno es muy alta, pero esta decrece conforme sube el tamaño y las condiciones se hacen más difíciles, algo que en los meses de diciembre, enero y febrero es habitual. Cuando eso ocurra serán los buenos locales marroquíes los que dominan el pico en el outside.
Taghazout se encuentra a tan solo 5 horas de vuelo desde Londres y algo menos desde Madrid o Paris. Los aeropuertos de destino son Agadir o Marrakech, donde se recomienda alquilar un coche. Una vez en Taghazout encontrar alojamiento no es difícil, esta es una villa que está acostumbrada desde hace muchos años a recibir surfers de todo el mundo. Anchor Point es una ola de clase mundial reconocida a lo largo de sus 300 metros, es por ejemplo la ola favorita del surfer marroquí con más proyección Yassine Ramdani o del conocido Abdel el Harim. Es la ola más popular de Marruecos, si te cuadra un glassy atardecer marroquí con típicos cielos rojos puede ser una de las sesiones de tu vida. En invierno se recomienda traer tablas de sobra y por supuesto no dudar en comer comida local y aprovechar cualquier momento del día para tomar un típico té local.
Today, Taghazout is a small village where they breathe surf and Moroccan traditions, drinking tea at any hour is the norm. Paradise Valley, around 60 kilometres from Taghazout, is an idyllic valley in the mountains that is full of lush vegetation and waterfalls that have been formed by the water that flows from the Tamraght Oued. Enjoying a traditional Tagine at the foot of a waterfall is an experience not to miss. In the village you'll find local crafts and agencies offering horse and camel rides along the coast.
A visit to the city of Agadir is a must. It's just 20 minutes away by car and there you can enjoy a more modern city, with a promenade, shopping streets, charming restaurants and cafes, long fine sandy beaches and an animated nightlife. Activities in the water like jet skis or diving are recommended options that are relatively cheap and you'll find numerous shops offering these services along the promenade. Find out about the Agadir ruins, the old city that was destroyed by an earthquake, and where you can see the remains of the civilisation. You can get there by taxi or by camel.
La Villa de Taghazout es hoy una pequeña población donde se respira surf y tradición marroquí, tomarse un té a cualquier hora es algo que será normal, El Valle del paraíso, situado a unos 60 kilómetros de Taghazout es un gran circuito de montaña con cascadas de agua que fluyen del Tamraght Oued dando lugar a una exuberante vegetación. Tomar un Tagine a los pies de las cascadas es una experiencia muy recomendable. Encontrarás también artesanía local y agencias dedicadas a ofrecer paseos a caballo y camellos por sus costas son las opciones más destacadas si no quieres salir de la villa.
Es visita obligada la ciudad de Agadir que está a unos 20 minutos en coche, en ella podrás disfrutar de una ciudad más moderna, con un moderno paseo marítimo, boulevares con tiendas, restaurantes y cafeterías con encanto, largas playas de arena fina con olas y un animado ambiente nocturno. En Agadir los deportes de agua como el Jet Ski, o el buceo son opciones económicas y muy recomendables; a través del paseo marítimo encontraréis numerosas tiendas que ofertan sus servicios. Preguntar por las ruinas de Agadir, la antigua ciudad derruida por un terremoto es una excursión que muestra los restos aun en pie de su civilización, se puede ir en taxi o de ruta en camello.