Arrifana / Portugal – Surf,Bodyboard – Aljezur – Algarve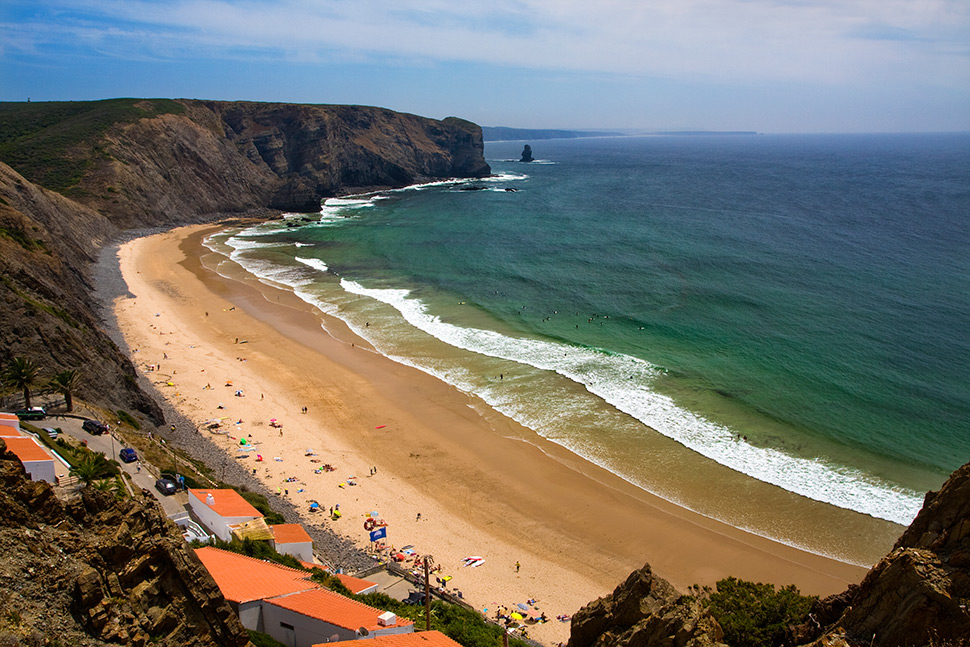 | | |
| --- | --- |
| Wave | Right Pointbreak |
| Ola | Derecha |
| Wind | E |
| Tide | Low - Medium |
| Marea | Baja - Media |
| | |
| --- | --- |
| Swell | NW - W - SW |
| Bottom | Sand - Rock |
| Fondo | Arena - Roca |
| Time of year | |
| Época del año | |
The best wave at Arrifana is the point break at the right of the beach, near to the port, which only appears in the winter with a NW swell bigger than 2 metres (6 ft). It's a long, powerful right that's only suitable for experienced surfers. Be careful of the rock in the middle section which is visible at low tide, but it's very dangerous in any tide, so unless you know the wave, there's no margin for error. It's very popular with the locals but they are friendly and if you respect them, for sure they will let you catch a wave. If you surf at the beach or at the point, the best access is at the right near to the port entrance, being careful of the rocks which may be visible or not.
Most surf at the beach break which is at its best between September and April, although it can have waves all year round. There are normally three peaks along the whole beach. The first peak has a short left and a longer right which is often busy with surfers that are progressing when it's small. The second peak is in the middle of the beach with various take off zones, the lefts there are often better. The last peak is at the end of the beach and you can often surf alone there although the waves are often poor quality due to them being very sectioned.
With an approximate 1,5 metre swell, more than 11 second periods and good bottoms, there are half metre waves with all tides, being better with a rising tide, avoiding high and low. For the more advanced, a swell of more than 2 metres is a good option, as with 1 metre it breaks powerfully, and if the swell is more than 3 metres, the point is definitely the best option. Arrifana, together with Beliche and Zavial is one of the main options when there is N, NW and WNW wind, above all during July and August when there is a constant wind which the locals call 'La Nortada'.
La auténtica ola en Arrifana es el point break a la derecha de la playa, cerca del puerto, funciona solo en invierno con swell del NW siempre por encima de los 2 m (6 ft). Es una derecha larga y potente sólo para surfers experimentados. Mucho cuidado con una roca que hay en su sección media, es muy peligrosa en cualquier marea quedando visible en baja, esto quiere decir que en esta ola a no ser que la conozcas no hay margen de error. Es una ola frecuentada por locales pero con respeto los locales son muy agradables y seguro te dejarán coger alguna ola. Tanto si surfeas en la playa como en el Point lo mejor es acceder la margen derecha próximo al puerto al puerto, teniendo cuidado con las rocas que según el estado de la marea estarán visibles o no.
Lo normal es surfear en la playa, un beach break que tiene su mejor momento entre los meses de Septiembre y Abril, aunque te puedes encontrar olas durante todo el año. Normalmente hay tres picos a lo largo de toda la playa, un primer pico con una corta izquierda y más larga derecha que suele ser el más concurrido frecuentado por los que progresan cuando hay poco tamaño. Un segundo pico en medio de la playa con varias zonas de take off donde las izquierdas suelen serr mejores y por ultimo un pico al final de la playa frecuentado por los que les gusta surfear en solitario, aunque las olas en este pico normalmente sean de peor calidad debido a que están muy seccionadas.
Con un swell de aproximadamente 1,5 metros superior a 11 segundos de periodo y buenos fondos habrá olas de medio metro con todas las mareas, mejor subiendo y evitando la alta y bajando. A partir de ahí para los más avanzados es buena opción con un swell un poco por encima de dos metros que aquí romperá con un metro fuerte y si el swell supera los tres metros entonces la opción es sin duda el Point. Arrifana es junto a Beliche y Zavial una de las mejores opciones cuando soplan vientos de N, NW, WNW, sobre todo durante los meses de julio y agosto con el viento constante que los locales llaman 'la nortada'.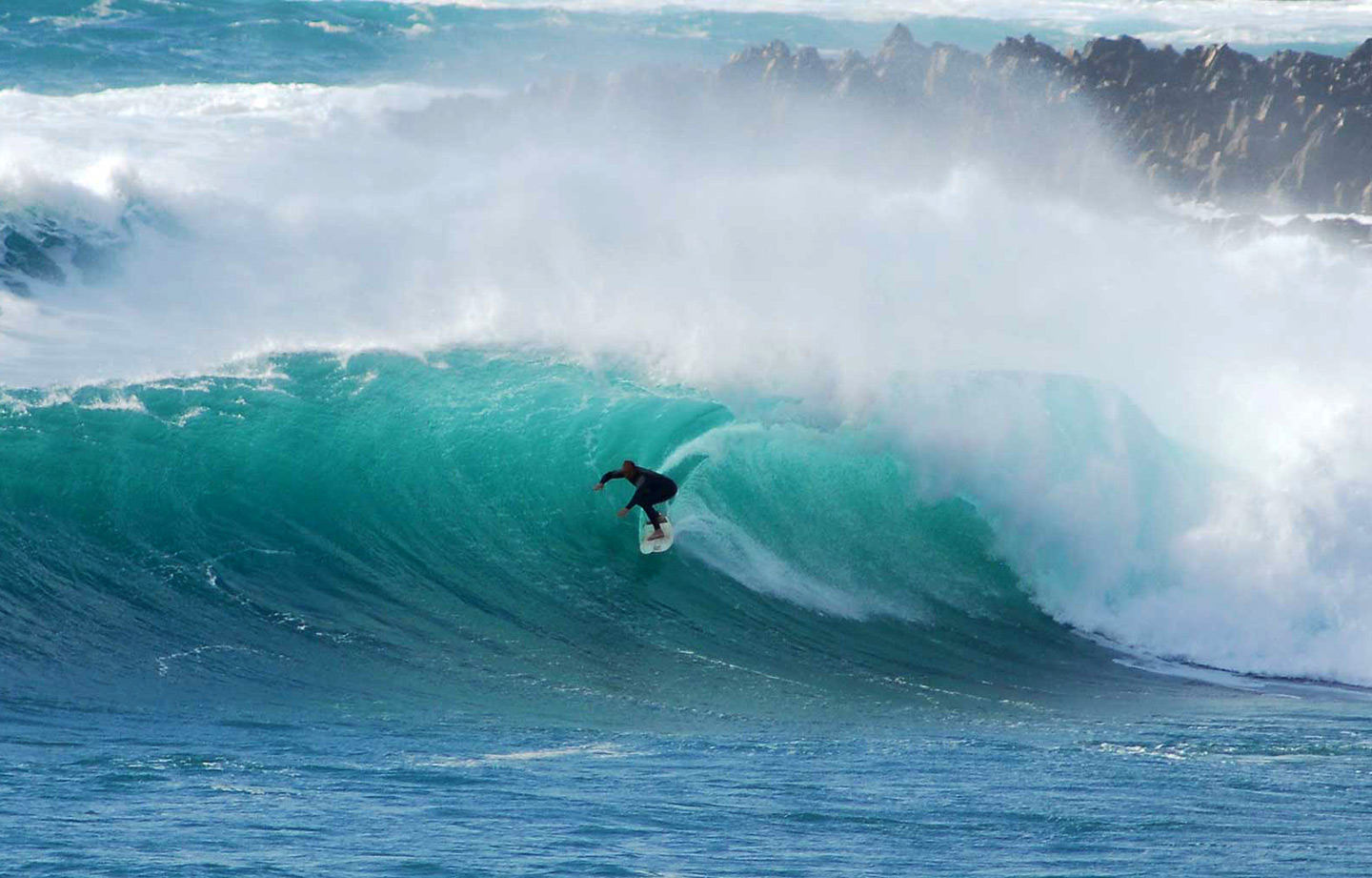 Arrifana is a small fishing village near to Aljezur in the Algarve. Arrifana Beach has lots of possibilities and is one of the most attractive places to visit due to the quality of its waves, the variety of services available and the good atmosphere. It's surrounded by impressive cliffs, typical houses, and a port on the right side which is only accessible at high tide. When you arrive and go to the viewpoint you'll see that this beach is spectacular.
If you arrive from Lisbon or Spain, the best route is on the A-22 that goes from Faro to Lagos and links directly to the N-120 which will take you to Aljezur. If you're staying around Sagres, which is the nucleus of the area, it's better to head north on the N-268.
It's a spot which has excellent winter surf conditions. The options are beach breaks which are suitable for all levels and, when the sea rises more than two metres, a respectable point break with rights forms over a rocky seabed at the right of the bay. This is only suitable for more experienced surfers. All of the options there will depend on the swell and your skill level. The tall vertical cliffs create a protective wall and on the days when it's cold and windy in other places, Arrifana will be sunny with a light refreshing breeze.
For those that are progressing, a good option is when the swell is mid-size as the bay is protected and there are many surf schools operating there. You can normally park quite easily in the car parks that are situated at the top before you go down to the beach. It's a very busy place, especially in the summer months, with good local surfers and many foreigners. There will certainly be a good atmosphere and a wide range of accommodation options, rental houses being a common option for groups. Thanks to the variety of options and the good quality waves, it's a surf destination that over the last few years, has become one of the most well-known in the Algarve.
Arrifana es una pequeña aldea de pescadores muy cercana a la localidad del Aljezur, en el Algarve portugués. La playa de Arrifana es un lugar lleno de posibilidades y es uno de los lugares más atractivos por la calidad de las olas, la variedad de servicios y el gran ambiente que siempre podrás encontrar. Se encuentra rodeada de impresionantes acantilados, casas típicas, un pequeño puerto a la derecha solo accesible con marea alta, sin duda en cuanto llegues y asomes por el mirador veras que esta playa es espectacular. Tanto si vienes desde Lisboa o desde España lo mejor es por la A-22 desde Faro que acaba en Lagos y enlaza directamente con la N-120 que llega hasta Aljezur. Si estas alojado por la zona de Sagres que es el centro neurálgico de la zona lo mejor es seguir la N-268 hacia al Norte.
Es un spot con excelentes condiciones para la práctica del surf en invierno, las posibilidades son picos de arena en la playa aptos para todos los niveles y cuando sube el mar por encima de dos metros un respetado pointbreak de derechas sobre fondo de roca pegado al lado derecho de la bahía aptos solo para los más experimentados, en esta playa con varias posibilidades todo dependerá del tamaño del swell y de tus habilidades. Aparte los altos y verticales acantilados hacen de muro y favorecen el que un día desagradable frio y con viento en cualquier otro lugar cercano, en Arrifana sea un estupendo día soleado con una ligera brisa que refresca el ambiente
Para los que progresan es una opción muy buena cuando el swell tiene un tamaño medio debido a lo protegida que esta arrifana y el gran número de escuelas que aquí operan. Normalmente se aparca facil en los parking situados antes de bajar a la playa. Es un lugar muy concurrido sobre todo en los meses de verano, con buenos surfers locales y muchos foráneos, el ambiente está asegurado y la oferta de acomodación amplia, siendo común el alquiler de casas rurales para grupos, debido a toda esta variedad de opciones y la buena calidad de sus olas es un destino surf que en los últimos años es uno de los más reconocidos de todo el Algarve.
The Costa Vicentina Nature Park is a unique place that may surprise you with its surf atmosphere. Further north, the town and beach of Monte Clérigo is worth a visit as on smaller days, with a rising tide, it has good beach breaks and doesn't get busy. There are also some restaurants with sea views where you can try the delicious fresh fish. Further south, you should visit Carrapateira and its beaches, Praia do Amado and Bordeira offer many possibilities to enjoy the natural surroundings and some excellent surf conditions throughout the year. The region is a paradise for cyclists and hikers. The 'Via Algarviana' is a route which borders the coast and has impressive views of the Atlantic Ocean.
If you want to discover more of the inland, Moncique town is interesting, the most elevated point in the Algarve (902 metres). It's a mountainous town that is surrounded by olive trees, pine trees, oak trees and herbs. For eleven years, the Arrifana Sunset Fest has been held in the small fishing port. It's a reggae, rock and hip hop music festival held in July where hundreds of young people come together to party and dance. It starts at five in the evening and continues until the next morning and is guaranteed to be fun.
El Parque Natural de la Costa Vicentina es un lugar único que te sorprenderán por su gran ambiente surfero. Al norte merece una visita la localidad y playa de Monte Clérigo, allí los días pequeños hay buenos picos de playa con la marea subiendo, es una opción muy buena y poco frecuentada incluso en los días buenos, encontrarás algún restaurante con buenas vistas al mar donde podrás degustar el buen pescado de la zona. Al sur, Carrapateira y sus playas son de obligada visita, Praia do Amado y Bordeira ofrecen muchísimas posibilidades todo el año para disfrutar de un entorno natural espectacular y de unas condiciones para el surf excelentes. Esta región es un verdadero paraíso para ciclistas y excursionistas, te recomendamos la "Vía Algarviana" que bordea la costa con impresionantes vistas al océano Atlántico.
Si quieres descubrir el interior, es interesante la visita a la localidad de Moncique, el punto más elevado del Algarve con 902 m, este pueblo montañoso se encuentra rodeado de olivos, pinos piñoneros, alcornoques y plantas aromáticas. Desde hace 11 años se lleva celebrando en el pequeño puerto de la aldea de pescadores el "Arrifana Sunset fest", festival de música que a finales de julio reúne a cientos de jóvenes en torno al baile, la fiesta y los ritmos reggae, rock y hip-hop. Una fiesta al lado del mar de 5 de la tarde a 6 de la mañana que no puedes perderte.