Barra da Tijuca / Brazil – Surf,Bodyboard – Rio de Janeiro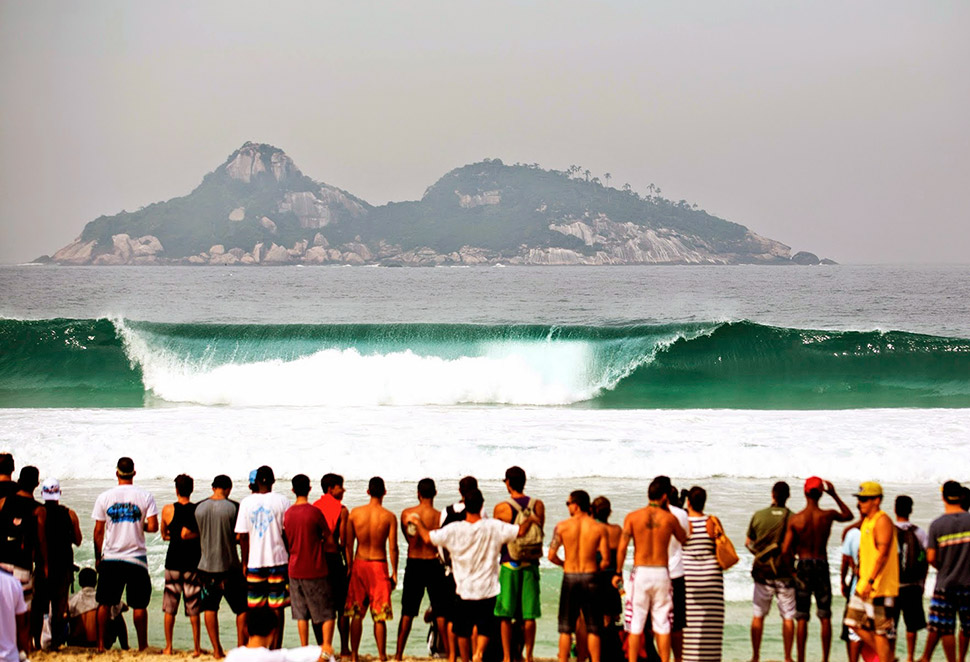 | | |
| --- | --- |
| Wave | Beachbreak |
| Ola | Playa |
| Wind | N |
| Tide | All |
| Marea | Todas |
| | |
| --- | --- |
| Swell | NE - S |
| Bottom | Sand |
| Fondo | Arena |
| Time of year | From April to September |
| Época del año | De abril a septiembre |
The wave season is from April till October, as it's during these months when the best swell direction, SSW to SSE, is predominant. Between November and February the situation is different as the waves are rarely more than a metre high and the banks are not often well placed. Barra da Tijuca is a very consistent beachbreak which works with any tide. The spot is suitable for all levels and we can separate it into two zones, the northeast and the southwest towards Canto do Recreio. The zone to the east of Barra gives the best conditions with a metre and a half, with this size and a light NE wind you can find tight righthand barrels and more surfable left peaks. If it's bigger the waves tend to close out. You'll need to be fast in this zone and be able to adapt to sudden barrels and vertical sections.
In the southwest zone you'll find the Recreio peaks where with SE swell and SW breezes you could find perfect A-frames. There is a good peak next to Pontal Island, a longer right and a left which is very easy to enter due to the current which borders the rock. This peak sometimes holds up to three metre waves well and with normal conditions at the weekends it's the choice for many children and schools.
La temporada de olas es desde Abril a Octubre, en estas fechas predomina la mejor dirección de swell procede de SSW a SSE. Entre Noviembre y Febrero la situación en bien distinta, y es raro que las olas superen un metro de altura, aparte los bancos no suelen estar bien colocados. Barra da Tijuca es un beachbreak muy consistente y que funciona con cualquier marea. Un spot apto para todos los niveles que podemos separar en dos zonas, la zona noreste y la suroeste hacia Canto do Recreio. En la zona este de Barra las mejores condiciones se dan con metro y medio, con ese tamaño y ligero viento de NE pueden encontrarse ajustados tubos de derechas y picos más surfeables de izquierda, con más tamaño las olas tienden a cerrar. En esta zona hay que ser muy rápido y adaptarse a repentinos tubos y secciones verticales.
En la zona suroeste se encuentran los picos de Recreio, un área que puede ofrecer perfectos A-frames con swell de SE y brisas SW. Hay un buen pico al lado de la isla de Pontal, una derecha más larga y una izquierda que con la corriente que bordea la roca hace muy fácil la entrada. Este pico en ocasiones aguanta bien olas de hasta tres metros, y en condiciones normales durante los fines de semana es el preferido de muchos niños y escuelas.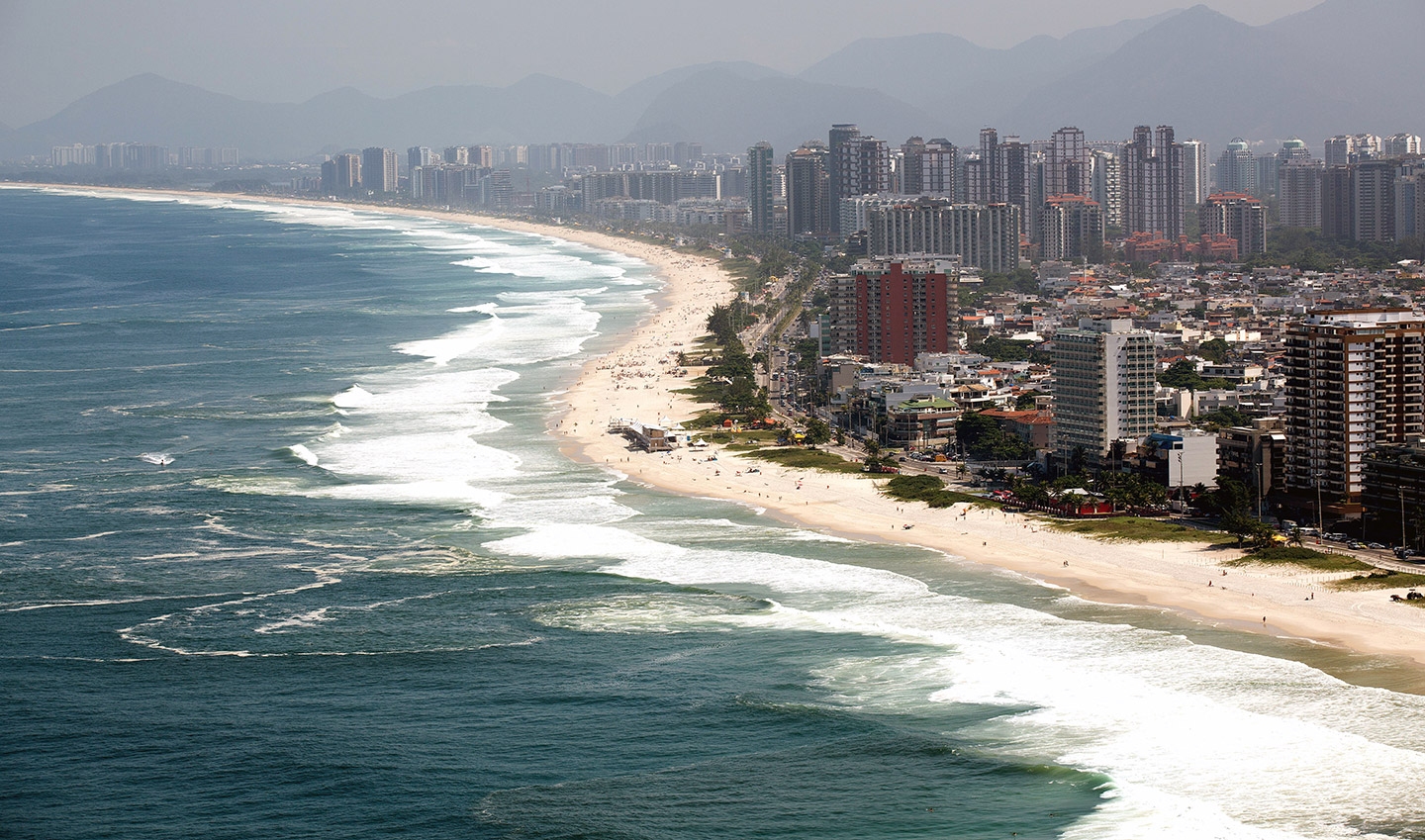 Barra da Tijuca is one of the most popular spots in Rio de Janeiro. Located in the west of this great city, just half an hour away from the famous Ipanema and Copacabana beaches, it is a lively and safe place with a very good atmosphere and plenty of places to eat and drink. Barra is one of the most consistent surf spots in Rio and has a multitude of peaks along the extremely long beach. From Galeão International Airport you should go along the Linha Amarela toll road which crosses Rio de Janeiro and then the Avenida Ayrton Senna until you reach the Avenida Lúcio Costa which runs along the ten miles of the Barra Beach. It's a good idea to rent a car but watch out for the traffic in Rio.
On weekdays there aren't too many people and it is easy to park. The peaks in front of the Barramares apartments have been chosen by the ASP for the past four years to celebrate the Billabong Rio Pro. These peaks are busy, especially at weekends. Rio de Janeiro, more specifically Barra, is a great place if you are learning. If you have a high level you'll see that the best peaks at the most popular Rio de Janeiro spots are like training grounds for many high level surfers so this makes the competitiveness at the peaks quite high. For this reason if you continue towards the southwest of Barra da Tijuca, passing Recreio and El Puntal, you'll come across Macumba, a beach popular with longboarders, retro-boarders and those who look for a more relaxing place, both in and out of the water, and where happy riding is the most important factor. Continuing further along the coast, you'll find Prainha and Grumari, one of Rio's hot spots and a beach which is a haven for the locals.
Barra da Tijuca es uno de los spots más populares en Rio de Janeiro, se encuentra en la zona oeste de esta gran ciudad a solo media hora de las famosas Ipanema y Copacabana, es una de los lugares más consistentes para surfear en Rio, posee una gran extensión y por tanto multitud de picos, es también una zona segura con muy buen ambiente, animada con muchos locales tanto para comer como para tomar algo. Desde el Aeropuerto Internacional de Galeão hay que atravesar Rio de Janeiro por la carretera con peaje de Linha Amarela, incorporarse a la Avenida Ayrton Senna hasta la Avenida Lúcio Costa que se extiende a lo largo de las diez millas de la Playa de Barra. Alquilar un coche es muy recomendable aunque se recomienda tener precaución con el tráfico en Rio.
Los días laborables no hay demasiada gente y es fácil encontrar aparcamiento. Los picos en frente de los apartamentos Barramares han sido durante los cuatro últimos años elegidos por la ASP para celebrar el Billabong Pro de Rio. Estos picos son los más frecuentados sobre todo en fines de semana porque entre semana no suele haber masificaciones. Si estas aprendiendo Rio de Janeiro y en concreto Barra de Tijuca es un gran lugar para disfrutar del surf, si tu nivel es alto verás que los mejores picos de los más populares spots de Rio de Janeiro son como campos de entrenamiento para un gran número de surfistas, en ellos hay un gran nivel y esto hace que la competitividad por las olas sea aún mayor, por esta razón aquí en Tijuca si seguimos hacia el suroeste pasando Recreio y el Puntal, nos encontramos con Macumba, playa frecuentada por longboarders, retro-boards y todos los que buscan un lugar más relajado tanto dentro como fuera del agua y donde lo más importante sea el 'Happy Riding'. Siguiendo la linea de costa se llega a Prainha y Grumari, uno de los puntos calientes de Rio y playas que merecen atención aparte y santuario para los mejores locales de Rio.
Latin America's largest Convention Centre, RioCentro, is in Barra da Tijuca. The Barra Shopping centre is also the largest of its kind there housing over 650 shops. The Rio Water Planet waterpark is immense although it's at the periphery and a twenty minute car journey away. There is a long bike lane along the Avenida Lúcio Costa and a skate bowl in Praça Sao Perpetuo. There are also nearby parks and nature reserves, such as Tijuca National Park which has trails, caves and waterfalls. Other famous landmarks are the mountains Pedra da Gávea and Corcovado, whose peak is home to the iconic 38 metre tall statue of Christ the Redeemer, and is considered as one of the New Seven Wonders of the World.
The centre of Rio de Janeiro is a 20 minute drive away and there you shouldn't miss out on the breath taking panoramic views from the Sugarloaf Cable Car which runs between Praia Vermelha and Sugarloaf Mountain, one of several monolithic granite mountains that rise up from the water's edge. In the Madureira Park there is an incredible skatepark with an extensive street zone full of fun elements, a big bowl and a simple pool. You could also visit the Copacabana, Ipanema and Leblon Beaches, the Carioca Aqueduct, the Maracaná Stadium and if your trip coincides with the Rio de Janeiro Carnival just before Easter, you are likely to have an experience that you won't forget.
En Barra da Tijuca podemos encontrar el Centro de Convenciones más grande de América Latina, RioCentro. El centro comercial también es el más grande, Barra Shopping, con más de 650 locales. El Parque Acuático Rio Water Planet es inmenso, aunque se encuentra en la periferia, a unos 20 minutos en coche. Junto a la playa, a lo largo de la avenida Lúcio Costa, encontramos un largo carril bici y un bowl para patinar en Praça Sao Perpetuo. A pesar de los centros comerciales, hay que añadir los parques y reservas naturales, como el Parque Nacional de la Tijuca, que presenta sendas, grutas y cascadas. Otros lugares famosos son la Pedra da Gávea, el Cerro del Corcovado y la Cima del Parque, el pico de la Tijuca. En el Cerro del Corcovado es donde se encuentra El Cristo Redentor, una escultura de 38 metros con vistas indescriptibles, considerada una de las siete maravillas del mundo moderno.
El centro de Rio de Janeiro se encuentra a unos 20 minutos en coche, destacan el Bondinho Del Pão de Açúcar, un teleférico que une los distintos morros monolíticos de granito que se elevan al borde del mar. En el Parque de Madureira hay un skatepark increíble, con una extensa zona de street llena de módulos divertidos, un gran bowl y un sencillo pool. Puedes visitar también La Praia de Copacabana, Ipanema, Leblon beach, los arcos de Lapa, el Estadio Maracaná y si coincides con El Carnaval de Río de Janeiro entre los meses de febrero y mayo vivirás algo que probablemente no olvidarás.