Bells Beach / Australia – Surf,Bodyboard – Torquay – Melbourne – Victoria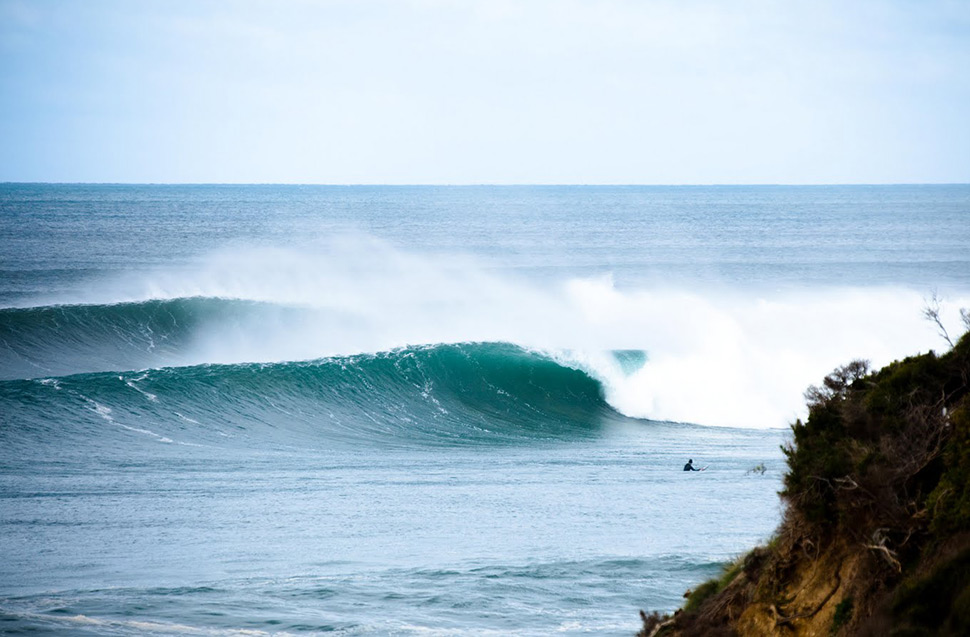 | | |
| --- | --- |
| Wave | Righthand pointbreak |
| Ola | Derecha |
| Wind | NW |
| Tide | All |
| Marea | Todas |
| | |
| --- | --- |
| Swell | SW |
| Bottom | Reef |
| Fondo | Arrecife |
| Time of year | All year round |
| Época del año | Todo el año |
Bells is an ultra-consistent spot that can work well with any tide, wind and swell originating from the SE to the SW. The best swell is from the SW with NW breezes, but the conditions can even be good with a light onshore due to the good position of the reef. It works from 2 to 12 feet, sometimes even holding more size. Its sections are known as Centerside, Rincon, Outside Bells and Bells Bowl, but they can only be connected with big swells as with less than 4 feet the wave becomes very sectioned and you have to select the right wave to be able to reach Bells Bowl from Rincon and it's an area where most people often wait due to the better definition of the wave.
In general, with 3 to 4 feet it works better with low tide and is a surfable wave which is good for a wide range of manoeuvres. From 5 to 8 feet is good with any tide, and the best conditions come with 5 to 6 feet as you can link the sections. The most popular sections are Rincon, which breaks better with high tide and when the waves aren't bigger than 4 feet. The Bowl, which is the most precious section and only breaks with low tide if it is less than 4 feet. If it is bigger it is difficult to paddle out in this zone, from what is known as the Inside Corner to avoid the strong currents along the shore which take you to the end of the beach. Be careful because it's not easy to paddle out with more than 6 feet and there are bars all along the beach as well as at the line up so it's easy to be swept out of position. It's important to be physically fit with these conditions and to know the dynamics of the wave. The water temperature is fresh all year round, in the winter it's around 14ºC and a minimum of 4 mm is necessary and in the summer from December to February, the water temperature is around 21ºC. It's advisable to go into the water early in the morning, especially in the summer when the onshore winds are constant every day, although it can be difficult to surf due to the sunlight when the sun rises.
Bells es un spot ultra consistente que puede funcionar bien con cualquier marea, viento y swell procedente del SE al SW. El mejor swell es de SW y brisas del NW, pero incluso con ligero onshore las condiciones pueden ser buenas debido a la buena colocación del arrecife. Funciona desde 2 a 12 pies, a veces incluso aguanta más tamaño. Sus secciones se conocen como Centerside, Rincon, Outside Bells y Bells Bowl, pero solo conectan en grandes swells, con menos de 4 pies la ola es muy seccionada y hay que seleccionar la ola correcta para poder llegar desde Rincon hasta Bell's Bowl, zona donde suele esperar más gente debido a la mejor definición de la ola.
En general con 3 a 4 pies funciona mejor con marea baja, es entonces una ola surfeable buena para amplias maniobres. De 5 a 8 pies es buena con cualquier marea, las mejores condiciones se dan con swell de 5 a 6 pies, cuando es normal enlazar secciones. Las secciones más populares son 'Rincon', esta rompe mejor con marea alta y cuando las olas no superan los 4 pies. The Bowl es la sección más preciada y por debajo de 4 pies solo rompe con marea baja, si supera ese tamaño prestar atención a que remontar en esta zona es duro, desde lo que se conoce como el 'Inside Corner' hay que salir rápido para evitar las fuertes corrientes orilleras que te llevan al final de la playa. Has de saber que surfear al amanecer es difícil porque la luz del sol molesta y atento porque con más de 6 pies remontar no es fácil y las líneas ocupan todo el line up haciendo barridos a todo lo largo. Es importante estar bien físicamente con tales condiciones y conocer la dinámica. La temperatura del agua es fresca todo el año, en invierno con el agua a 14ºC es necesario mínimo un neopreno de 4 mm, en verano desde diciembre hasta febrero las temperatura del agua ronda los 21ºC. Es recomendable entrar al agua pronto por la mañana durante todo el año sobretodo en verano que los vientos onshore son constantes a diario.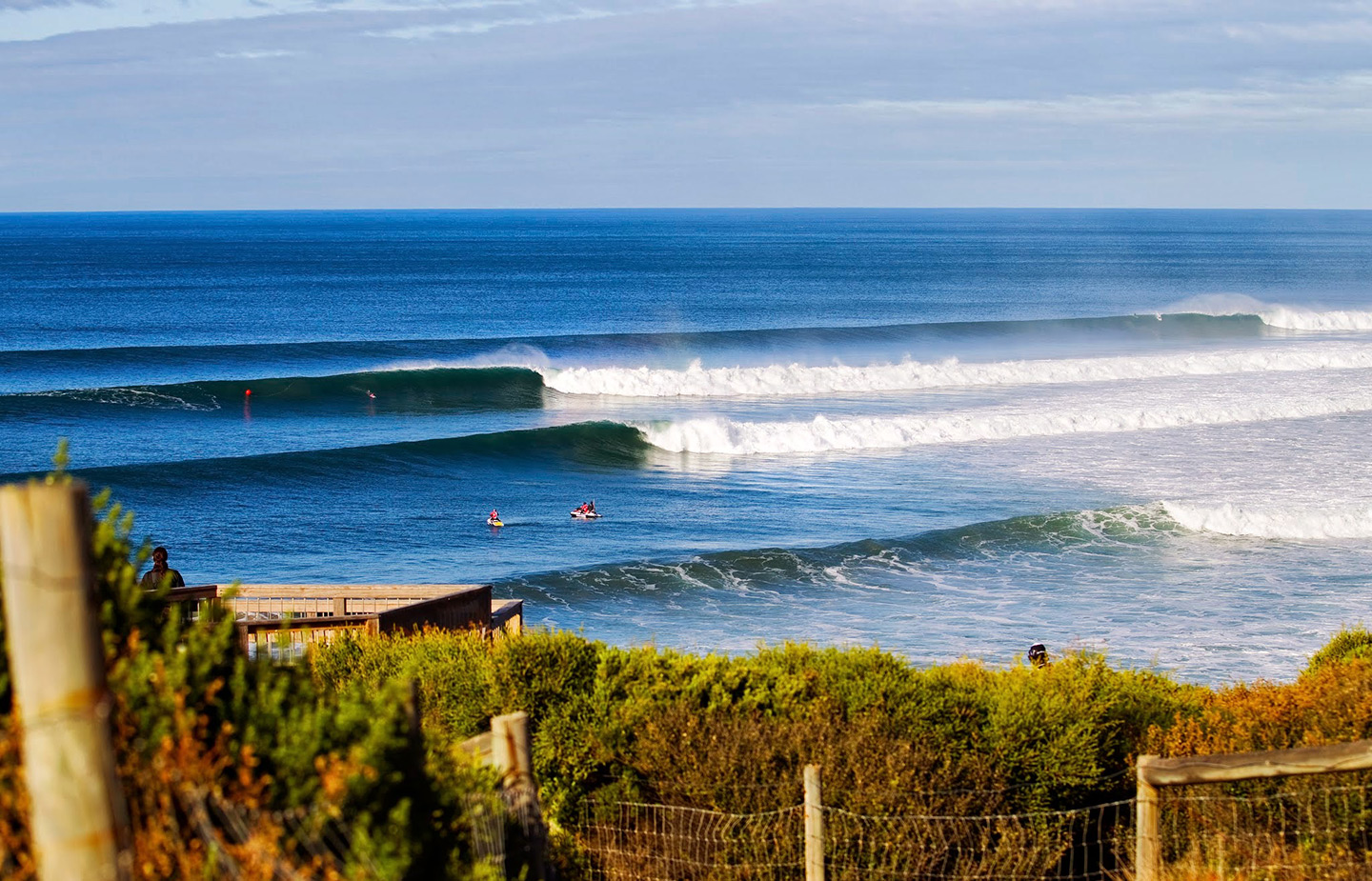 In the state of Victoria, next to Torquay, a little more than an hour south of Melbourne, you'll find Bells Beach, an Australian and world surf icon. This coastline has many quality waves. Of them, Bells is the queen and it has become a legendary place which has seen some of the best moments in the history of surfing. The tradition and waveform has made this spot a perfect launching pad, both for the industry and the many new talented surfers who have been able to go face to face against the greatest, as was the case in the famous duel between Occy and Curren in 1986. The situation and configuration of Bells helps make it one of the best right pointbreaks in the world. Its reef is exposed to a multitude of swells, mainly from the south of the Antarctic Ocean. These swells reach the Victoria coastline, turning around Cape Otway 70 miles southwest, and from there they filter their way up the coast, forming organised series which dramatically expand as they enter Bells bay, making the views of the whole line up from the parking lot incredible.
From high up on the cliff you can see the rocks (called Button, situated just in front of the steps which go down to the beach and which divide the line up of Bells and Winki Pop, another world class wave which is even more consistent and faster than Bells and can even reach 250 metres in length. It is possible to get to Bells from the important cities such as Melbourne, Sydney and Brisbane thanks to the good links and there are flights every fifteen minutes. Bells is one hour away from Melbourne International Airport and if you hire a car, it's easy to get there by going along the M2 and then the M1 south towards Geelong. Head to Anglesea and this will take you towards the famous Great Ocean Road and Bells Beach, which is ten minutes from Torquay.
The beach originally got its name from a farming family who were the owners of the land and later in 1949, some surfers and bodyboarders from Torquay took their motorbikes along the Bells cliff tops and were tempted by the wonder that they saw. The main problem during this time was crossing the land with the heavy boards which were used during that era and so getting to the beach became an odyssey. Bells was forgotten about until the sixties when the Malibu boards and new lighter materials made them easier to transport. In 1963, they celebrated the traditional Bells Beach Easter Rally, an event which attracted surfers from Australia and the rest of the world. Everything was changing and it gradually had a great impact. The turning point came in 1973 when a brand of jeans and the growing brand Rip Curl held a professional event, and from then on its trajectory was unstoppable. Torquay began to celebrate the Rip Curl Pro Bells Beach, the oldest pro competition in the world and an awesome show which can be seen from the cliffs that surround this legendary beach. The first edition was held in 1961, and today it has become not only one of the most anticipated tournaments of the entire circuit but the most prestigious and one that attracts some of the biggest crowds.
Many surf companies like Quiksilver and Rip Curl were founded very near to Bells in Torquay. This meant that from the eighties, Bells became the best publicity for the global expansion of these brands. They were very successful and because of this, it became a magnet for other brands to establish their headquarters there as well. For fifty years all of this synergy made Bells Beach a fundamental part of the surf competitions, culture and industry and recently lead it to be declared by the state of Victoria as the first and only surf reserve and to be considered as Australia's surf capital. The community of known local surfers is well represented by the likes of Wayne Lynch, possibly the most famous surfer and shaper in the area and Donnie Alcroft, another local legend who's been around since the sixties. Together with them are the youngsters Jeff Rowley, Darren Wilcox, Tony Ray and Nic Muscroft who are some of the best there.
En el estado de Victoria, a poco más de una hora al sur de Melbourne se encuentra Bells Beach, un icono del surf en Australia y en el mundo al lado de la pequeña ciudad Torquay. En una franja costera con tantas olas de calidad, Bells es la reina y se ha convertido en un lugar mítico que guarda algunos de los mejores momentos de la historia del surf. La tradición y la buena forma de sus olas ha hecho de este spot una perfecta plataforma de lanzamiento, tanto para la industria, como para muchos nuevos talentos que fueron capaces de plantar cara a los más grandes del momento, como fue el caso del famoso duelo entre Occy y Curren en 1986. La configuración y situación de Bells ayudan a que este sea uno de las mejores pointbreak de derecha del mundo. Su arrecife está expuesto a una multitud de swells, la mayoría provenientes del sur del Oceáno Antártico. Estos swells al llegar a las costas de Victoria giran alrededor de Cape Otway 70 millas al suroeste de Bells, desde allí filtran las series que se ordenan y de manera espectacular se expanden conforme entran en la bahía de Bells, haciendo que las vistas desde el parking de todo el line up de Bells sean increíbles.
Desde lo alto del acantilado se puede observar las rocas denominadas Button, situadas justo en frente de las escaleras que bajan a la playa y que dividen el line up de Bells con Winki Pop, otra ola de clase mundial incluso más consistente y rápida que Bells. Incluso puede llegar a alcanzar los 250 metros de largo. Es posible llegar hasta Bells desde importantes capitales como Melbourne, Sídney o Brisbane gracias a su buena conexión, además hay vuelos cada quince minutos. Desde el Aeropuerto Internacional de Melbourne se tarda una hora hasta Bells, y si por ejemplo, alquilas un coche es fácil llegar por la M2 y desde ahí acceder a la M1 que va hacia el sur, dirección Geelong. Toma dirección Anglesea que te llevará hacia la famosa carretera 'Great Ocean Rd' hasta Bells Beach a diez minutos de Torquay.
Su nombre proviene de la familia de granjeros Bell, propietarios de estas tierras y que verían como allá por el año 1949 algunos militares destinados en la base de Torquay descubrieron con sus motos el potencial de esta ola escondida entre aquellos acantilados. El mayor problema de esos tiempos era atravesar estas tierras con las tablas tan pesadas que se usaban, era una época en la que ir hasta la playa se convertía en una auténtica odisea. Bells fue olvidada hasta que en los sesenta las tablas malibu y los nuevos materiales mucho más ligeros hacían más fácil el transporte. En 1963 se celebró el tradicional evento 'Bells Beach Easter Rally' que atraía surfers desde toda Australia e incluso el resto del mundo, todo estaba cambiando y la repercusión era poco a poco mucho mayor. El punto de inflexion fue en 1973 cuando una compañía de jeans y el creciente negocio local Rip Curl celebraron una prueba profesional, a partir de ahí su trayectoria y difusión fue imparable. Torquay empezo a celebrar el 'Rip Curl Pro Bells Beach', el campeonato profesional más antiguo del mundo y un espectáculo impresionante visto desde los acantilados que rodean esta mítica playa como si de gradas se tratase. En 1961 se celebró la primera edición, y actualmente se ha convertido en uno de los campeonatos más esperados de todo el circuito, de los más prestigiosos y con una de las mayores afluencias de público.
En Torquay muy cerca de Bells se fundaron grandes compañías del surf como Quiksilver y Rip Curl. Ello supuso que desde los años ochenta Bells se convirtiese en la mejor plataforma de difusión para la exitosa expansión global de estas firmas, ese éxito fue grande y por ello este lugar fuese un polo de atracción para que otras firmas del sector establecieran también aquí sus sedes. Durante 50 años toda esa sinergía ha hecho que Bells Beach haya sido parte fundamental de la competición, la cultura y la industria del surf siendo recientemente declarada por el estado de Victoria como la primera y única reserva de surf y sea considerada la capital del surf en Australia. La comunidad de reconocidos surfers locales esta bien representada por algunos como Wayne Lynch, posiblemente el más famoso surfer y también shaper de la zona, Donnie Alcroft, otra leyenda local desde los sesenta y aun en buenos baños. Junto a ellos más jóvenes como Jeff Rowley, Darren Wilcox, Tony Ray y Nic Muscroft algunos de los mejores aquí.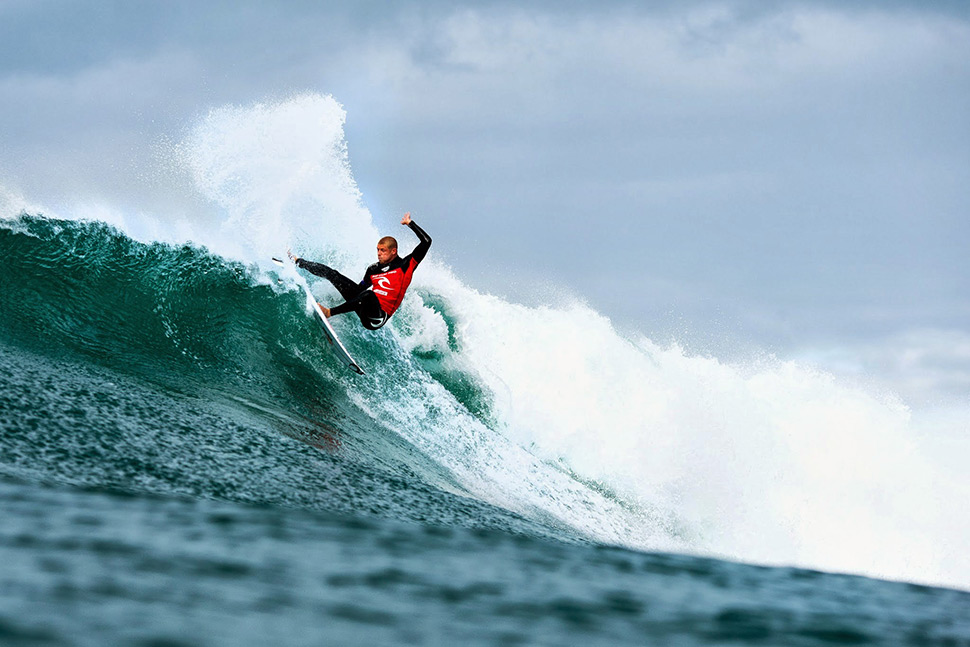 It's advisable to stop at the tourist information office in Torquay because it's worth exploring the region whilst you're there. With regards to the littoral, Bells Beach is the centre of this part of the coast with all types of points and beaches and spacious grassy picnic areas shaded with trees around it. You can enjoy the Point Addis Marine National Park which is coastal and offshore and was created to protect the animals, plants and marine habitat. Diving, snorkelling, swimming and boat trips are common in this area. It is in fact a traditional destination for holidays due to its closeness to Melbourne. Everything around Bells in the Port Campbell National Park is beautiful. Marvellous places and beaches surrounded by high cliffs with paths that you can walk or cycle along. It's also worth visiting the picturesque towns of Lorne and Anglesea.
You should definitely go for a drive along the Great Ocean Road, which begins there and was constructed in honour of those that fell during World War I. It is considered as one of the ten most beautiful routes in the world due to the beauty of the landscape between the cliffs together with the ocean. It will lead you to Lorne, Apollo Bay, Port Campbell and Cape Otway where it is also possible to visit the oldest lighthouse in Australia. By going along the Great Ocean Road, you'll also come across the famous apostles, represented by eight towers of rock of up to 45 metres high which have been separated from the land by sea erosion. You could also go down the Gibson Stairs which go 70 metres down the cliff, visit the Surf Museum in Torquay where you can find out about the history of surf in Australia and go shopping as the many shops and warehouses in the industrial area have very good prices.
Es aconsejable parar en la oficina de información local que se encuentra en Torquay porque esta región merece la pena conocerla a fondo. Respecto al litoral Bells Beach es la central de esta costa con todo tipo de buenos points y playas que se alternan con zonas espaciosas cubiertas de hierba y árboles dando sombra a las áreas de picnic. Podrás disfrutar, frente a la costa del Parque Nacional Point Addis Marina creado para proteger animales, plantas y hábitat marinos. El buceo, la natación, el snorkel y paseos en barco son comunes en la zona. Es de hecho un tradicional destino de vacaciones por la cercanía de Melbourne. Todo alrededor de Bells son bellos parajes dentro del Parque Nacional de Port Campbell. Maravillosos lugares y playas rodeadas de altos acantilados que están atravesados por cómodas pasarelas donde poder pasear tanto a pie como en bicicleta. Merece la pena una visita a las pintorescas localidades de Lorne y anglesea
Pero sin duda no dejes de realizar una ruta por la Great Ocean Road, considerada una de las diez más bonitas rutas del mundo y que precisamente comienza aquí. Fue construida en honor a los caídos en la Primera Guerra Mundial, la belleza del paisaje entre acantilados junto al Océano hace que sea una de las mejores experiencias en Australia, por ella se llega a Lorne, Apollo Bay, Port Campbell y Cape Otway donde también es posible visitar el faro más antiguo de Australia. A traves de la Great Ocean Road llegarás a los famosos apóstoles, representados por ocho torres de piedra caliza de hasta 45 metros aisladas por la erosión del mar de la playa, también bajar las Escaleras de Gibson, 70 metros hacia abajo por el acantilado. Visitar el Museo del Surf es también una parada obligada en Torquay. En él se hace mención sobretodo a la historia del surf en Australia y aprovechar para hacer compras a muy buenos precios en la multitud de tiendas y almacenes situados en la zona industrial.