Chicama / Peru – Surf,Bodyboard – Puerto Malabrigo – La Libertad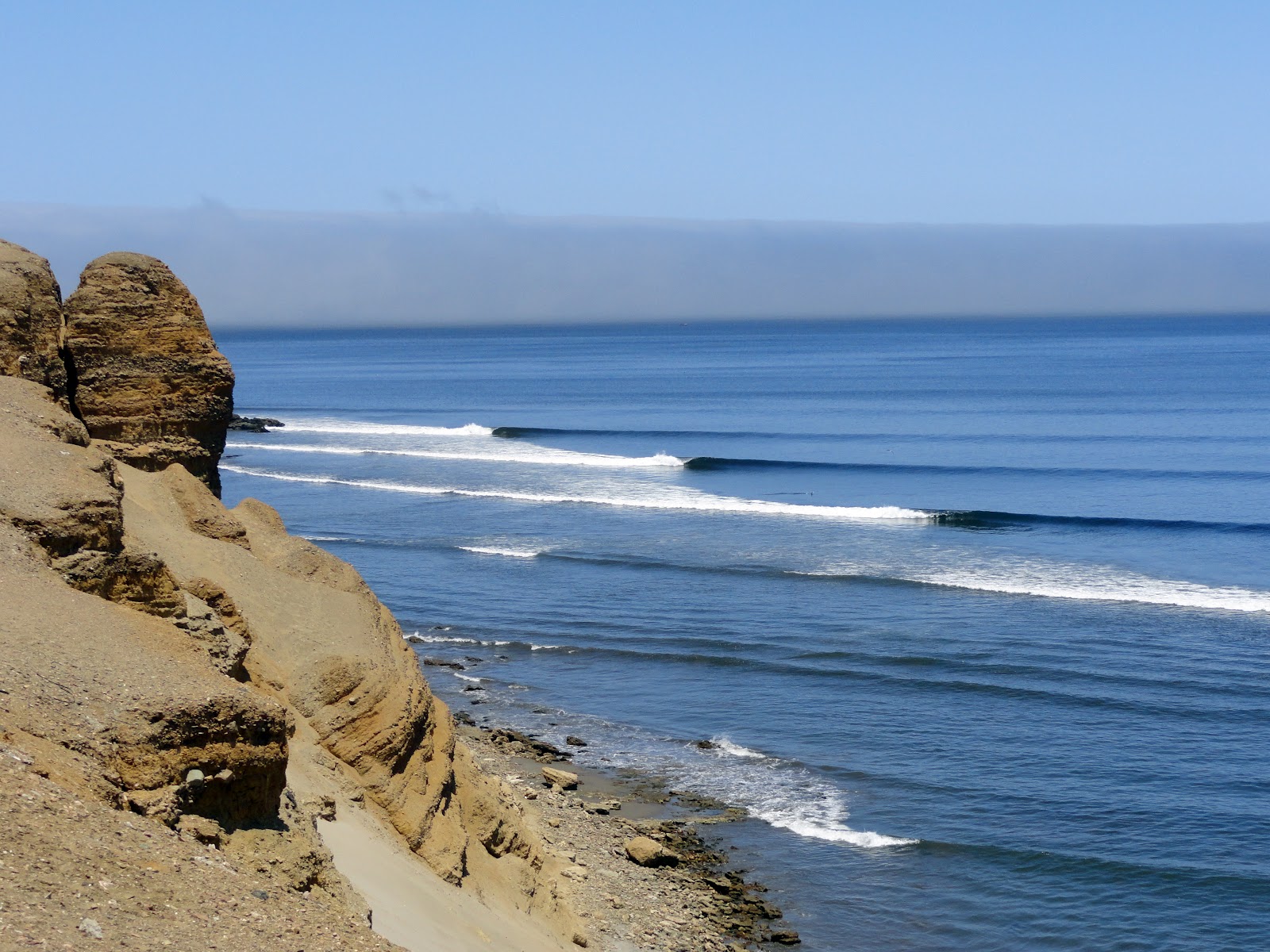 | | |
| --- | --- |
| Wave | Left |
| Ola | Izquierda |
| Wind | E - NE |
| Tide | Rising |
| Marea | Ascendente |
| | |
| --- | --- |
| Swell | S - SW - N |
| Bottom | Sand - rock |
| Fondo | Arena - Roca |
| Time of year | All year |
| Época del año | Todo el año |
Chicama has waves all year round but we can define various seasons. In January and February the best conditions come with a WNW swell from 2 feet and 15 second periods. During these months, the Cape peak receives the best swell, although pay attention as a SW swell could also arrive. The best season is from March through to November, especially until October, as it's when the best conditions arrive with frequent SW swells from 4 feet, and SSW which needs at least 8 feet, both of these with periods of between 13 and 14 seconds. The best wind direction is NE and E. The wave can be enjoyed with any tide, but the sections link up better with a rising mid tide. In general Chicama needs swell but it's always a good option to head towards the nearby village Huanchaco where you'll always find something. The bottom alternates between rock and sand depending on the section and there are strong currents so you need to paddle constantly to maintain your position. Surprisingly, despite its latitude, the landscape around Chicama is very arid, the water is cold (17-22 ° C, and during the season, the mornings are foggy because of the cold south current meeting the warmer, humid winds from the north. You'll need a 3 mm wetsuit at least, except in the summer when a shorty is enough. Be careful of the many sea urchins that are around the rocks.
The Cape is the first peak where the wave begins and also the most consistent. It's the best option during the summer, from December to March. The next is the main peak, the Point, and from there you can start the long 2 km ride. The take off zone by the rocks is the most critical part as there is a barrel which requires some level but a little further down there's an easy drop in and a really nice stretch with hollow sections where you can get some speed for manoeuvers. Its take off zone can be easily distinguished in front of the rocks and it's the best as it is less affected by the current. At the third peak, Dos Tetas, the wave gives a long open face with a bigger wall and it seems like it's going to close out but it always opens up and allows for manoeuvers. The Hotel peak follows it, located in front of the Chicama Boutique Hotel & Spa, it's the fastest section. The next peak, the Hombre, is quite difficult to link up to but it has good barrels. The final peak is the Malecón, and there you should pay attention to not end up near the pier.
Due to its size, this wave can handle a lot of surfers, most of which will be out of the water or not in position anyway. On the good days you'll do well to catch 4 or 5 waves in one session as you need to play with the current constantly and look for the next take off. It's a lot easier to get out and walk to the peak. Some pay a high price to be transported so they don't have to paddle, something which has made the locals less compassionate and drop ins common. However, as it's so long, just be patient and you'll get your wave.
En Chicama hay olas todo el año y podemos definir dos temporadas, una que va desde enero a febrero, durante estos meses las mejores condiciones se dan con swell de WNW desde 2ft y 15 segundos de periodo, en estos meses es el pico de Cape el que recibe mejor el swell, aunque hay que estar atentos a que un swell de SW se pueda presentar. El resto de meses desde marzo a noviembre es la mejor temporada, sobre todo desde marzo y octubre que es cuando se ofrecen las mejores condiciones con frecuentes swell de SW desde 4ft y SSW que necesita al menos 8ft y ambos con periodos entre 13 y 14 segundos. Los mejores vientos son del NE o del E y podrás disfrutar de la ola con cualquier marea, mejor con marea media subiendo que es cuando mejor enlazan sus secciones. En general hay que decir que Chicama necesita mar pero siempre es una buena opción dirigirse al cercano pueblo de Huanchaco donde siempre se puede encontrar algo. El fondo se alterna entre arena y roca según la sección y es un spot con mucha corriente y tendrás que remar constantemente para mantener la posición. Es sorprendente como a pesar de la latitud el paisaje alrededor de Chicama es extremadamente árido, el agua es sorprendentemente fría y las mañanas cubiertas de niebla en temporada debido a la corriente fría del Sur cuando se encuentra con los vientos húmedos y mas cálidos provenientes del norte. El agua está fría (17-22 ° C, al igual que en la mayor parte de Perú, debido a las corrientes frías del sur te recomendamos un traje de mínimo 3 mm salvo en verano que puedes entrar con uno corto, ten cuidado por la gran cantidad de erizos que encontrarás en las rocas.
El Cape es el primer pico donde empieza la ola y también el pico más consistente, es la mejor opción durante el verano, desde diciembre a marzo cuando siempre hay algo que poder surfear en esta sección. El siguiente pico es El Point, este es el pico principal y desde el que empezarás un largo recorrido de dos kilómetros de ola, la zona de take off pegada a las rocas es más crítica, rompe un tubo que exige nivel pero un poco más abajo posee un fácil 'drop in' incluso con tamaño, un tramo muy surfeable con secciones huecas y que ofrece una velocidad perfecta para tus maniobras. Su zona de 'take off' se distingue fácil enfrente de una formación rocosa, es la mejor ya que es a la que menos le afecta la corriente. El tercer pico es el de las Dos Tetas, en esta sección la pared y el brazo de la ola crece, parece que va a cerrar pero siempre te abre permitiendo realizar amplias maniobras. Le sigue el pico del Hotel, llamado así porque justo enfrente se encuentra el Chicama Boutique Hotel & Spa, es la sección más rápida. El siguiente pico es el del Hombre, un pico al que es difícil enlazar pero si es así ofrece buenos tubos. El último pico es el del Malecón, en el debes prestar atención de no terminar cerca del muelle.
Esta ola puede acoger debido a su extensión muchos surfistas, la mayoría siempre estarán o fuera del agua o fuera de posición. En los días buenos es un éxito tan solo coger 4 o 5 olas en una sesión, hay que jugar con la corriente constante y buscar el siguiente take off y mucho más fácil salir y caminar para volver a entrar por el pico. Algunos están dispuestos a pagar un alto precio para ser transportados sin remar, lo que ha traído como consecuencia que los locales no tengan piedad y los drop-ins sean comunes. No obstante al ser una ola tan larga, con paciencia en cualquier momento llega tu ola.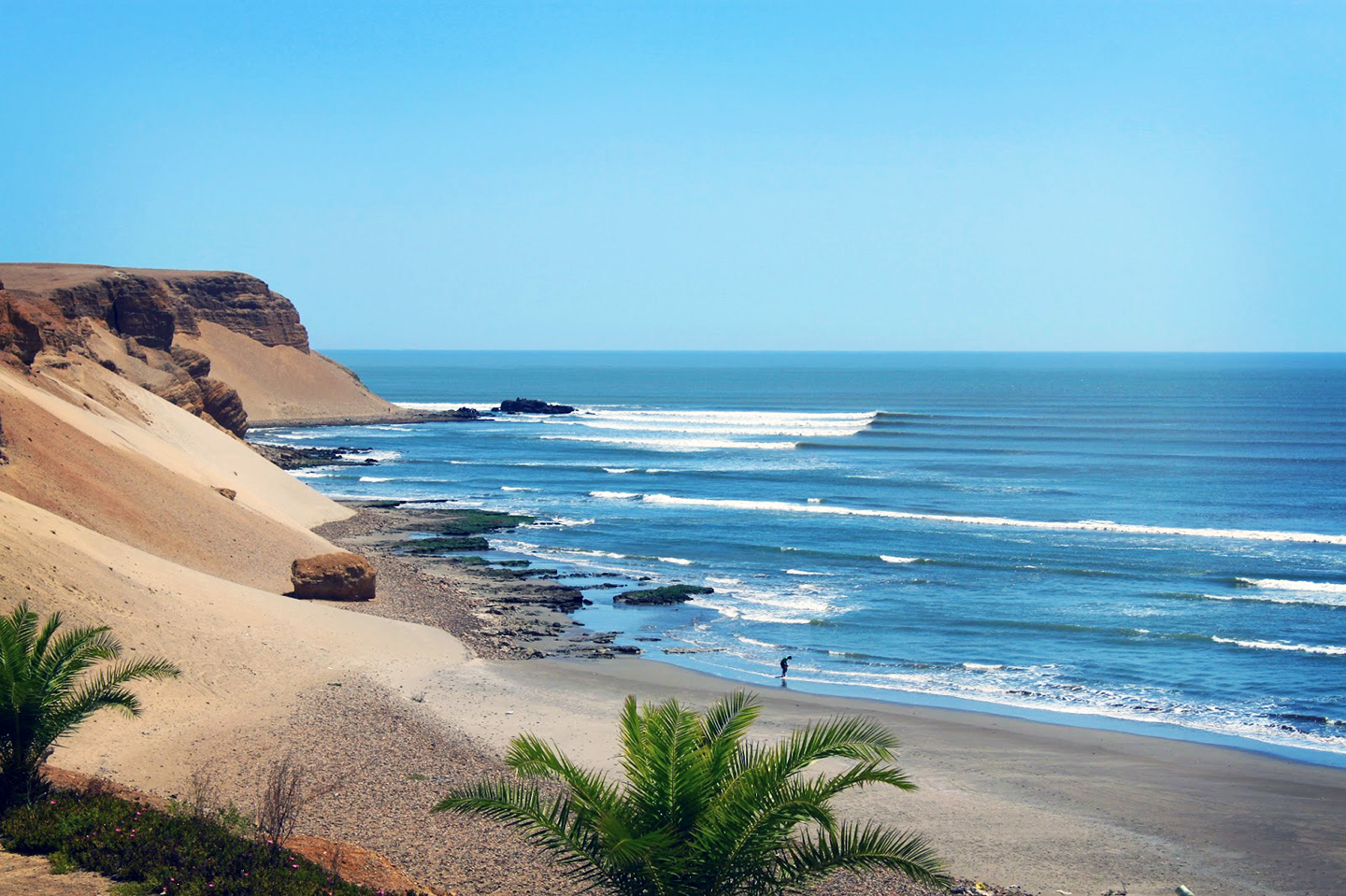 The famous left pointbreak at Chicama can be found together with a small fishing port and beautiful coastal city of the same name, a place which today is a dream destination for thousands of surfers around the world. A wave more than two kilometres long which can be surfed until your legs can't take any more, something which no one has done all in one go but the challenge is always there. This spectacular wave goes from the furthest point of the headland to the fishing pier where the wave ends. It's located half way between Lima, Peru's capital, and the Ecuadorian border, in Malabrigo port, 70 kilometres north of Trujillo city towards Paiján, at kilometre 614 of the Pan-American Highway North.
Chicama is one of the best waves in the world and so it's very important to be respectful with the locals. As it has been populated for more than 6.000 years, it has a long history. The first villagers surfed in homemade canoes made of cane thousands of years ago. It is said that the Chicama line up was first seen in 1965 by the Hawaiian Chuck Shipman from the plane window when he was returning to Hawaii after the Punta Rocas competition near Lima in Peru. The legend that followed of there being an eternal wave in Peru became reality in 1967 when a group of pioneering Peruvian surfers confirmed what Shipman saw in 1965 and after an arduous search, they reached the Chicama port. Among the best local surfers you'll find Juan Arroyo, known as Pajarete, who these days owns one of the hotels located right in front of the 'Hombre' peak, and 'El Zorro', a much respected surfer since he was one of the first to catch the biggest waves in Chicama. The situation hasn't changed a lot despite this coast hosting many incredible waves, it still hasn't been developed with regards to large infrastructures and so those that have been lucky enough to visit have stayed in small hotels and village houses, coexisting alongside the inhabitants. Nowadays, everything is signposted and there are all types of both budget and luxury accommodation and, despite what you may hear, Peru is actually a very safe country with the police making great improvements over the past few years to achieve social stability on the streets of most of the towns and cities.
Exiting Lima Airport is quite complicated so it's a good idea to get a taxi. If you do, make sure it's an official one and tell the driver to take you to one of the bus stations where the long distance companies Cruz del Sur and Linea operate from. The next step is to head to Trujillo, Peru's second largest city, a university city and one of the most chaotic. Once you reach Trujillo it's recommendable to get another taxi from the station to take you to another station with local buses which will take you in two hours to Malabrigo Port in Chicama for three dollars, or get the taxi directly for around 40 dollars. On arrival, the vision of perfect lines all the way to the horizon is spectacular. You'll see that Chicama has great vibes and you will be made to feel very welcome. You'll also be able to try some of the world's best gastronomy, like the Cebiche, a Peruvian speciality which is fantastic in Chicama, and spend hours in the 'picanteras' and taverns chatting and sharing litres of beer with the locals. It's one of the best ways to get to know this unique place.
El famoso pointbreak de izquierda de Chicama se encuentra junto a un pequeño Puerto pesquero de Adyacente, un lugar que hoy día uno de los destinos soñados por miles de surfistas en todo el mundo. Una ola de más de dos kilómetros en los que puedes surfear hasta que tus piernas digan basta, realmente nadie hecho todo su recorrido de una vez pero el reto siempre estará ahí. Esta espectacular panorámica abarca una distancia real desde el punto más alejado en el cabo hasta el muelle de pescadores donde termina la ola. Se encuentra a medio camino entre Lima, la capital de Perú y la frontera con Ecuador, concretamente en Puerto de Malabrigo, a unos 70 kilómetros al norte de la ciudad de Trujillo y desviándose por Paiján, en el kilómetro 614 de la carretera Panamericana Norte.
Chicama es una de las mejores olas del mundo y por ello es muy importante ser respetuoso con la gente del lugar, es un lugar con historia desde hace más de seis mil años y esos primeros pobladores ya practicaban algo parecido al surf en una canoa de caña artesanal. Se dice que el 'line-up' de Chicama fue visto por primera vez en el año 1965 por el hawaiano Chuck Shipman, desde la ventana del avión en el que regresaba a Hawai tras terminar el campeonato de Punta Rocas, cerca de Lima, Perú. Fue entonces cuando la leyenda de que había una ola en Perú se hizo realidad, en el año 1967 un grupo de pioneros surfistas peruanos confirmaron lo que Shipman vio dos años antes y tras una ardua búsqueda llegaron al Puerto de Chicama. Entre los mejores surfistas locales se encuentran el mítico Juan Arroyo, conocido como Pajarete, hoy dueño de uno de los hoteles justo en frente del Pico del Hombre. Y El Zorro, un surfista muy respetado por ser uno de los primeros en coger las olas más grandes de Chicama.
La situación no ha cambiado demasiado a pesar de que esta costa alberga olas maravillosas y aún no se han desarrollado grandes infraestructuras, durante muchos años, los que han tenido la suerte de llegar hasta aquí se han alojado en pequeños hostales y casas del pueblo donde han convivido con el día a día de Chicama y sus habitantes. Ahora todo esta señalizado y hay todo tipo de alojamientos económicos y de lujo. A pesar de lo que se pueda conocer sobre la inseguridad de Perú, no es así ya que la Policía ha mejorado la seguridad de la zona en los últimos años para conseguir una estabilidad social en las calles de casi todos los pueblos y ciudades. La salida del Aeropuerto de Lima es complicada, lo mejor es coger un taxi que te saque de allí, muy importante que sea un taxi oficial porque no te puedes fiar de cualquiera. Una vez en el taxi, que te lleve hasta alguna de las estaciones de autobuses donde operan Cruz del Sur y Línea, que son las dos compañías más usadas para larga distancia. El siguiente paso es poner rumbo hasta Trujillo, la segunda ciudad mas grande de Perú, ciudad universitaria y según las estadísticas también una de las mas caóticas. Una vez en Trujillo es recomendable coger otro taxi al salir de la estación que te lleve a otra estación de autobuses locales para coger otro Bus de dos horas hacia Puerto Malabrigo en Chicama, cuesta unos 3 dólares. También puedes coger un taxi que vaya directo por unos 40 dólares.
Al llegar a Chicama, podrás ver las líneas perfectas que se pierden en el horizonte, lo hacen un lugar con una energía especial. Verás como con tus mejores vibraciones en Chicama todo el mundo es bienvenido. Disfrutarás de una de las mejores gastronomías del mundo, probarás el Cebiche, una especialidad peruana que en Chicama es espectacular y pasarás horas en las picanterías o tabernas peruanas charlando compartiendo cervezas de litro con los locales, una de las mejores maneras de conocer este único y autentico lugar.
You can complete your surf trip in the Chicama area by visiting several interesting areas with archaeological remains showing a very rich ancestral culture. El Brujo in Chicamas's river valley, is one of the most ancient and important archaeological complexes on the north coast. The tomb and mummified body of the Moche governor called La Dama de Cao was found there. Two hours north, in Chiclayo city, you'll find another very rich archaeological area, with amazing discoveries such as the Señor de Sipan at Huaca Rajada, the Señor de Sican at Batan Grande and the Tucume pyramids. Thanks to this, Chiclayo has become the second tourist destination in Peru after Cuzco.
Podrás complementar tu Surf Trip en Chicama con la visita a distintos lugares de interés arqueológico cercanos, muestra de una riquísima cultura ancestral. El Brujo, en el valle del Río Chicama, es uno de los complejos arqueológicos más importantes y antiguos de la costa norte. Se encontró la tumba y el cuerpo momificado de la gobernante moche llamada la Dama de Cao. A unas dos horas al norte, en la ciudad de Chiclayo encontrarás una rica zona arqueológica, con espectaculares descubrimientos como el Señor de Sipán en Huaca Rajada, el Señor de Sicán en Batán Grande y la puesta en valor de las pirámides de Túcume. Gracias a esto, Chiclayo se ha convertido en el segundo destino más importante del Perú para el turismo cultural después de Cuzco.