Cloud Nine / Philippines – Surf,Bodyboard – Siargao island – Surigao del Norte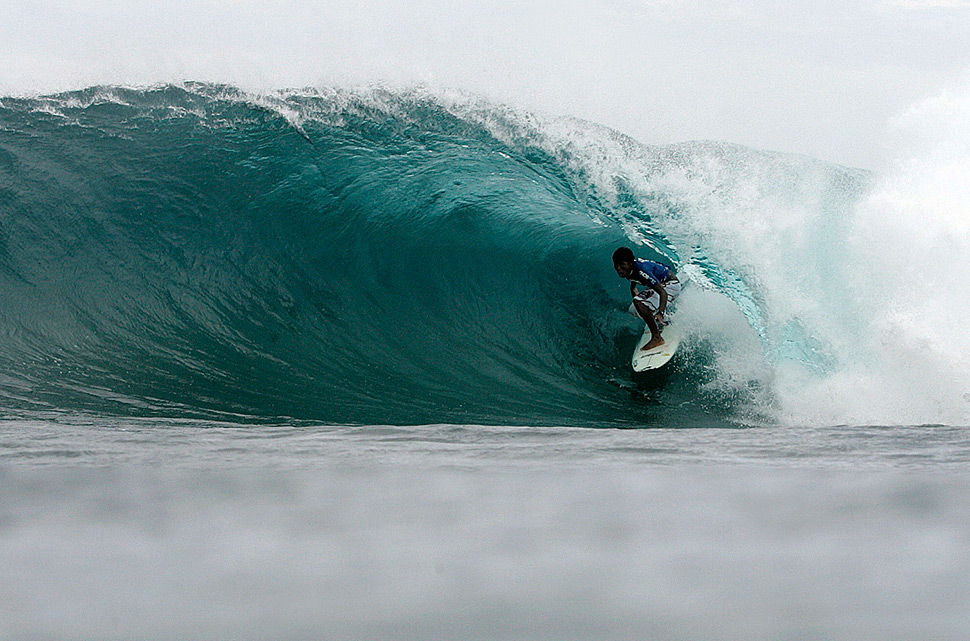 | | |
| --- | --- |
| Wave | Right |
| Ola | Derecha |
| Wind | SW |
| Tide | Medium - High |
| Marea | Media - Alta |
| | |
| --- | --- |
| Swell | NE - E |
| Bottom | Coral reef |
| Fondo | Arrecife de coral |
| Time of year | From july to Novemeber |
| Época del año | De Julio a Noviembre |
You can catch waves at any time of year but you should know that from January to April is the worst time and in addition, onshore dominates. July to October is a good time because it's the typhoon season and it sometimes creates epic conditions. From October onwards, the best months are normally November and December. During these months, the predominant wind is offshore from the southwest.
The best conditions are with east swell and light southwest winds. Cloud 9 is a technical wave with a fast take off. With 6 feet it requires a good level, above all with low tide. The ideal for most surfers is 3 or 4 feet with mid tide. High tide is a good option for those that want to try their first barrels.With northeast swell, the last section becomes a wedge, which is appreciated by the bodyboarders, and a short, intensive left also occasionally leaves the peak.
Puedes coger olas en cualquier momento del año pero debes saber que de enero a abril es el peor momento y además predomina el onshore. De julio a octubre es buena temporada porque es la época de tifones y por ello en ocasiones se dan condiciones épicas, a partir de Octubre normalmente los mejores meses del año son noviembre y diciembre. Durante todos esos meses el viento predominante es offshore de Suroeste.
Las mejores condiciones se dan con swell de E y vientos ligeros del SW. Cloud 9 es una ola técnica, con un take off rápido y con 6 pies requiere cierto nivel, sobre todo con marea baja. La perfección para la mayoría de surfers es con 3, 4 pies y marea media, con alta es la mejor opción para aquellos surfer intermedios que intentan sus primeros tubos. Con swell del NE sale una potente cuña en la sección final muy apreciada por los boogies y en el pico ocasionalmente sale también una corta e intensa izquierda.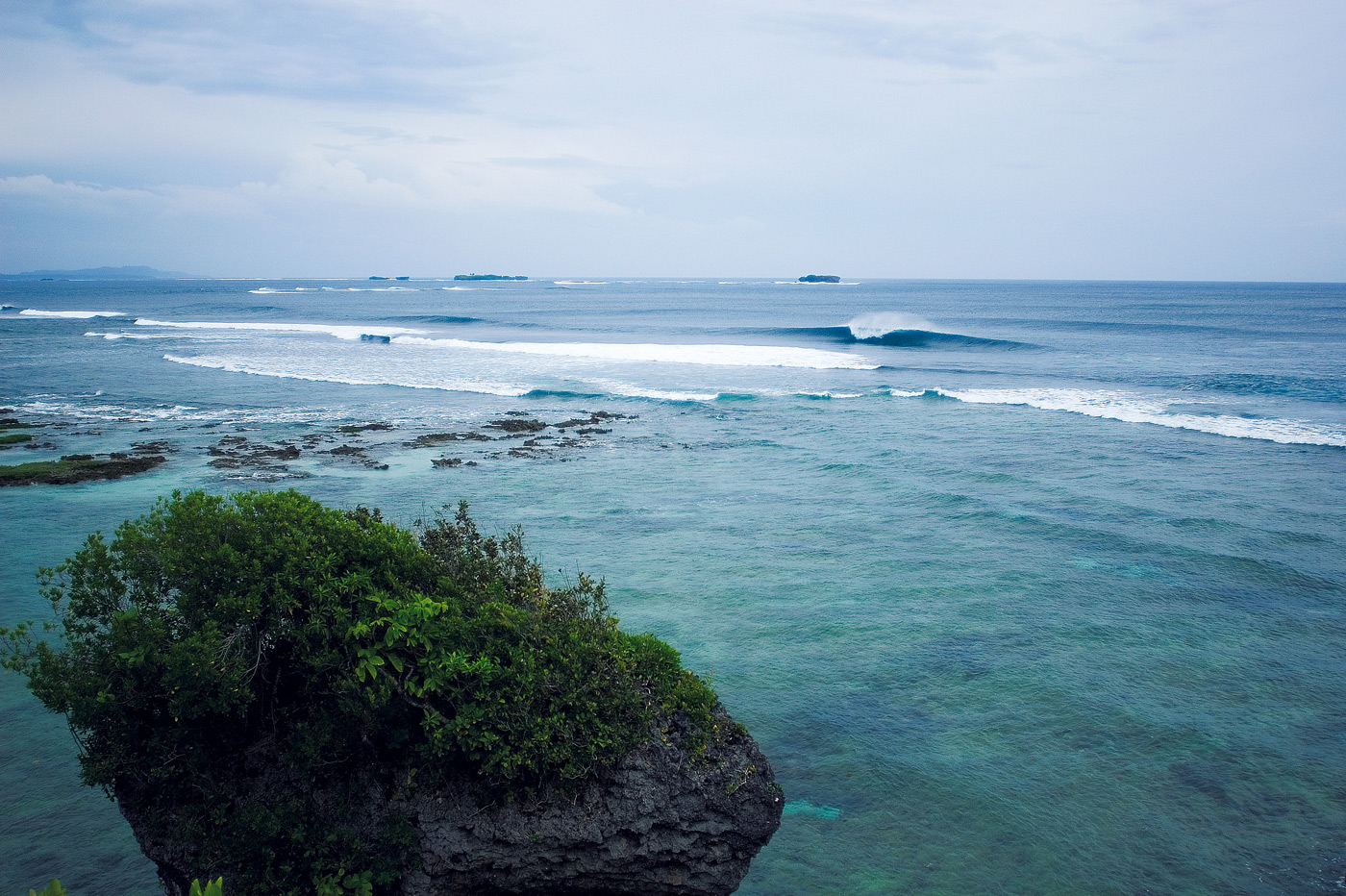 Cloud 9 is a right reef break and is known as the Backdoor of the Philippines. It's located in the General Luna village on Siargao Island and it's the most popular surfing destination there. This volcanic archipelago is located in the Pacific Ring of Fire, where reefs alternate between capes and beaches. It remains as one of the few places in the world where if you pay attention to some of the guides, you may be surprised how far they can take you because there are some excellent and quite waves in nearby places.
There is some evidence that it was surfed in the early eighties, but its discovery became official in the late eighties when a loner named Max Walker, or Mad Max as he was known locally, went to live in a primitive cabin at Tuason point, just in front of the break. Unfortunately, malnutrition got the better of him. It was soon discovered that he was very similar to Mike Boyum, the legendary surfer who discovered G-Land and hid away from the world to end his days here. In his honour, the locals called Cloud 9 Boyum's until 1992 when the American photographer John S. Callahan went there with Taylor Knox and Evan Slater to make a memorable report for the well-known Surfer Magazine and showed this wave to the rest of the world. Curiously, the wave then got its name from the bar of chocolate Cloud 9 which was commonly eaten there. Since then, the scene has changed slightly in the small town of General Luna, especially around Tuason Point, just in front of Cloud 9, where surfing has become the engine of the local economy without having lost the original essence of the place.
To get there, there are flights and boats that go between the different islands every day at very reasonable prices. We recommend that you go by boat as the airlines currently don't let you take surfboards. From Cebu, there are various public ferries that go to Dapa in Siargao and once you are there, you're 30 minutes away from General Luna. Cloud 9 is an ideal place to start your Philippine experience. You'll find a variety of accommodation options, a good atmosphere and easy access to the waves. Remember to go there prepared and find out about any necessary vaccinations beforehand. These coasts have consistent waves partly due to the trenches in the sea which can be up to 500 metres deep and are only a kilometre from Tuason Point. This mechanical slab, if it's glassy, offers supreme perfection without the violence of other similar waves in the South Pacific or Indonesia. Normally if there are good conditions it's quite crowded, but in the Philippines, you're in a place where there's a good vibe and in any case, you'll have options with the other nearby waves at Tuason Point, Jack Horse and Rock Island.
Cloud 9 es una derecha de arrecife conocida como el Backdoor de Filipinas, se encuentra en el pueblo General Luna en la isla de Siargao siendo el destino de surfing más popular de estas islas. Este archipiélago de origen volcánico se encuentra en el Cinturón de Fuego del Pacífico, Un lugar como ninguno y en el que se alternan arrecifes, cabos y playas que todavía guardan secretos, algunos guías te pueden sorprender, porque hay olas buenísimas en otros lugares cercanos.
Se tiene constancia de intrépidos surfers a principios de los ochenta, pero su descubrimiento se da a finales de esa década cuando un solitario llamado Max Walker, conocido localmente como Mad Max, se estableció en una rudimentaria cabaña al lado de Tuason point justo en frente de la rompiente. La desnutrición acabó con él y al poco tiempo se descubrió que se trataba nada más y nada menos que de Mike Boyum, el mítico surfer que descubrió G-Land y que escondido del mundo eligió acabar aquí sus días, en su honor los locales llamaron Boyum's a Cloud 9. En 1992 el fotógrafo americano john S. Callahan con los surfers profesionales Taylor Knox y Evan Slater estuvieron aquí realizando un memorable reportaje para la reconocida Surfer Magazine americana en el que se mostraba esta ola al resto del mundo. En esos momentos curiosamente el nombre de las barritas de chocolate llamadas Cloud 9 que solían comer todos los que pasaban por aquí acabaron dando nombre a la ola. Desde entonces el escenario ha cambiado un poco en la pequeña localidad de General Luna, especialmente alrededor de Tuason Point justo en frente de Cloud 9, un lugar que mantiene la original esencia y donde casi toda la comunidad vive en torno al surf.
Para llegar hay vuelos y barcos todos los días entre las distintas islas a precios muy económicos. Se recomienda viajar en barco porque las compañías aéreas hasta el momento no facilitan viajar con tablas de surf. Desde Cebu, segunda ciudad de Filipinas hay varias compañías con ferrys públicos hacia Dapa en Siargao y una vez allí estarás a 30 minutos de General Luna. Cloud 9 es un lugar ideal para empezar tu experiencia por Filipinas, encontrarás variedad de alojamiento, buen ambiente y fácil acceso a las olas. Recuerda venir preparado e informarte de cualquier vacuna necesaria. Si esta glassy te ofrecerá una perfección suprema sin la violencia de olas similares del Sur del Pacifico o Indonesia. Normalmente si hay buenas condiciones hay mucha gente, pero aquí en Filipinas estas en tierra de buenas vibraciones y además tendrás otras opciones en las olas cercanas de Tuason Point, Jack horse, Rock Island.
The Philippine population have a very slow lifestyle and live off the agriculture and the algae plantations. They are very kind, hospitable people and will answer any of your questions. The recent improvements in the transport links will help you if you want to explore. You'll have no problem communicating in English. You should visit some of the following islands; Guyam, Dako, La Janoza and Mamon. They are all easily accessible by boat and they are the best places to go diving in the transparent water with white coral and starfish. These islands are known for being marine sanctuaries and they are also the most authentic places where you can learn about the local traditions.
According to UNESCO, the Philippines is one of the most biologically diverse countries. Near the town of Carmen, you'll see unique geological formations called the Chocolate Hills where the rounded hills create a very unique landscape. The Lfugao terraces, the volcanoes and the stunning beaches of Camiguin north of Mindanao are also interesting things to see.
La población en filipinas mantienen un modo de vida pausado y viven básicamente de la agricultura y las plantaciones de algas, son gentes muy hospitalarias, simpáticas y cualquiera de tus preguntas tendrá respuesta, sobre todo si quieres explorar ayudándote de la reciente mejora de los distintos medios de comunicación. No tendrás problema para comunicarte en inglés, aunque aquí sin duda lo mejor es la simpatía y la predisposición de dos personas para entenderse. Deberás Visitar alguna de las siguientes islas; Guyam, Dako, La Janoza, Mamon, accesibles fácilmente por barco, allí están los mejores lugares para bucear en transparentes aguas con corales blancos y estrellas de mar. Son estas islas conocidas por ser santuarios marinos y además son lugares más auténticos para conocer la tradición local.
Filipinas según la Unesco es uno de los países con mayor diversidad biológica. Cerca del Pueblo de Carmen verás formaciones geológicas únicas llamadas Chocolate Hills, sus redondeadas colinas crean un paisaje único en el mundo. También son interesantes las terrazas de Lfugao, los volcanes y las impresionantes playas de Camiguin al norte Mindanao.