Cumbuco / Brazil – Kitesurf – Cumbuco – Ceará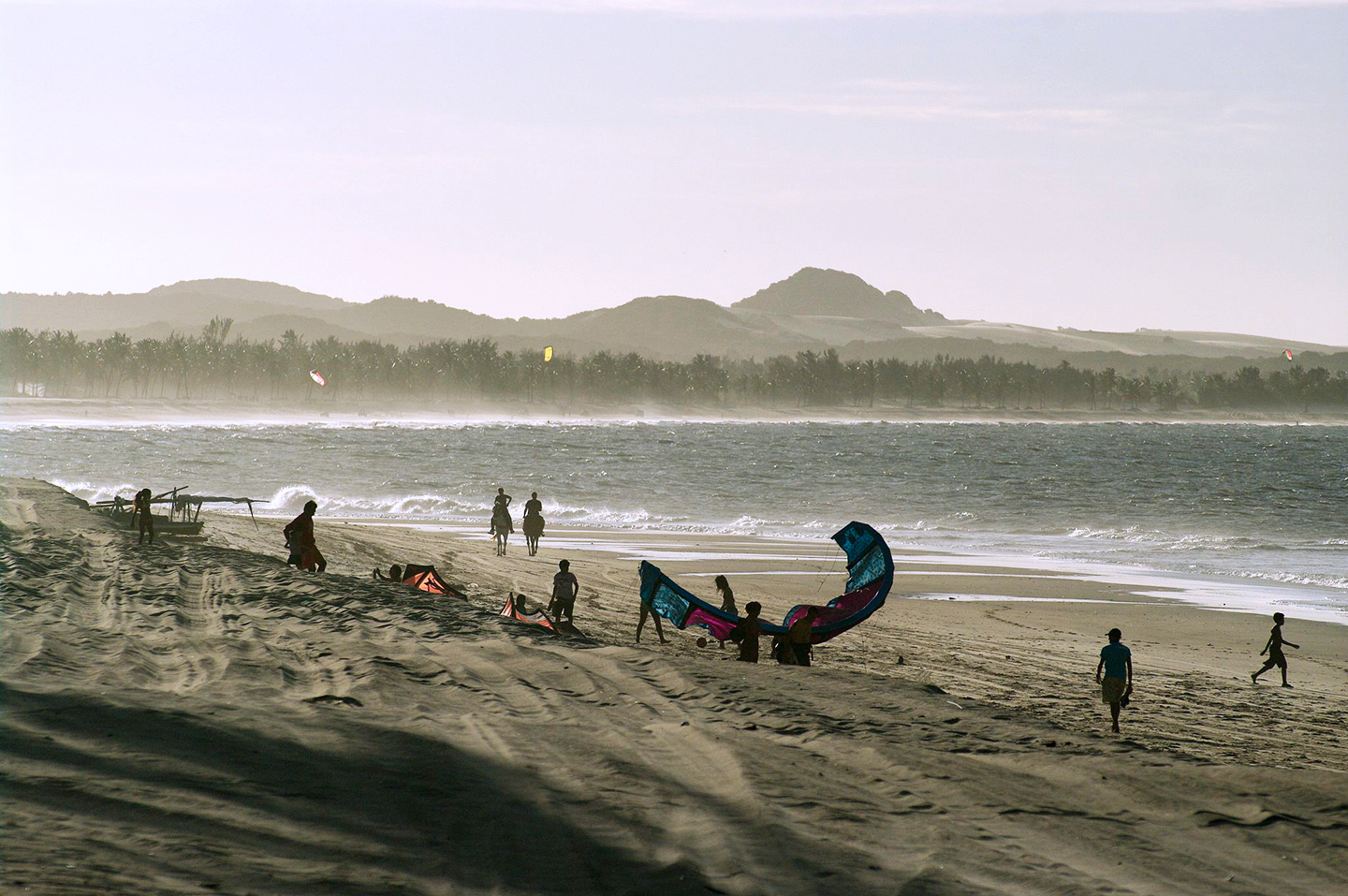 | | |
| --- | --- |
| Wave | |
| Ola | |
| Wind | E, ESE, SE |
| Tide | Low, Rising, Falling |
| Marea | Baja, subiendo, bajando |
| | |
| --- | --- |
| Swell | |
| Bottom | Sand |
| Fondo | Arena |
| Time of year | From August to January |
| Época del año | De agosto a enero |
The strong, consistent winds blow from the SE from August to January in Cumbuco. The sand dunesbehind the village create a perfect thermal effect which increases the wind speed, reaching around 20 to 25 knots. The water is often a little choppy but there are waves that break on the shore at high tide. Also, during high tide, some parts of the beach become very narrow. It's possible to do an 8 kilometre downwinder to Lagoa de Cauipe, passing Pico das Almas.
En Cumbuco los fuertes y constantes vientos soplan del sudeste desde agosto a enero. Las dunas de arena detrás de la aldea crean un efecto térmico que actúa para aumentar la velocidad del viento, alcanzando 20 a 25 nudos. El agua suele estar un poco chopeada pero cuando la marea se pone alta hay olas orilleras. Con marea alta en algunos puntos la playa puede ser muy estrecha. Se puede hacer downwind unos 8 kilómetros hasta Lagoa de Cauipe, pasando por Pico Das Almas.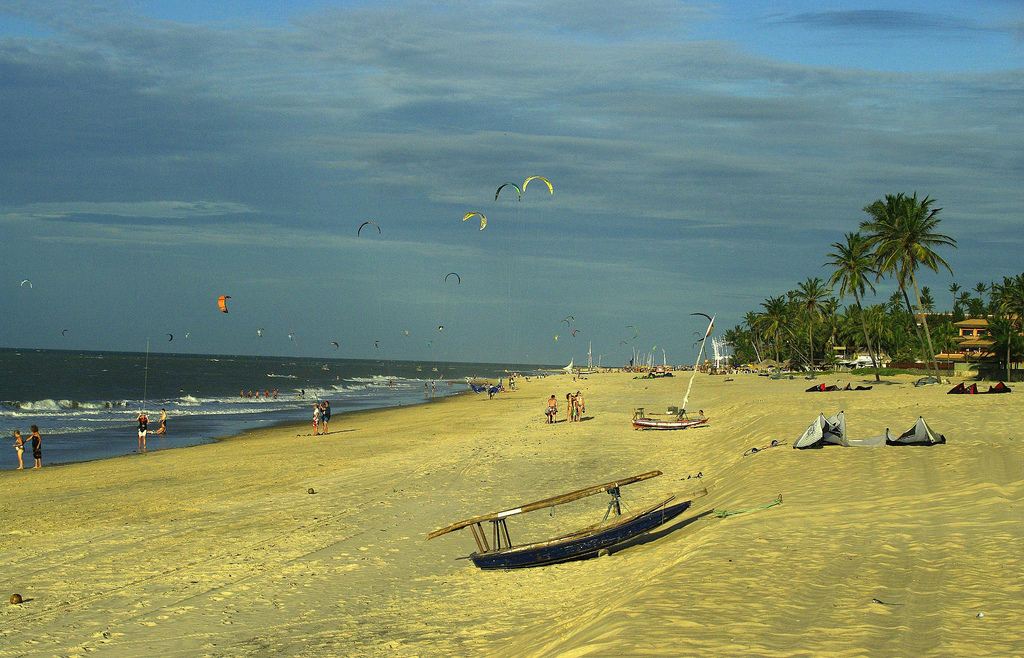 Cumbuco is a small fishing village on the northeast coast of Brazil, around 30 kilometres from Fortaleza. It is becoming increasingly popular for both national and international tourists thanks to the ideal wind conditions for kitesurfing. It usually receives around 20 to 25 knots and the best time to sail there is from August until January. It's a beautiful quiet beach which sits alongside the famous sand dunes on one side of the village. The village was constructed around the main square and has a fresh fish market, various restaurants at the foot of the beach, tropical palms, kitesurf schools, equipment rental and much more. You can get there by taxi from Fortaleza airport for around 80 reais.
Cumbuco has been host to the Kiteboard Pro World Tour. It's possible to do an 8 kilometre downwinder to Lagoa de Cauipe, which is another spot that is well known on the professional circuit, and where the pros go to train for the PKRA and the KPWT. There will be buggies offering to take you back, they don't charge too much but see if you can find someone to share the ride with to make it more economical.
Cumbuco es un pequeño pueblo de pescadores situado a unos 30 kilómetros de la ciudad de Fortaleza, en la costa noreste de Brasil. Cada vez hay más turismo nacional e internacional, debido a las condiciones ideales de viento para el kitesurf. Suele ser de unos 20 a 25 nudos cálido, cuya mejor época es desde agosto hasta enero.
Es una playa hermosa y tranquila, junto a las famosas dunas de arena en el otro lado del pequeño pueblo, el cual fue construido alrededor de la plaza principal y tiene un mercado de pescado fresco, palmeras tropicales, varios restaurantes a pie de playa, escuelas de kite, alquiler de material y mucho más. Puedes llegar desde el aeropuerto de fortaleza en taxi por unos 80 reales. Cumbuco ha sido sede del Kiteboard Pro World Tour. Puedes ir en downwind unos 8 kilómetros a Lagoa de Cauipe, otro spot reconocido por profesionales, donde van a entrenar para la PKRA o la KPWT.
Cumbuco has many restaurants that suit all budgets. There are numerous cabins and kiosks at the spot where you can get a drink and a snack. Cauipe Beach is a good alternative with medium waves and five kilometres of coastline and there are also two other world class spots that are nearby. The first, Lagoa do Tabua, suitable for intermediate and advanced levels, is located further south, 5 kilometres from Cumbuco. The most economical way to get there is by bus; take the line that goes to Fortaleza city and ask the driver to stop at the lagoon where the flat water, fine sand and 20-25 knots of wind awaits you. Just avoid going on Sundays when it gets packed with locals. The second, Lagoa do Taiba is 20 kilometres north of Cumbuco and you can reach it by the main road if you have a hire car or by a buggy along the beach. The wind is stronger there, around 25 knots, and the average water temperature is 27 degrees. There are a few bars selling sandwiches and drinks along with some shaded areas.
There's a great atmosphere in Cumbuco but it's a very relaxed place so if you're looking for some nightlife you should head to Fortaleza. The market stalls at the 'Mercado Central' or at the Feirinha Beira Mar are full of local crafts, ranging from ceramics to lace and leather products. In the city centre you'll find the Nuestra Señora de la Asunción fort which was built by the Dutch in 1649 and marks the birthplace of the city and its adjoining suburbs that are full of culture and artists.
Cumbuco, cuenta con muchos restaurantes y posadas de todos los precios. Se puede ir downwind hasta Lagoa do Cauipe, un spot de talla mundial que se encuentra a unos 10-15 minutos y volver en buggy entre 4 personas por 50 reales (menos de 20€). En el mismo spot hay unas cuantas cabañas y puestos ambulantes donde tomarse un aperitivo y bebida. La playa de Cauipe es una buena alternativa con olas de medio tamaño y cinco kilómetros de costa. Si vas a estar durante varios días es muy recomendable que pases por dos spots de calibre mundial; Lagoa do Tabua se encuentra hacia el Sur, a cinco kilómetros de Cumbuco y está destinada para los kiters intermedios y avanzados. Para llegar al spot, la opción más económica es en autobús; deberás coger la línea que va hacia la ciudad principal, Fortaleza y avisar al conductor de que pare en la laguna. Después en dirección hacia la playa encontraréis el rastro de los kites, llegados al spot, os espera agua flat, arena fina y vientos de 20 a 25 nudos. Evitar ir en domingo ya que la zona se llena de lugareños y bañistas.
Lagoa do Taiba es otro gran lugar donde poder acudir; está a 20 kilómetros de distancia al norte de Cumbuco. Se puede acceder por la playa en Buggy, aunque si tenéis coche de alquiler también podréis acceder por carretera nacional. El viento es algo más fuerte en esta zona sobre 25 nudos y la media de temperatura del agua es de 27 grados, hay algunos bares que venden bocadillos, bebidas y tienen zonas sombreadas con lo cual podrás pasar todo el día. La zona de Cumbuco tiene un gran ambiente, pero es relajada, si deseáis salir por la noche la mejor opción es desplazarse hacia Fortaleza, la ciudad está ubicada en la costa noreste de Brasil, es la capital del estado de Ceará y es también un importante centro turístico. Los puestos del Mercado Central o los de la Feirinha Beira Mar se llenan de productos artesanales locales, desde cerámica hasta productos de encaje y cuero. En el centro de la ciudad, la Fortaleza de Nuestra Señora de la Asunción, construida por los holandeses en 1649, marca el lugar donde nació la ciudad y sus barrios colindantes están llenos de artistas y cultura.