Flag Beach / Spain – Kitesurf – Flag Beach – Fuerteventura – Canary Islands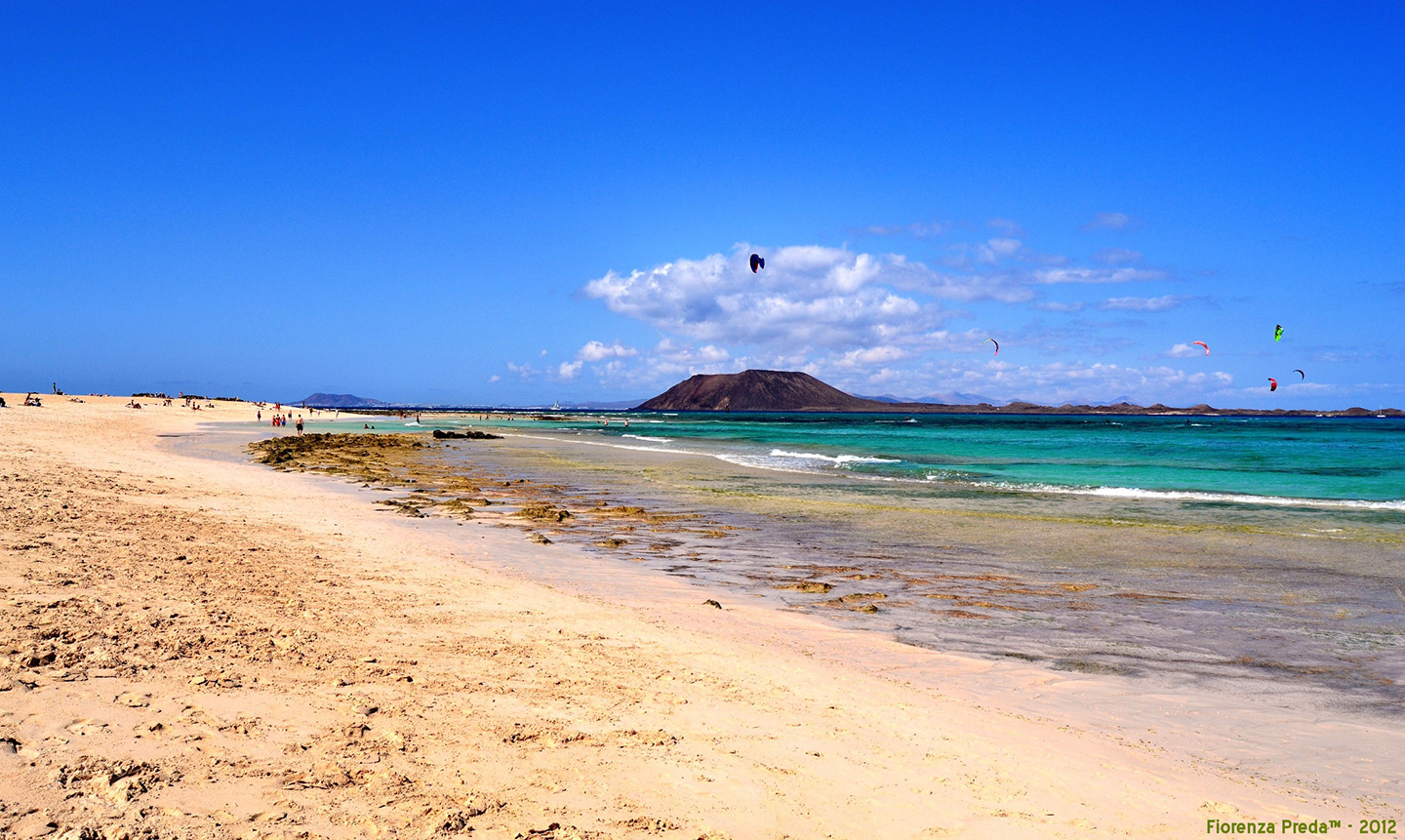 | | |
| --- | --- |
| Wave | |
| Ola | |
| Wind | NW, N, NE |
| Tide | High |
| Marea | Alta |
| | |
| --- | --- |
| Swell | NW, N |
| Bottom | Sand |
| Fondo | Arena |
| Time of year | From March to November |
| Época del año | De marzo a noviembre |
You can usually find around 20 knots at Flag Beach and the best months are during spring, from April to May and in the European summer, from June to September. During these periods, the sea is flatter and the wind is more continuous. It's a fun place that tends to be choppy with some waves to do jumps but take care of the rocks which appear at low tide. Overall, it's one of the best spots on the island and you shouldn't miss out on a session there, in addition, the wind blows more moderately than in the other kite mecca Sotavento, where it can reach 45 knots.
En Flag beach se suele navegar alrededor de 20 nudos y los mejores meses los encontraréis durante la primavera, de abril a mayo y en el verano europeo desde junio hasta septiembre, en estos periodos, el mar tiende a ser más flat y el viento más constante. Hay que tener cuidado con las rocas con marea baja porque pueden salir de cualquier parte, pero el spot es muy divertido con agua choppy junto con algunas olas para hacer comodos vuelos. Es sin duda uno de los mejores spots de la isla y no podéis perderos una sesión aquí, además, el viento sopla mucho más moderado que en Sotavento, otra meca para el kiter, que puede llegar a 45 nudos.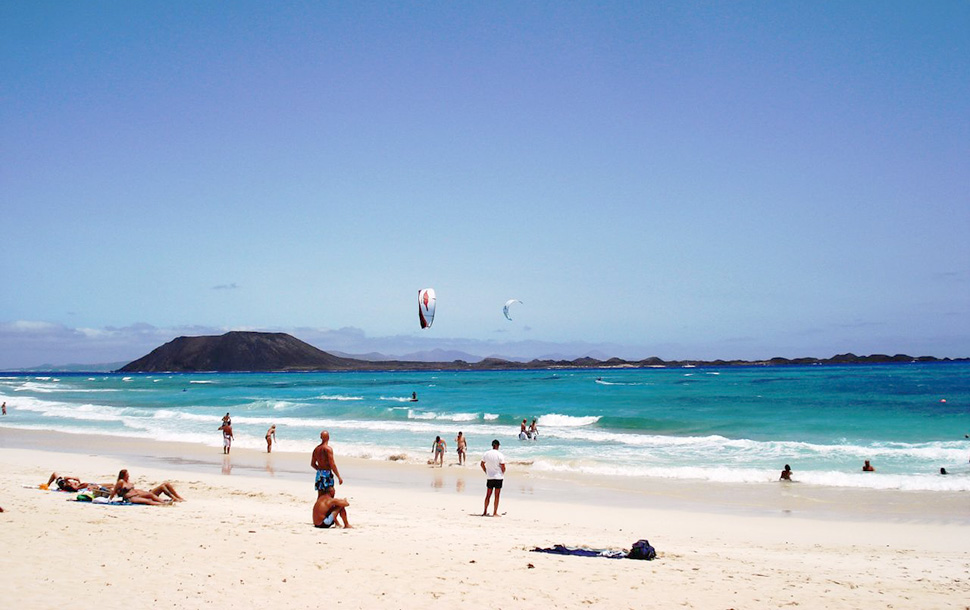 Fuerteventura is one of the Spanish Canary Islands in the Atlantic Ocean, located just 97 kilometres from the coast of North Africa. It's considered to be the oldest island in the archipelago and was formed after an eruption that took place approximately 7.000 years ago. It now offers excellent white sandy beaches from the north to the south, crystal clear waters with greenish tones and constant winds. It's also a UNESCO Biosphere Reserve thanks to its volcanic origin and is home to an endless amount of plants and priceless fauna.
Flag Beach can be found in the north, a few kilometres south of Corralejo village. Its name was 'Punta Pietra' but nowadays it's better known as Flag Beach, which is also the name of the windsurf school that has been on this extensive golden sandy beach for more than 25 years. It has flat water conditions and beautiful views of the volcanic island Los Lobos. Flag Beach is the first beach in the Las Dunas de Corralejo Natural Park. It is seven kilometres long and kite lovers have around four kilometres to enjoy the excellent conditions, above all between March and November. From December to February there can be heavy seas and although there may be very good conditions it's more difficult to guarantee good sessions. This spot works well with N side shore wind and you have the famous surf centre that offer equipment rental, classes for all levels and a rescue service. There is also a beach bar where you can get everything you need for the day so you don't have to take provisions.
Fuerteventura es una isla del Archipiélago Canario situada en el Océano Atlántico, perteneciente a España y a 97 kilómetros de la costa Noroeste de África. Es considerada la más antigua de las Islas Canarias, su extraño relieve se debe a una erupción que tuvo lugar hace aproximadamente 7.000 años ofreciendo excelentes playas de arena blanca de Norte a Sur, aguas cristalinas de tono verdoso y vientos constantes. Es además, Reserva de la Biosfera por la UNESCO debido a sus orígenes volcánicos como los malpaíses, donde habitan una variedad interminable de plantas y una fauna autóctona de incalculable valor.
Flag Beach se encuentra en el Norte de Fuerteventura, a pocos kilómetros del pueblo de Corralejo en dirección Sur. Su nombre original fue "Punta Pietra", pero actualmente es más conocida por Flag Beach, nombre de la escuela de kite que desde hace más 25 años está enclavada en esta extensa playa de arena fina dorada, aguas planas y con una hermosa vista de la isla volcánica de Los Lobos. El spot funciona muy bien con los vientos del Norte side-shore, aquí encontraréis el famoso surf center que ofrece servicios de alquiler de material, clases de todos los niveles y rescate en caso de emergencia. También cuenta con un chiringuito bar, donde tendréis todo lo necesario para pasar el día sin necesidad de llevar provisiones. Flag Beach es la primera playa del Parque Natural de "Las Dunas de Corralejo", posee siete kilómetros de longitud y los amantes del kite tendrán a su disposición alrededor de cuatro kilómetros de excelentes condiciones sobre todo de marzo a noviembre. Durante los meses de diciembre a febrero, puede haber marejada y aunque las condiciones pueden ser muy buenas es más difícil garantizar buenas sesiones.
To stay overnight, the Cotillo village has a very nice atmosphere and is only a short car journey away, in the northwest of the island. You could also stay in other smaller, quieter villages like Villaverde and if you don't have a car, Corralejo village is the best option as it's the closest. A recommended excursion is boat trip to Los Lobos Island which is six square kilometres in size and sits between Fuerteventura and Lanzarote. It is a Biosphere Reserve natural park with numerous endemic species and a valuable habitat with amazing views.
The Risco de las Peñas viewpoint at 426 metres high provides brilliant views of the islands. The varied landscape on the route to Bentacuria is spectacular. Many feed the squirrels and crows there. There's a large car park and a didactic panel that explains the things that can be seen from the balustrade. Another way to explore the island's lunar landscape is by mountain bike or quad. You'll find numerous shops in the village that rent them or you could go on an organised group tour with a guide. There are some other things, in addition to the fine dining, cultural tourism, wellness and sports that you mustn't miss. One is Jandía Beach in Esquinzo village. It's an extensive beach which has a special turquoise colour and small sandy islands around it. The Sacred Mountain, north of Tindaya village was once a sacred place for the old settlers and radiates magic and peacefulness. There is a lovely trekking route from the village to the mountain. Lastly, the Cueva Volcánica which is north of Llano Villaverde, is a 648 metre long volcanic pipe with a subterranean gallery where the secrets about the formation of Fuerteventura and the home of the only white arachnid in existence emerge.
Para pernoctar, es recomendable acudir al pueblo de Cotillo que tiene muy buen ambiente y está bastante cerca en coche al Noroeste de la isla. También puedes quedarte en otros pueblos más pequeños como Villaverde, que son mucho más tranquilos, aunque por cercanía, si no dispones de coche, la mejor opción es el pueblo de Corralejo. Una alternativa muy recomendable es la excursión en barco a la pequeña isla de "Los Lobos". Con seis kilómetros cuadrados y situada entre las islas de Fuerteventura y Lanzarote, es un precioso lugar para apartarte por un momento de todo. La isla es un Parque Natural con numerosas especies endémicas y un hábitat muy valioso con excelentes vistas, también es reserva de la Biosfera.
El mirador Risco de las Peñas a 426 metros de altura, brinda unas geniales vistas de las islas. El camino por la carretera hacia Bentacuria es todo un espectáculo por el variado paisaje que ofrece. Aquí es típico dar de comer a las ardillas y a un grupo de cuervos. Hay un gran aparcamiento y un panel didáctico que explica a la perfección los enclaves que se divisan desde la balaustrada. Otra forma diferente de explorar la isla a través de los paisajes lunares, es mediante el alquiler de mountain bikes y quads. En el pueblo que decidas pasar tu estancia, encontrarás numerosas tiendas de alquiler, además si lo deseáis, realizan rutas guiadas por grupos. Desde el mismo spot podrás contratar también estos servicios en la escuela de Kitesurf Flag Beach. Los lugares imprescindibles además de la excelente gastronomía, turismo cultural, de bienestar y deportivo que no debéis perderos son; la "Playa de Jandía" en el pueblo de Esquinzo, muy extensa y de especial color turquesa con pequeñas islas de arena fina alrededor. La "Montaña sagrada", al Norte del pueblo de Tindaya, fue antaño un lugar sagrado de los antiguos pobladores que irradia magia y paz unido al arte de la zona, un estupendo sendero desde el pueblo hacia la montaña os espera. Por último, la "Cueva Volcánica" al Norte de Llano Villaverde y muy próxima al spot, brinda 648 metros de tubo volcánico con final en un gran Jameo donde emergen los secretos sobre la formación de Fuerteventura y hogar de la única araña blanca existente.