Haapiti / French Polynesia – Surf,Bodyboard – Moorea – Society Island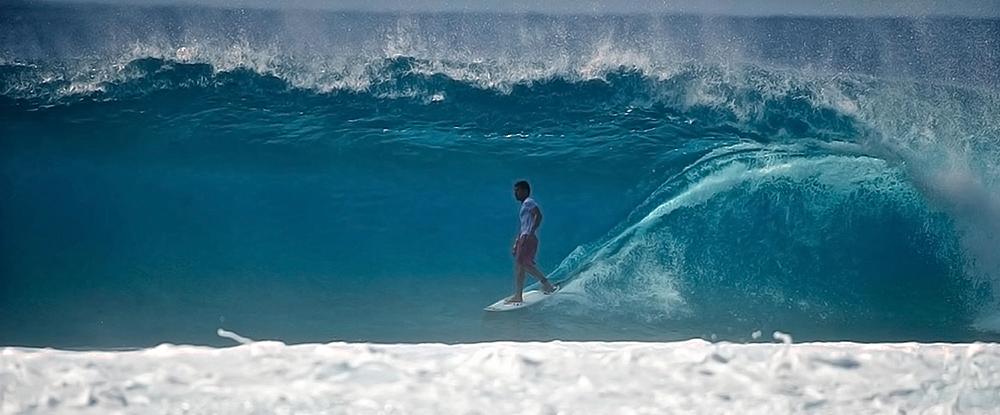 | | |
| --- | --- |
| Wave | Left reefbreak |
| Ola | Izquierda |
| Wind | NE |
| Tide | All |
| Marea | Todas |
| | |
| --- | --- |
| Swell | SW |
| Bottom | Reef |
| Fondo | Arrecife |
| Time of year | Winter |
| Época del año | Invierno |
It's a hollow and fast left-hander that works with all tides, take offs are slower than at reefbreaks. It's a difficult wave, but intermediate level surfers can enjoy it when it's not big. The best period is winter, when the SW swells get to the island with NE winds. The wind usually deteriorates the surf, so it's a good idea to go early morning, always with somebody; after a long paddle you have to deal with strong currents pushing you out, so it's not that easy to keep the line up. Take a good look at the wave before you enter the line up, to make sure the size suits your level, and save some energy for the paddle back to shore.
Es una izquierda hueca y veloz que funciona con todas las mareas, aunque genera take off más lentos que otras olas de arrecife. Siendo una ola difícil, surfers de nivel intermedio con tamaños moderados podrán disfrutar de buenos baños. La mejor época es el invierno, cuando los swells del SW alcanzan la isla y coinciden con vientos del NE, el viento suele estropearla, te recomendamos baños por la mañana y siempre acompañado. Es un lugar, que después de una gran remada tendrás que lidiar con fuertes corrientes que empujan hacia afuera, y no será cómodo mantenerte en el pico. Chequea bien el pico antes de acceder a él, asegúrate que el tamaño es acorde con tus habilidades y guarda un poco de energía para la vuelta.
Located at the SW of Moorea island, with idyllic scenery and turquoise waters, you'll find a world class left-hander. A classic French Polynesian wave, that many surfers come to visit. It's an exposed spot and is reasonably consistent, where there's usually a friendly environment for surfers of all levels. There's a 30 minute paddle to get to the break so renting a kayak or hiring a boat service is a good option so you can save your energy for the surf.
Situado al suroeste de la isla de Moorea, en un entorno paradisiaco de aguas turquesas, encontraréis una izquierda de clase mundial. Una ola clásica de la Polinesia Francesa que atrae a muchos surfistas en los días buenos. Es un spot expuesto razonablemente consistente donde el ambiente es a menudo amistoso para todos los niveles. Emplearás aproximadamente 30 min de remada hasta situarte en el pico, te recomendamos que alquiles un Kayak o contrates los servicios de un barco, reservarás todas tus energías para la ola.
The island offers a great variety of activities aswell as surf, kitesurf, windsurf and SUP. The mountains, of volcanic origin, which are covered by the green of the coconut trees, offer a great variety of paths to get to know the inland. The three coconut pass, will allow you to cross several streams among the woods of Tahitian chestnut trees, before you reach the peak and enjoy the magnificent views. If you want something more physical, you can hike to Mount Rotui but it's only for experienced hikers with a guide. The views from here are undescribable. Another good option is to rent a motorbike and go around the island as there are a couple places you can't miss; Cook bay and Opunohu bay are some of the most beautiful places in the Pacific ocean.
La isla ofrece una gran variedad de actividades además de la práctica del surf, kitesurf, windsurf y SUP. Las montañas de origen volcánico cubiertas por el verde de los cocoteros ofrecen una gran variedad de senderos para conocer el interior de la isla. La garganta de los tres cocoteros, te permitirá atravesar varios riachuelos entre bosques de castaños tahitianos antes de llegar a la cima y disfrutar de unas vistas magníficas. Si quieres algo más exigente puedes animarte con la ascensión al Monte Rotui, únicamente para senderistas experimentados y con guía, las vistas de los paisajes de alrededor, indescriptibles. Te recomendamos que alquiles una motocicleta y recorras la isla a tu aire, no debes perderte uno de los lugares más bonitos del Pacífico, la bahía de Cook y la no menos bonita, bahía de Opunohu.