Ho'okipa / United States – Windsurf – Maui – Hawaii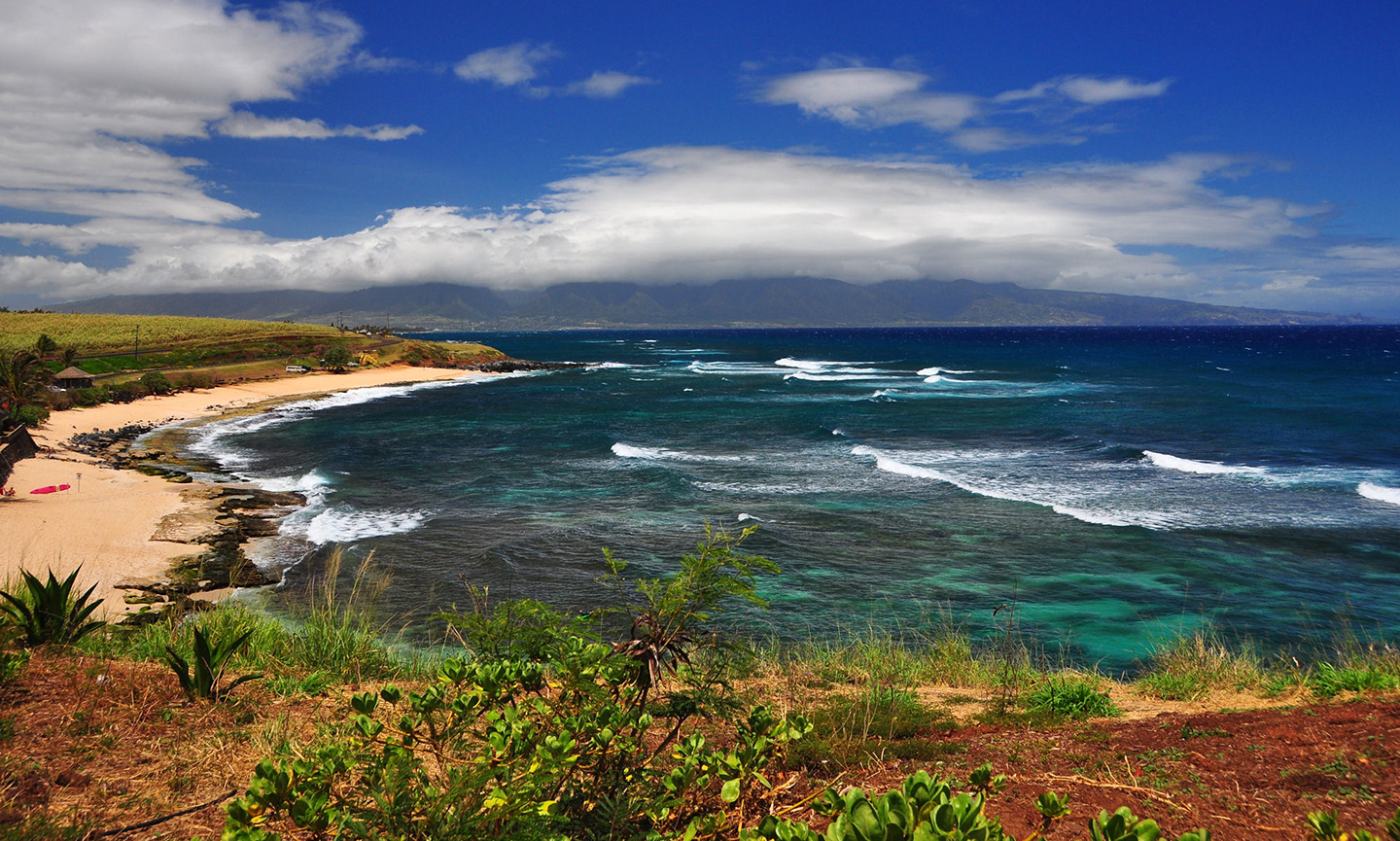 | | |
| --- | --- |
| Wave | |
| Ola | |
| Wind | ENE |
| Tide | All |
| Marea | Todas |
| | |
| --- | --- |
| Swell | NNW |
| Bottom | Reef |
| Fondo | Arrecife |
| Time of year | From September to May |
| Época del año | Desde septiembre a mayo |
The wind is nearly always gusty and the best direction is E – NE throughout the whole year. It enters side-shore, making it perfect for sailing, and with consistent waves which are perfect for front side. In the winter, the wind could come with N component and rain, making onshore conditions with unorganised waves. Another winter wind is SW, known locally as Kona Wind, it comes from the left, is very offshore and creates waves that can reach up to five metres. The waves break into lefts and you can surf them frontside. 4,5 to 5,3 m sails are usually used in the big wave season and smaller ones in the spring and summer. If you end up on the rocks and are unlucky you can destroy your equipment. The people there will often help you if this happens but take precaution and don't stay with your equipment on the rocks if you don't want to hurt yourself.
El viento es casi siempre es racheado y la mejor dirección es de E – NE durante todo el año, entre side-shore perfecto para navegar y con olas consistentes perfectas para front side. En invierno puede que el viento entre de componente N y trae lluvias, lo que lo hace on-shore con olas desordenadas. Otro viento en invierno es el SW, conocido localmente como Kona Wind, viento de la izquierda y muy off-shore, las olas pueden alcanzar hasta cinco metros. La ola rompe de izquierda y se surfea front side. Se suele navegar con velas de 4,5 a 5,3 en la época de olas grandes y con velas más pequeñas en primavera y verano. Si acabas en las rocas y tienes mala suerte puedes destrozar el material, generalmente la gente te ayuda a sacarlo de las rocas pero ve precaución y no te quedes con el material en las rocas si no quieres hacerte daño.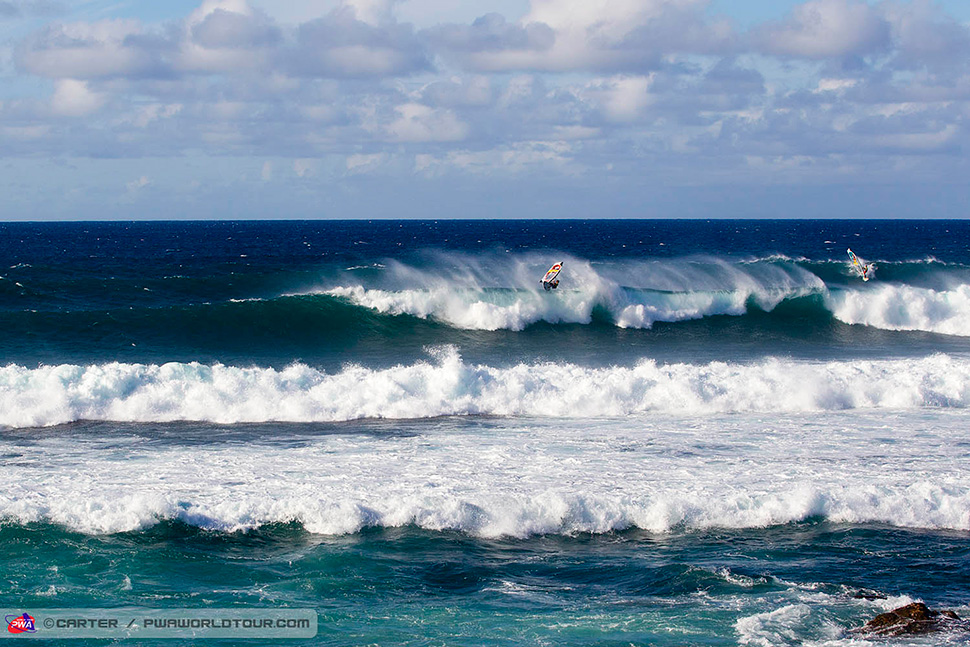 Ho'okipa Beach Park is on the north coast of Maui, on the island of Hawaii, the world's main windsurf destination. Kahului Airport is just twenty minutes away from the spot along the Hana Highway, past Paia Bay. It's very easy to get to and it's a popular with tourists looking to surf and windsurf. Home to International windsurf competitions such as the Aloha Classic Wave Championships since 1984 and the Red Bull King of the Air Kitesurf competition. The best riders in the world train there thanks to the combination of constant wind and big waves, among the riders stand out Roobie Naish, Pete Cabrina, Bjorn Dunkerbeck, Rush Randle, Jason Polakow, Kelby Anno, Dana Dawes, Jennifer Henderson and Angela Cochran.
There are two spots at Ho'okipa Beach Park. Just by going down the access road you'll see Pavilions in front of the lookout point that's on the shore, a right breaks there in the reef zone but it's exclusively for surfers and bodyboarders so it's prohibited to windsurf and kitesurf. Even if it's flat at all of the North Shore spots this wave will always be working with a NW to E swell. With extreme conditions the wave can reach four metres and close the canal so it's better to change spots. To go in, you go from the white sandy beach through a canal over the reef, but be careful of the rocks as it's quite shallow. There is another place to go in on the right side of the cliff, where the wave starts to break, it prevents you paddling but be careful as the access is a bit dangerous. When the conditions are very good it's a popular spot and can be packed with locals. Various surf championships are held there and thanks to the small cliff it is protected from the wind and works very well, even with strong W component winds.
The Ho'okipa windsurf spot stretches from the centre of the road to the incline towards Hana. The point to go in is in front of the lifeguard hut, between the reef which sticks out on the right and the last rocks on the left. It's the only place to go in and out at this spot. It's mainly sand but as soon as you put your foot into the water it's reef and is very shallow so be careful at low tide as your can damage your equipment.
Once you're in, you'll see some diamond shaped rocks, if you stop on the left and sail downwind, you'll reach a canal which will help you to exit through the waves in the least critical area of the beach, especially when they are bigger than two metres and there is little wind. If there are no waves then you can get in without problems and avoid the canal as there are no waves to push you to the rocks. There are three peaks. H'Poko or Point where the wave breaks into a right reaching End-Bowl and finishing where the canal to go back in is. Upwind from the Point is Middles, a longer left which is usually surfed. The right connects with Point, it's shorter and there will be less riders there. When you finish surfing this wave you can return to the beach and go back in again without using the canal, that's if it isn't too big and the waves aren't bigger than three metres.
Ho'okipa is the most popular spot in Maui so you should respect the locals' rules. There are certain priorities for sailing there, these are written on a sign in front of the lifeguard hut. If you can't see it, it's a good idea to ask the lifeguards before you go in the water. Surfers have priority, followed by windsurfers and then kitesurfers. If there are ten or more surfers, it's prohibited to windsurf and kitesurf. If there are nine surfers in the water, you can windsurf. Kitesurfers are allowed as long as there are less than ten windsurfers. To make it a bit easier the lifeguards use a flag system, a red flag means that there are ten or more surfers in the water but if it's down then you can sail freely. You also need to respect the timetable, which for windsurfing is from eleven in the morning until sunset, but don't worry because the wind is stronger after eleven and if you don't want to wait you can go out from the same Ho'okipa beach to the spot at Lanes which is downwind from the canal and has similar conditions as it is the continuation of the same reef.
The beach is closed at night but opens early in the morning. The lifeguards are there from eight in the morning until five in the evening. Be very careful of the many turtles which come out during sunset. Another of the main winter attractions is the monstrous Jaws wave, one of the biggest waves in the world which works between December and March.
Ho'okipa Beach Park, se encuentra en la costa norte de Maui, en la isla de Hawaii, es el principal destino del windsurf del mundo. El Aeropuerto de Kahului se encuentra a veinte minutos del spot a través de la carretera de Hana Highway y la ciudad de Paia, el acceso es muy cómodo y es un lugar frecuentado por muchos turistas en busca de surf y windsurf. Destacan las competiciones internacionales de windsurf como el Aloha Classic Wave Championships desde el año 1984 y la Red Bull King of the Air de Kitesurf. Aquí entrenan los mejores riders del mundo gracias a su combinación de viento constante y olas grandes, entro los riders destacan Robbie Naish, Pete Cabrina, Bjorn Dunkerbeck, Rush Randle, Jason Polakow y Kelby Anno, Dana Dawes, Jennifer Henderson, Angela Cochran.
En Ho'okipa Beach Park encontramos dos spots, nada más bajar la carretera de acceso está Pavilions frente al mirador que hay en la orilla, aquí rompe una derecha en la zona de arrecife exclusiva para surf y bodyboard, por lo que está prohibido el windsurf y el kitesurf. Es una ola que aunque esté plano en todos los spot de North Shore, siempre funciona con swell de NW a E, cuando las condiciones se vuelven extremas la ola es de hasta cuatro metros se cierra el canal, lo mejor es cambiar de spot. La entrada del spot está en la playa con arena blanca a través de un canal del arrecife, cuidado con las rocas ya que hay poca profundidad. Existe otra entrada por la parte derecha del acantilado, junto donde empieza a romper la ola, te evitará remar pero cuidado con el acceso es un poco peligroso. Es un spot frecuentado por locales cuando las condiciones son muy buenas, y cuando la ola está pequeña se vuelve masiva. Se celebran varios campeonatos de surfing y gracias al pequeño acantilado hace que se proteja del viento por lo que funciona muy bien incluso con condiciones fuertes de viento de componente E.
El spot de windsurf Ho'okipa alcanza desde el centro de la carretera hasta la subida hacia Hana, la entrada al spot se encuentra frente a la caseta de socorristas entre el arrecife que sobresale a la derecha y las últimas rocas de la izquierda; es la única entrada y salida de este spot, es de arena al principio pero en cuanto pones tu pie en el agua hay arrecife y cubre muy poco, así que ten cuidado al entrar con marea baja ya que puedes dañar el material.
Una vez entras verás unas rocas en forma de diamante, si dejas a mano izquierda y navegas hacia sotavento llegas al canal que te ayudará a salir por la zona menos crítica de la playa y pasar las olas sobre todo cuando son de más de dos metros y hay poco viento, si no hay oleaje puedes entrar sin problema y evitar el canal ya que la ola no te empuja hasta las rocas. Existen tres picos, H'Poko o Point donde la ola rompe de derecha hasta End-Bowl donde termina está el canal para volver a entrar. A barlovento del Point está Middels que rompe de izquierda, es más larga y se suele hacer surf. La derecha conecta con Point por lo que es más corta y no hay tantos riders. Al acabar de surfear esta ola puedes volver a la playa y entrar de nuevo sin coger el canal, si no está muy grande y las olas no superan los tres metros.
Ho'okipa es el spot más visitado de Maui, por lo que debes respetar las normas locales. Debes saber que existen prioridades para navegar, frente a la caseta de los socorristas hay un cartel donde explican dichas normas. En el caso de que no lo veas, lo mejor es preguntar a los propios socorristas antes de entrar a navegar. La prioridad la tiene el surfing, seguido de windsurf y kitesurf, si hay diez surfistas o más se prohíbe el windsurf y el kitesurf. Si hay nueve surfers en el agua se puede hacer tanto windsurf como kitesurf si hay menos de diez windsurfistas. Para entender estas normas los socorristas cuentan con un sistema de señalización mediante banderas, si hay una bandera roja arriba significa que hay diez surfistas o más. Si la bandera está abajo puedes navegar sin problema. Además, hay que respetar el horario para navegar, que para windsurf es de once de la mañana hasta el sunset, no te preocupes por ello, ya que el viento empieza a soplar con más intensidad a partir de esa hora. Si no te apetece esperar puedes salir por la misma playa de Ho'okipa hasta el spot de Lanes que se encuentran a sotavento del canal con condiciones similares, ya que es continuación del mismo arrecife.
La playa se cierra por las noches, pero abre bien temprano. Los socorristas están de ocho de la mañana a las cinco de la tarde. Ten mucho cuidado con la cantidad de tortugas que salen durante el sunset y mientras surfeas. Otro de los principales atractivos en invierno es la monstruosa ola de Jaws que funciona entre Diciembre y Marzo, es una de las olas más grande del mundo.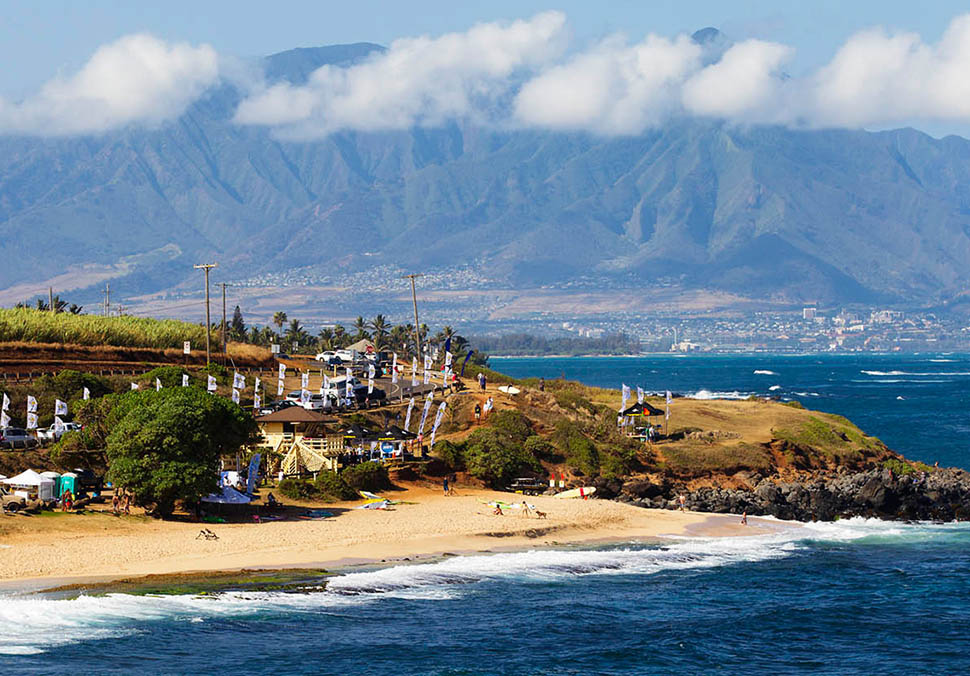 Maui has many interesting activities to offer. The south and west have a better climate and very beautiful beaches that are definitely worth visiting. One of the visitors' favourites is Kaanapali Beach, which features in all the world's best beach listings, and on the south side, Makena Beach is also world class. Honolua Bay is a special place, above all for diving in the summer. It forms part of the Mokuleia Marine Life Conservation District for the importance of its rich marine life, you can be sure to find an abundance of fish and coral. We recommend renting the equipment from the local shops, it'll be a lot more economical.
Watching the sunrise at the Kaleakala Crater is an experience you will never forget. You'll have to leave very early and don't forget to take warm clothes with you. You can go on an organised trip or by yourself with a rental car if you pay a small entrance fee. If you have rented a car, you shouldn't miss driving along Hana Highway, famous for its majestic waterfalls, wild coastline and exuberant tropical rainforest. If you visit the island in February, you are lucky as it's the best time to see the whales during their annual migration. You'll see them easily from the Pali cliffs, between Lahaina and Wailea.
Son muchas y atractivas las actividades que ofrece una isla como Maui. El Sur y el Este ofrecen el mejor clima y sus bellísimas playas bien merecen una visita, una de las favoritas de los visitantes es Kaanapali Beach, candidata en todas las listas a mejor playa del mundo, en el lado sur Makena Beach es también una playa de clase mundial. Honolua Bay es un lugar privilegiado para bucear sobre todo en verano, forma parte del Mokuleia Marine Life Conservation District por la importancia de su riqueza marina, la abundancia de peces y corales está asegurada y te recomendamos que alquiles los equipos en tiendas locales, mucho más económico.
Ver amanecer en el Kaleakala Crater es una experiencia que jamás olvidarás, tendrás que salir bien temprano y no olvides ropa de abrigo, podrás acceder mediante un tour organizado o por tu cuenta en coche alquilado pagando una pequeña cuota de entrada. Si has alquilado un coche no puedes perderte la carretera de Hana, famosa por sus majestuosas cascadas, costa salvaje y exuberante selva. Si te encuentras en febrero en la isla, estas de suerte puesto que es la mejor época para ver ballenas en sus migraciones anuales, desde los acantilados de Pali entre Lahaina y Wailea las podrás ver a fácilmente.