Hossegor / France – Surf,Bodyboard – Landes – Aquitaine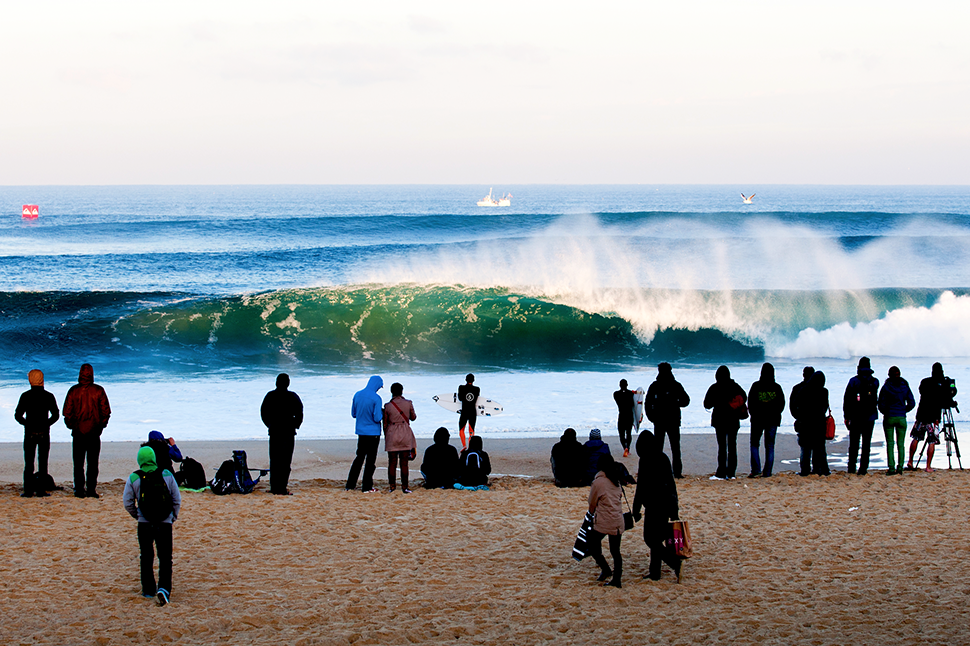 | | |
| --- | --- |
| Wave | Beachbreak |
| Ola | Playa |
| Wind | E |
| Tide | All |
| Marea | Todas |
| | |
| --- | --- |
| Swell | W - NW |
| Bottom | Sand |
| Fondo | Arena |
| Time of year | From September to May |
| Época del año | Desde Septiembre a Mayo |
The best season is the end of the summer and autumn as it's when the majority of tourists leave and the low pressures begin to deepen in the North Atlantic, sending the first swells. In comparison to the other nearby spots, Hossegor is always noticeably bigger and more powerful due to the littoral configuration and the seabed. Except for the days when it's extremely cold in the winter, it can be considered as a year round spot. Even with the onshore wind from the west, the good colocation of the sandbanks means that the waves get good rideable sections with verticals, they're punchy and have good shape. With light breezes from the east and southeast and any swell from N – NW, the ideal conditions usually come in the early morning and many more times during the day.
The tide is a factor that has to be taken into account as it could make or break your session within minutes because there are big tide changes there, sometimes reaching a difference of six metres. Therefore, the conditions will change drastically throughout the day and prior knowledge of the tides is the key. Watch the locals as they will appear and disappear at the right times. It's important to consider that there is a tendency for people to crowd at the main peaks, but the conditions change quickly and perfect waves can sometimes appear out of nowhere just a few metres away. Another thing to consider is the strong currents, above all by the shore, as they can be like rivers and you need to be able to interpret them well.
In the winter it is very cold and you'll need at least a 5 mm wetsuit, booties and a hood. The days with good waves and offshore wind are hard to endure as the air that comes from inland is very cold. In the spring, the atmosphere quickly gets warmer but the water is still cold. It's worth noting that you could be alone during some sessions after the brutal winter storms that change the configuration of the banks. In the summer, sessions in swimwear with fun waves and masses of people is normal and because of the heavy beach traffic it's not recommended to arrive or leave by car between 10 and 12 in the morning and 5 and 7 in the afternoon. The three main peaks at Hossegor are Nord, a peak which when it works, is one of the few that can be surfed in the north of Capbreton when the swell is more than 10 feet. This exterior bank is a big wave peak where they occasionally do tow-ins, it holds huge rights and has a channel to go in. If you opt for the left, you'll need to be strong because it's a tough paddle to get back and the best option is usually to go out and look for the channel. It can work with all tides but mid tide is the best. When the swell is smaller there are often a lot of SUPs.
Graviere is the typical barrelling beach break which works with most tides, however it's best at mid tide and rarely works with tides that are too high. With 4 to 8 feet swells and glassy waters, the conditions and the beach barrels are perfect. On occasions, although the swells look messy when they are further out, when they get closer, the Graviere beds take shape and the waves are very good although the take off zone can vary a lot. Sud is the most southern peak and faces towards Capbreton. It's a peak that is surprisingly a lot smaller, despite having the same shape as Nord and Graviere, and it's the opposite of them because the lefts aren't as good. It's often used by beginners and people who are progressing. It doesn't work at high tide and the water quality may be mediocre due to the proximity of the river.
La mejor temporada es a final de verano y otoño, cuando las bajas presiones se empiezan a profundizar en el Atlántico Norte enviando los primeros swell con entidad y los turistas empiezan a abandonar la zona. Hossegor debido a la configuración del litoral y el fondo marino es especial respecto a los spots de los alrededores, aquí siempre hay un notable plus de tamaño y fuerza. Esta es una zona que, salvo días de temporal y frio extremo en pleno invierno, se puede considerar un spot para todo el año. Es un spot que incluso con el viento onshore de Oeste, la buena colocación de los bancos hace que las olas mantengan buenas secciones surfeables y verticales, empuje choque y buena forma. Con ligeras brisas de Este y Sureste y en cualquier rango de Swell W – NW las condiciones ideales son usuales al amanecer y muchas veces durante toda la jornada.
La marea es un factor que hay que tener muy en cuenta, puede hacer que tu sesión sea una maravilla o que se estropee en minutos. Esto es porque los cambios de marea en Francia son muy grandes pudiendo alcanzar en ocasiones 6 metros de diferencia, esto quiere decir que a lo largo del día las condiciones van a cambiar radicalmente y el conocimiento es la clave para que el surf no sea una ruina, un consejo es fijarse en los locales, ellos aparecen y desaparecen justo en los buenos momentos. Es importante considerar que existe una tendencia a que la gente se masifique en los picos principales, pero aquí las condiciones cambian rápido y con conocimiento puede haber olas perfectas que aparecen de la nada a pocos metros de distancia. Otro aspecto a tener en cuenta es que se generan importantes corrientes, sobre todo cerca de la orilla, son como ríos que hay que interpretar.
En invierno el frio es duro. Mínimo es necesario un 5 mm, escarpines y capucha de neopreno. Los días de vientos offshore con buenas olas son duros porque el aire que procede del interior llega helado. En primavera el ambiente se templa rápido aunque el agua sigue muy fría, y es bueno tener en cuenta que las sesiones pueden ser solitarias después de las brutales temporales invernales que cambian la configuración de los fondos. En verano las sesiones en bañador con olas divertidas entre masas es lo normal y entre ellas alguna ocasional subida del mar ocasional. En estas fechas es recomendable por el tráfico no conducir en horas de llegada y salida a la playa entre las 10 y 12 de la mañana y las 5 y 7 de la tarde.
Los tres picos principales de la playa de Hossegor son, La Nord, Un pico que cuando funciona es uno de los únicos surfeables al Norte de Capbreton cuando el swell sube de diez pies. Este banco exterior es un pico de olas grandes donde ocasionalmente se hace Tow-in, aguanta enormes derechas y posee un canal de entrada, si optas por la izquierda asegúrate que estas fuerte porque la remada es dura y seguramente la mejor opción es salir y buscar el canal de entrada. Puede funcionar con todas las mareas pero la media es la mejor. Cuando hay poco mar es pico frecuentado por SUPs. La Graviere es el típico tubo orillero de Hossegor, funciona con todas las mareas pero lo mejor es la media y rara vez funciona con mareas demasiado altas, con swell de 4 a 8 pies y mar glassy las condiciones y los tubos de playa son perfectos. En ocasiones aunque el fondo se vea como un mar desordenado, cuando ese mar se acerca a los fondos de la Graviere coge forma y las olas son muy buenas aunque la zona de take sea muy variable. La Sud es el pico que queda más al sur mirando hacia Capbreton, este es un pico que sorprendentemente a pesar de estar enfrentado de la misma forma que la Nord o la Graviere, el tamaño es muy inferior y al contrario que en los otros las izquierdas son mejores, es frecuentado por los principiantes y los que progresan, no funciona con marea alta y quizás la calidad del agua es regular debido a la mayor proximidad del rio.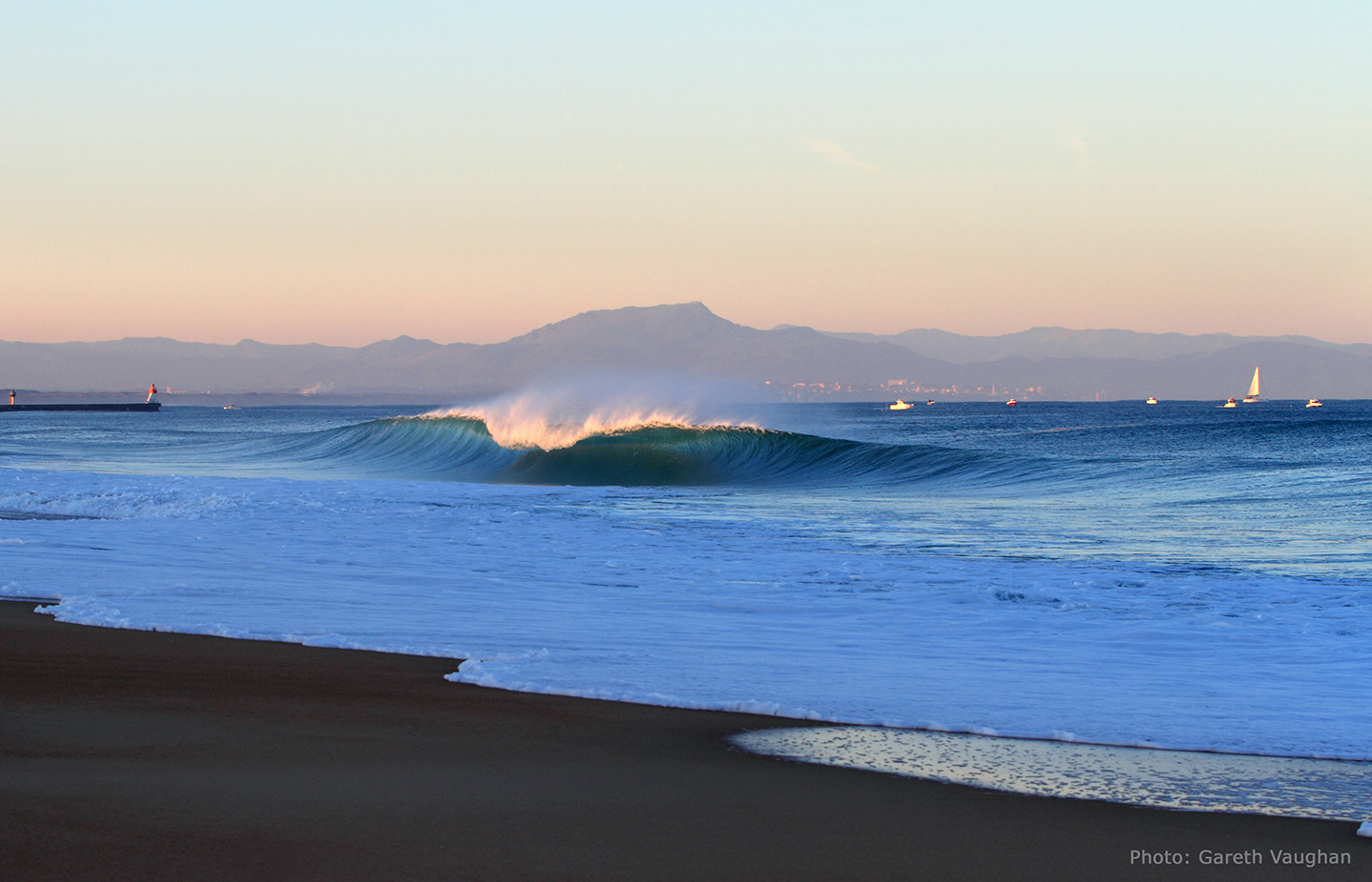 Hossegor is the most famous spot in Les Landes on the southwest coast of France. Together with Supertubes in Portugal, it's the best European Atlantic beach break and without doubt, the most traditional. Internationally, it's considered as the European surf capital. Soorts-Hossegor village is a part of the Aquitania region, and the nearest main airports are Biarritz and San Sebastian which are both an hour away, or Burdeos which is two hours away. The main road which takes you to this part of the coast is the A63, follow this until exit 8 (Bénesse-Maremne) then follow the signs to Capbreton-Hossegor-Labenne, taking first the D28 and then the D152, paying attention to the round-a-bouts as there are a lot and they can cause confusion. Once you cross the Hossegor canal, to the right of Capbreton Port, you'll be very close and you'll find a car park on Blvd Notre Dame or Blvd De La Grand Dune, south of the Front de Mer.
This valuable stretch of coastline that will seduce any European surfer is known as Les Landes, a term derived from the unique ecosystem that boarders the whole of the littoral that faces the Atlantic Ocean. Less than a century ago it was a wild and impassable flat area of land with dunes and was full of shrubs, forests and swamps with mosquitos and the people had to walk with stilts to get through it. At the beginning of the XIX Century, it was Napolean III that fell in love with the place and decided to improve the situation with the demanding job of drying and settling the land, and planting miles of pines. The access and articulation gradually became possible in what is now the largest maritime forest in Europe. A century ago, no one would be able to imagine how Hossegor has changed. Everything began when the first surfers arrived at this beach in the sixties and discovered a beach break like nothing they had ever seen, not even in California. Among the pioneers were Billy Hamilton, Wayne Linch and Nat Young, and they showed the rest of the world the secrets that Hossegor was hiding in the video Evolution and Waves of Change. In the seventies, more surfers from Biarritz arrived and in the eighties, with the championships that were being held, it became a respectable sport and the surf industry began.
Technically, it's known for having the best quality sandbanks in the world, and it's where the famous peaks Graviere and Nord are, along with Sud which is slightly separated from them. A few hundred metres north is where you'll find Seignosse and further south you'll find the Capbreton peaks and the famous Piste. With a bit of luck, but above all, with knowledge, your sessions there will be unforgettable. The surfing goes from deep, powerful barrels on the shore at Graviere that will remind you of Backdoor, and waves that give perfect ramps for manoeuvres a little further out from the shore, to pumps on the outer sandbanks of Nord that will remind you of Sunset when they hit fifteen feet. A characteristic which is unique to Hossegor is the consistency and the extra size of the waves thanks to the submarine canon that concentrates all of the energy and swell and directs it towards Hossegor and its main peaks. This is evident when you see the big waves in Nord which are surfed by tow-ins.
The best season is from September until November because after the summer the sandbanks are very well formed, the climate is still extraordinarily mild, meaning that you can still surf without a wetsuit as the Atlantic is warmer there than at any other European coastline that faces the Atlantic. There are hundreds of places to eat, drink and meet people. The accommodation options are varied and range from hostels, apartments that you can rent with your friends and campsites with zones for tents, vans and caravans. At the end of September the Quik Pro France is celebrated there. The expectation, quality of the waves and the charm of the place makes it one of the most important events of the WCT. Graviere has been the headquarters of the area since 2002 and we can't forget the epic conditions that gave victory to Andy Irons in 2004 and Mick Fanning in 2010. It's logical that the elite French and European surfers train there. Among those are Jean Sarthou, Miky Picon, Eric Rebiere, Laurent Pujol, Romain Cloiture, Dimitri Ouvre, Patrick Beven, Jeremy Flores, Joan Duru Marc Lacomare, Alizée Arnaud and even the ex-world champion Tom Curren and his daughter Lee Ann. Most of the major surf companies have their European headquarters in Soorts-Hossegor and along with them are the local shapers and creators of the best boards for surfing these waves, among those are Christian Bradley Starks and Peter Daniels.
Hossegor se encuentra al suroeste de Francia, en la conocida zona de las Landas, esta localidad y sus olas son tan importantes que se puede decir que junto a Supertubos en Portugal es el mejor Beachbreak europeo y sin duda el de más tradición, de hecho, a nivel internacional es considerado la capital europea del surf. La Villa de Soorts-Hossegor perteneciente a la región de Aquitania, los aeropuertos cercanos más importantes son los de Biarritz y San Sebastián a una hora de distancia, o el de Burdeos a dos horas. La vía principal para moverse por este tramo de costa al Suroeste Francés es la A63 hasta la salida 8 de Bénesse-Maremne. La dirección a tomar es Capbreton-Hossegor-Labenne cogiendo primero la D28 y luego la D152, atento a las rotondas porque son numerosas y a veces lleva a confusión. Una vez que crucemos el canal de Hossegor en el margen derecho del Puerto de Capbreton. Estarás muy cerca y encontrarás un parking en 'Bd Notre Dame' o en Blvd De La Grand Dune al Sur de la Front de Mer.
Este valioso tramo de costa que seduce a cualquier surfer europeo es conocido como las Landas, un término que deriva del ecosistema único que bordea todo este litoral enfrentado al Océano Atlántico. Una zona que no hace más de un siglo era intransitable y salvaje, una tierra llana con dunas imparables, llena de matorrales, bosque y ciénagas con mosquitos en la que las personas andaban con zancos. A comienzos del siglo XIX fue Napoleón III el que enamorado de este lugar decidió arreglar esa situación con un exigente trabajo de desecación, asentamiento del terreno y la plantación de miles de pinos, poco a poco fue posible la accesibilidad y la articulación en lo que hoy día es el mayor bosque marítimo de Europa. Nadie hace un siglo podía imaginarse en lo que Hossegor se ha convertido, todo empezó cuando los primeros surfers llegaron a esta playa allá por los sesenta y descubrieron esas olas de playa que no habían visto ni en California, entre estos pioneros se encontraban Billy Hamilton, Wayne Linch o Nat Young, estos mostraron al resto del mundo los secretos que escondía Hossegor en el video 'Evolution and Waves of Change', en los setenta empezaron a llegar más surfers desde Biarrtitz y en los ochenta, con los primeros campeonatos, empezó a ser un deporte muy respetado y empezando la industria del surf a situarse por la zona.
Técnicamente es reconocido por poseer los bancos de arena con mayor calidad del mundo, aquí están los famosos picos de La Graviere y La Nord, un poco más separada La Sud y por si fuera poco a unos cientos de metros al Norte los picos de Seignosse y un poco más al Sur los de Capbreton y la famosa 'Pistè'. Con suerte, pero sobretodo con conocimiento, las sesiones podrán ser inolvidables, el surfing que aquí se desarrolla va desde potentes y profundos tubos orilleros en la Graviere que recuerdan a Backdoor, olas que dan rampas perfectas para maniobras un poco más separadas de la orilla y bombas en los bancos de arena exteriores de la Nord, los que cuando entran quince pies recuerdan a Sunset. Una característica única en Hossegor es la consistencia y el tamaño extra de sus olas gracias al cañón submarino que concentra toda la energía del swell y la dirige justo hacia Hossegor y sus picos principales, sobretodo esto es evidente con las grandes olas que son surfedas con Tow-in en 'La Nord'.
La mejor temporada por varias razones es desde septiembre hasta noviembre, los bancos de arena después del verano están muy bien formados, el clima sigue siendo extraordinariamente templado, incluso en septiembre es posible surfear en bañador, estas son las aguas más calientes de la Europa Atlántica. A ello se suman mil lugares de ambiente para beber, comer y conocer gente. Las opciones de alojamiento son variadas, hostales, alquiler de apartamentos que entre un grupo de amigos son buena opción, hay varios campings y zonas de pago acondicionadas para furgonetas y autocaravanas. A final de septiembre se celebra el Quik pro France, la expectación, calidad de olas y el encanto del lugar hace que sea actualmente una de las pruebas más relevantes del WCT. Desde 2002 el pico de la Graviere es su sede principal, recordar las épicas condiciones que se dieron en las victorias de Andy Irons en 2004 o la de Mick Fanning en 2010. Es lógico que en Hossegor entrena y surfea toda la élite del surfing europeo y sobretodo francés, entre ellos son habituales Jean Sarthou, Miky Picon, Eric Rebiere, Laurent Pujol, Romain Cloiture, Dimitri Ouvre, Patrick Beven, Jeremy Flores, Joan Duru Marc Lacomare, Alizée Arnaud e incluso el excampeón del mundo y mítico afincado aquí Tom curren y su hija lee ann Curren. Al igual que los riders, también la Mayoría de compañías de Surf tienen su sede central europea en Soorts-Hossegor y junto a ellas reconocidos shaper locales creadores de las mejores tablas para surfear estas olas, entre ellos Christian Bradley, Starks o Peter Daniels.
The old European style, French culture, architecture, gastronomy and animated nightlife make Hossegor an excellent holiday destination as well as being home to what is considered by many as the best European beach break in the world and Europe's surf capital. Many international surf companies like Quiksilver, O'Neill, Oxbow, Rip Curl and Volcom among others have their headquarters there and it has more than half of the movement in the European surf market. These companies have big end of season sales at Easter so it's an excellent time to update your wardrobe or equipment.
Wherever you go, surf is the breath of life and you'll find shops, surfcamps, shapers and an atmosphere that will make your stay unforgettable. Les Landes has hundreds of kilometres of beaches that are protected by dunes, surrounded by pine and oak trees with 140 kilometres of bike tracks that pass through the typical villages. Ecotourism and sustainable development are very important and you'll see a wide range of parks and facilities for outdoor activities.
There are numerous nature parks where you can go trekking, mountain biking and snorkelling on the protected beaches like Marais d'Orx and L'Etang Noir. You can practice your skateboarding skills in the indoor skatepark, Skate Hossegor. It's suitable for all levels and you'll find a lot of fun elements like stairs, ramps, numerous rails, a grind zone and pyramids. Lastly, you shouldn't miss the giant Pyla Dune which is more than 100 metres high, 60 million cubic metres of fine sand covering 57 hectares of land and is three kilometres long. It increases by about four metres in size every year, growing towards the Les Landes forest. Access to it is unrestricted so you can climb it and take in the amazing panoramic views.
El atractivo de la vieja Europa, la cultura francesa, la arquitectura, la gastronomía y la animada vida nocturna hacen que Hossegor sea un destino excelente para pasar unas vacaciones, además es considerado por muchos el mejor beachbreak del mundo y la capital del surfing en Europa. Multitud de Empresas de nivel internacional tienen una sede aquí como, Quiksilver, O'Neill, Oxbow, Rip Curl o Volcom entre otras y mueven más de la mitad del mercado Europeo relacionado con el Surf. En Semana Santa estas grandes empresas liquidan el material de temporada y es una excelente época para renovar el armario o el equipo con suculentos descuentos.
La zona respira Surf por cualquier lado al que vayas, encontraréis tiendas, surfcamps, locales, shapers y un genial ambiente haciendo que tu estancia sea inolvidable. Las Landas posee cientos de kilómetros de playas protegidas por las dunas, rodeadas de pinares y robles con 140 kilómetros de carriles bici que atraviesan pueblos típicos de Norte a Sur y de Este a Oeste. El ecoturismo y el desarrollo sostenible de la zona son muy importantes y verás un amplio catálogo de parques e instalaciones para realizar deporte al aire libre.
Encontraréis numerosos Parques naturales en los que podréis hacer trekking, mountain bike y snorkel en sus playas protegidas como son Marais d'Orx y l'Etang Noir. Podréis practicar skate en su gran pabellón indoor en el Skate Hossegor que cuenta con divertidos módulos, escaleras, ramps, bowl, hubbas y pirámides en constante evolución, apto para todos los niveles. Por último, no podéis perderos la Duna Gigante de Pyla. Posee más de cien metros de altura, 60 millones de metros cúbicos de arena fina sobre 57 hectáreas de terreno que ocupa tres kilómetros de longitud. Avanza hacia el bosque de Las Landas sobre cuatro metros anuales, es una duna viva, de libre acceso al cual podrás ascender y contemplar unas geniales panorámicas.