Joaquina Beach / Brazil – Surf – Florianopolis – Santa Catarina – South Brazil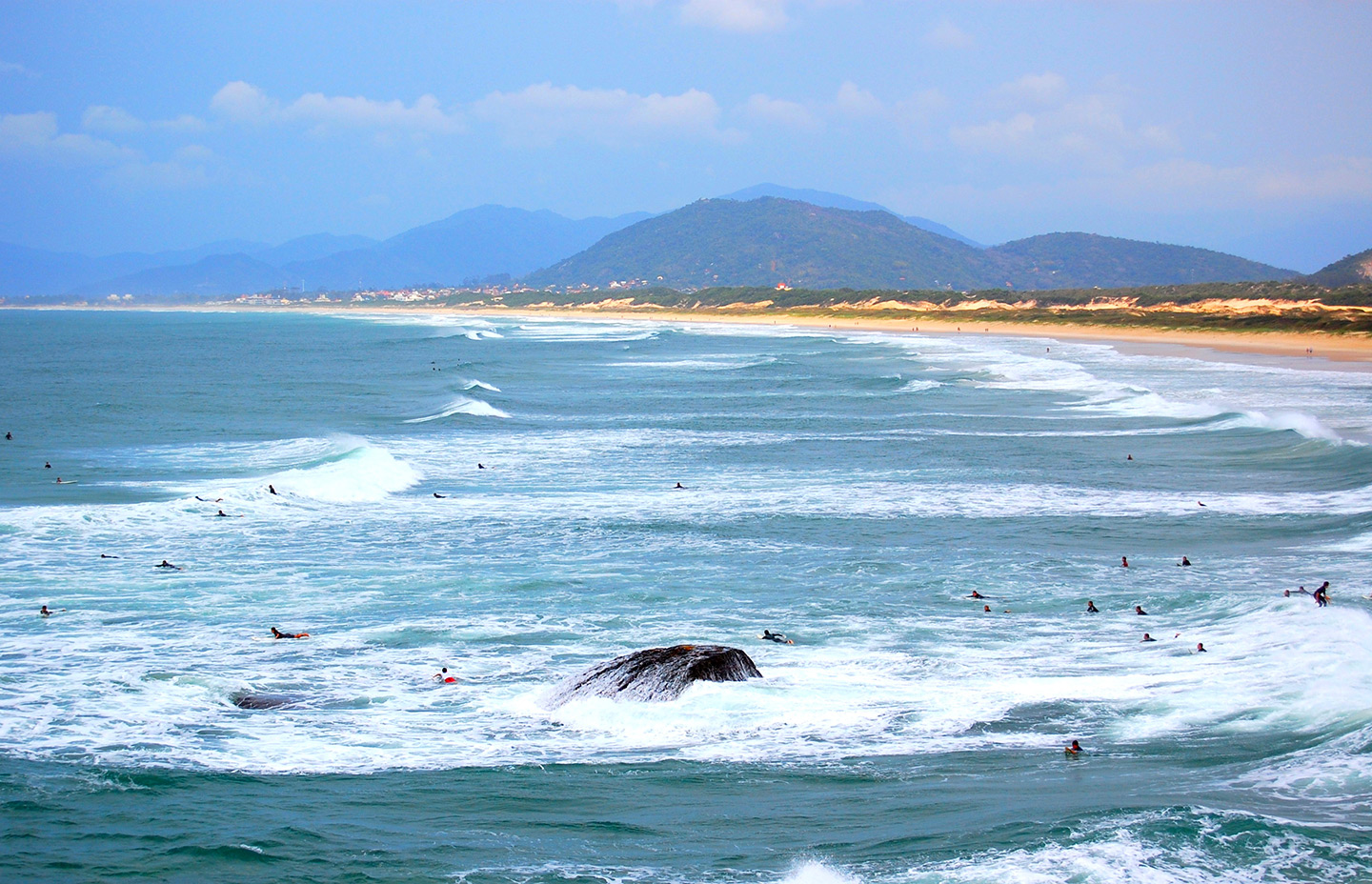 | | |
| --- | --- |
| Wave | Beachbreak |
| Ola | Playa |
| Wind | NW - SW |
| Tide | All |
| Marea | Todas |
| | |
| --- | --- |
| Swell | E - S |
| Bottom | Sand |
| Fondo | Arena |
| Time of year | From March to September |
| Época del año | Desde marzo a septiembre |
The best time of year is between April and October, during winter in the South Atlantic, as it's when Joaquina is very consistent and works with any type of swell or tide. For many, the best months are March and April as the water is still warm, the summer crowds begin to leave Floripa, the banks are perfect and the first swells arrive. Between April and October you can be assured of waves and it's out of season which is beneficial to your wallet. August, September and October are the most consistent months with regards to surfing but they are the most unpleasant with regards to the weather compared to the rest of the year, although having waves and a light wetsuit is enough to make up for this.
The main peak, on the left side, is a point break with lefts called Pico da Pedra do Careca and it works best from half a metre to two metres, with E swell and N winds. It can reach three metres if it's very good quality and is the most popular peak with the locals. The other options are the beach breaks that extend towards the south. The rights are better on the inside and there can be good barrels with a S or SW swell. In the summer there is a NE swell and it occasionally gives good waves but it's less consistent. One thing that is important to know is that the winds are very variable and change quickly. You need to take this into account because a fantastic morning can change completely within minutes.
La mejor temporada del año es entre abril y octubre, es el invierno del Atlántico sur, en estos meses Joaquina en un spot muy consistente que funciona con cualquier tipo de swell y marea. Para muchos los mejores meses son marzo y abril, el agua aún está muy caliente, los veraneantes empiezan a abandonar floripa y los bancos están en perfecto estado con los primeros golpes de mar. Entre Abril y Octubre las olas están aseguradas, es temporada baja, lo cual es un beneficio para el bolsillo. Agosto, septiembre y octubre son los meses más consistentes en cuanto a surfing, pero los más desapacibles en cuanto al tiempo atmosférico respecto al resto del año, aunque habiendo olas y con un ligero neopreno eso no hay ningún inconveniente.
En el lado izquierdo se encuentra el pico principal, un Point de izquierdas llamado pico da Pedra do Careca que funciona mejor con swell de Este y vientos de norte desde medio metro a dos. Este point puede llegar a los tres metros con muy buena calidad y siempre es el pico más local. La otra opción son los picos de playa que se extienden hacia el sur las derechas son mejores en el inside y dan muy buenos tubos con swell de sur, sureste. En verano hay swell de NE y también hay en ocasiones buenas olas pero la consistencia es menor. Algo que es importante saber es que los vientos son muy variables y cambian rápidamente, hay que tenerlo en cuenta porque un baño mágico por la mañana se puede convertir en todo lo contrario en minutos.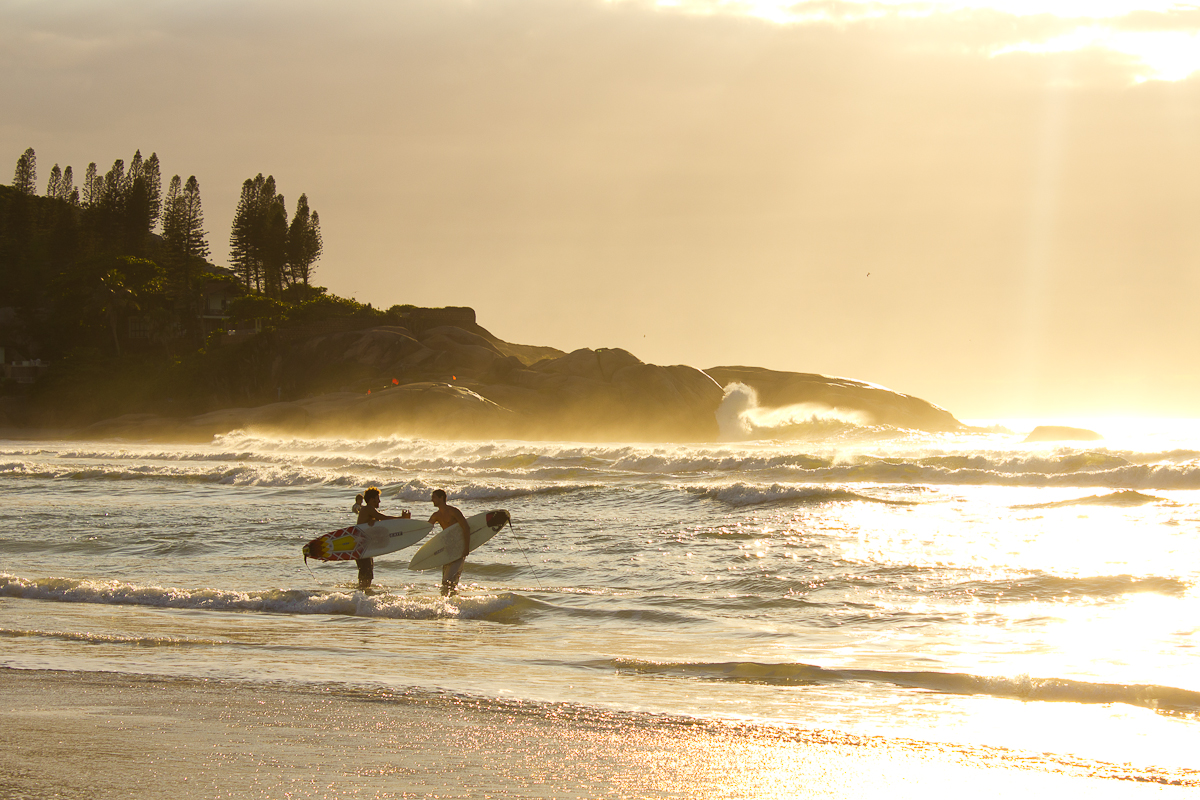 Praia Joaquina, also known as Praia Joaca, is one of the most important spots in Florianopolis, the capital of Santa Catarina State in southern Brazil. With the millenary rocks on the left, the colour of the water and the big dunes are unique elements that make Praia Joaquina unmistakeable and is why it's one of the most beautiful and most popular beaches in Floripa. It's always lively, especially at the weekends when you can enjoy the authentic Brazilian beach atmosphere. Santa Catarina's international airport Hercílio Luz is only half an hour away from Avenida Prefeito Acácio Garibaldi, which leads to Praia Joaquina. At the beach there is a parking area, a bus line, toilets, bars, leisure centres and surf schools with board rentals if necessary.
The history of surfing in Joaquina began in the seventies with Celso Ramos who they say was the first surfer there. He was later joined by legends like Betinho Rodrigues, Niltinho Ramos and Ricardo Schoreder. The mid seventies was a very important time as it's when the legend Fernando Moniz and Piu Surfboards, the shaper Paulinho Guinle's brand, were feeling the sensation of the era and boosted modern surfing in Floripa. The surf competitions were somewhat normal in Joaquina and in 1976 they celebrated the first surf festival in Florianópolis. Hundreds of surfers gathered at Joaquina for 'I Rock, Surf e Brotos' and from then on the spot became the centre of the surf culture in Florianópolis.
Nowadays Joaquina is very well known for having hosted important international competitions, like the WCT stop which was won by Taj Burrow in 2004. This place has forged Catarinense legends like David Huzadel, Luan Wood, the brothers Neco and Flavio Padarazt, youngsters like Tomas Hermes, Tanio Barreto and WCT riders like Alejo Muniz along with other promising youngsters like Marina Rezende, Yago Dora and Lucas Silveira. This beach stretches across 3 km and is between 10 and 70 metres wide depending on the tide. It enjoys a good climate all year round with an average temperature of around 21°C. It could rain at any time of the year but there is less chance between June and August, besides, this is also the best time for waves.
Praia Joaquina is a consistent beach break with good peaks along the whole of the beach and despite the crowds, with a little patience you can get quieter sessions, nevertheless next to Joaquina, a few minutes north, you'll find Moçambique, Praia Mole and Galheta and Barra da Lagoa, the best for beginners. Other nearby spots which are further south are Santinho, Praia Brava, Morro das Pedras and Matadeiro. There are still more options, if you go out of Floripa towards the south you'll find known spots like Praia da Silveira, Praia Rosa and the famous Imbituba which hosted a WCT event in 2008.
Praia Joaquina es una de los spots más importantes en Florianopolis, la capital del estado de Santa Catarina al sur de Brasil, esta playa también conocida por Praia Joaca. Las milenarias rocas que se encuentran a la izquierda, el color de las aguas y las grandes dunas son elementos únicos que hacen inconfundible a Praia Joaquina, sin duda una de las más bellas y más frecuentadas de Floripa y donde siempre encontrarás un gran ambiente, sobre todo los fines de semana, cuando podrás disfrutar de la auténtica atmosfera playera de Brasil. Hercílio Luz es el aeropuerto internacional de Santa Catarina a solo media hora de la Av. Prefeito Acácio Garibaldi por la que se llega a praia Joaquina. Esta playa dispone de aparcamientos, aseos, línea de buses, bares, locales de ocio y escuelas de surf con alquiler si fuera necesario.
La historia del surfing en Joaquina empieza en los setenta con Celso Ramos del que se dice que fue el primer surfista aquí, poco más tarde se unieron legendarios como Betinho Rodrigues, Niltinho Ramos, Ricardo schoreder. A mediados de los setenta fue muy importante el mítico Fernando Moniz y Piu surfboards, la firma del shaper Paulinho Guinle, entre ambos fueron la sensación de la época y dieron una gran impulso al surf moderno en Floripa. Los campeonatos de surf se hicieron algo normal en Joaquina y en 1976 se celebró aquí el primer festival de surf en Florianópolis, cientos de surfistas acudieron invadiendo Joaquina en el 'I Rock, Surf e Brotos' y a partir de ahí este spot pasó a ser el centro de la surfcultura en Florianopolis. Actualmente Joaquina es ya muy conocida por haber sido sede de importantes competiciones internacionales, recordar la parada del WCT que ganó Taj Burrow en 2004. Aquí se han forjado míticos catarinenses como David Huzadel, Luan Wood, los hermanos Neco y Flavio Padarazt, jóvenes como Tomas Hermes, Tanio Barreto y riders WCT como Alejo Muniz junto con las jóvenes promesas Marina Rezende, Yago Dora y Lucas Silveira.
Esta playa tiene una extensión de 3 km metros y según la marea de 10 a 70 metros. El clima es muy agradable todo el año y la temperatura media anual está alrededor de 21 °C. Puede llover en cualquier momento del año, pero cuando menos probabilidad existe es entre junio a agosto que además es buena temporada de olas. Praia Joaquina es un consistente beachbreak con buenos picos a lo largo de toda la playa donde a pesar de la gran afluencia con un poco de paciencia se pueden encontrar sesiones más tranquilas, no obstante junto a Joaquina, a unos minutos muy cerca al norte se encuentran Moçambique, Praia Mole y Galheta y Barra da Lagoa, la mejor para los principiantes. Otros spots cercanos un poco más al sur son Santinho, Praia Brava, Morro das Pedras y Matadeiro. Las opciones son aún más si salimos de Floripa hacia el sur donde encontraremos reconocidos spots como Praia da Silveira, Praia Rosa o la famosa Imbituba donde por ejemplo tuvo lugar una prueba del WCT en 2008.
The huge Do Joaquina dunes have great environmental value as they are surrounded by lush vegetation. There are various trails and you can go on foot or by bike. Sandboarding is available and there are various stalls where you can rent boards. The panoramic view from the top of the dunes is incredible, it's worth the effort to climb them. Surfing is united with skateboarding in Floripa and the RTMF Bowl is in the famous skater Pedro Barros' house. In Avenida Dos Buzios, you'll find the Snake do Clube 12, and there are also two other outdoor parks, the Pista do Figueresnse which is right next to the stadium and Costeira do Pirajubées which is bigger and is located in Avenida Beira Mar Sul de Floripa.
At sunset you should go to the Confraria Club. It's one of the most famous places and has the best atmosphere. The best DJs play there and you'll be able to integrate fully into the life in Floripa. Other options are to visit the centre where there are numerous shops where you can buy souvenirs, picturesque streets and numerous cafes, bars and restaurants. Other things to see are the public market, Praça XV, the Metropolitan Cathedral, the Casa da Alfandega which is full of artists and typical local products. If you go at the end of the year or during the carnival period, you will have to reserve in advance but the atmosphere will be unbeatable.
Las Dunas 'Do Joaquina' poseen un valor medioambiental muy alto, son unas formaciones arenosas entre una frondosa vegetación y con senderos varios para ir a pie o en mountain bike. Es típico el Sandboard sobre sus dunas, hay varios puestos que ofrecen alquiler de tablas por horas, las panorámicas de la playa desde la cima son impresionantes, el esfuerzo merece la pena. En Floripa el surf está muy unido con el skate y en la casa del famoso skater local Pedro Barros se encuentra el famoso Bowl RTMF. En av.dos buzios se encuentra el 'Snake do clube 12' y además dos skateparks al aire libre, el de Pista do Figueresnse que se encuentra justo al lado del estadio, y el segundo skatepark 'Costeira do Pirajubaées' de mayores dimensiones y que se encuentra en la avenida Beira Mar Sul de Floripa.
Con la puesta de sol es obligado ir a Confraria Club, uno de los lugares más famosos y con mejor ambiente, aquí pinchan los mejores DJs y te integraras de pleno en la movida de Floripa. Otras opciones son visitar el centro donde hay numerosas tiendas para comprar recuerdos, calles pintorescas y numerosos restaurantes, bares y cafés. Es muy recomendable la visita del Mercado Público, Praça XV, La Catedral Metropolitana, la Casa da Alfandega llena de artistas y locales con productos típicos. Si vais a viajar durante fin de año o en Carnavales tendréis que reservar con varios meses de antelación. Son épocas muy buenas para programar vuestro surf trip por el gran ambiente que predomina en la zona.