Klitmoller / Denmark – Windsurf – Klitmøller – Thisted Municipality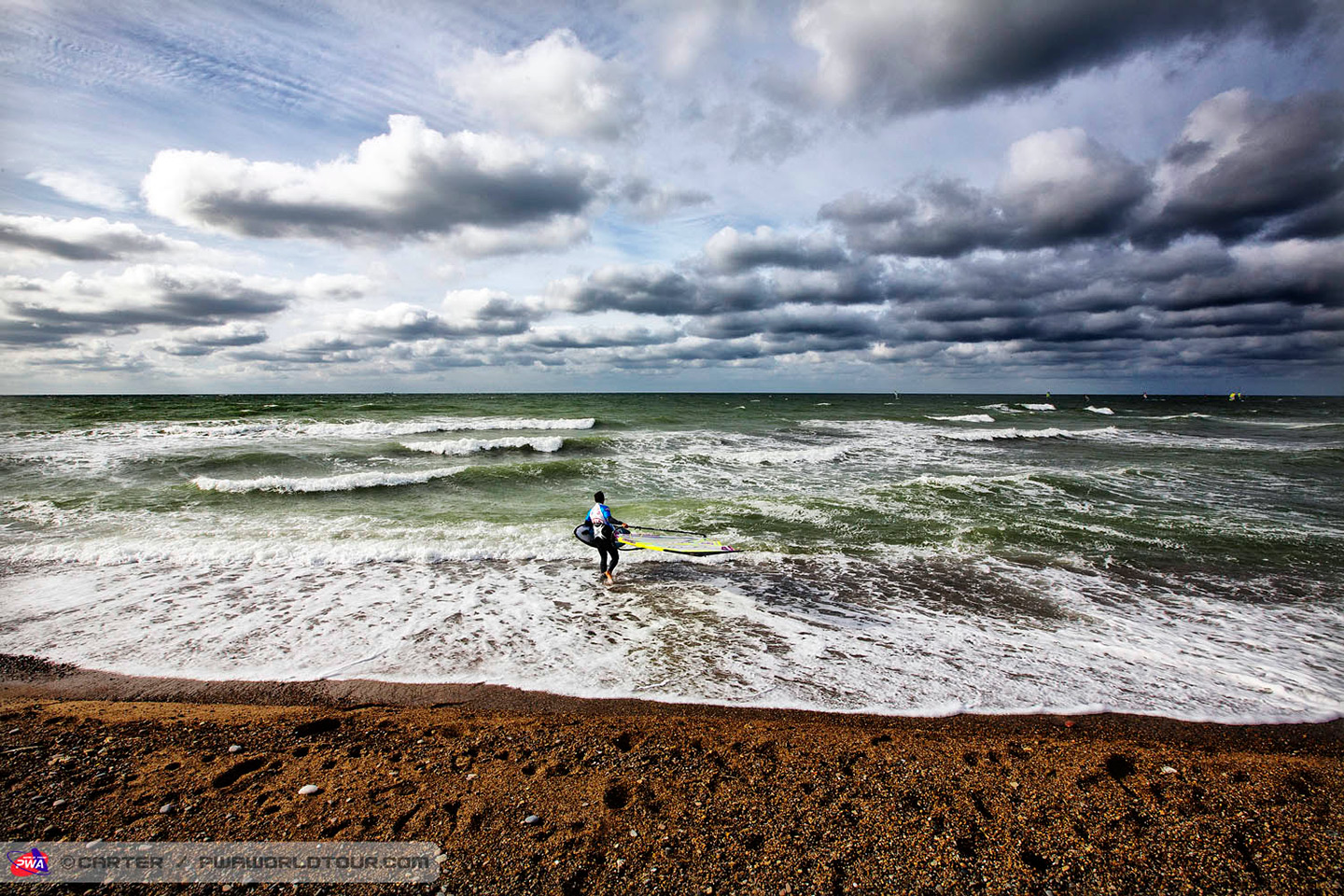 | | |
| --- | --- |
| Wave | |
| Ola | |
| Wind | SW, SSW |
| Tide | Low to high |
| Marea | Baja a alta |
| | |
| --- | --- |
| Swell | W, WNW |
| Bottom | Sand, pebbles |
| Fondo | Arena, piedra |
| Time of year | March to November |
| Época del año | De Marzo a Noviembre |
This spot is open to different wind directions, from SSW to SW the reef is the best option as the south of the bay is slightly sheltered. There are perfect crosshore conditions on the reef with big powerful waves. It's quite possible to hit the reef after a fall so it's recommended to wear booties. When the swell direction is W-WNW it is totally onshore, however, this wind direction generates bigger waves which enter the bay and if you sail in there, the orientation of the bay makes the wind side onshore and creates lefts. With W-WNW there are also more currents. When the wind is W-WNW it's recommendable to head 10 km further north and sail in Hanstolm with the sideshore conditions which are fun for jumping as well as surfing.
Se dan diferentes direcciones del viento, de SSW a SW, el arrecife musselreef es la mejor opción, ya que el sur de la bahía se encuentra ligeramente resguardado. Cuando la dirección del swell es W-WNW es totalmente onshore aunque esta dirección de viento genera olas más grandes, las olas entran en la bahía y si navegas dentro de esta la dirección de la playa hace que el viento sea sideonshore de izquierdas. Con W-WNW hay más corriente. Lo más recomendable cuando el viento es W-WNW es cambiar de spot y desplazarte diez kilómetros más al norte para navegar en Hanstolm con condiciones sideshore muy divertidas tanto para saltar como para surfear.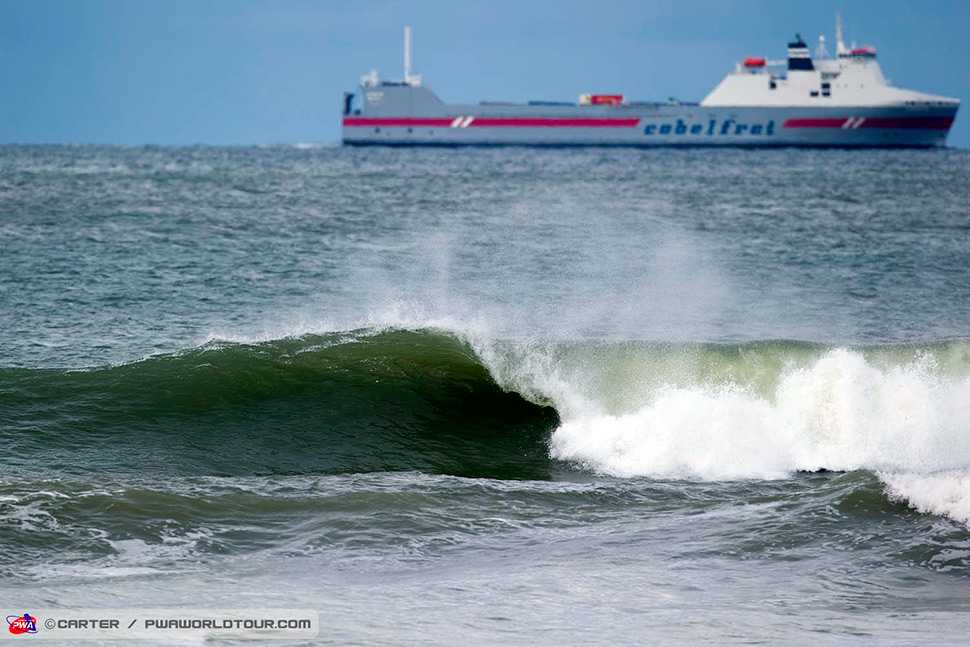 Klitmøller is a small fishing village located on the west coast of Denmark, just ten kilometres southwest of Hanstholm and sixteen kilometres northwest of Thisted. The North Sea is to the west. It is renowned as being one of the best windsurf spots in Europe and also has good conditions for kitesurf, surf and SUP.
It is in the Thy National Park and you'll see large white sand dunes which were formed by the strong westerly wind. It became popular in the nineties with the celebration of the Soulwave competition, which combined windsurf, surf and kitesurf. After ten years the event was changed to the NSP Soulfies, combining windsurf and surf. However, its international fame came from the annual windsurf waveriding world cup, the Cold Hawaii PWA World Cup Klitmøller.
It has a wide range of conditions due to the frequent changes in the wind direction. From SSW to SW, the reef is the best option as the south of the bay is slightly sheltered and it doesn't reach its full potential whereas the reef receives perfect crosshore conditions with big powerful waves. When there is little wind there are longer lefts and good rights. Take care with falls as the reef is very near, and it's recommendable to wear booties. The reef is known as mussel reef and it starts right at the edge of the curve and extends for around one hundred metres towards the south. One kilometre south of the mussel reef you'll find bunkers which give this place its name, and where there is another reef with a right hand barrel which is ideal for surfing.
When the swell direction is W-WNW it's a good moment to get air, as the waves enter the bay. During the windsurf world cup riders like Víctor Fernández and Philip Köster executed jumps of up to fifteen metres and incredible tricks like the Big Double Forward Loop and the One Footed Back Loop. Take care in the zone where the waves break as the current won't help you to get out of there. On good days it can get busy but you have the option of sailing downwind towards Klitrosen where it is usually quieter. You can sail with N-E wind but the conditions aren't very good.
Klitmøller es un pequeño pueblo de pescadores situado en la costa oeste de Dinamarca a unos diez kilómetros al suroeste de Hanstholm y a diecisiete kilómetros al noroeste de Thisted. El Mar del Norte está al oeste y Hanstholm al norte. Es conocido como uno de los mejores spot de windsurf de Europa, y además se dan las condiciones para la práctica del kitesurf, el surf y el SUP.
Está dentro del Parque Nacional Thy y cuenta con grandes dunas de arena blanca formadas por el fuerte viento del oeste, se hizo muy popular en la década de los noventa con la celebración del campeonato Soulwave, que combinaba windsurf, surf y kitesurf. Tras diez años el evento se convirtió en el conocido NSP Soulfies combina surf y windsurf. Sin embargo, su reconocimiento mundial se debe a la cita anual del campeonato del mundo de windsurf en la modalidad olas, con el nombre de Cold Hawaii World Cup Klitmøller.
Dispone de un amplio rango de condiciones debido a los frecuentes cambios de dirección del viento. De SSW a SW el sur de la bahía se encuentra ligeramente resguardado sin alcanzar todo su potencial, mientras que en el arrecife hay perfectas condiciones crosshore con olas grandes y potentes. Cuando hay poco viento ofrece izquierdas más largas y buenas derechas. Cuidado con las caídas pues el arrecife está muy cerca y es recomendable utilizar escarpines. El arrecife es conocido como musselreef, comienza justo en la esquina de la curva y se extiende hacia el sur unos cien metros. A un kilómetro al sur de musselreef econtramos algunos bunkers que dan nombre a este lugar y donde existe otro arrecife con una derecha con tubo ideal para surfear.
Cuando la dirección del swell es W-WNW es buen momento para saltar, ya que las olas entran en la bahía. Durante el campeonato del mundo de windsurf, riders como Víctor Fernández y Philip Köster han realizado saltos de hasta quince metros de altura, y maniobras increíbles como el Big Double Forward Loop o el Back Loop One Footed. Hay que tener cuidado en la zona del rompeolas, ya que las corrientes no te van a facilitar salir de ahí. Los días buenos suele llenarse de gente, puedes ir downwind hacia Klitrosen para tener más tranquilidad. Con viento N-E se puede navegar, pero las condiciones no son muy buenas.
Klitmøller is a popular tourist destination for many reasons, among them are the phenomenal beaches where you can do watersports, the fresh air and the large areas of unspoilt land. In this nature reserve you can go for a bike ride, go trekking, horseriding or kayaking. The Vandet sø and Nors sø lakes are also areas where you can enjoy the typical Danish nature and swim in the clean water. There are various accommodation options in the village, from hotels to rental houses and campsites. It is also the location of the Surf Club NASA, along with various restaurants, cafes, fast food places and small souvenir shops, but the majority are only open during the summer months, between June and October.
Klitmøller es un destino turístico popular por muchos aspectos, entre ellos, sus fenomenales playas para la práctica de deportes acuáticos, el aire fresco y las grandes áreas de naturaleza virgen. En esta reserva natural puedes desplazarte en bicicleta, hacer senderismo e incluso dar paseos a caballo o en Kayak. Los lagos Vandet sø y Nors sø son lugares que también ofrecen un acercamiento con la naturaleza típica danesa, pudiendo bañarse en sus limpias aguas. Hay varias opciones de alojamiento en este pueblo, desde hoteles a casas de alquiler o campings. Aquí podemos encontrar el Surf Club NASA, además de varios restaurantes, cafeterías, establecimientos de comida rápida y pequeñas tiendas de souvenirs, pero la mayoría sólo abren en meses de verano, entre junio y octubre.