Kuau Pipes / United States – Windsurf – Maui – Hawaii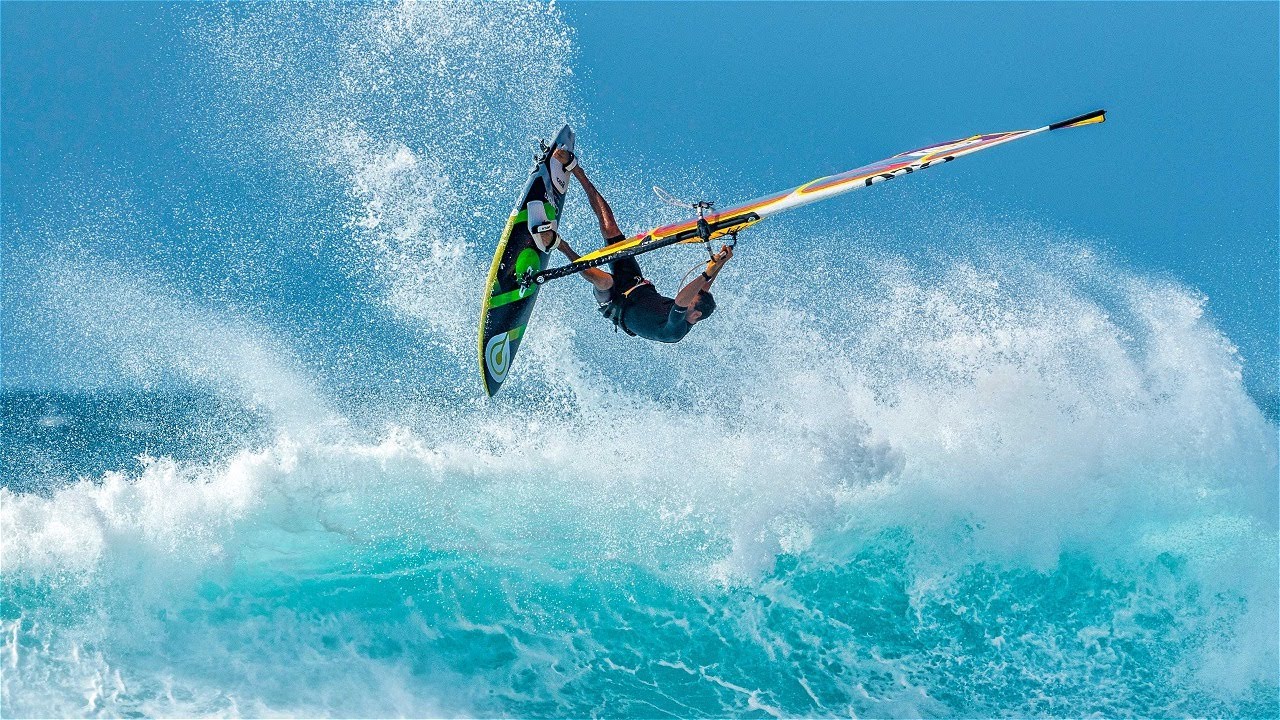 | | |
| --- | --- |
| Wave | |
| Ola | |
| Wind | ENE |
| Tide | All |
| Marea | Todas |
| | |
| --- | --- |
| Swell | NNW |
| Bottom | Reef |
| Fondo | Arrecife |
| Time of year | From September to May |
| Época del año | De septiembre a mayo |
Kuau Pipes is on the leeward side of Lanes and they are very similar spots, however the wave is slightly less powerful, as it's a little deeper than at Ho'okipa and Lanes. It breaks about 200 metres from the beach and isn't a very long wave, only allowing for three or four turns. You can enter by the narrow canal which has rocks either side. It's easy to get in but when you get out, look for the trees to use as a reference point and go back to the canal.
Kuau Pipes se encuentra a sotavento de Lanes y son olas muy parecidas. La ola es un poco menos potente que Hookipa o Lanes, ya que hay un poco más de profundidad. Rompe a unos 200 metros de la playa, es una ola a la que puedes darle de 3 a 4 giros. La entrada es por un canal estrecho con rocas a ambos lados, fácil para entrar al agua, pero para volver tienes que localizar los árboles para tenerlos de referencia y volver al canal de entrada y salida.
This spot is located at a marvellous small white sand beach that's bordered with coconut trees, just past Paia. It's also known as 'Mama's Fish House Beach' due to its closeness to the restaurant of the same name or 'Father Jules Papa' as it's known by the local veterans. It's very near to Ho'okipa and it's a quieter spot, but the configuration of the wind and waves is similar, although it's less critical and less crowded.
It's complicated to enter the water as it's a narrow canal full of rocks, it gets gusty and sometimes there isn't any wind so you have to swim out. About fifteen metres in, the wind hits very strongly and you can plane on the flat water out to the reef where the wave begins to get its power. It's the perfect place for those that want to improve their surfing as you can catch many waves without it being too crowded. At low tide, you can see the reef creating pools with lots of marine life that temporarily gets caught in them. It's a playground for nature lovers.
Spot situado en una pequeña y maravillosa playa de arena blanca bordeada de cocoteros, justo al pasar Paia. También se le conoce como 'Mama's Fish House Beach', debido a su cercanía con el restaurante del mismo nombre o como 'Father Jules Papa' según los más veteranos del lugar. Está muy cercano a Ho'okipa y se trata de un spot más tranquilo, pero con una configuración de viento y ola similar, aunque menos crítica y menos concurrida.
La entrada está complicada, ya que es un canal estrecho lleno de rocas, racheado y a veces sin viento que obliga a salir nadando. Después de unos quince metros hacia dentro el viento llega fuerte y sales planeando en agua plana hasta llegar al arrecife donde la ola empieza a tener fuerza. Es un lugar perfecto para quienes pretenden mejorar su surfing, ya que puedes coger un montón de olas al no estar tan masificada. Cuando baja la marea puede verse el arrecife creando pozas con cantidad de vida marina que queda presa temporalmente en ellas, toda una zona de recreo para quienes disfrutan de la naturaleza.
Maui offers many interesting activities. Ho'okipa is a world class spot, on Maui's North Shore next to Hana Highway, and it's one of the most important places in the world of windsurf and host to important events like the Aloha Classic. The south and west have a better climate and very beautiful beaches that are definitely worth visiting. One of the visitors' favourites is Kaanapali Beach, which features in all the world's best beach listings, and on the south side, Makena Beach is also world class. Honolua Bay is a special place, above all for diving in the summer. It forms part of the Mokuleia Marine Life Conservation District for the importance of its rich marine life, you can be sure to find an abundance of fish and coral. We recommend renting the equipment from the local shops, it'll be a lot more economical.
Watching the sunrise at the Kaleakala Crater is an experience you will never forget. You'll have to leave very early and don't forget to take warm clothes with you. You can go with an agent on an organised trip or by yourself with a rental car if you pay a small entrance fee. If you have rented a car, you shouldn't miss driving along Hana Highway, famous for its majestic waterfalls, wild coastline and exuberant tropical rainforest. If you visit the island in February, you are lucky as it's the best time to see the whales during their annual migration. You'll see them easily from the Pali cliffs, between Lahaina and Wailea.
Son muchas y atractivas las actividades que ofrece una isla como Maui, Ho'okipa es un spot de clase mundial, en la North Shore de Maui, junto a la carretara de Hana, es uno de los lugares más importantes para el mundo windsurf y sede de eventos de la relevancia del Aloha Classic. El Sur y el Este ofrecen el mejor clima y sus bellísimas playas bien merecen una visita, una de las favoritas de los visitantes es Kaanapali Beach, candidata en todas las listas a mejor playa del mundo, en el lado sur Makena Beach es también una playa de clase mundial. Honolua Bay es un lugar privilegiado para bucear sobre todo en verano, forma parte del Mokuleia Marine Life Conservation District por la importancia de su riqueza marina, la abundancia de peces y corales está asegurada y te recomendamos que alquiles los equipos en tiendas locales, mucho más económico.
Ver amanecer en el Kaleakala Crater es una experiencia que jamás olvidarás, tendrás que salir bien temprano y no olvides ropa de abrigo, podrás acceder mediante un tour organizado o por tu cuenta en coche alquilado pagando una pequeña cuota de entrada. Si has alquilado un coche no puedes perderte la carretera de Hana, famosa por sus majestuosas cascadas, costa salvaje y exuberante selva. Si te encuentras en febrero en la isla, estas de suerte puesto que es la mejor época para ver ballenas en sus migraciones anuales, desde los acantilados de Pali entre Lahaina y Wailea las podrás ver a fácilmente.