Lacanau / France – Surf,Bodyboard – Gironde – Aquitaine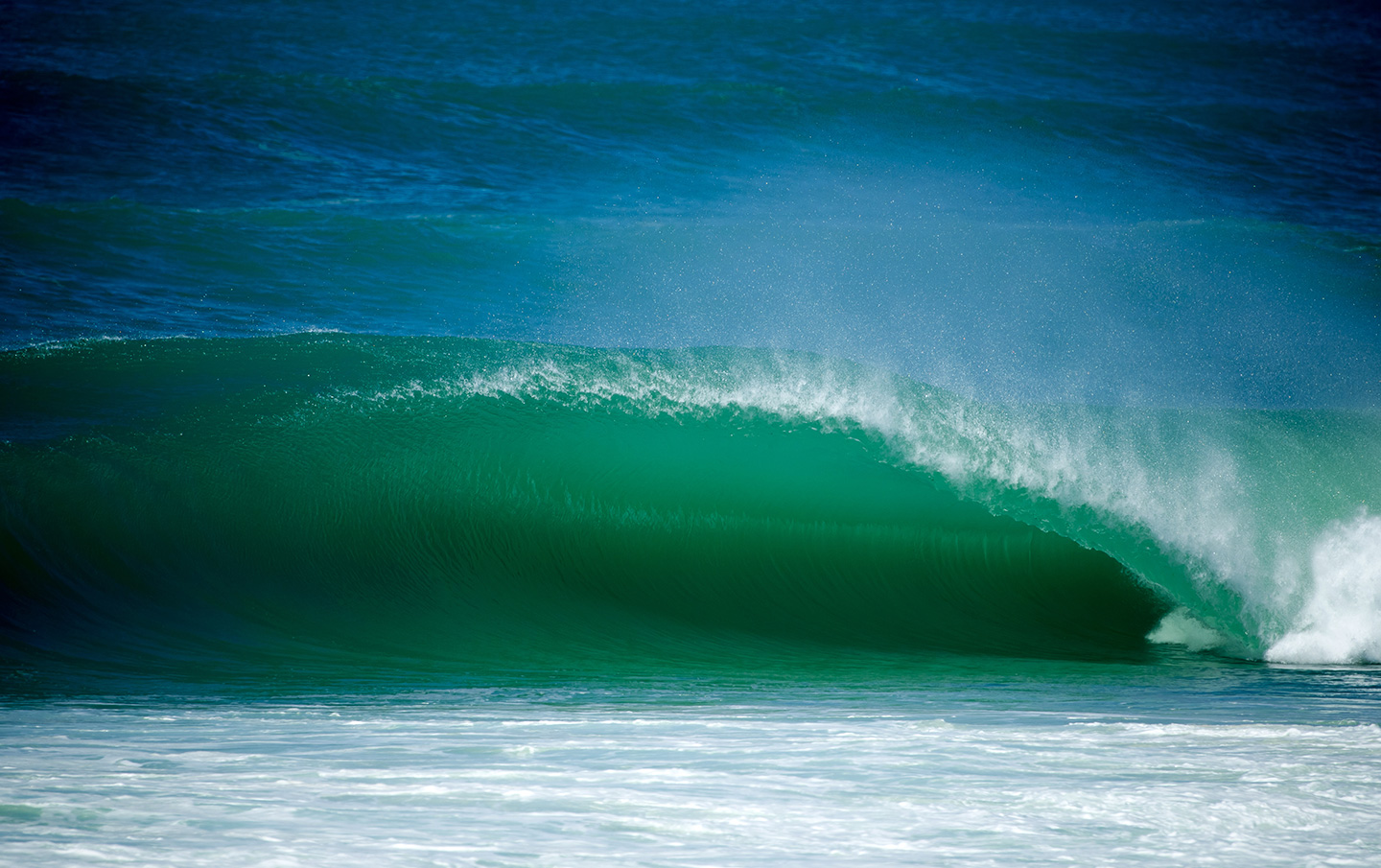 | | |
| --- | --- |
| Wave | Beachbreak |
| Ola | Playa |
| Wind | E |
| Tide | Low - Medium |
| Marea | Baja - Media |
| | |
| --- | --- |
| Swell | W - NW |
| Bottom | Sand |
| Fondo | Arena |
| Time of year | All year around |
| Época del año | Todo el año |
Lacanau is a consistent area and has practically the same dynamic and quality as the beaches further south in Hossegor, Capbreton and Anglet. Bearing in mind the cold winter temperatures, the best time to go is in the summer and above all autumn, when the high pressures prevail over the Bay of Biscay favouring E offshore winds in the morning and light onshore winds at about 11 am. The water temperature is much warmer, the winter storms stop and the banks are at their best quality of the whole year. Normally, although it depends on the formation of the banks, you'll get the best waves and barrels with low and mid tide.
It's important to know that the tidal coefficients are very high, with a full moon the tide can oscillate to up to six metres, making the peaks and conditions change radically like in few other places in the world. It's somewhere that can be without waves one moment and in little time there can be a fun and isolated peak. To have good conditions you'll need a medium W – NW swell, with big swells there are no opportunities as the waves don't hold more than 3 metres. As with all of Landes, the wind always blows at midday, although for some reason if it's not too strong in Lacanau, even though it's onshore, the waves are fun.
Lacanau es un área consistente y con prácticamente la misma dinámica y calidad que las playas más al sur en Hossegor, Capbreton o Anglet. Teniendo en cuenta el frio invierno la mejor temporada es verano y sobre todo otoño, en estas fechas predominan las altas presiones sobre el Mar Cantábrico favoreciendo vientos offshore del E a la mañana y flojo onshore sobre las 11 am antes del medio día. Además la temperatura tanto del agua es mucho más templada, cesan los temporales invernales y los bancos se colocan ofreciendo la mayor calidad del año. Normalmente aunque depende de la colocación de los bancos la marea baja y media ofrecen mejores olas y tubos.
Es muy importante saber que los coeficientes de marea son muy altos, con luna llena la marea puede oscilar hasta los seis metros haciendo que los picos y condiciones cambien radicalmente como en pocos lugares del mundo. Y por ejemplo donde no hay una ola surfeable en poco tiempo tengas un pico divertido y solitario. Para tener buenas condiciones es necesario un tamaño medio de swell de W-NW, cuando recibe swells demasiado grandes no ofrece oportunidades, siendo mejor emigrar a otros lugares porque las olas no aguantan más de tres metros. Como en todas Las Landas el viento entra sin fallar al mediodía, aunque por alguna razón si no es demasiado fuerte en Lacanau las olas aún con onshore son divertidas.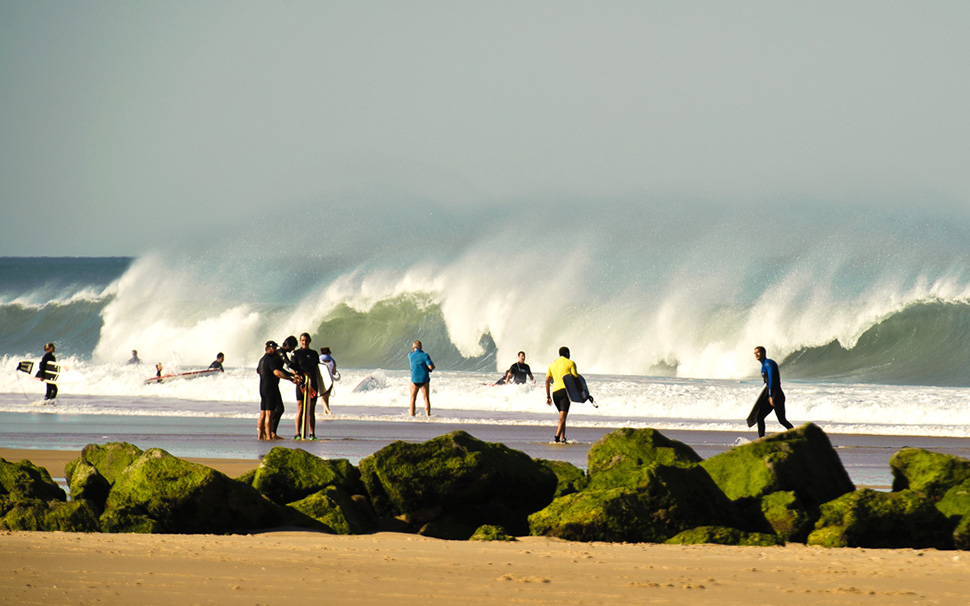 Lacanau is a beautiful place in the Gironde department of France's Aquitaine region which borders the Atlantic Ocean in the southwest of the country. The region is known worldwide for its beaches which have the best barrelling beach breaks in Europe. You'll find beaches in Lacanau and right down the coast until its sister beaches in Hossegor, 200 kilometres south in Landes, a region which together with Biarritz is one of Europe's pioneering surf spots. Its beaches were the first to host international events like the legendary WCT Lacanau Pro, events which brought names like Tom Curren and Kelly Slater.
Lacanau is an hours drive away from Burdeos, one of the three most important cities in France. Lacanau's centre is located on the shores of the lake, however, fifteen minutes from there is a beach area called Lacanau Ocean. In the summer Lacanau Ocean is one of the liveliest places in France and you'll find all types of place to stay overnight, such as campsites and surf camps. It's the nearest place and thus preferred by many Parisians and northern Europeans that want to experience world class waves. It's easy to get there as Mérignac Airport in Burdeos is just 50 kilometres away and from there you can take the bus, line 702, but it's recommendable to rent a car so that you can explore the other spots in the area and search for the best conditions. It's also recommended to use the services of the many schools and surf camps that operate there to get some local knowledge.
There are plenty of good reasons to go to Lacanau, among those is that there are always many peaks, especially out of the summer season when it is very busy, but even in the summer it's possible to find solitary peaks by walking a little further. The main peaks are around Lacanau Ocean, the Centrale being the busiest and as its name suggests, the centre of surf in the Burdeos area. The main points from north to south are as follows; the Nord, the Centrale, the Sud, the Plage de Dja, the Super Sud, and the more isolated Plage du Lion. All are located along the 14 kilometres of long beaches and are easily accessible from the adjoining paths. Lacanau is an impressive destination which apart from the good waves, has a lot of atmosphere and entertainment and is one of the most authentic places in France, a place with strong traditions and history, rich gastronomy of which you mustn't forget the shellfish, especially the oysters, and of course, savour the fine wines.
Lacanau es un bello rincón de la Gironda francesa, una peculiar comarca dentro de la región de Aquitania situada al suroeste del país y enfrentada al Océano Atlántico. Una región conocida mundialmente por poseer playas que ofrecen los mejores tubos de playa de Europa, playas que encontrarás en Lacanau y en toda la linea recta de costa que baja hasta las playas hermanas de Hossegor situadas 200 km más al sur en Las Landas. Una comarca que es también junto a Biarritz, otro de los lugares pioneros del surf en toda Europa, sus playas han sido las primeras en celebrar eventos internacionales como el mítico WCT Lacanau Pro evento por el que han pasado desde Tom Curren hasta el mismísimo Slater.
Lacanau se ubica a una hora en coche de Burdeos, una de las tres ciudades más importantes de Francia. El núcleo principal de Lacanau está situado a orillas del lago, sin embargo, a 15 minutos en coche se encuentra la zona de playa llamada 'Lacanau Ocean'. Un lugar que en verano es una de las áreas con mas animación de toda Francia y donde se encuentra todo tipo de facilidades para pernoctar, campings y surfcamps. Lacanau Ocean es el lugar más cercano y por tanto el preferido para aquellos que desde París y el resto del norte de Europa quieren tener un primer contacto con olas de calidad mundial. Llegar es muy fácil desde el Aeropuerto de Mérignac en Burdeos a 50 km, en el caso de no disponer de vehículo se puede ir en Bus con la linea 702, pero es aconsejable alquilar un coche desde el aeropuerto porque la variedad de spots para todos los gustos te hará explorar la zona en busca de las mejores condiciones. Es muy recomendable hacerse con los servicios de las muchas escuelas o surfcamps que aquí operan.
Hay muchas buenas razones para venir a Lacanau, una de ellas es que siempre hay muchísimos picos solitarios, sobre todo fuera de la temporada de verano cuando la afluencia es masiva, pero incluso en verano tan solo andando unos minutos es posible surfear tranquilo. Los picos principales están alrededor de Lacanau Ocean, allí está La centrale, la más concurrida y como dice su nombre la central del surf en la zona de Burdeos. Los points principales de norte a sur son los siguientes, La Nord al norte de la Centrale, La Centrale, La Sud, La plage de Dja, La Super Sud y la más retirada Plage du Lion, todas a lo largo de 14 km de extensas playas con fácil acceso desde los paseos colindantes. Lacanau es un impresionante destino que además de buenas olas, mucho ambiente y entretenimiento tiene mucho más que ofrecer, es uno de los lugares más auténticos de Francia, un lugar de arraigadas tradiciones e historia, rica gastronomía de la que no puedes olvidar el marisco y sobre todo las ostras y por supuesto deleitarse con sus buenos vinos.
The nature reserve Étang de Cousseau is a protected area surrounded by dunes with 13 kilometres of walking paths along which you'll find information points about the plants, animals and migratory birds. The Lacanau Lake is very popular for watersports like swimming, sailing, windsurfing, kitesurfing and kayaking. It's highly recommended to rent a bike and follow the 20 kilometre long path that borders the lake, or the 110 kilometres of marked trails through the forests and dunes that surround Lacanau. There are various places where you can rent bikes from but Central Garage is a recommended option, or if you prefer horses there are some trails in Village Cheva.
It's worth spending a day in the majestic capital of Burdeos to see the beautiful and well-preserved XVII century city centre and its commercial and maritime tradition. Lacanau is also a good location for golfers and Ardilouse Golf International Lacanau-Ocean has two eighteen hole courses where you can practise or have some lessons with the school, and if you want to relax after you can head towards the Vitalparc spa. Lastly, if you have more time it's worth going the hour and a half to Cap Ferrat and Arcachon where you'll find the famous Dune of Pilat, the largest in Europe.
Podemos destacar La reserva natural 'The Étang de Cousseau', una área protegida rodeada de dunas y recorrida por 13 kms de pistas donde encontrarás puntos de información de las plantas, animales y aves migratorias. El lago de Lacanau, muy popular para realizar cualquier deporte acuático, natación, vela, windsurf, kitesurf, o alquilar un kayak. Una opción muy recomendable es alquilar una bicicleta para recorrer los 20 km bordeando el lago, o por ejemplo los 110 km de pistas señalados entre los bosques y dunas que rodean Lacanau. Hay varias opciones donde alquilan bicicletas, pero la gente recomienda Central Garage, por otro lado, si te gusta los caballos se ofrecen rutas en Village Cheva.
Merece la pena pasar un día en la majestuosa capital de Burdeos para ver su bonito y bien conservado centro urbano del siglo XVIII y su tradición comercial y marítima. Lacanau también es un destino para el golf en 'Ardilouse Golf International Lacanau-Ocean', dos campos de 18 hoyos donde practicar o iniciarse con su escuela y si después buscas relajación dirígete al balneario de Vitalparc. Por último, si dispones de más tiempo, a hora y media merece la pena una visita a Cap Ferret y Arcachon, donde se encuentra la famosa duna de Pilat, la más grande de Europa.