Lagoa do Cauipe / Brazil – Kitesurf – Lagoa do Cauipe – Cumbuco – Ceará – Brasil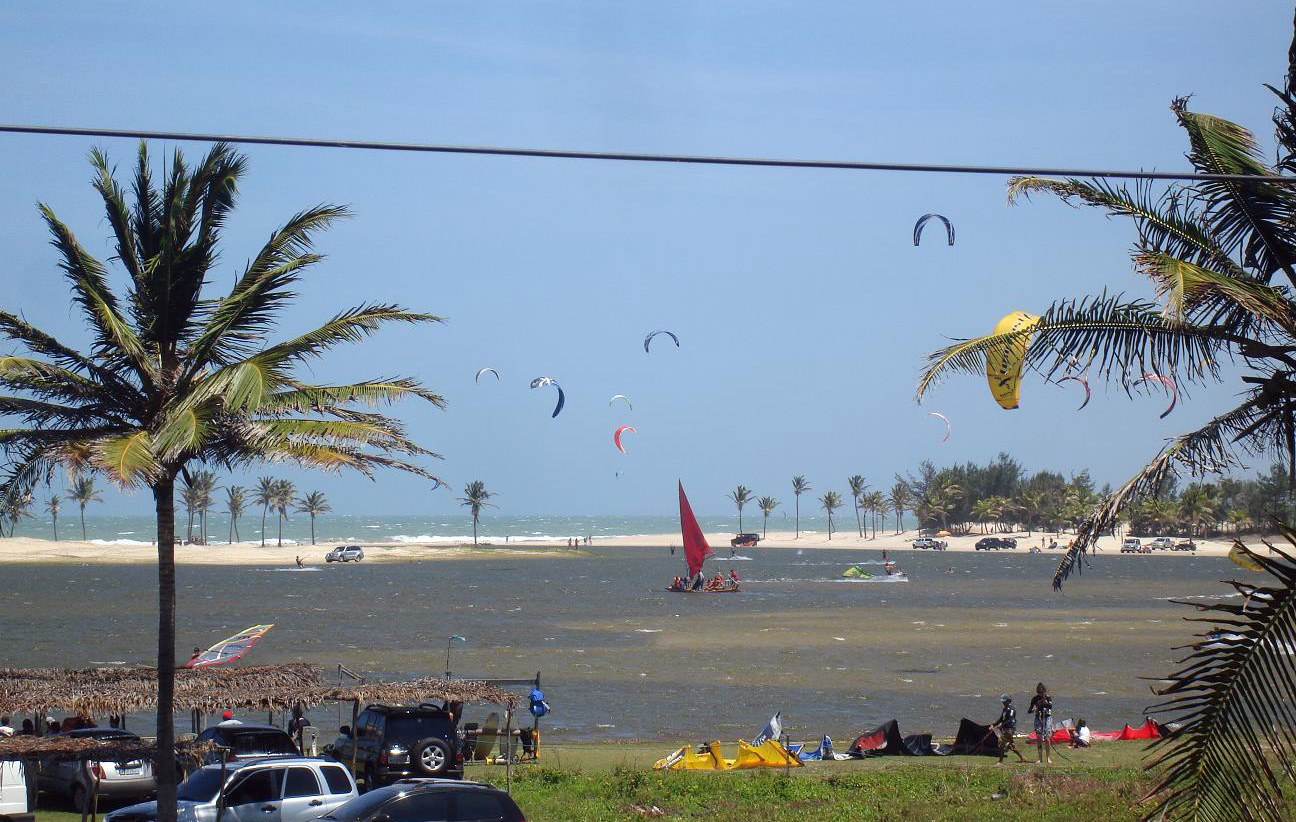 | | |
| --- | --- |
| Wave | |
| Ola | |
| Wind | NE, ENE, E, ESE, SE |
| Tide | |
| Marea | |
| | |
| --- | --- |
| Swell | |
| Bottom | Sand |
| Fondo | Arena |
| Time of year | From July to January |
| Época del año | De Julio a Enero |
It's one of the best freestyle spots in the world. Many professionals train there during the European winter months. The lagoon receives constant winds between 18 and 25 knots virtually every day from the beginning of July until the end of December. The water is warm so a wetsuit isn't required.
Es uno de los mejores spots para el freestyle del mundo. Muchos profesionales entrenan aquí en el invierno Europeo. Es una laguna justo al lado del mar que tiene viento constante de entre 18 y 25 nudos prácticamente todos los días desde principios de Julio hasta finales de Diciembre. El agua es caliente y no es necesario traje.
Lagoa do Cauipe is located in the northeast of Brazil, in Cumbuco village, thirty kilometres from Fortaleza city. Fortaleza has an airport and is the chosen arrival destination due to its closeness to the spot. There are numerous world famous reasons for visiting Brazil. It's the fifth largest country in the world with an infinity of historical monuments and beautiful enclaves, but for wind sport lovers it stands out for the special conditions that it presents. The incredibly reliable wind and variety of waves that bring thousands of kiters from all corners of the world. The northwest of Brazil is considered today as one of the best places in the world to kitesurf due to the excellent wind conditions that are constant for most of the year. Not so long ago Ceará was completely unknown, even at the beginning of the nineties, but it has become an authentic paradise for thousands of wind lovers. The east of Ceará is the training ground for many professional kitesurfers during the European winter months because of the excellent conditions, pleasant temperatures and warm waters.
Lagoa do Cauipe is a big natural lagoon which forms at low tide and is surrounded by sand dunes and palm trees. The water is completely flat and the Elysian winds from Africa constantly hit the area. A wetsuit isn't required but a rash vest is recommended to protect you from the sun which is stronger there due to its closeness to the equator. The spot isn't just ideal for freestylers to do tricks but you can also sail outside of the lagoon where you'll find some medium sized waves. Numerous videos have been filmed there, for example the spectacular sessions by the World Champion Alex Pastor or the Game of Kite videos which feature the international rider from Airbrush Set Teixeira. The infrastructure is good, with various means of transport and numerous hostels nearby, and a lot of the newer hotels and 'pousadas' have areas to clean and maintain your equipment on the terraces. You should pay special attention and take care around the lagoon as the academies base themselves around the extreme west whilst the more intermediate and advanced sail on the east side. It's important to respect the norms and stay in the correct area, especially at the weekends. If you can, go during the week or in the early morning or evening when it's quieter.
Lagoa do Cauipe se encuentra al Noreste de Brasil, en el pueblo de Cumbuco a 30 Kilómetros de la ciudad de Fortaleza. La ciudad tiene aeropuerto y es normalmente el destino elegido por cercanía al spot. Las razones para visitar Brasil son numerosas y mundialmente conocidas, es el quinto país más grande del mundo con infinidad de monumentos históricos y enclaves de especial belleza, pero para el amante de los deportes de viento, destaca por las especiales condiciones que presenta; una increíble fiabilidad del viento y variadas olas que llevan a miles de kiters hacia sus costas desde cualquier rincón del mundo. El Noreste de Brasil es considerado hoy en día como una de las mejores zonas del mundo para la práctica de kitesurf. Esto se debe a que no tiene ninguna barrera natural que frene los vientos elíseos, la zona es barrida de manera limpia y constante durante gran parte del año. Ceará fue una completa desconocida, incluso hasta bien entrados los años 90, pero en pocos años se ha convertido en un auténtico paraíso para miles de apasionados del viento. El Este de Ceará es el destino actual de riders profesionales durante los meses de invierno que vienen para entrenarse en unas excelentes condiciones, con unas temperaturas muy cálidas durante todo el año y aguas calientes.
Lagoa do Cauipe es una gran laguna natural formada por la marea baja, rodeada de dunas de arena fina tostada y con palmeras en la línea de playa. El agua está totalmente plato y los vientos elíseos del África azotan constantemente la zona. No necesitarás traje para disfrutar el spot ni sus playas cercanas, es recomendable que uses una licra para protegerte de las inclemencias del sol ya que aquí golpea con más fuerza por situarse en pleno ecuador. El spot no sólo es el punto idílico para que el freestyler pueda disfrutar de los trucos, sino que también puedes navegar fuera de la laguna a pocos metros en busca de olas de medio tamaño, por lo cual todas las necesidades están cubiertas. Las infraestructuras tienen bastantes medios de transporte y numerosos enclaves hosteleros cerca, hoy en día muchos de los nuevos hoteles y 'pousadas' tienen zonas de limpieza y mantenimiento de los equipos en las terrazas exteriores.
Debes prestar especial cuidado en el lago, las academias de surf están situadas en el extremo oeste mientras que los freestylers intermedios y avanzados se sitúan al este de la laguna, sobre todo en horas de prácticas, ya que los principiantes han tenido algún problema por no respetar las normas básicas. Si podéis elegir, entre semana no tendréis ningún problema para navegar libremente, pero los sábados y domingos la zona se congestiona un poco; si vas en fin de semana la mejor opción es a primera hora de la mañana o a última hora de la tarde con la preciosa puesta de sol que os brinda el lugar. El viento fuerte, constante y el agua flat como se ha mencionado antes es un excelente campo de entrenamiento para riders de todo el mundo. Son numerosos los videos que encontraréis del spot, pero las sesiones del Campeón Mundial Alex Pastor, un auténtico enamorado de la zona son todo un expectáculo. Destacan los vídeos en el Game of Kite donde coincide con el rider internacional de Airbrush Set Teixeira mostrando sus maniobras en pleno spot.
The nearest village is Cumbuco and there you'll find many restaurants to suit all budgets. You can do a 10-15 minute downwind to the lagoon and organise to share a buggy ride back. There are many shacks and mobile stalls where you can get something to eat and drink. Cauipe Beach is a good alternative with medium waves and five kilometres of coastline. If you have time during your stay, you could visit two other world class spots. The first, Lagoa do Tabua, suitable for intermediate and advanced levels, is located further south, 5 kilometres from Cumbuco. The most economical way to get there is by bus; take the line that goes to Fortaleza city and ask the driver to stop at the lagoon where the flat water, fine sand and 20-25 knots of wind awaits you. The second, Lagoa do Taiba is 20 kilometres north of Cumbuco and you can reach it by the main road if you have a hire car or by a buggy along the beach.
The wind is stronger there, around 25 knots, and the average water temperature is 27 degrees. There are a few bars selling sandwiches and drinks along with some shaded areas.There's a great atmosphere in Cumbuco but it's a very relaxed place so if you're looking for some nightlife you should head to Fortaleza. The market stalls at the 'Mercado Central' or at the Feirinha Beira Mar are full of local crafts, ranging from ceramics to lace and leather products. In the city centre you'll find the Nuestra Señora de la Asunción fort which was built by the Dutch in 1649 and marks the birthplace of the city and its adjoining suburbs that are full of culture and artists.
El pueblo más cercano es Cumbuco, cuenta con muchos restaurantes y posadas de todos los precios. Se puede ir downwind hasta la laguna en unos 10-15 minutos y volver en buggy entre 4 personas por 50 reales (menos de 20€). En el mismo spot hay unas cuantas cabañas y puestos ambulantes donde tomarse un aperitivo y bebida. La playa de Cauipe es una buena alternativa con olas de medio tamaño y cinco kilómetros de costa. Si vas a estar durante varios días es muy recomendable que pases por dos spots de calibre mundial; Lagoa do Tabua se encuentra hacia el Sur, a cinco kilómetros de Cumbuco y está destinada para los kiters intermedios y avanzados. Para llegar al spot, la opción más económica es en autobús; deberás coger la línea que va hacia la ciudad principal, Fortaleza y avisar al conductor de que pare en la laguna. Después en dirección hacia la playa encontraréis el rastro de los kites, llegados al spot, os espera agua flat, arena fina y vientos de 20 a 25 nudos. Evitar ir en domingo ya que la zona se llena de lugareños y bañistas.
Lagoa do Taiba es otro gran lugar donde poder acudir; está a 20 kilómetros de distancia al norte de Cumbuco. Se puede acceder por la playa en Buggy, aunque si tenéis coche de alquiler también podréis acceder por carretera nacional. El viento es algo más fuerte en esta zona sobre 25 nudos y la media de temperatura del agua es de 27 grados, hay algunos bares que venden bocadillos, bebidas y tienen zonas sombreadas con lo cual podrás pasar todo el día. La zona de Cumbuco tiene un gran ambiente, pero es relajada, si deseáis salir por la noche la mejor opción es desplazarse hacia Fortaleza, la ciudad está ubicada en la costa noreste de Brasil, es la capital del estado de Ceará y es también un importante centro turístico. Los puestos del Mercado Central o los de la Feirinha Beira Mar se llenan de productos artesanales locales, desde cerámica hasta productos de encaje y cuero. En el centro de la ciudad, la Fortaleza de Nuestra Señora de la Asunción, construida por los holandeses en 1649, marca el lugar donde nació la ciudad y sus barrios colindantes están llenos de artistas y cultura.